Golf Courses & Travel
Pebble Beach Concours d'Elegance Golf takes a back seat to 220 classic cars for the 62nd Pebble Beach Concours d'Elegance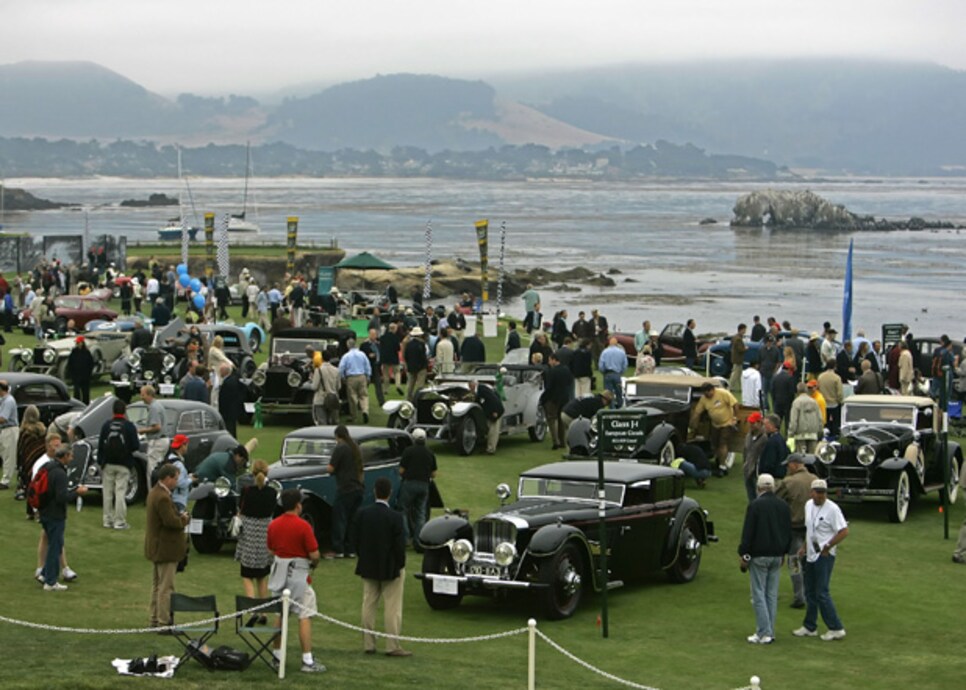 The concours, considered the premier showcase for classic automobiles, was held on the 18th fairway on August 13-19.
Prewar and postwar vehicles along with the latest in concept car designs -- from 33 states and over 15 countries -- were showcased.
Car owners prepare their automobiles for a panel of expert judges.
V-Host Thomas Gottschalk poses with a Rolls-Royce Phantom Coupe Aviator.
Face-on view of the Rolls-Royce Phantom Coupe Aviator.
Tonight Show host Jay Leno made a guest appearance at the event and signed autographs for spectators.
Spectators take a look at comedian Jay Leno's 1928 Bugatti.
1933 Delage D8S De Villars Roadster (Best In Show, 2010)
Actor and emcee Edward Herrmann, center, and Jay Leno chat with 102-year-old Margaret Dunning, behind the wheel of a 1930 Packard 740 Custom Eight Roadster. She has owned the vintage car since 1949.
A 1924 Rolls-Royce Barker Tourer.
Spectators admire the breathtaking scenery and vintage cars on the 18th hole.
A close-up view of the hood ornament from a 1933 Stutz DV-32 convertible.
Spectators gather around a 1930 Delage Cabriolet.
A 1948 Cadillac Series 62 Cabriolet with bodywork by French coach builder Saoutchik.
Best of Show: A 1928 Mercedes-Benz 608S Saoutchik Torpedo is driven through a parade of smoke and confetti toward the stage.
1937 Delage D8-120 S Pourtout Aero (Best of Show, 2009)
1937 Horch 853 Voll & Ruhrbeck Sport Cabriolet (Best of Show, 2006)
1935 Duesenberg SJ Speedster (Best of Show, 2007)