Lesson Tee
Swing Sequence: Paul Casey
Paul Casey had a strong finish this year--sixth in the Fed-Ex Cup Playoffs. Study Casey's swing with frame-by-frame photos and analysis by Peter Kostis.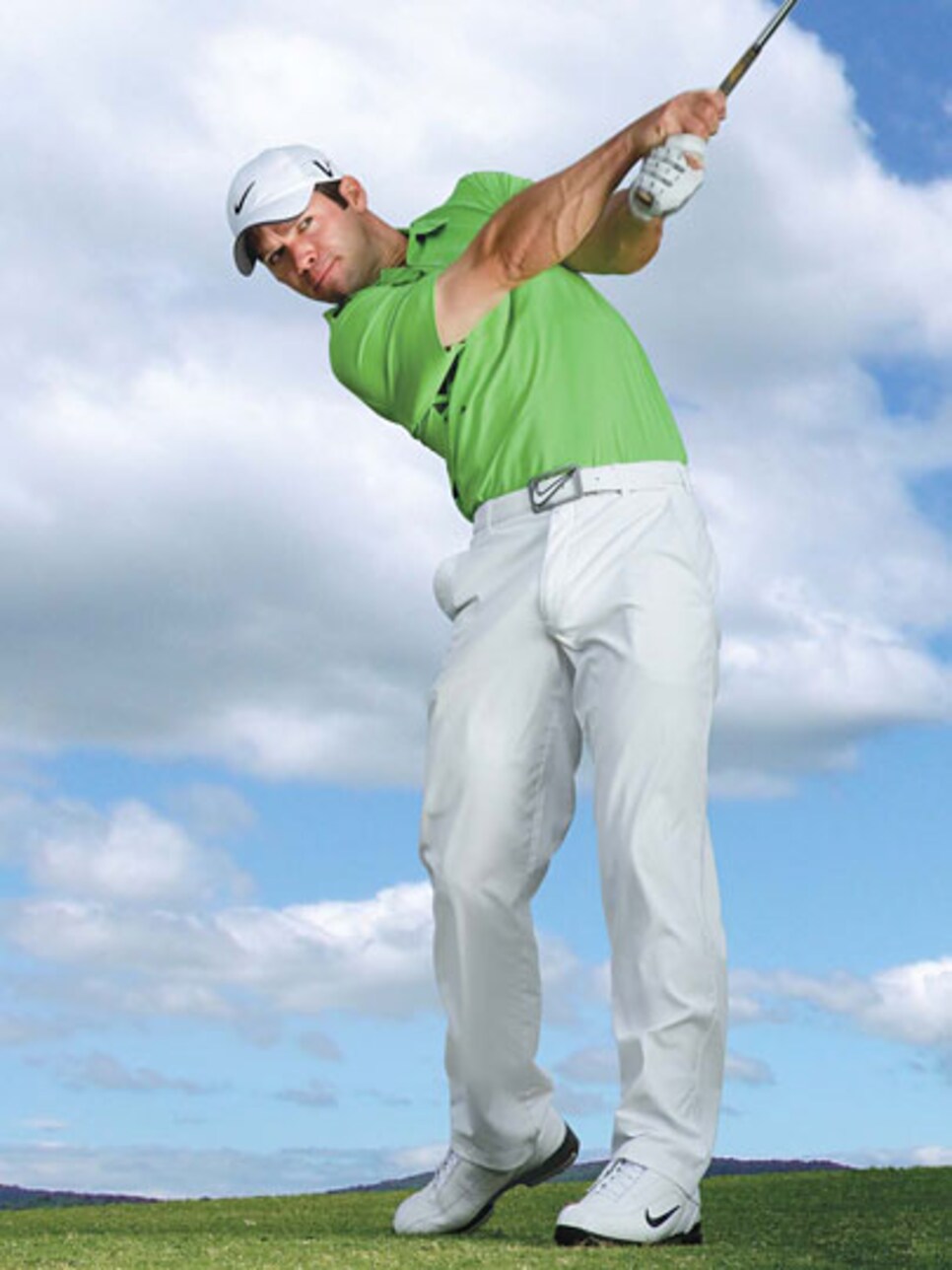 BACK ON TRACK
Missing it in the right places--that's the key to successful driving. I've always been a pretty good driver, but last year, when I tore a rib muscle, it really hurt my tee shots. I didn't have great range of motion. I was so tight in the lower back, I couldn't get the shaft to parallel at the top of my backswing, and I lost my extension on the way through. I had to arm it out there. It took a long time to start swinging well again, and I didn't have the year I was hoping for. But a strong finish--sixth in
the Fed-Ex Cup Playoffs
--sets me up for great things in 2011.
-- Paul Casey
---
BIO:
33, 5-feet-10,180 pounds | __DRIVER:__Nike VR Tour, 9.5 deg., 44½ inches
BALL:
Nike One Tour |
DRIVING DISTANCE (RANK):
294.2 yards (33rd) |
SCORING AVERAGE (RANK):
69.66 (third)
POWER FROM THE GROUND UP
Paul Casey uses his lower body to hit booming tee shots
If you know
Peter Kostis,
then you know he's not the type of guy who believes in hyperbole. So when he says as a golf instructor and TV commentator that
Paul Casey
is "gutsy" and one of the "most determined" golfers he has seen, you can't help but wonder if 2011 will be the year the Englishman wins his first major championship."A golf swing can't give you heart, and that's what Paul has, and that's what makes him successful," says Kostis, who has worked with Casey for several years. "All I want is to give him a swing that won't prohibit his success."That swing, Kostis says, emphasizes the fundamentals--good grip and posture--and is powered by his biggest muscles. "He's very active with his legs, although in these photos a little too active. But that's because of the [rib] muscle tear. He was so sore, he didn't have the ability to really separate his hips from his shoulders when he swung the club. He hits it the best when his lower body can turn in the downswing before the upper body."The torn muscle might also explain why Casey went winless in 2010 and was left off the European Ryder Cup team. Before that, many tabbed him as the next big thing. He won three times in '09, including his first victory on the PGA Tour--the Shell Houston Open--and has been in the top 10 in the World Golf Ranking ever since."I still feel the muscles in my ribs, occasionally, but now they don't affect my swing," he says.
--Ron Kaspriske
Power setup: I like to see his head this far behind the ball.
We're trying to keep the club right on line with his hands.
He has unloaded his left leg with a good shoulder turn.
He hits it the best when his lower body can turn in the downswing before the upper body.
His head's still way behind the ball, as it was at address. This is why he hits it so far.
We're trying to keep the club right on line with his hands.
He's off his left heel when he turns back--a great move for amateurs to copy.
His right heel is up, and weight has shifted into his left side.
When healthy, his lower body turns much faster than his torso.