Hot List
2014 Hot List: Super Game-Improvement Irons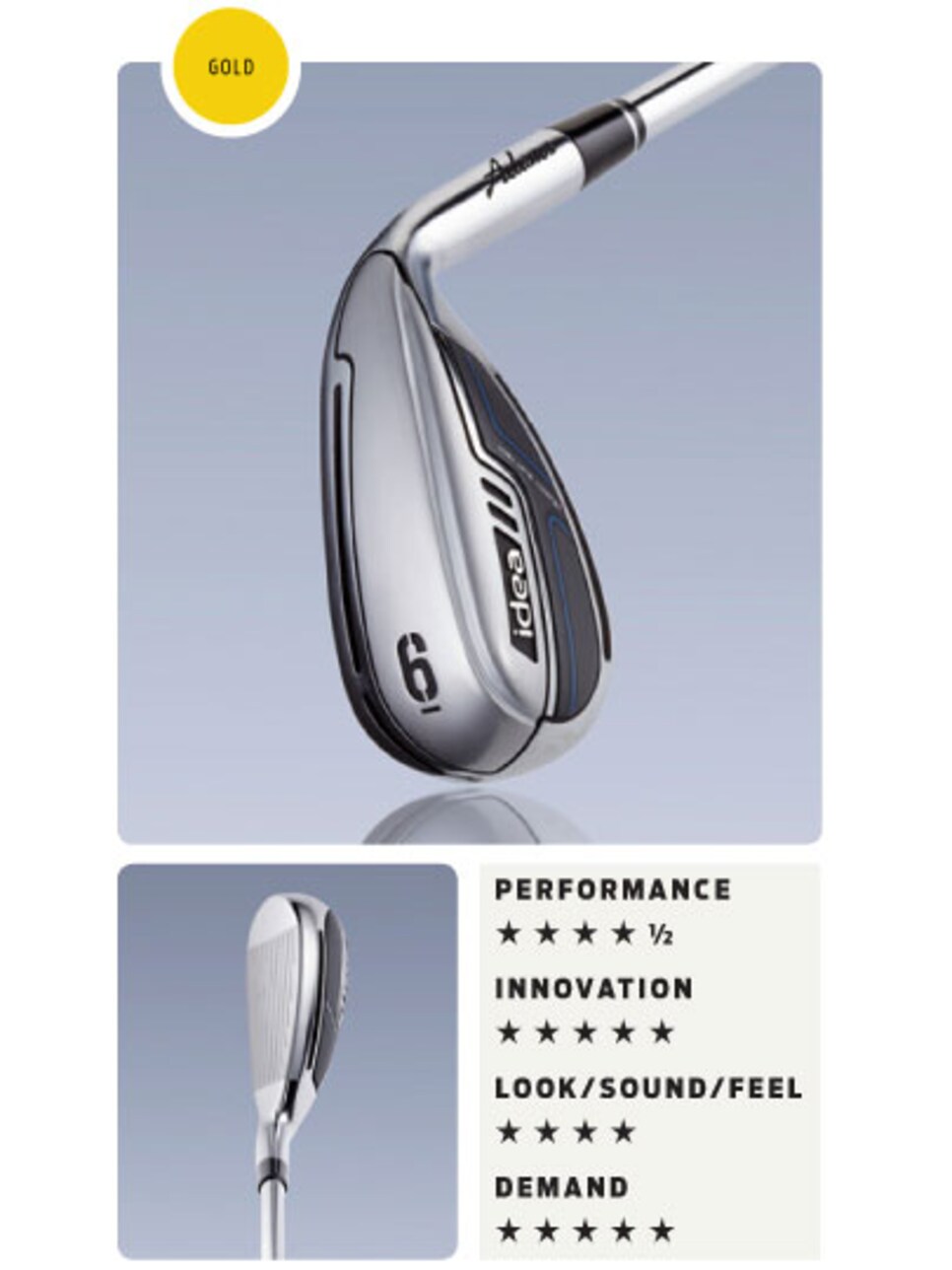 ADAMS IDEA
STREET PRICE:
$800 (set of eight, graphite)
LOFTS:
6-iron: 28 degrees, PW: 44 degrees
TECH TALK:
Three hybrids replace traditional long irons and have crown and sole slots with cut-through openings to enhance ball speed and launch angle. The hollow middle irons have a sole slot that wraps around the toe for more ball speed.
PLAYER COMMENTS:M:
"The hybrid irons gave me the feeling they would bail me out on a lot of shots."
H:
"Impact feels substantial. There's no vibration on off-center hits."
HOT:
Borrowing slot technology from woods and using it in irons is a natural progression in this type of club. Adams has been making sets with three types of irons since 2008. The execution of this line is its best yet.
NOT:
Forgiveness is important in this category, but the size of the 6- and 7-irons is startling.
INFO:
adamsgolf.com
COBRA BAFFLER XL
STREET PRICE:
$700
LOFTS:
6-iron: 27, PW: 43.5
TECH TALK:
A deep undercut cavity results in a large unsupported face area for more ball speed. Oversize rails on the soles of the hybrids and irons improve turf interaction. The standard set has hybrids for the 4- through 6-irons.
PLAYER COMMENTS:M:
"Impact is a full, throaty, flush feeling—like you've just delivered a body blow."
H:
"These are silly easy through the turf. They're like earthmovers without looking like garden tools."
HOT:
Playing to your strengths is always a sound strategy. For Cobra that means taking advantage of its rail-sole technology and experience with hybrids. Both are evident in a set that can help turn a chopper into a serviceable playing partner.
NOT:
Playing clubs in this category can be a blow to the ego for some. The blue color on the head of the hybrids is piling on.
INFO:
cobragolf.com
MIZUNO JPX-EZ
STREET PRICE:
$900
LOFTS:
6-iron: 28, PW: 45
TECH TALK:
The 4- through 6-iron slots are occupied by Mizuno's JPX Fli-Hi hybrids. A special heat treatment used in the casting process helps get the multiple-thickness face as thin as two millimeters. The cavity, sole width and offset are progressively reduced as the set moves into the shorter irons.
PLAYER COMMENTS:M:
"These irons perform as well as they look."
H:
"I definitely got some distance that I didn't have before hitting these."
HOT:
A tweener super game-improvement iron that can help the high-handicapper and the player trending toward a sub-15 handicap. Mizuno's variety of custom offerings is a bonus that can benefit many players.
NOT:
The hybrids come standard in the graphite-shaft version but not in the steel-shaft model. That doesn't seem fair.
INFO:
mizunousa.com/golf
PING KARSTEN
STREET PRICE:
$900
LOFTS:
6-iron: 27, PW: 45
TECH TALK:
Large heel and toe weights in the hybrids raise the moment of inertia (MOI) for better results on off-center strikes. The large front-to-back design of the hybrids is intended to increase the ball flight for approach shots. Wide-sole irons help launch the ball and reduce digging.
PLAYER COMMENTS:M:
"An accommodating size that exudes confidence. These make anyone look like a good ballstriker."
H:
"It felt like I had a beast behind me at impact."
HOT:
Combo sets have not been a strength for Ping—until now. Designing hybrids for shots hit into greens instead of pure distance is smart, and the generous but not obnoxiously large irons offer confidence and forgiveness.
NOT:
Unfortunately, compared to the G-Series and i-Series, these hybrids lack a certain sophistication in looks.
INFO:
ping.com
CLEVELAND 588 ALTITUDE
STREET PRICE:
$800
LOFTS:
6-iron: 27, PW: 44
TECH TALK:
A thin 17-4 stainless-steel face increases ball speed, and weight pushed deep and to the perimeter aids stability. The wide sole features a center section designed to help turf interaction. The irons can be combined with the 588 MT or TT irons to form a split set.
PLAYER COMMENTS:M:
"A lot of bulk to look at, but that makes it encouraging at address."
H:
"Forgiving all over the face, and a gentle feel as it moves through the turf."
HOT:
The company's fourth generation of hybrid-like hollow irons is designed to do one thing really well, and that's get the ball airborne. In the hands of golfers who aren't quite as skilled, that might be enough.
NOT:
No need for a table at the 19th hole after a round: The topline on these is wide enough to serve a tray of drinks.
INFO:
clevelandgolf.com
TOUR EDGE EXOTICS XCG7
STREET PRICE:
$700
LOFTS:
6-iron: 27, PW: 45
TECH TALK:
This seven-piece set (instead of the standard eight) features a pair of hybrids. In the irons (6-iron through PW), a sole cavity delivers better turf interaction, and tungsten weights in the heel and toe improve forgiveness.
PLAYER COMMENTS:M:
"The hybrids are my favorite. They're small and compact and really hot off the face."
H:
"The two-tone finish makes it easy to align, and the matte-black finish in the hybrid is cool-looking."
HOT:
Tour Edge began as a company known for good clubs at a good value, then added the high-end Exotics line. This iron is a combination of both, with high-tech attributes at a price that still lets you take your significant other out for dinner.
NOT:
The seven-piece set means you're going to have to buy a 3-hybrid or gap wedge somewhere along the line.
INFO:
touredge.com
WILSON STAFF
STREET PRICE:
$600
LOFTS:
6-iron: 28, PW: 43
TECH TALK:
A trio of hybrids and five irons feature a large, thin unsupported face to enhance ball speed. The hybrids are the first from Wilson to use the "exoskeleton" technology that moves weight to the perimeter for forgiveness.
PLAYER COMMENTS:M:
"The irons felt powerful and were surprisingly workable for such a large head."
H:
"There's nothing too gimmicky here, which is a nice respite from most others. Plus, mis-hits actually feel good."
HOT:
A good effort to help eliminate user error for a number of high-handicappers. A wider topline provides confidence at address, and a sole that is nearly 14 percent wider than the D100 helps launch the ball high and with minimal turf interaction.
NOT:
A 22-degree 4-hybrid at 40 inches is going to make it more difficult to find the center of the clubface.
INFO:
wilson.com/en-us/golf
WISHON 771CSI
STREET PRICE:
$800
LOFTS:
6-iron: 30, PW: 46
TECH TALK:
The body is made from 1020 carbon steel, and a variable-thickness, high-strength HS300 steel is used for the face. The cambered sole has a blunted leading edge for enhanced playability from a variety of lies and turf types.
PLAYER COMMENTS:M:
"For as thin as the topline and sole are, these irons are very forgiving."
H:
"The looks say, 'Not a lot of help here,' but this is a case where appearances are misleading."
HOT:
Wishon is a name highly regarded by the clubfitting community. That spills over into these irons, which have the ability to be bent plus or minus 4 degrees for loft and lie angle—something not often found in this category.
NOT:
Another thing not often found in this category is a set without hybrids and soles on irons that are this skinny.
INFO:
wishongolf.com
YONEX EZONE XP
STREET PRICE:
$840
LOFTS:
6-iron: 27, PW: 44
TECH TALK:
The clubhead is four grams heavier than conventional irons, and 20 grams of weight has been added to the butt end of the grip, moving the balance point closer to the hands to increase clubhead speed.
PLAYER COMMENTS:M:
"The sweet spot on this face is huge! I hit it all over the face and received solid results."
H:
"The look says you're a better player than you really are."
HOT:
The counterbalanced approach to iron design is intriguing, and the look—a little more toned down than previous Yonex irons—should appeal to a wider range of golfers. Yonex has plenty of name recognition in Asia. This club might get the company more looks in the United States, too.
NOT:
Unfortunately, you have to look extra hard over here to find a store that carries them.
INFO:
yonexusa.com/sports/golf
SEARCH & COMPARE
Search and compare prices, ratings, and more on these clubs.