17 GIFs That Explain How FootGolf Works
In honor of the continuing World Cup-hoopla, four Golf Digest employees decided to give footgolf a try. The basics are just like golf: it involves one ball each, 18 holes, and the goal is to kick it from the tee into the hole less times than your opponent. But while some things stay the same between golf and footgolf, other things couldn't be more different.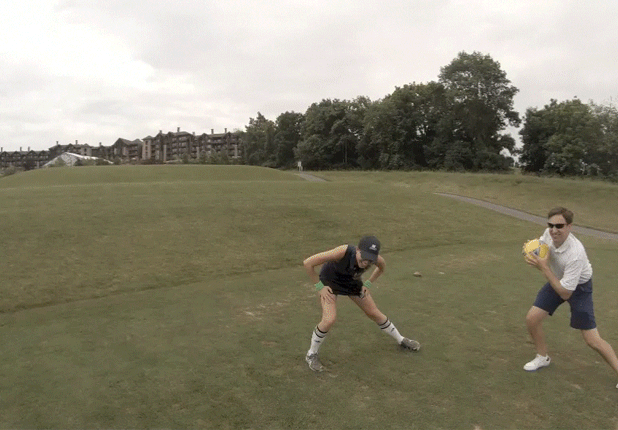 Stretch
Because you're kicking a ball around for 18 holes, it's pretty important to stretch -- a torn groin muscle can put a real damper on your round.
Get Excited
One of the good things about footgolf is that you can do stuff that isn't really acceptable on normal golf courses -- like this. Here's Associate Editor Alex Myers getting himself pumped-up on the first tee, which is good, because the adrenaline probably helped him kick it farther.
Note the Yardages
All of that adrenaline comes in handy when you're facing a hole like the par-5 12th. Rounds take between two and three hours, and as you might expect, the hole yardages are much different. In this case, 265 yards is a total beast. A real three-kick hole.
Go To Ground
Flopping -- or, in other words, pretending to be injured to get an advantage from the referee -- is another thing that hasn't yet made the transition from soccer to golf. There's no referee in footgolf, but it's still a pretty handy form of gamesmanship.
Mind Your Technique
Golf Digest's Social Media Manager Cory Bradburn was definitely the best footgolfer in our group. His strategy to kick it far was to take a long, slow run-up from a slight angle, aim to kick the ball on the laces, and (just like in golf) extend to a nice, high finish with his leg.
Enjoy the Birdies
Cory also proved annoyingly good at making birdies. But more than anything else, that's probably the one thing golf could really stand to learn from footgolf. This was all of our first time playing footgolf, but we each managed to birdie at least one hole, which really did make the game more fun.
No Gimmies
For everyone else in the group not named Cory, footgolf didn't come so naturally. Just like on the real golf course, I struggled with my short putts on the footgolf course.
Practice your kicks
I quickly implemented a series of practice kicks so I could give myself a better chance of making the short ones, but that didn't really work, either.
Use Lag Kicks
Audience Engagement Editor Ashley Mayo had a slightly better strategy -- intentionally or otherwise -- for her short kicks. She just kept trying to lag them closer to the hole until someone said "that's good".
Stay Calm
Ashley got so mad at one point that she actually tore the hole out of the ground. Not really, but it did show us that footgolf holes are cut in the same basic way as normal holes.
Take Sand
Footgolf holes aren't cut on their own green, but rather in the fairway of a regular golf course. That's why the same hazards in normal golf -- like bunkers -- come into play in footgolf. I managed to kick my ball into a couple of them, and found my best route was to take lots of sand and chip the ball out.
Take Relief
And just like normal golf, trees come into play quite a lot. If you find yourself in a spot like this and want to take an unplayable, the same rules apply: two club-lengths, no nearer the hole, one-shot penalty.
Watch Out for Hazards
Actual hazards are also an issue -- even Cory found himself in one of those. I'm not sure if there's a real strategy to escaping them, you just have to kick the ball really hard and hope for the best.
Remove the pin
Despite all this, it's important to maintain your sense of etiquette. Plus if you take the pin out, it seemed to increase your chances of kicking it into the hole.
Go Crazy
But remember, this is a cross between soccer etiquette and golf etiquette, so feel free to run around screaming "GOAL!" any and every time you pull off a great shot. Alex sure did.
Expect Lip-outs
Alas. Even in footgolf, lip outs remain a constant.
Bring Storage
In all, footgolf was fun, but I'd be surprised to see it lurching into the mainstream anytime soon. It's a great way to keep someone entertained while they tag along for a round, but it's hard to see it becoming anything other than a complement to actual golf. Either way, it's fun to say we did it, and finding random golf balls in the rough was always nice.