HENNI & HALLY CAN'T QUIT GOLF
Hollywood actor Richard Kind explains how working in front of the camera comes in handy playing golf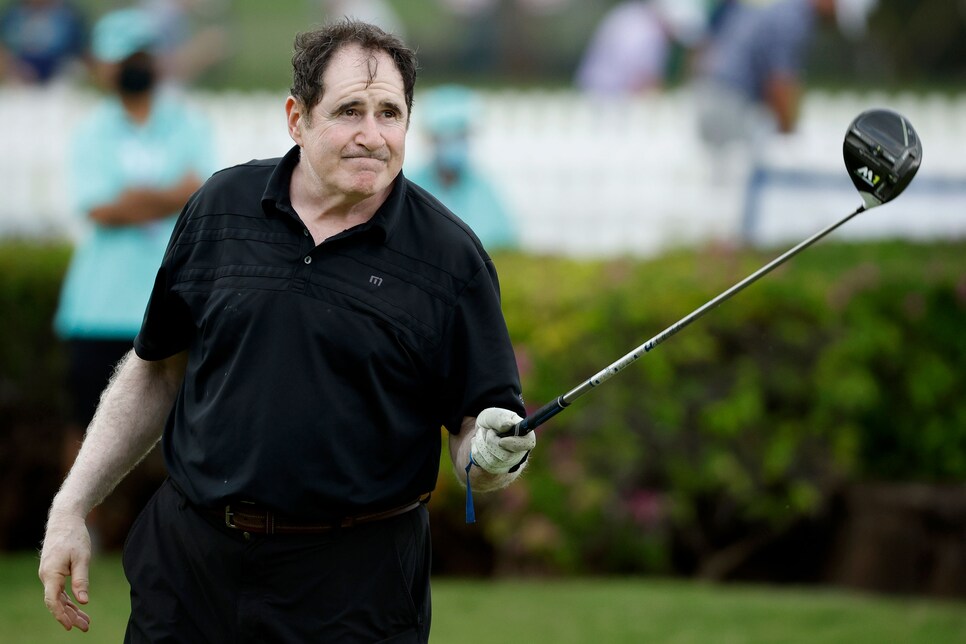 Richard Kind watches his tee shot during the Pro-Am ahead of this year's Sony Open in Hawaii.
Cliff Hawkins
The ability to block out distractions and focus on the shot at hand is critical to success in golf. Overthink things, or let your mind wander, and you're liable to make mistakes. Ask Richard Kind, and he'll tell you the same holds true in his lifelong profession: acting.
Kind is known for his outstanding performances in "Mad About You," "Curb Your Enthusiasm," and "Spin City," as well as memorable voice acting in hit animated films such as "Inside Out" and "Cars." On this week's episode of Henni & Hally Can't Quit Golf, hosts Henni Koyack and Hally Leadbetter speak to the Hollywood star about his love of golf and the parallels he sees with the sport and his acting career.
"In golf, you don't want to think. You've got to trust gravity to do its job. You have to practice enough so that the club goes where you want it to go without you even thinking," Kind said. "Behind the camera there are 50 people, lighting people, wardrobe people, everybody. You can train yourself to not know that those people are there. The average person thinks about what they look like in front of 50 people, but you can't. Golfers have to do that, too. The best, they block it out."
Kind has something in common with other guests that Henni and Hally have had on the podcast: He's had success in his own field and strives to attain that same greatness while playing golf, knowing the sport can be exhilarating and humbling at the same time.
"If you go to a piano and you put your finger on Middle C, you make the same sound as Vladimir Horowitz, the greatest pianist ever," Kind said. "You can hit a golf ball and it can end up in the same hole as Tiger Woods. In fact, you can get a hole in one, where he takes three to get in. You can be great. [Or] you just are lucky, [but] that's what you aspire for."
Hear stories from Kind's days on set as well as Henni and Hally's broadcasting faux pas throughout the rest of the episode, which you can tune into below, or subscribe wherever you get podcasts.