World Golf Hall Of Fame
Davis Love III's Hall of Fame Treasures
Davis Love III didn't have to go far to take a trip down memory lane. It was all right there in his Sea Island, Ga., home. In preparation for induction this month into the World Golf Hall of Fame, the 53-year-old opened his doors to a handful of museum staff, showing them a career's worth of memorabilia he had collected since his childhood. Offering 75 individual items for use in the Class of 2017 Inductee Exhibit in St. Augustine, Fla., and Love's space in the Hall of Fame Member Locker Room, the former PGA champion and two-time Players Championship winner shared some of the stories behind the artifacts with World Golf Hall of Fame historian Dr. Tony Parker, who in turn shared them with us. (All photos courtesy of the World Golf Hall of Fame.)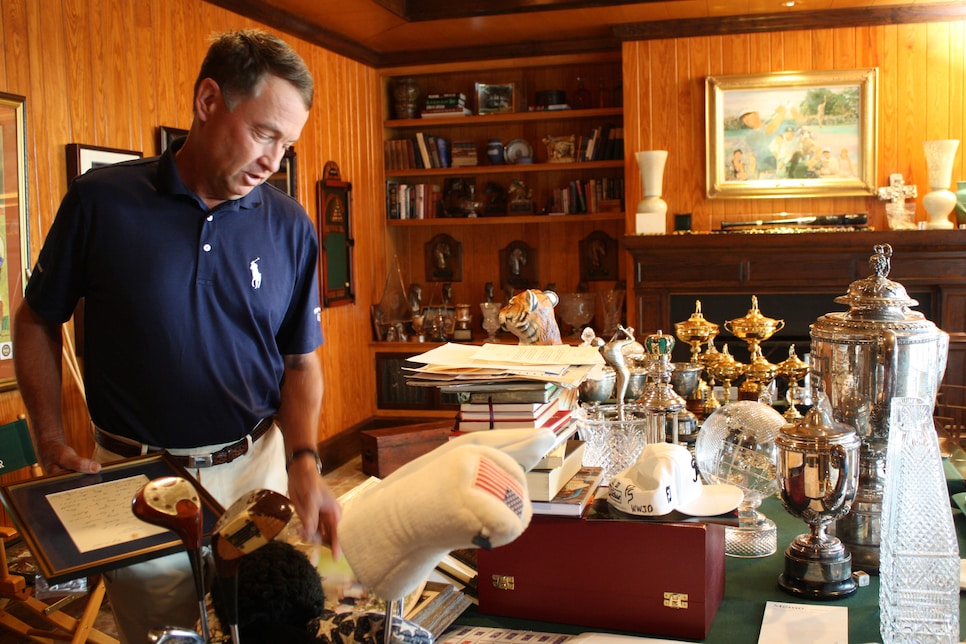 Plenty To Choose From
Love explores some of the memorabilia he's accumulated over the years as he determines which pieces to loan to Parker and the World Golf Hall of Fame staff. In the box in front of him are VIP letters from Presidents including George H.W. Bush and George W. Bush along with notes from Arnold Palmer, Jack Nicklaus, Louise Suggs and Byron Nelson.
Born To Golf
The larger photo is of Love as a child swinging a club. There is also a string of photos that were taken by golf instructor Butch Harmon to analyze Davis' swing.
Kid Clubs
These two clubs are Davis' first driver, which he calls his "cork driver," and his childhood putter, set in front of one of his many Presidents Cup golf bags.
What's In The Bag
These irons belonged to Davis' father, noted instructor Davis Love Jr., and had dad's name engraved on them. Insider are a 2-iron Dunlop and 7-iron Dunlop as well as two Ben Hogan 5-woods, and several gold-plated Ping putters. These will all be in Davis' locker at the Hall of Fame.
USGA Badges
During his career, Love played in 20 U.S. Opens. He had four top-10 finishes with his best showing being a T-2 in 1996 at Oakland Hills.
First PGA Tour Win
In April 1987, Love had his breakthrough victory, taking the Sea Pines Heritage Classic by a stroke over Steve Jones for the first of his 21 PGA Tour titles. This is his commemorative golf-plated Ping putter he earned from the company for the win.
Drink Up
Love made 20 starts in the Masters, finishing in the top 10 six times. Over the years, he earned his share of crystal given out for eagles, low rounds and other notable accomplishments. In the foreground is a collectable from another major: Love's commemorative Ping putter head for his win at the 1997 PGA Championship.
Having A Ball
These balata balls harken back to the days when Love was first being taught the game by his father, a PGA of America professional who finished T-6 in the 1969 Open Championship.
Golden Moments
Love earned more Ping golden putters as a member of the U.S. Ryder Cup team, and with wins at the Players and PGA.
To The Victor Goes The Spoils
These are Davis' crystal trophies for winning the 1992 and 2003 Players Championships sitting beside his replica of the Wanamaker Trophy for winning the 1997 PGA.
Presidential Prowess
During his career, Love played for the U.S. team in five Ryder Cups (and captained two teams) and six Presidents Cups.
Powerful Partners
Arguably Love's best friend on tour was Fred Couples. The duo teamed together in Ryder and Presidents Cup, and won the World Cup of Golf four straight years (1992-'95) with Couples.
The Hall Gets A Nice Haul
After nearly six hours of conversations and documentation, 75 of Love's personal items went on their way for display at the Hall's Museum in St. Augustine, Fla., both in the Class of 2017 Inductee Exhibit and in Davis' personal locker.