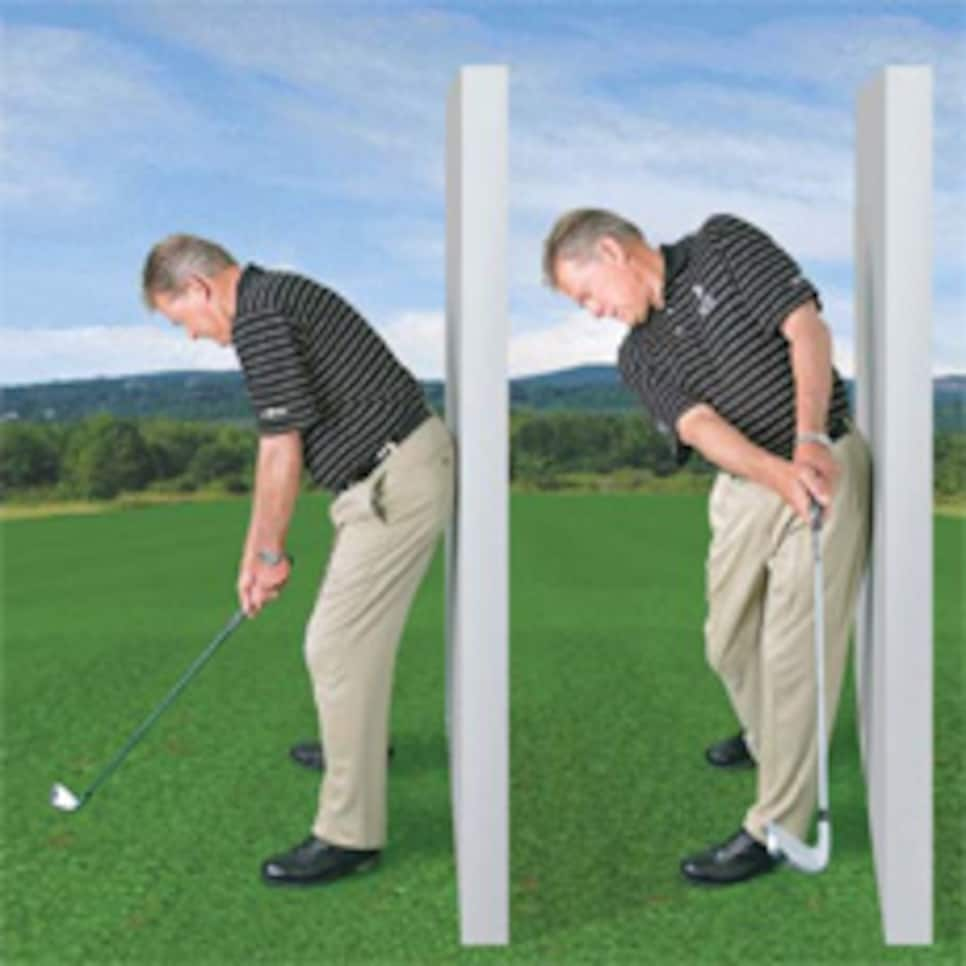 One-planer
The one-planer is blessed with a long flat spot at the bottom of the swing that makes hitting short irons really easy -- think of Gary Player, Lee Trevino or Paul Azinger. The flip side is that it's difficult for a one-planer to get enough height on shots hit with a flat-faced club, such as a 4- or 5-iron.First, you need to invest in a hybrid and throw out that 3-iron. Hybrids are designed to hit the ball higher, and you'll get a tremendous amount of help from that. Mechanically, you need to make your swing more up-and-down. The way to do that is to bend over more at address, and get your rear end extended behind your heels. You see Tiger Woods do this every time he launches one of his famous super-high shots with a long iron.A good way to feel this is to imagine that your rear end is pushed against a wall at address and stays against the wall during the swing (above). This automatically tilts your shoulder plane more upright, and adds that up-and-down element to your swing. I've worked with Azinger on this exact thing because he wasn't hitting his longer irons high enough to be competitive on the PGA Tour anymore.You don't want to turn your shoulders on a steeper angle. If you do that, you'll just tilt forward on the backswing and tilt back on the forward swing in a reverse pivot.
Two-planer
A two-planer comes down on the ball from a steep angle. That can make hitting short irons a challenge. The drill below with a rubber tee on a range mat helps two-planers feel a longer, flatter bottom of the swing.Get your wedge, and set up to the ball on a high tee. Make some short, knee-high swings, and practice clipping the ball off the tee. Work on catching the ball cleanly, without hitting any of the tee with the clubhead. Once you've grooved that swing, move the ball off the tee and make the same short, flat swings, brushing the ball cleanly off the mat.Another way to make the bottom of your short-iron swing flatter is to hit more three-quarter punch shots. Restrict your backswing and follow-through. You're essentially taking out most of the "up" part of your swing and leaving the "around" part. Try it the next time you play a round.
Which swing is better?
Every player comes with a natural fingerprint for the kind of swing he or she should use.If you grew up playing sports like baseball or tennis, you have a feel for propelling a ball forward. You're probably going to lean toward being a one-plane swinger. If your sense for the golf ball is that you need to lift it in the air to send it on its way, you're probably going to be a two-plane swinger.Neither is better or worse. Players have won countless millions using both methods.I just want you to use the set of fundamentals that works for your kind of swing. Mixing them is what produces bad golfers.