Ryder Cup Merchandise
15 Cool Items You Can Find At The Ryder Cup Merchandise Pavilion
Patriotic colors and T-shirts highlight some fantastic 2016 Ryder Cup merchandise on sale at Hazeltine National. Fans of Team USA have more items to choose from, but the PGA of America has provided European fans their fare share of options. Here's a look at some of our favorites, from hockey sticks and sweaters to hats to some of the always-fun mancave signage.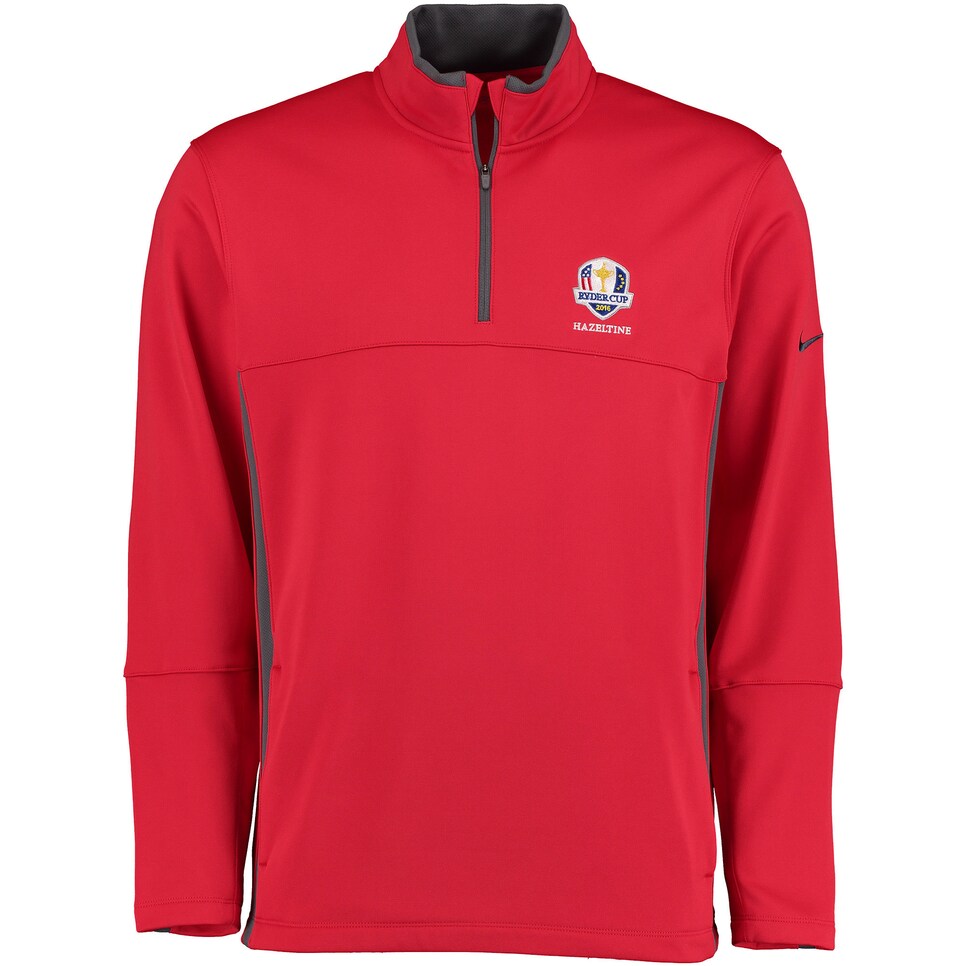 Nike Therma-FIT Cover Up
This 1/2-zip pullover with side pockets provides warmth with a lightweight, breathable material.
$85
Ryder Cup Pub Sign
Artist Lee Wybranski has created a "pub sign" that will brighten up any office, kitchen or mancave.
$34
Nike Clash Victory T-shirt
The USA version is just as cool, but could this "EU" shirt become a collector's item with Brexit chipping away at the European Union?
$35
Team USA putter cover
The blade-putter headcover has a plush lining with embedded magnetic closure.
$40
Hockey sweater
GarbInc delivers this standout youth hockey sweater with loads of USA color and Ryder Cup branding.
$78
Adult hockey sweater
An adult version sells for $265.
Women's T-shirt
Women's T-shirts were by far the standout item from multiple brands, including Under Armour's whimsical "Captain's Pick" tee.
$38
Team USA hats
Pick up your team-scripted gear! On display here are all of the hats for Team USA, sorted by day.
$35
Polo Team USA camo pull-over
Team USA brushed back camouflage pullover has just enough flare to standout from the crowd of pullovers, with the USA 16 sleeve branding.
$165
Stance Quarter-Length sock
Made from a combination of polyester, nylon, spandex and elastic material, with woven graphics.
$18
Signs by The Sea Mancave signs
There are a number of mancave musts, with the "Noise Please" sign and wall-mounted bottle opener particularly standing out.
$48
Greg Norman Collection vest
This "foil printed" quill vest will come in handy for Hazeltine's chilly mornings.
$95
Pint glasses
Mirroring the cool design concept seen earlier this year at the Masters, this Minnesota state glass captures loads of local flair with a Ryder Cup logo reminder on the backside.
$18
Team USA bag
Get the actual Team USA bag with your name ($795). If that feels slightly creepy, then get the ultimate mancave den caddie (or trash can) for $199.
Team USA golf towel
This 40" x 20" is made from a poly blend and is machine washable. You can attach it to your bag with a side loop.
$30