Mr. Style's weekly look at what people are wearing on and off the golf course makes a stop at Augusta National for the 2013 Masters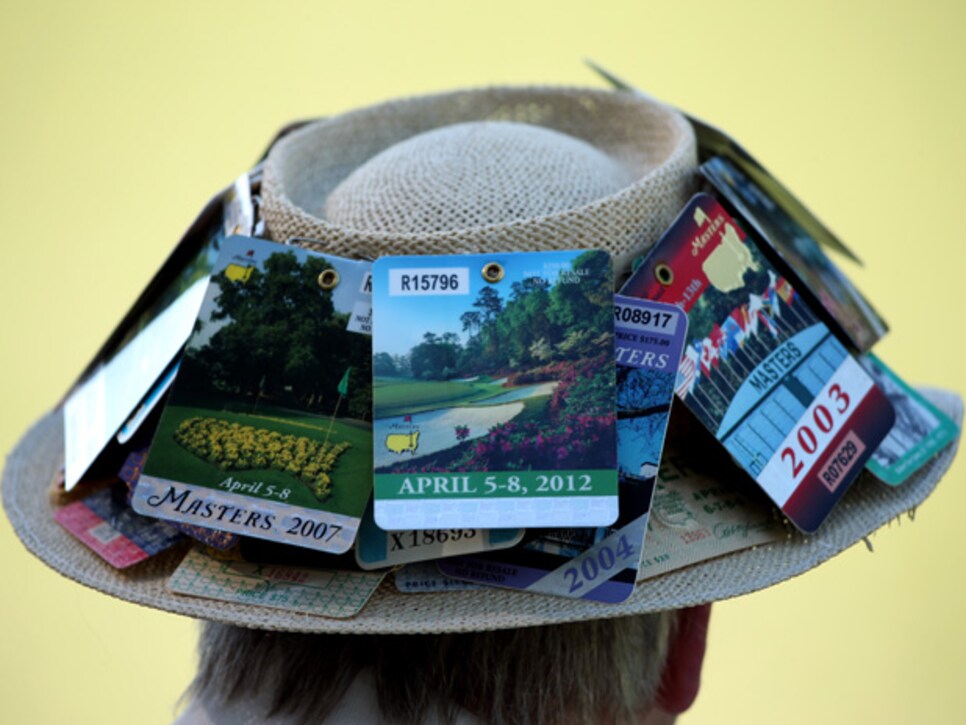 Masters Hat
Why do people keep showing off all of their Masters badges? Because they can!
Adam Scott
You don't want to mess with this high-stepping Aussie! If you think that bicep is good, you should see his 12-pack abs. Uniqlo sure hit a grand slam with their new spokesperson.
Lindsey Vonn
The fashion in the gallery is often more compelling than what the players are wearing. Lindsey Vonn is Example No. 1: I think she looks great.
Henrik Stenson
I'm personally thrilled that Henrik is back playing well because there's no one who is a better source of humor and great cheer. Boss green suits him well and he pulls off this look, which in theory is quite tricky. Henrik's a breath of fresh air, and sometimes his jokes are even funny.
Matteo Manassero
Few could make these gingham checkered RLX trousers look as great as they do on Matteo. It was a smart choice to go with the solid navy shirt. Now if we can just get him to find some more exciting socks, we'll have the total package. Check out those sleeves. This guy's got guns!
Rickie Fowler
Move over, Charley Hoffman. You're not the only one who can rock fluorescent green. Nice touch with those green Puma soles.
Jamie Donaldson
Speaking of green, as in Galvin Green, Donaldson's tartan pants not only look great, but must have been the perfect good luck charm on his way to a hole-in-one.
Graeme McDowell
G-Mac gets high marks for not going with a white belt with this very smart Kartel outfit.
Ian Poulter
Talk about being perfectly coordinated. The red Puma shoes and belt buckle compliment the IJP tartans as well as the Cobra visor and driver. Even the tipping on his shirt collar is just the right touch.
Bubba Watson's Watch
This Richard Mille RM 038 Bubba Watson victory watch with the green flange is the perfect match for that green jacket. Just in case you're wondering, the suggested retail price is $650K.
Martin Kaymer
Is there anyone more perfectly coordinated from outfit through swing than Martin Kaymer? Oh yeah, Ian Poulter.
Australian Pants
Marty Nichals and Brad Harrison from Sydney showcase the loudmouth Aussie Rules trousers. Maybe they brought Adam Scott good luck because they were walking with him the whole way.
Hunter Mahan
No one is more bummed out than I that Hunter Mahan didn't make the cut because his Under Armor clothing selections certainly made the fashion cut.
Tianlang Guan
This kid's got style and game. How many 14-year-olds rock the buttoned-up shirt and plaid pants? He looks great!
Paul Lawrie
The European players really understand how to wear their tartans.
Caroline Wozniacki
A smiling Caroline Wozniacki will bring sunshine to anyone's gallery. Perfect outfit!
Brian Gay and Thorbjorn Olesen
I'd like to propose a race between these two, as they both use color to make a statement.
Zach Johnson
Nice hat, Zach!
Bernhard Langer
Langer looks like an NFL official who is indicating there are three more yards for a first down. I think it's definitely worth mentioning that his Bogner trousers often have this additional right leg (cargo) pocket. If you or I showed up to a club in this, I'm sure someone in a blazer would ask us to change. Just ask Michael Jordan.
Marc Leishman
The 2012 Travelers Champ is looking trim and in contention. And is that an Aussie flag belt buckle? We've got to find out how to get one of those.
Brandt Snedeker
Sneds' Peter Millar trousers, belt and shirt are on our style leader board. Take note, all of you who match your belt, hat/visor and shoes. Isn't this an interesting alternative? Notice how great the blue belt looks matching the trousers rather than the shoes.
Jason Dufner
Certainly not #Dufnering with this shirt.
Gonzalo Fernandez-Castano
I guess it's no surprise that Gonzalo is Spanish. If this isn't a matador pose, I don't know what is.
Rory McIlroy
To me, this looks great. Some color, some energy, some bounce back in that step. Please Nike, keep giving Rory some energetic options. If he keeps looking this confident on the course, it's sure to extend to his game.
Fred Couples
You, too, can look like this when you grow up. Doesn't he look trim? And those Ecco shoes and shoelaces with the shirt . . . did someone really work that out? Nice touch!
Ryo Ishikawa
I love this. There is no one, I repeat, no one that coordinates their entire wardrobe better than Ryo. It's a shame the Japanese Callaway collection is not available in the States.
David Lynn
David Lynn or Socrates? Pick 'em.
adidas (Thursday)
Team adidas, or is this the Carlsbad high school golf team? The adidas three amigos? I could go on for days describing the perfectly-uniformed adidas team.
adidas (Friday)
Well, almost perfect. It looks like Jason flip-flopped the days.
adidas (Saturday)
And again.
adidas (Sunday)
But they were all back on the same page Sunday!