Whistling Straits: Straits Course
Sheboygan, WI • Public
1 / 6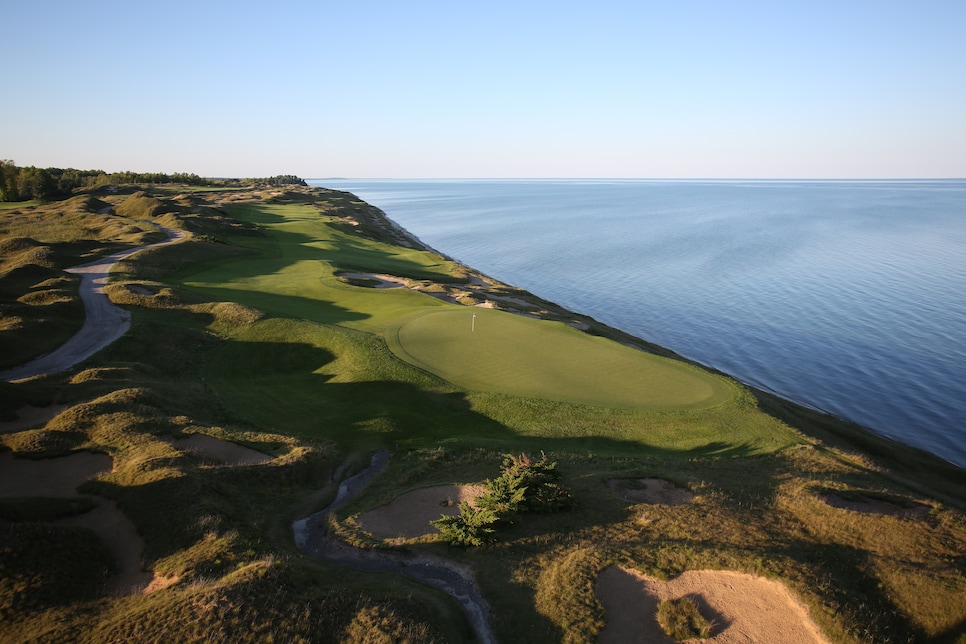 2 / 6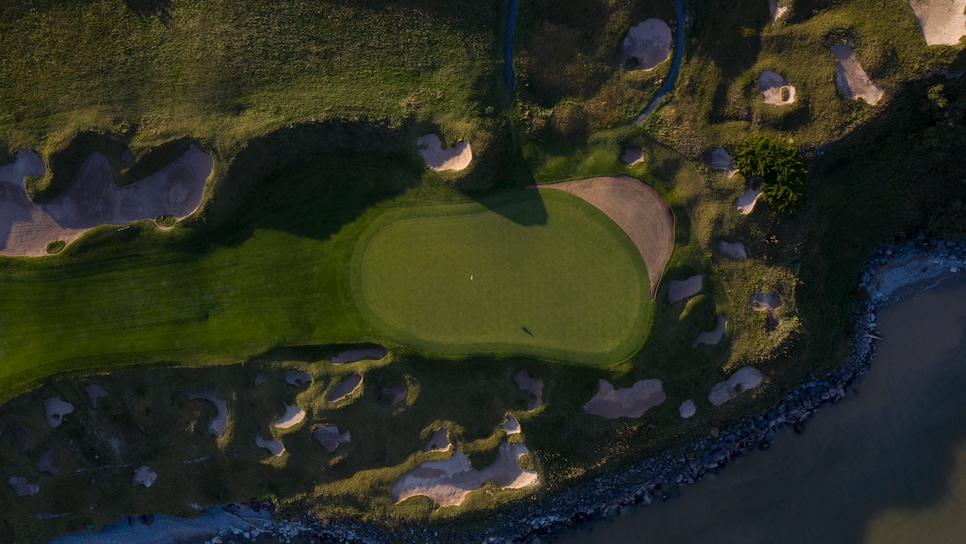 3 / 6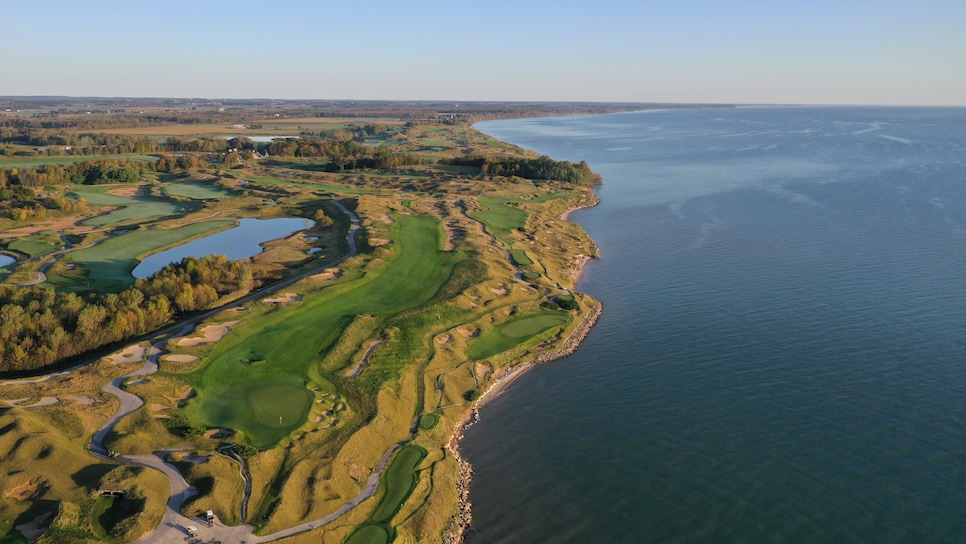 4 / 6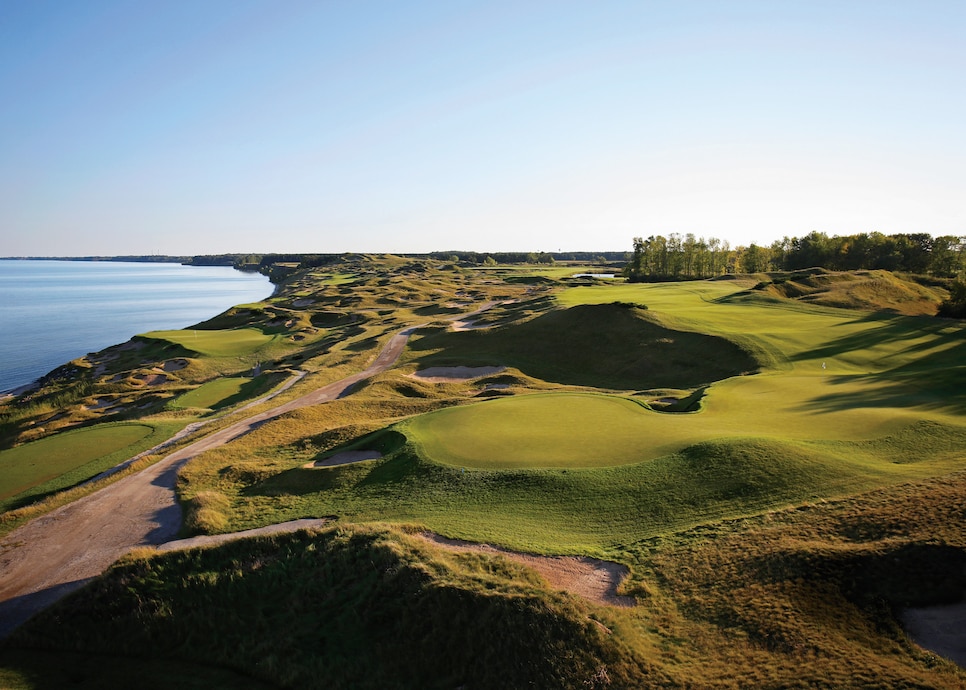 5 / 6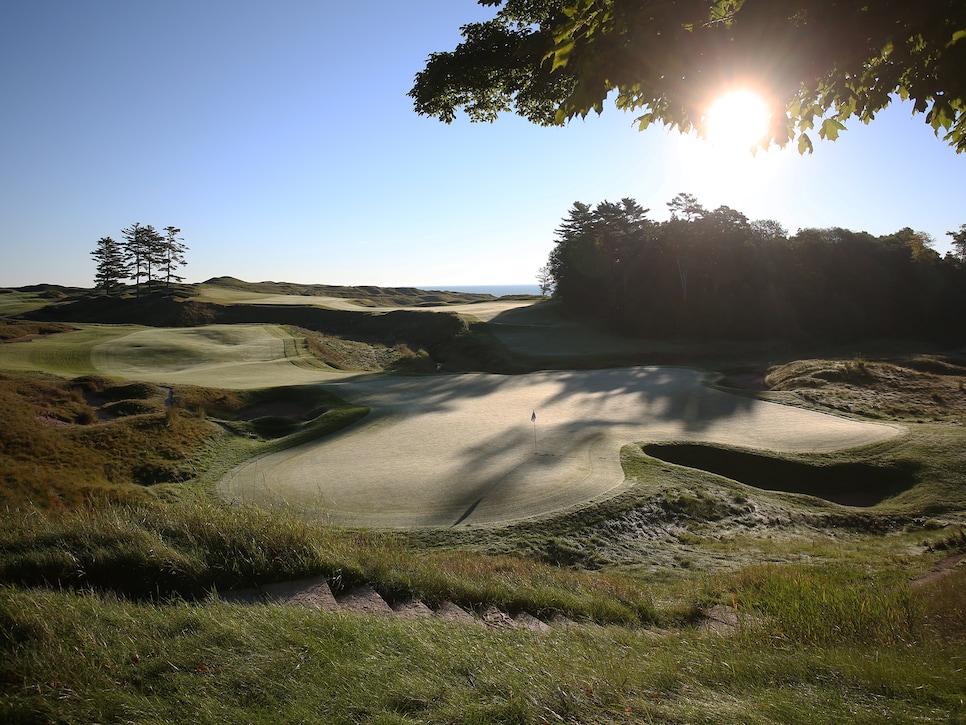 6 / 6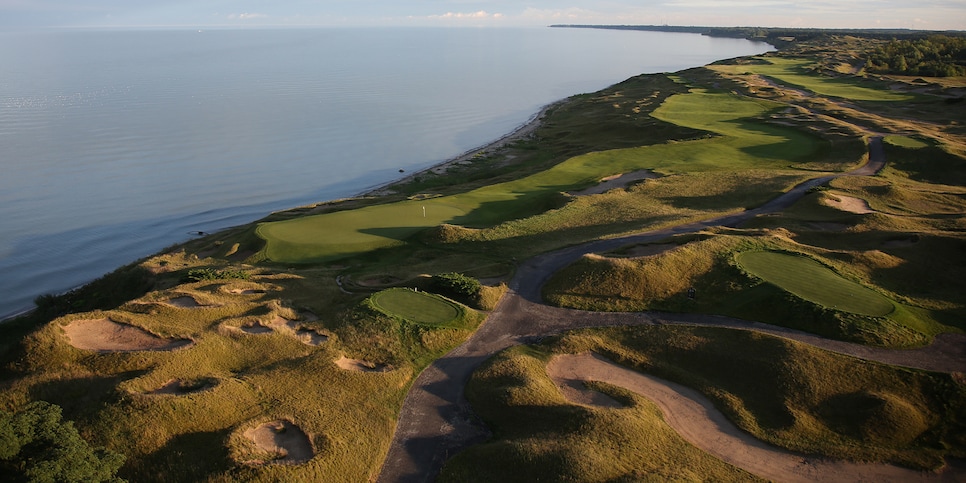 Overview
Pete Dye transformed a dead flat abandoned army air base along a two-mile stretch of Lake Michigan into an imitation Ballybunion at Whistling Straits, peppering his rugged fairways and windswept greens with 1,012 (at last count) bunkers. There are no rakes at Whistling Straits, in keeping with the notion that this is a transplanted Irish links. It has too much rub-of-the-green for the comfort levels of many tour pros, which is what makes it a stern test for top events, such as three PGA Championships, the 2007 U.S. Senior Open and 2021 Ryder Cup.
Awards
100 Greatest: Ranked since 2001.
2023-'24 ranking: 26th.
Previous ranking: 23rd.
Highest ranking: 16th, 2013-'14.
100 Greatest Public: Ranked since our inaugural edition in 2003.
2023-'24 ranking: 4th.
Previous ranking: 3rd.
Highest ranking: 2nd, 2013-'14.
Best in State: Ranked first since 2011.
2023-'24 ranking: 1st.
Watch our exclusive drone tour
Panelists
Ratings from our panel of 1,900 course-ranking panelists
100 GREATEST/BEST IN STATE SCORES
Reviews
1 / 18
Review
"Very scenic, but difficult, Pete Dye masterpiece. Worth the trip out there."
Read More
2022
2 / 18
Review
"The best course at Herb Kohler's Resort, Whistling Straits is brutally difficult and wildly unique, playing right on Lake Michigan with insane views throughout. With thousands of bunkers, I've never really played a course like this and found it wildly fun despite the challenge. I highly highly recommend Whistling Straits and look forward to more Pro events here."
Read More
2022
3 / 18
Review
"Dramatic vistas of Lake Michigan and a championship history that includes both PGA Championships and the Ryder Cup"
Read More
2022
4 / 18
Review
"Aesthetically, this is one of the more stunning golf courses in the world. While the front teases you with views and hints of what's to come, the back nine is truly insane. This is a big golf course all around, so shot options are plentiful. While well maintained, it seems they purposely keep the greens a roll or two slower due to the resort traffic. It played firm, but not as fast. When the wind blows (and it does regularly), this place gets really tough, especially the holes in the middle of the back that hang out over the lake. The finishing hole is a few tough shots as well..."
Read More
2022
5 / 18
Review
"A course worth playing to see its grandeur; the routing is brilliant, constantly staying near the water, but the holes themselves tend to be undistinctive. There are so many bunkers that the course proves nearly impossible to maintain for the resort golfer."
Read More
2021
6 / 18
Review
"It doesn't get any better than this. Excellent course with excellent conditions."
Read More
2021
7 / 18
Review
"A great place for a golf trip. Lots of excellent golf within 2 hours of Whistling Straits, with the Straits course being the best and a must play."
Read More
2021
8 / 18
Review
"Well, if I never make it to Ireland, I do believe I have a good idea of what it would be like."
Read More
2019
9 / 18
Review
"This is a fun course but will hurt you if you pick the wrong tees. A poor ball striking round will drive the score up quickly. Expensive but a bucket list play."
Read More
2019
10 / 18
Review
"It is hard to believe this course isn't in Ireland. Dye has done a magnificent job on the routing of this course. I am not bothered if they had to move a lot of dirt to create this masterpiece. The water holes are top notch. What a finishing hole. I bet plenty of matches are decided here. Look for the lost DJ bunker. It is worth walking back to the Black tees on 18 if you have some space behind you."
Read More
2018
11 / 18
Review
"To sum it up in one word: wow. Simply an incredible course. As hard as they come, due to the constant wind, often impossible green-side bunkers, and wispy heather. The views are to die for. With many golf courses in the area, this is the one to play, for sure."
Read More
2018
12 / 18
Review
"One of the best resort experiences in the U.S. The lakeside location and the manufactured massive dunes really work. The course is fun and eye-opening, in a good way. The relatively understated clubhouse is a great place to recount the round. So many reasons to travel to Wisconsin for golf and the Straits course is certainly a highlight."
Read More
2018
13 / 18
Review
"A very challenging course but will reward good shots. Just a beautiful setting along the lake which almost takes your breath away. In excellent condition when I played in early 2018. I would play here again in a heart beat."
Read More
2018
14 / 18
Review
"A truly breathtaking venue that devotes itself to golf."
Read More
2018
15 / 18
Review
"The Straits Course is truly a remarkable golf course. The entire Kohler area lets you know that this is special place devoted to golf. The clubhouse and practice area for the Straits and Irish course are amazing. With the flags in the front and stone architecture, I was reminded of some of the classic Scottish golf facilities like Royal Dornoch or the Old Course. The golf course itself is a true pleasure to play. The way the course opens up to the lake after the first hole is brilliant. There is one hole after another that is brilliantly designed. The par threes along the water were difficult with pin positions that were almost impossible to get close to. The bunkers throughout course were both dramatic and interesting. There is nothing better than golf conditions in the northern part of the United States. The greens were perfect and fast. The fairways were fast and firm. The Straits Course is one of the best in the country. Go and play it!!!"
Read More
2018
16 / 18
Review
"Make sure you get there early to warm up and have a cup of coffee on the back patio. This is a place you'll want to spend the day. Upon arrival you get the feeling of what it's like to be a tour pro getting ready to play a PGA/LPGA event. It's a real busy place with players and caddies everywhere you look. The course is soooooo good. There are well protected greens with bunkers pretty much everywhere you may miss an approach shot. The fescue is brutal so "Layup" will be the word of the day. If it's a windy day move up a tee box. If you want a serious challenge, go back to the tips and see where the big boys play. Just be sure to leave the score card in your pocket for the duration of the round. The caddies are some of the best I've played with hands down, which is great because if you are new to The Straits course you'll be thankful for the help. This is an amazing golf course and very playable if you choose the appropriate tee boxes for your game. The greens and fairways roll well so make use of lag putting and trust the reads of your caddie. And yes, everyone will be watching your approach to the green on 18. Knock it stiff! You'll want to go back."
Read More
2018
17 / 18
Review
"Unforgettable golf experience. Completely unique links style course built along Lake Michigan in upstate Wisconsin. So many bunkers and elevation changes, sheep roaming on the fairways. Rounds will run close to $400, but experience is right there with the best of 'em. Must play with a caddie and you'll be glad you did."
Read More
2018
18 / 18
Review
"Demanding Pete Dye course right on Lake Michigan. Past PGA Championship host and will host Ryder Cup in a few years. After the round, the Whistling Straits restaurant is a great place to grab something to eat. Great views of the lake and nice British-inspired menu."
Read More
2018
Readers
Collection of reviews from our readers
There are no reader ratings yet
Reviews
There are no readers reviews yet. Be the first to write a review.