1 / 6
2 / 6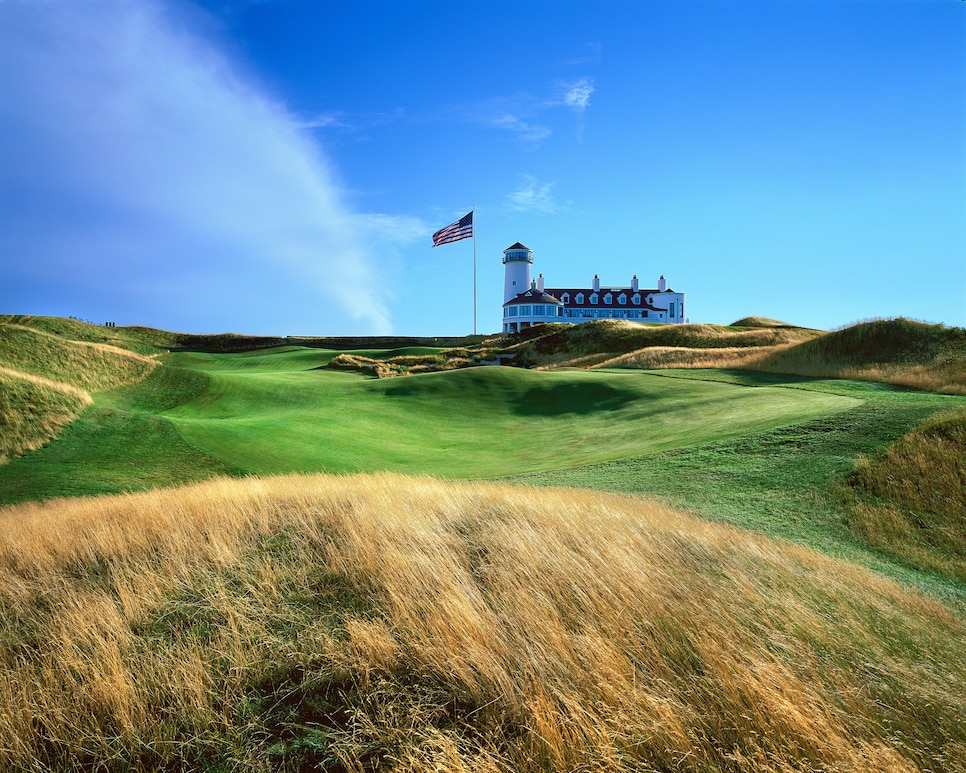 Courtesy of Evan schiller
3 / 6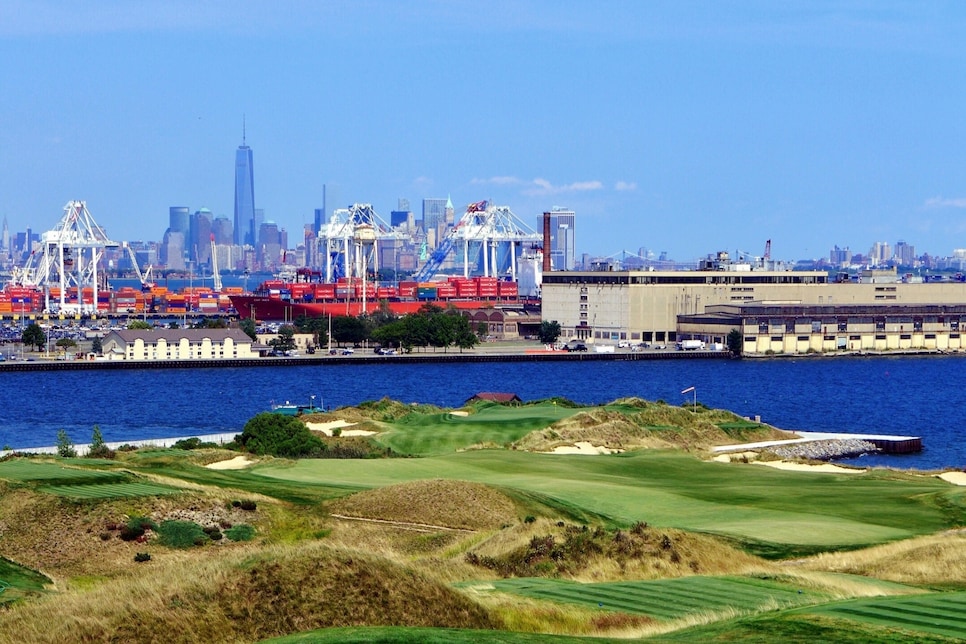 4 / 6

Courtesy of Evan Schiller
5 / 6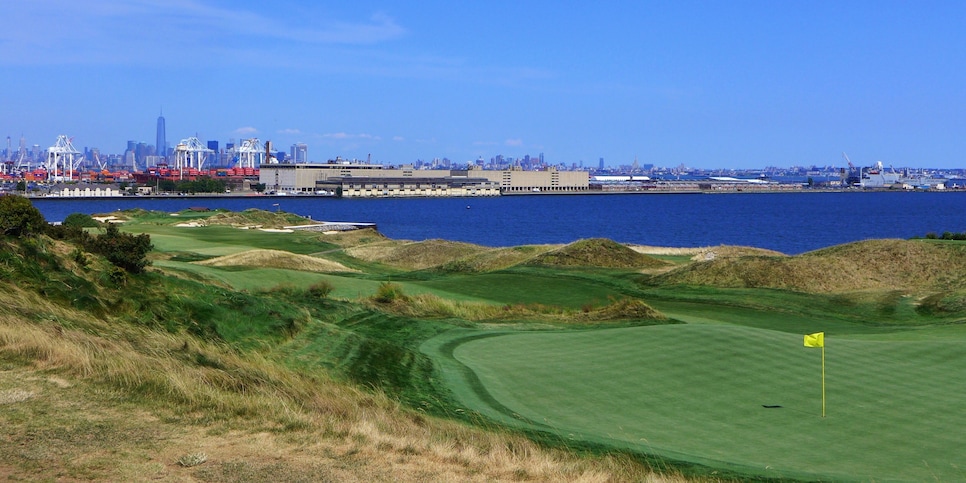 6 / 6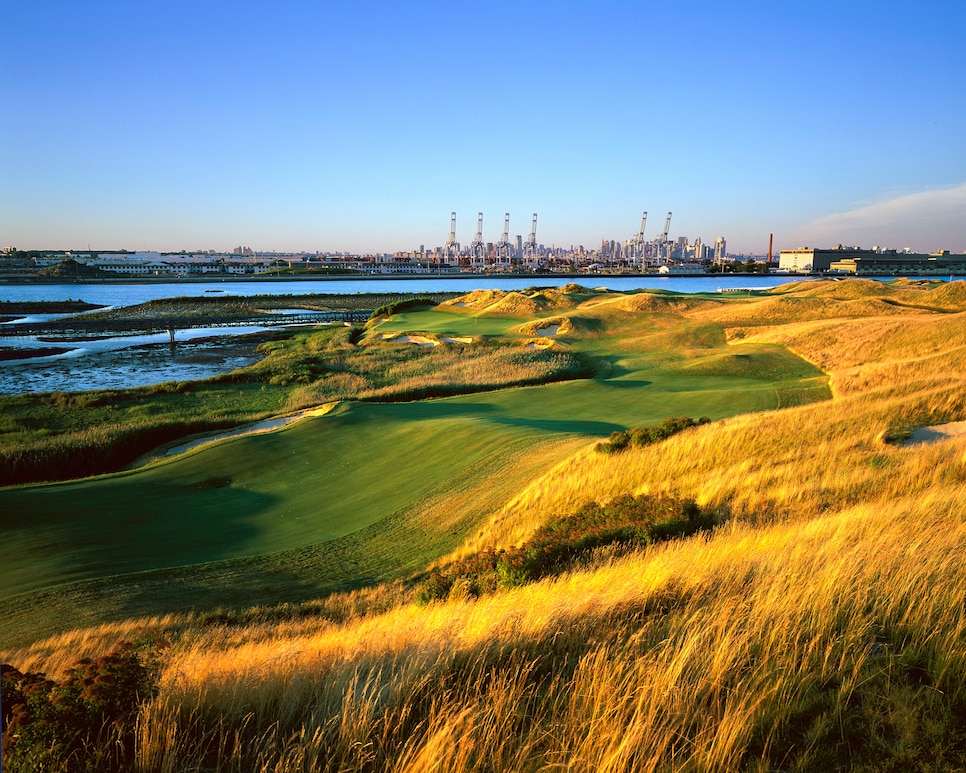 Courtesy of Evan Schiller
Overview
Both Bayonne Golf Club and its neighbor, No. 197 Liberty National G.C., were built at the same time, part of a massive transformation of the Jersey shoreline along the Hudson River and New York Harbor. Bayonne was built on an old sanitary landfill covered with 7 million cubic yards of fill, much of it dredged from the harbor to efforts to make the harbor deep enough for supertankers. The deposits were piled up to 10 stories high, which developer-designer Eric Bergstol then shaped into towering faux sand dunes. The course is an ode to Irish links, with no trees, cart paths or level lies. Fairways flow down narrow valleys, edged by steep slopes laden with tall, wavy fescues. Bunkers are deep and often fearsome. A few greens sit right above the harbor and all putting surfaces have confounding humps, bumps and rolls. Tucked away down a bumpy, unpaved road past a strip mall in blue-collar Bayonne, N.J. is this private, walking-only enclave.
Awards
Second 100 Greatest: Ranked since 2011.
2023-'24 ranking: 177th.
Previous ranking: 158th.
Highest ranking: 126th, 2013-2014.
Best in State: Ranked in Top 10 in New Jersey since 2009.
Current Ranking: 9th.
Previous ranking: 8th.
Panelists
Ratings from our panel of 1,900 course-ranking panelists
100 GREATEST/BEST IN STATE SCORES
Reviews
1 / 6
Review
"The juxtaposition of urbanscape and Irish faux links with massive dunes — in Bayonne, N.J. — makes this one of golf's most unique venues. The setting — with the skyline in one direction and massive containers, cargo and cranes in another — is a 10/10, and the golf is very good. A day at Bayonne is a day you don't want to end."
Read More
2021
2 / 6
Review
"Hard to believe a golf course could be built in this location -- the size of the dunes used to create and separate holes is impressive, as are the views. One of the most unique courses and experiences out there. Holes feel a little squeezed at times given the small property. The finishing trio is tough!"
Read More
2021
3 / 6
Review
"The views from Bayonne are incredible. You can see the city as well as many of the shipyards in the area. If you happen to be offered to take the ferry from Manhattan to Bayonne, you must! Great views of the Statue of Liberty and city. The course itself is a true gem with many design characteristics that make it very intriguing. What is very interesting is how quiet the course seems as you are sheltered by tall rolling hills that were constructed as part of the design. The level of service at the club is top notch as well, and has a great caddie program! Also, due to space constraints the driving range is located on the water so you hit balls into the Hudson River. Definitely an experience if you've never done it!"
Read More
2020
4 / 6
Review
"This course is a miracle of ingenuity, engineering, and vision. It is constructed on the Hudson from dredged sludge. It is built on reclaimed land. It feels as though a course were just dropped in from Ireland. Because the course does not have the luxury of many acres, the holes are routed so that there is separation by height rather than by width. It is brilliant. It is very private but if you can play it, drop everything and go."
Read More
2018
5 / 6
Review
"Very different layout that is very fun to play. The views are magnificent."
Read More
2018
6 / 6
Review
"Golf course and views are spectacular."
Read More
2021
Readers
Collection of reviews from our readers
There are no reader ratings yet
Reviews
There are no readers reviews yet. Be the first to write a review.