1 / 8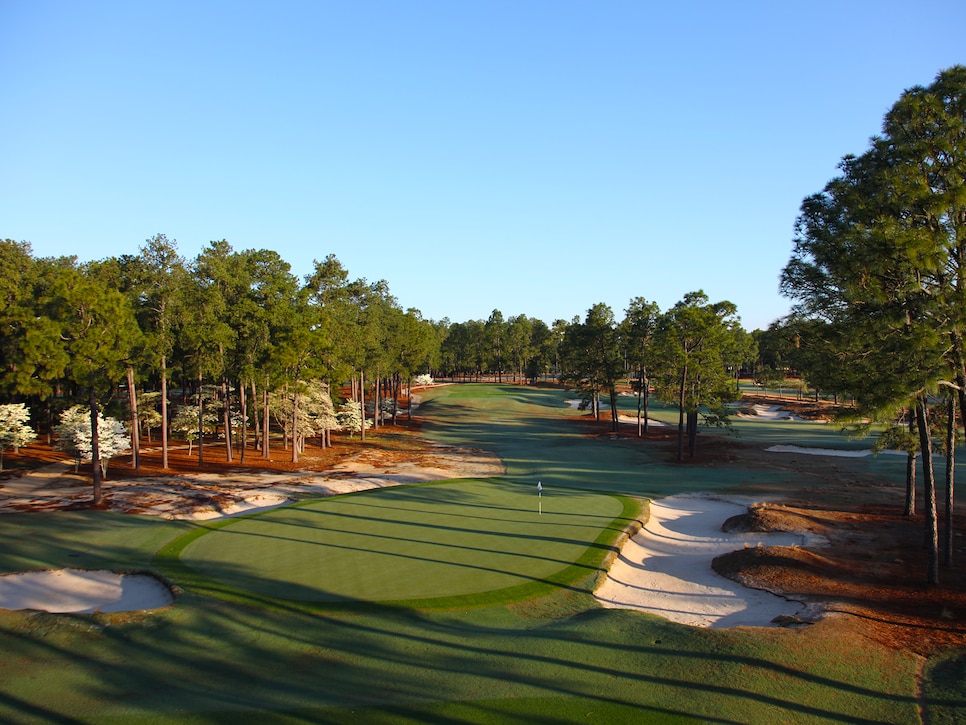 2 / 8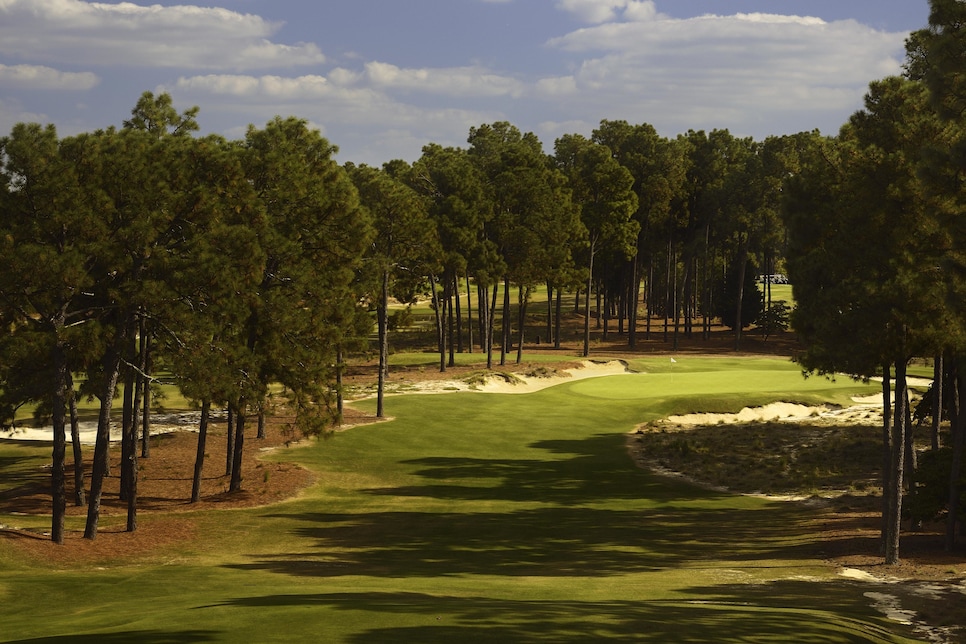 3 / 8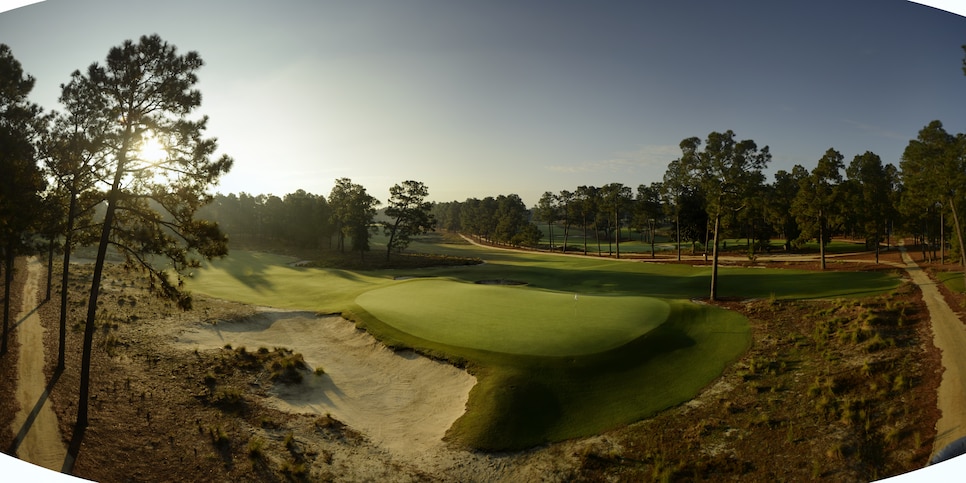 4 / 8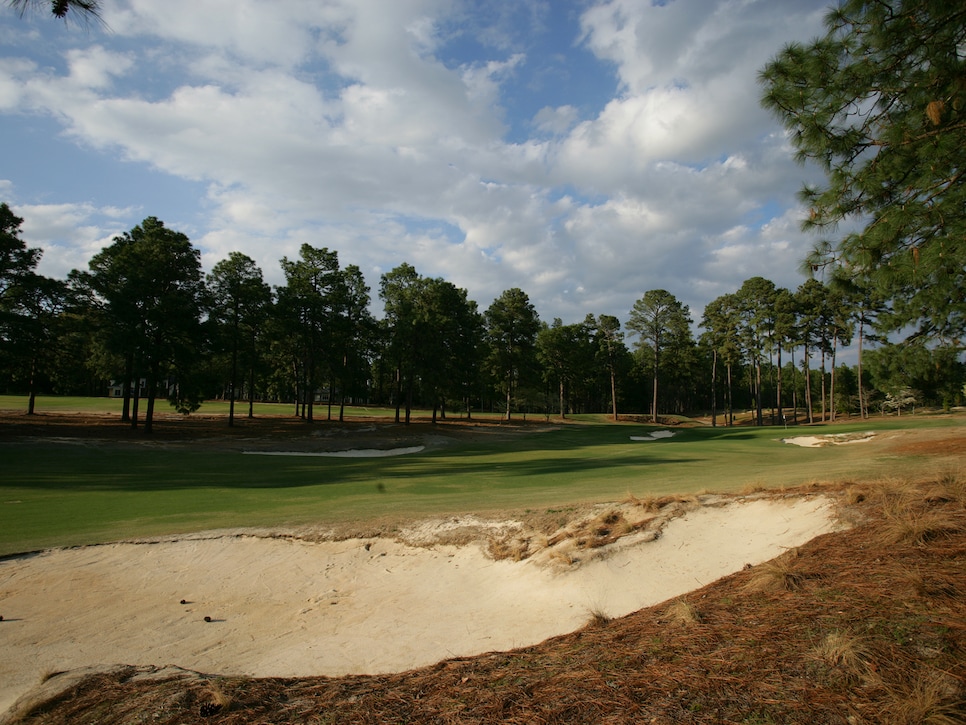 5 / 8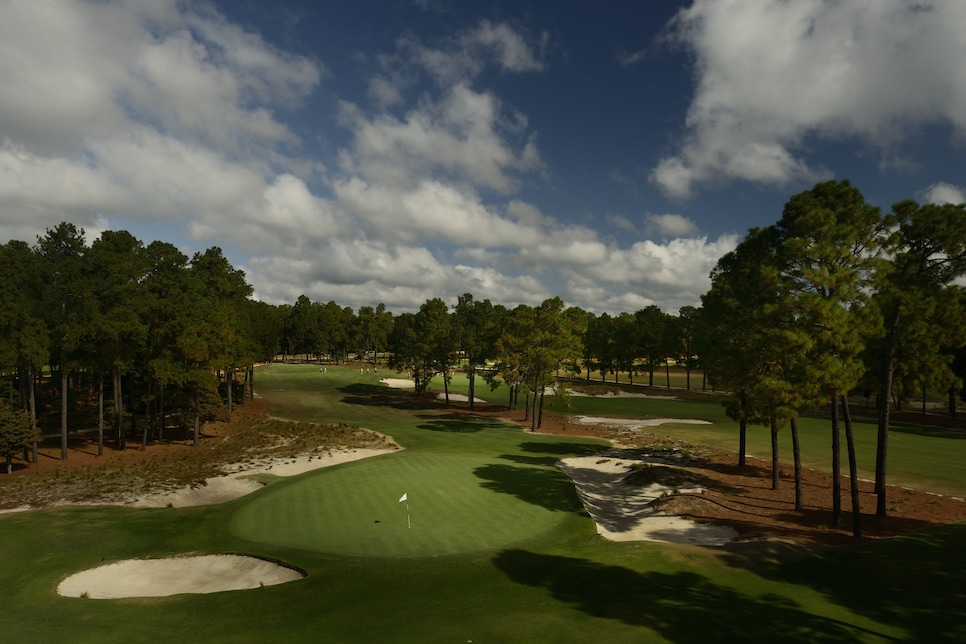 6 / 8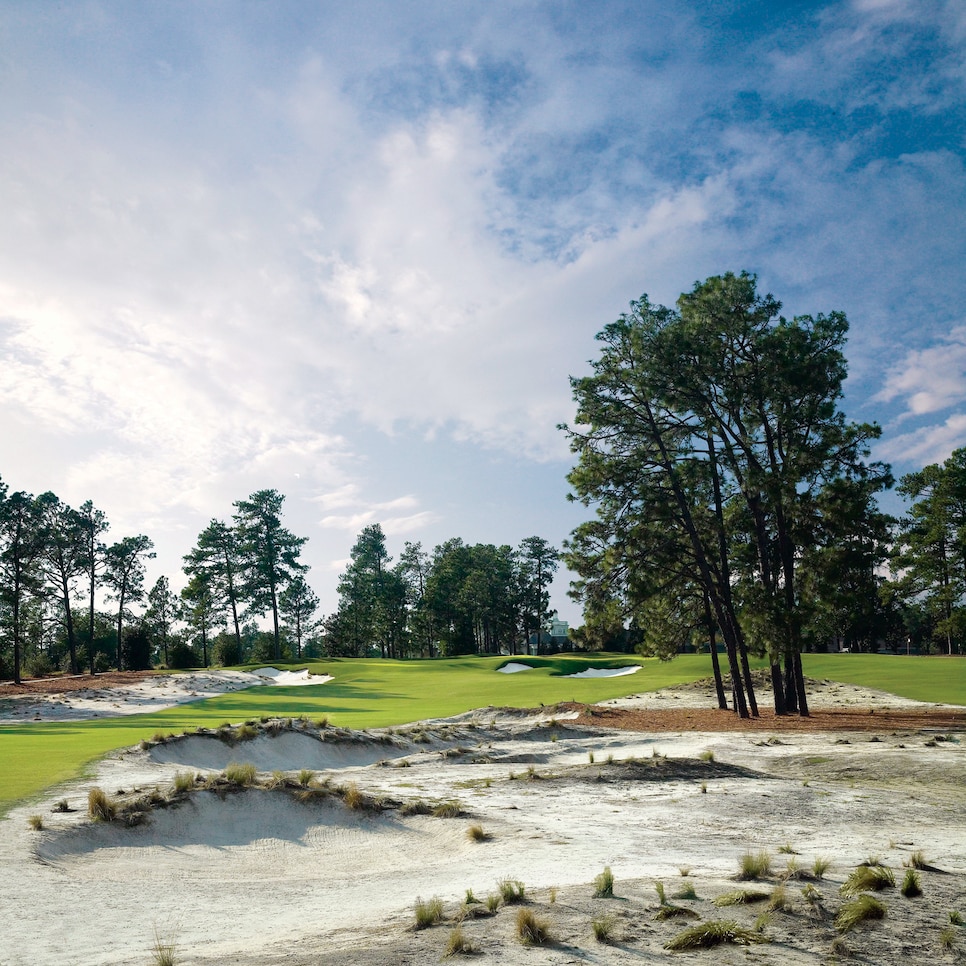 The 13th hole at Pinehurst No. 2.
Courtesy of the resort
7 / 8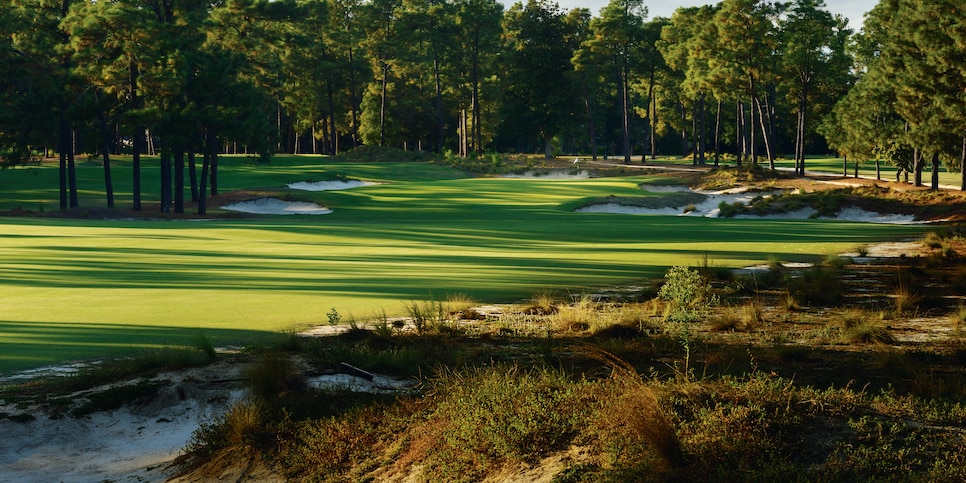 8 / 8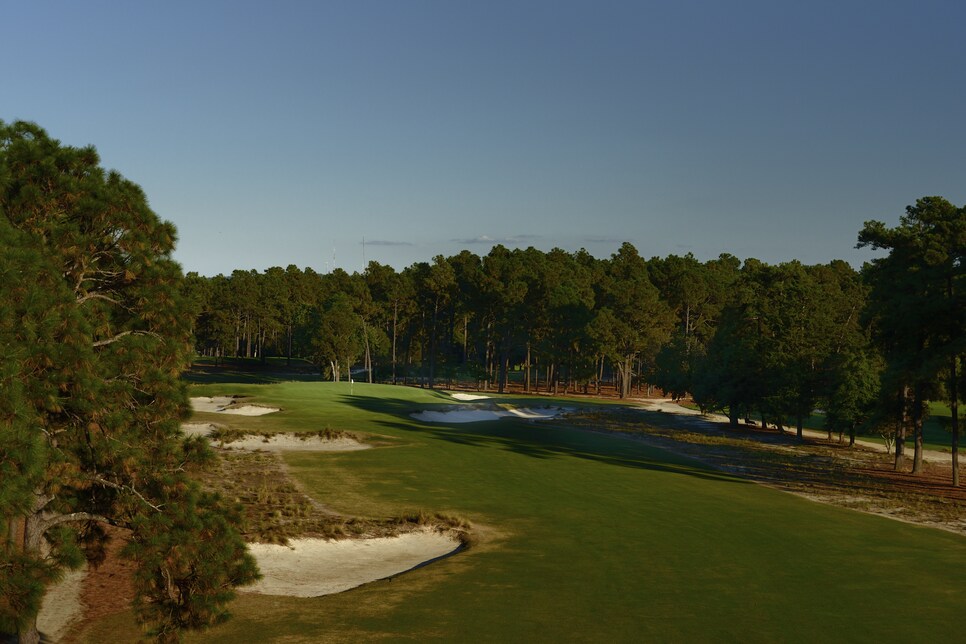 Overview
In 2010, a team lead by Bill Coore and Ben Crenshaw killed and ripped out all the Bermudagrass rough on Pinehurst No. 2 that had been foolishly planted in the 1970s. Between fairways and tree lines, they established vast bands of native hardpan sand dotted with clumps of wiregrass and scattered pine needles. They reduced the irrigation to mere single rows in fairways to prevent grass from ever returning to the new sandy wastelands. Playing firm and fast, it was wildly successful as the site of the 2014 Men's and Women's U.S. Opens, played on consecutive weeks. Because of its water reduction, the course was named a Green Star environmental award-winner by Golf Digest that year. In 2019, Pinehurst No. 2 and No. 4 hosted another U.S. Amateur Championship, and the USGA announced Pinehurst No. 2—in addition to hosting the 2024 U.S. Open—will also have the 2029, 2035, 2041 and 2047 U.S. Opens.
About
Designer
Donald J. Ross, ASGCA/(R) Coore & Crenshaw, Inc.
Awards
100 Greatest: Ranked since 1966. Ranked among the Top 40 since the inaugural edition in 1985.
2023-'24 ranking: 29th (since 2019).
Highest ranking: 9th, 1995-2002.
100 Greatest Public: Ranked since 2003.
Current ranking: 6th since 2017.
Highest ranking: 2nd, 2003-2006.
Best in State: Ranked Top 5 in North Carolina since 2011.
Current ranking: 1st, since 2023.
Panelists
Ratings from our panel of 1,900 course-ranking panelists
100 GREATEST/BEST IN STATE SCORES
Reviews
1 / 22
Review
"Number two has a minimalist design, with large waste areas on either side of the fairways and rugged, natural-looking flashed bunkers which allow good visuals from the tees and fairways. Convex greens require precise approach shots."
Read More
2023
2 / 22
Review
"Fun, but difficult Donald Ross course. Nicely maintained. Worth taking the trip to play, along with #4, #6, and #8"
Read More
2022
3 / 22
Review
"Incredibly challenging but fair Ross green complexes that require incredible precision in terms of putting, short game, approach shots, as well as tee shots that need length and the correct angle to setup the remaining part of the holes. All holes lined by majestic pines that never come into play unless one strikes a very errant shot. Sandy waste areas lining the fairways provide an opportunity to recover in most instances but provide great challenge as well w/ the random patches of tall grass. 4 "
Read More
2022
4 / 22
Review
"No 2 is a great golf course with great challenges when the course and greens are in firm conditions. Softer greens make it a different course. When firm it really creates so many challenges, starting with which side of the fairway you need to be on to get a good approach the greens. Many time being on wrong side fairway makes it nearly impossible to hold the green. Once you miss the green, you need to decide how to get on. Do you try and putt it back on the green, bump and run it on the green or flop it on the green. Each has it own challenges. Once on the greens, there are challenges of the hundreds of subtle breaks in each green Donald Ross has giving us. This is as good as it gets. Pure golf."
Read More
2022
5 / 22
Review
"The crown jewel of Pinehurst resort, this legendary course is somewhat of an acquired taste. The first time I played I came away thinking No. 4 was in fact the better of the two tracks, but upon further play the subtleties and undulations of this course (plus the greens -- wow the greens!) make it a top-flight play in all of the U.S. On the greens, almost all the holes are situated to repel approaches so this can get frustrating for mid to high handicappers. Also, if booking in advance try to get one of the tee times that leaves from hole 1 (instead of 13), as the routing and experience are much much better."
Read More
2021
6 / 22
Review
"The best walk in the country with firm, tightly packed turf and gentle terrain. The greens can jump out and bite you but putting from well off the green is often the best bet to avoid big numbers."
Read More
2020
7 / 22
Review
"A championship course that is quite demanding. However, can be played by a variety of skill levels since there are a wide array of shot choice options around the incredible green complexes. A great walk and a place that you can feel the history!"
Read More
2019
8 / 22
Review
"The hardest green complexes I have ever come across. The slopes are so much more severe than I expected. This is a true championship golf course. A wonderful walk with fabulous conditioning."
Read More
2019
9 / 22
Review
"The ultimate Donald Ross design that must be played at least once."
Read More
2019
10 / 22
Review
"The Coore/Crenshaw rrestoration makes this one of the best courses in the world. It certainly is Ross's magnum opus. The green complexes have few peers."
Read More
2019
11 / 22
Review
"The game, here, doesn't really begin until you miss a fairway or a green. Course offers options for recoveries and redemption. This is short game heaven. Bogies are easy here. You will earn every par. Strategic. Engaging. Demanding. Eminently fair. Fun. Frustrating. Seminal and historic. One-of-a-kind original. Lower score for ambience because they charge $450 per round."
Read More
2018
12 / 22
Review
"The standard bearer for American links-style golf; always cart path only. Take a caddie and walk if you're physically able (you'll end up walking as much or more from the cart paths anyway and it's relatively flat throughout). Green fees are very expensive (approx $300 rack rate), plus caddie fee ($65-90), plus gratuity (starts at $45 nominally), but worth it. Pure golf experience--a must if you can get on! Be prepared to suffer on the Donald Ross greens--just consider it an educational experience in golf architecture! Ambience and history are second to none in the US. Spend some time walking the clubhouse--and of course, the massive putting green outside the clubhouse is great for serious practice, the whole family or settling bets with drinks in hand."
Read More
2018
13 / 22
Review
"The resort is basically the St. Andrews of North America. Great ambience. The whole place is about golf. And, all of this is amplified by the fact that No.2 is a US Open course. No.2 itself is a fantastic layout requiring a great deal of thought and execution. One minor drawback is the lack of on ocean nearby. Regardless, this is bucket list stuff."
Read More
2018
14 / 22
Review
"A good short game is needed."
Read More
2018
15 / 22
Review
"Lots of history was made here but I don't think it matches up with some of the other great course around the country. The greens are incredibly difficult and are the most memorable part of the experience. There are some nice holes and the setting is pretty, but you pay a hefty price and I wasn't as impressed as I was expecting to be."
Read More
2018
16 / 22
Review
"A bucket list course..... the atmosphere and history is second to none."
Read More
2018
17 / 22
Review
"Pinehurst #2 is one of the great courses in the United States. The renovations by Coore/Crenshaw before the US Opens are great. The firmness of the ground and high value on precision approach shots make this course special. I have never had more fun with short game shots outside of the links courses in Scotland like the Old Course or Royal Dornoch. The par four number 4 is one of the best holes that I have ever played. Demanding approach that requires a well struck mid iron. The walk up number 18 toward the clubhouse is special. This is a Donald Ross classic that has been restored to an amazing course to meet the modern game."
Read More
2018
18 / 22
Review
"Overall experience was fantastic. There's nothing better than having a drink on the patio after a round and watching groups play into 18."
Read More
2018
19 / 22
Review
"Excellent layout. Challenging greens and traps. Great club house and facilities. Great course to walk. Fair off the tees. The challenge is 100 yards in."
Read More
2018
20 / 22
Review
"A Coore and Crenshaw restored Donald Ross masterpiece. Site of 3 US Opens, 1 PGA Championship, 2 US Amateurs, and a Ryder Cup you can feel the history at every turn. The turtle back greens repel mishit balls and the sandy native areas capture stray tee shots. The green on the 5th hole is one of the best greens in the world. Slow play and crowded conditions can ruin your day here. That being said its always a beautiful day in Pinehurst."
Read More
2018
21 / 22
Review
"A Donald Ross gem with a nearly perfect renovation from Coore/Crenshaw. The greens have maintained the classic Ross shape and challenge. If you have never been tested by a Donald Ross design this is a perfect test you can get on through the resort. The hazards and bunkers give you an equal chance of risk and reward from nearly everywhere on the course. Be sure to stop by the bar after you take a quick photo with the Payne Stewart statue for a barrel fermented Manhattan."
Read More
2018
22 / 22
Review
"The Pinehurst restaurant in the clubhouse, dubbed The Deuce, overlooks the 18th green of No. 2. The relaxed bar setting is a great place to hit after a round at No. 2, No. 4 or The Cradle. The 91st Hole, also in the clubhouse, is a good place for quick eats and drinks."
Read More
2018
Readers
Collection of reviews from our readers
There are no reader ratings yet
Reviews
There are no readers reviews yet. Be the first to write a review.