Mauna Kea Beach Hotel Golf Course
Kamuela, HI • Public
1 / 3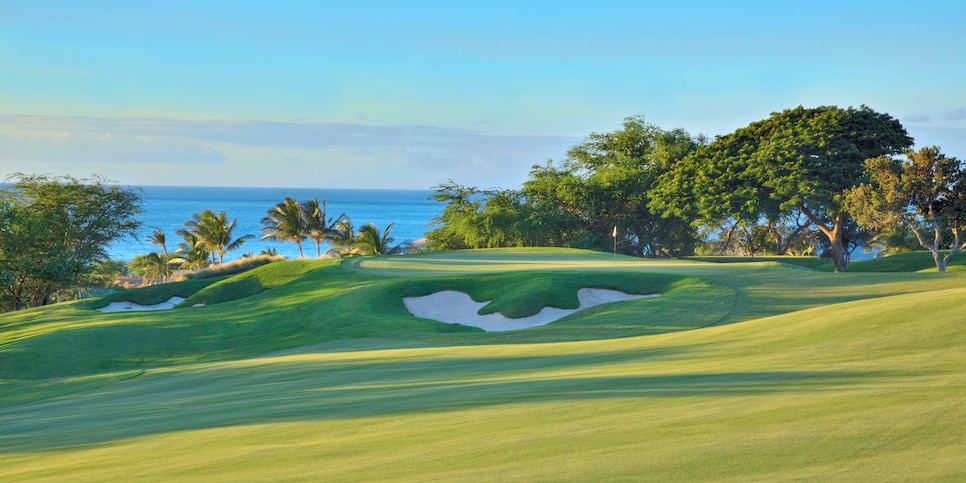 2 / 3

3 / 3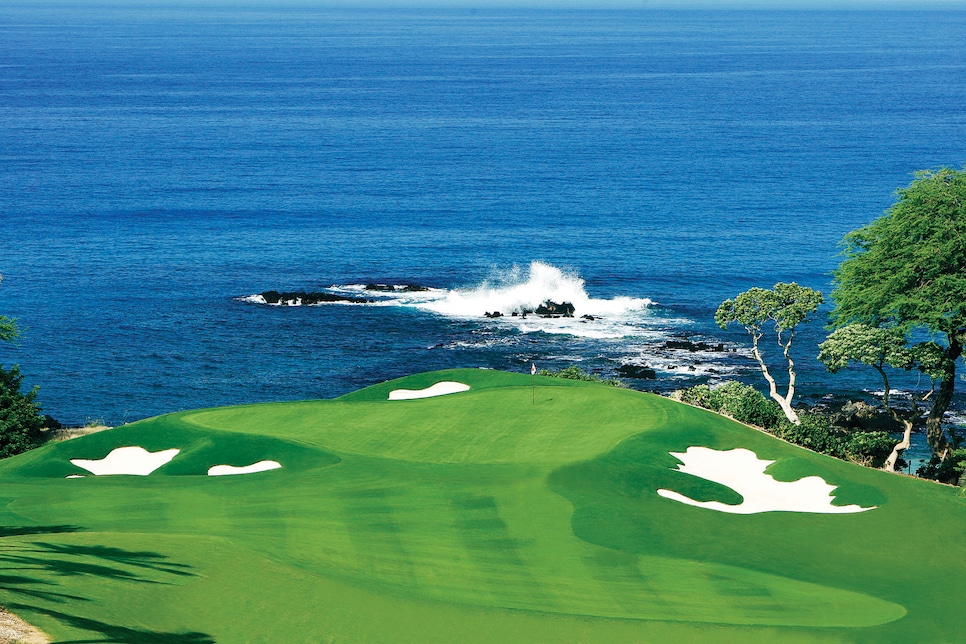 Courtesy of Mauna Kea Beach Hotel
Overview
The immediate thrill at Mauna Kea is its iconic par-3 third, a daunting tee shot over an ocean cove that's a great substitute for those unable to gain an invitation to tackle the 16th at Cypress Point. The remaining holes at Mauna Kea are thrilling, too, with constant views of the ocean, awkward lies on sloping fairways and roughs of crunchy lava rock. A decade ago, Rees Jones updated his father's original work by relocating and redesigning all the bunkers. They now add to Mauna Kea's beauty.
About
Designer
Robert Trent Jones, Sr., ASGCA/(R) Rees Jones, ASGCA
Awards
100 Greatest: Ranked for 30 years from 1969-'78 and 1985-2004. Highest ranking: No. 62, 1989-'90.
Second 100 Greatest: Ranked from 2013-'14 and since 2017. Highest ranking: No. 136, 2013-'14. 2021-'22 ranking: No. 149.
100 Greatest Public: Ranked since the inaugural edition in 2003. Highest ranking: No. 17, 2003-'04. 2023-'24 ranking: No. 39.
Best in State: Ranked fourth, 2019-'20. Ranked fifth, 2015-'16, 2021-'22, 2023-'24. Ranked sixth, 2011-'14. Ranked seventh, 2017-'18.
Panelists
Ratings from our panel of 1,900 course-ranking panelists
100 GREATEST/BEST IN STATE SCORES
Reviews
1 / 12
Review
"Beautiful, very challenging course, with plenty of ocean view. Pretty difficult course for a resort course. Nice mixture of holes. Spectacular par 3's over water."
Read More
2022
2 / 12
Review
"Old school cool golf in Hawaii. Round starts you off early with the all-world par-3 3rd hole. Make sure you take a peak from the tips before you tee off. That 3rd and the par-3 11th get most of the press, however the meat of this course is the super solid and challenging set of par 4's throughout the course. Plenty of doglegs and well placed bunkering can make for a very challenging round. Still one of the best in the state."
Read More
2022
3 / 12
Review
"Dramatic course in terms of both the scenery and terrain with two truly world-class holes (3 and 11). Plenty of other strong ones. Iconic course that should be recognized more for its place in the game's history."
Read More
2022
4 / 12
Review
"Mauna Kea seems to be the "original" of the Big Island Courses. While most know of the 3rd hole on the ocean, I found the rest of the course to be well worth the visit. I'd like it better without so many bunkers, but it definitely provides a tough test."
Read More
2021
5 / 12
Review
"Some of the prettiest holes in the world within a testing RTJ throw-back design."
Read More
2021
6 / 12
Review
"Sure holes #3 and #11 are beautiful and stunning and there are a couple of other well-routed, strategic holes, but good grief are there some terrible holes on this course for a course rated so highly. The second hole is just downright awful. Probably worth playing once to see the "granddaddy" of Hawaiian resort courses, but then never again."
Read More
2018
7 / 12
Review
"A must play course on Big Island. Course can be difficult. New bunkers put in by Rees Jones are excessive and much too difficult for resort play."
Read More
2018
8 / 12
Review
"Not many golf courses in the world allow you views of the ocean and snow-capped mountains. Mauna Kea is able to check that box. Playing along the ocean you are able to see the course namesake Mauna Kea which sits at over 13,000 ft of elevation from most of the holes. It also has one of the most photographed holes in the world the Par 3 3rd which is 200 yards playing over the Pacific Ocean. The course presents a strong challenge, especially when then ocean winds pick up. You are also presented with multiple side hill lies throughout adding to the challenge. A must visit experience at least once if you are on the Big Island."
Read More
2018
9 / 12
Review
"This is one of the first really good courses in Hawaii. It has the iconic third hole par three. The rest of the course can't live up that hole but still is excellent. Rees Jones did an update to his father's course a few years ago and it turned out very well. The rest of the resort is five stars."
Read More
2018
10 / 12
Review
"Mauna Kea is one of those courses that you really look forward to playing and it delivers a great experience. The holes along the water are visually stunning and are quite challenging. The forced uphill carries are a bit tiring on the inland holes, but overall the layout and routing is very good. Mauna Kea remains one of the great courses in Hawaii."
Read More
2018
11 / 12
Review
"One of Hawaii's first and hardest resort courses. Number 3 over the ocean is a famous and classic par three. The elevation changes present some tough club selections and the wind can make it very difficult."
Read More
2018
12 / 12
Review
"One of the best courses you can play on the Big Island. Relaxed feel and great course. It has one of the most scenic par 3s in Hawaii."
Read More
2018
Readers
Collection of reviews from our readers
There are no reader ratings yet
Reviews
There are no readers reviews yet. Be the first to write a review.