'Best Of'
An appreciation of Mike Strantz's short but boundary-pushing career
Studying immense subjects can be a lifelong endeavor. The journalist Robert Caro has been chronicling the life of Lyndon Johnson since 1982, and he's not yet finished. World War II still provides historians with inexhaustible sources of reflection, revision and debate. And Biblical scholars continue to make new discoveries and archeological connections centuries after the fact.
Topics limited in time and space are much more manageable (though not necessarily simple): the Cuban missile crisis; Quentin Tarantino films (there are just 10); the 20 existing paintings of Leonardo da Vinci. In golf, saying definitive things about the work of architects like Donald Ross, Robert Trent Jones or Tom Fazio is nearly futile because their output is so vast and varied. But exploring the oeuvre of Mike Strantz is something most golfers can take on.
Strantz built just eight courses before his untimely death to cancer at age 50 in 2005. Those eight designs, opened within a 10-year window, represent one of the most emphatic bursts of creativity and boundary-pushing the profession has ever known. His hole compositions and greens shaping were so original they're often shocking, simultaneously sensual, surreal, twisted, intimidating and mad. The word artist is often applied too loosely, but it fits Strantz, whose pencil sketches of his architectural ideas remain nearly as captivating as the living thing.
He came up in the 1980s and early 90s working on crews for Fazio, whose ability to sculpt vast sections of naked earth into beautifully proportioned landscapes defined the modern sense of golf course aesthetics. It's assumed that it was during this early phase that Strantz learned how to shape and structure his holes, but those who worked with him on the Fazio projects contend it was actually his vision that influenced them and infiltrated their perspectives on golf course design.
Strantz is gone but his legacy endures through his courses, six of which are open to the public. A wonderful road trip ranging between Myrtle Beach and the Richmond, Va., area will give golfers a sense of what made his outlook on strategy, emotion, wit and deception so unlike anything else that exists in golf.
Scroll on to learn more about each course and be sure to expand each course page to read reviews from our course-ranking panelists. We hope you enjoy our searchable course database, Places to Play, our new hub for course reviews, experts' opinions and star ratings.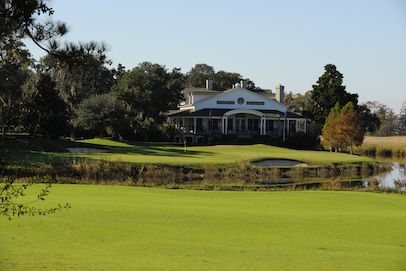 Public
Pawleys Island, SC
Caledonia was Strantz's first solo design in 1994, and his creativity shines on this golf-only, oak-dotted, sand-dune parcel abutting the marshes and rice paddies of Pawley's Island. The design is ordered and composed, twisting low through the heavy tree canopy while setting up classic hole strategies into angled greens. There are touches of Pete Dye and just enough quirk to suggest something more intense and experimental brewing under the surface. Subdued and rhythmic, Caledonia is currently ranked 85th on Golf Digest's latest 100 Greatest Public ranking (it's been as high as 66th). Two musts: The chowder at the turn, and a drink on the porch behind the 18th hole.
View Course
Public
Pawleys Island, SC
Strantz returned to Pawley's Island just a few years after Caledonia opened, nearly to the exact same place, in fact. True Blue is Caledonia's sister course, located on an inland property that sits just across the street, though sequestered from any marsh views. But what it lacks in scenery it makes up for in volume. Everything at True Blue is bigger and more heroic. Greens erupt out of sand barrens, fairways are 60 to 90 yards wide and holes take on the form of ambling caterpillars. The abrupt, hi-contrast shaping, made possible by the sandy terrain, is a not so subtle nod in the direction of Pine Valley.
View Course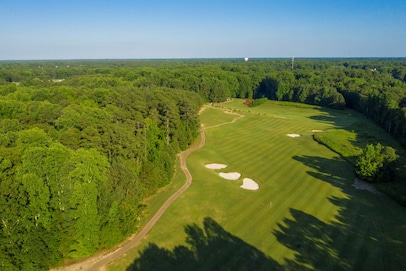 Strantz won Golf Digest's Best New Upscale Public Course in 1996 for his design at Stonehouse, 40 miles east of Richmond. Magazine panelists clearly scored it high, but it's possible they did so because they didn't know what else to make of it. Of all Strantz's designs, this one is the least coherent because it's the least cohesive. The holes make a wandering six-mile circuit around a heavily wooded property with significant ups and downs that feel mountainous in places. Some sections are sleek and slithering, and others are broad and cresting as if imported from another part of the world. Unfavorable economics in the 2000s contributed to the slow deterioration of Stonehouse, and the course closed temporarily in 2017 before new ownership revived it in 2019. What a relief—though a little out-of-sync overall, its eccentric architecture makes it a must-play when in the Richmond-Norfolk area.
View Course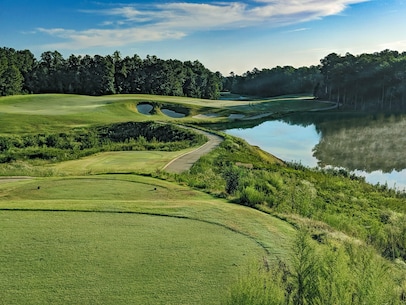 Public
Providence Forge, VA
One year after winning his first Golf Digest Best New Course design for Stonehouse, Strantz hit gold again with Royal New Kent, the 1997 Best New Upscale Public Course. Royal New Kent is just a 20-minute drive west of Stonehouse, but it couldn't be more different. The general theme is golf in the United Kingdom, with holes like the sporty par-4 first that lays out a visible section of tumbling fairway on one line and hides a different section tucked behind a grassy dune on another. The first nine holes are a treasure, especially four through eight that gallop over a peaceful, heathlands-like sector with gorgeous ground movement. The left-right/right-left par-5 10th is another winner, but from there the real estate gets in the way and the routing becomes broken and boxed in. But it didn't stop Strantz from pulling, twisting and hiding targets. When the land wasn't giving him much to work with, he made his own fun. The course re-opened under new ownership in 2020 and is currently ranked 12th in state.
View Course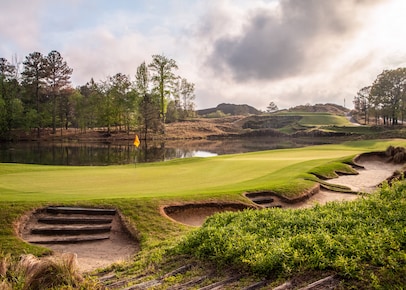 Tobacco Road took every idea that Strantz had been developing to that point in time (1999) and put it all in one place, specifically an old mining site of sand and pine 25 miles north of Pinehurst. The property is the secret star—yes, there are Strantzian trademarks like boomerang-shaped par 5s, greens and fairways notched blindly behind dunes, dramatic risk/reward shots played over deep chasms and putting surfaces stretched into stringy silly putty shapes. But without the elevation changes, depressions and contrasting textures of the rugged sand barrens, this would be True Blue 2.0. It's much more than that: a master class in decision-making and composition that sits among the top 50 on the Golf Digest America's 100 Greatest Public Courses ranking, a placement that's at least 20 spots too low, at least in the mind of this editor.
View Course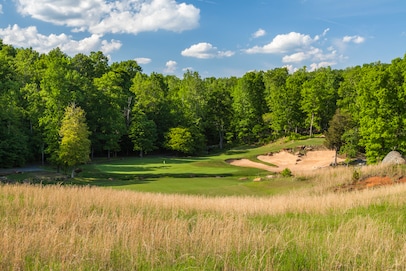 Architects are usually only as good as their sites, or at least their budgets—Tom Fazio would certainly agree with that, which is why he only agrees to projects that give him the resources to push the land around until it's the way he wants it. Strantz was just getting to that level of prestige when he passed away, but Tot Hill Farm, opened in 2000, was a relatively low-budget design on a central North Carolina property that was too rugged and rocky to yield a Tobacco Road-level course. Strantz used what he had to shape some of his wildest greens, working around the site's obstacles the best he could. The course is a staggered mix of daring, often outrageous holes (the par-3 13th) dotted with moments of sublime brilliance like the par-5 eighth and the par-4 17th. Golf Digest named the third hole, a downhill par 3 with a green wrapped around a rock outcropping, the best third hole built in the U.S. since 2000.
View Course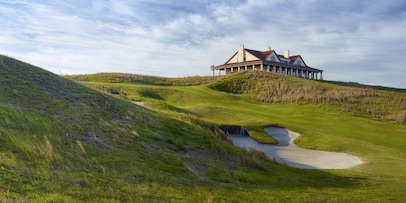 Private
Mount Pleasant, SC
You'd never know the Bulls Bay site was agricultural land indistinguishable from everything else for miles around. Strantz completely transformed the terrain of this property north of Charleston by excavating earth and creating a ridge on one side of the course. With the clubhouse sitting atop, it's the focal point of the course and provides elevation changes uncommon for the lowcountry with several holes playing into and off of the high ground. The lower holes are just as enticing with a mix of long and short par 4s, four lovely and diverse par 3s, two boomerang par 5s and a stretch of holes that border Capers Creek and the Intracoastal Waterway.
View Course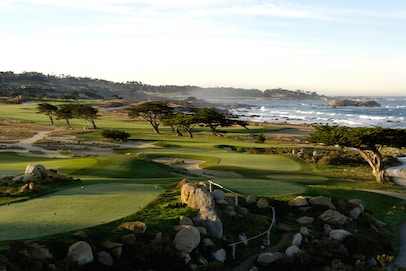 Strantz began working on the Shore Course around the same time he was diagnosed with cancer—he died not long after its completion in 2004. The project entailed creating an entirely new design over the top of the club's existing 1960s era course that never lived up to the grandeur of the location. Strantz rebuilt and reconceptualized six tree-lined inland holes, then reversed the direction of the other 12 that spin through a windswept, oceanfront plain. In many ways it's his most accomplished, self-possessed work, with alluring presentations of cypress, greens, bunkers, coastal plants and land movements in every direction. The Shore Crouse contains the telltale quirk and extravagant green contours Strantz was known for, but he also knew the setting of the holes against the Pacific Ocean was enchanting enough and didn't require any extra juice or gilding.
View Course