Courses
Our 10 favorite Pinehurst courses, ranked
If it's been a decade since you've been back to Pinehurst, it's time to go—much has changed. There are several new additions to the scene, and most of the major courses have undergone serious, and in some cases total, transformations.
Though Pinehurst (and neighboring Southern Pines) is still Pinehurst, a quaint, historical village that's unlike anywhere else in golf—or even like anything outside its small geographic radius—the overall environment of the golf, resorts, lodging and restaurants is more evolved than it was 10 years ago.
What hasn't changed is the difficulty of selecting which courses to play with limited time. Choosing how to divide your rounds in such a target-rich environment can tie visitors in knots.
Scroll on to read our guide to our favorite choices in Pinehurst. Click around to explore our new, searchable Places to Play hub, complete with courses reviews from our panelists.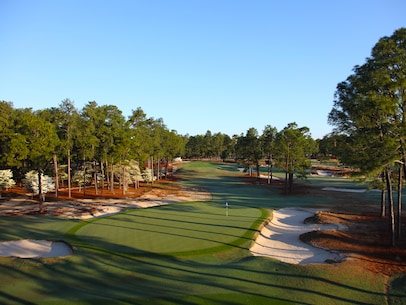 No. 2 would be the top selection on nearly any list, no matter where it was located. Already one of the four or five most original designs in the U.S., the reestablishment of the original sand and wiregrass borders in 2010 by Bill Coore and Ben Crenshaw has given the course the aesthetic punch it previously lacked. Playing here is, in equal proportions, a deeply cerebral and emotional experience. Everything else in Pinehurst plays off the No. 2 course in one way or another.
View Course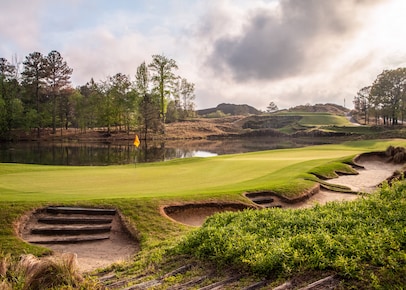 Tobacco Road might not be the clear second-best course in the Pinehurst region, but it's one that should not be missed. The design was the apotheosis of late architect Mike Strantz's unique take on risk/reward golf and visual agitation. Beautiful and bewildering, this is funhouse golf full of greens stretched into silly putty shapes, vast chasms of sand to play over and around and numerous blind shots that ask you to hit and hope and hold your breath.
View Course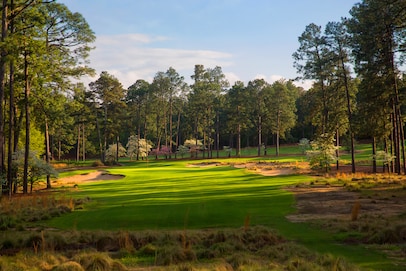 Public
Southern Pines, NC
Located in Southern Pines, Mid Pines Inn & Golf Club, designed by Donald Ross in 1921, is pure elegance and beauty. The routing is spellbinding, with holes that stretch out into corners at the property's high points, then fall back down to intersect at junctions across the calmer interior. Kyle Franz's 2013 work expanding greens and restoring the perimeter sandscapes has greatly enhanced one of Pinehurst's most refined golf presentations.
View Course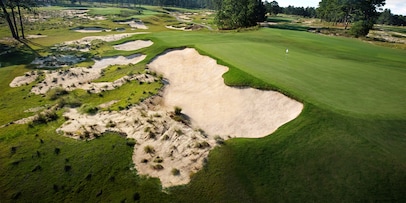 Like a football team searching for the right coach, the resort could never settle on the right identity for the No. 4 course despite a series of major alterations by different architects. It found its match when it hired Gil Hanse and Jim Wagner to carry out a full-scale blow-up and rebuild in 2018 that brought back the sweeping sand-and-pine character we identify with Pinehurst, while initiating a style of shaping in the greens and bunkers that's confident and distinctly its own.
View Course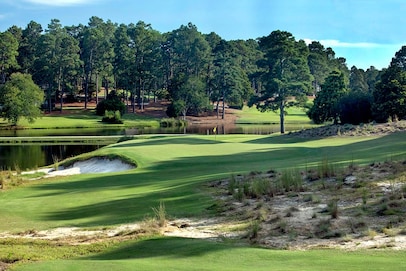 Don't overlook little No. 3, which is easy to do at a first glance at the scorecard with a maximum yardage of less than 5,200 yards. You'd never know it. This is serious golf, pound for pound the toughest course on property and a scaled-down version of No. 2. The greens are dazzling with the same crowned edges as big brother and recently revived bunkers and perimeter barrens that match. It's also the resort's best walk.
View Course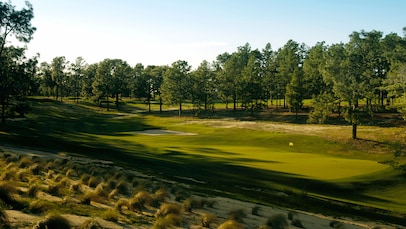 Public
Southern Pines, NC
Pine Needles used to lurk quietly in the Pinehurst background before the USGA chose to put it in their regular women's championship rotation. It got another big boost in 2017 after Kyle Franz reworked portions of the course, putting the Pinehurst touch on the borders, cross hazards and bunkers. Though it lacks the intimacy and connectivity of its sister course, Mid Pines, with the holes wandering far afield due to a being part of a 1920s residential development, it's grown into a big, championship worthy course (most recently hosting the 2019 Senior Women's Open and 2022 U.S. Women's Open) with arguably the best set of greens after No. 2.
View Course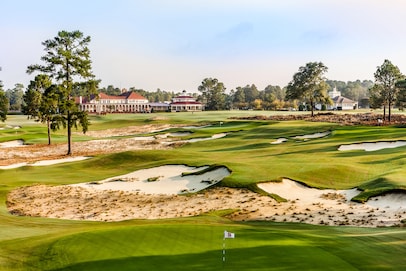 You wouldn't want to skip any of these other courses just to play the Cradle, mainly because you shouldn't have to—you can fit it in at twilight or between resort rounds (though that can be a challenge based on high demand). But it's hard to beat the little one-shot, nine-hole course on the fun-per-minute meter. Located just off the Pinehurst clubhouse, it's a golf and social scene as all-age groups play with a handful of clubs across of field of wild tees and greens as music is pumped in through speakers. The new halfway house (Cradle Crossing) opened in 2021, adding even more to the attraction.
View Course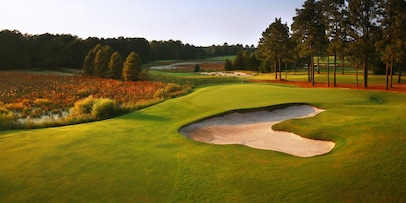 Cut from a nature preserve about a mile north of the resort, Pinehurst No. 8 is one of Tom Fazio's most versatile designs, as each hole plays differently from the previous. The front nine is mostly tree-lined, the back more open, with both touching ponds, marsh and Pine Valley-like sandy wastelands. For putting surfaces, Fazio built crowned greens with greenside swales, intended as a salute to Donald Ross and Pinehurst No. 2. No. 8 is also the most secluded of the resort's nine courses (for now--Tom Doak's Pinehurst No. 10 is due to open in 2024), which no homes or development touching it. Fazio retrurned in late 2022 to touch up elements of the course that needed burnishing, and the course plays as fast and firm as its older brethren.
View Course
Public
Southern Pines, NC
Southern Pines used to be a course that only locals and architectural bookworms played. Designed in the early 1900s by Donald Ross, the affordable public course occupied a wonderful, bucolic piece of land and seemed to have buried treasure underneath. After a change in ownership, Kyle Franz completed a major 2021 renovation that added plenty of razzle dazzle to the design in the form of new greens and painting the layout with the kind of scruffy sandscapes indigenous to the Pinehurst region (and to Pine Needles and Mid Pines where he's previously wielded his art). The work has elevated this formerly modest public course to the level of its more prestigious neighbors.
View Course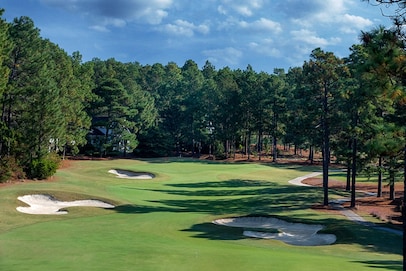 The No. 6 is not likely to ever be an architectural darling. It was designed and built in the dark ages of the 1970s by George Fazio and is one of the sleepier courses in the area. But don't be too judgmental—with all the sandy pyrotechnics being added around the neighborhood, No. 6 chugs along with quiet grace, presenting traditional hole after traditional hole of smart, effective bunkering through a property that rolls high and low through lovely pine corridors. There's a lot to be said for this kind of confident maturity. In 2022, Pinehurst No. 6 hosted the USGA's inaugural U.S. Adaptive Open.
View Course