1 / 6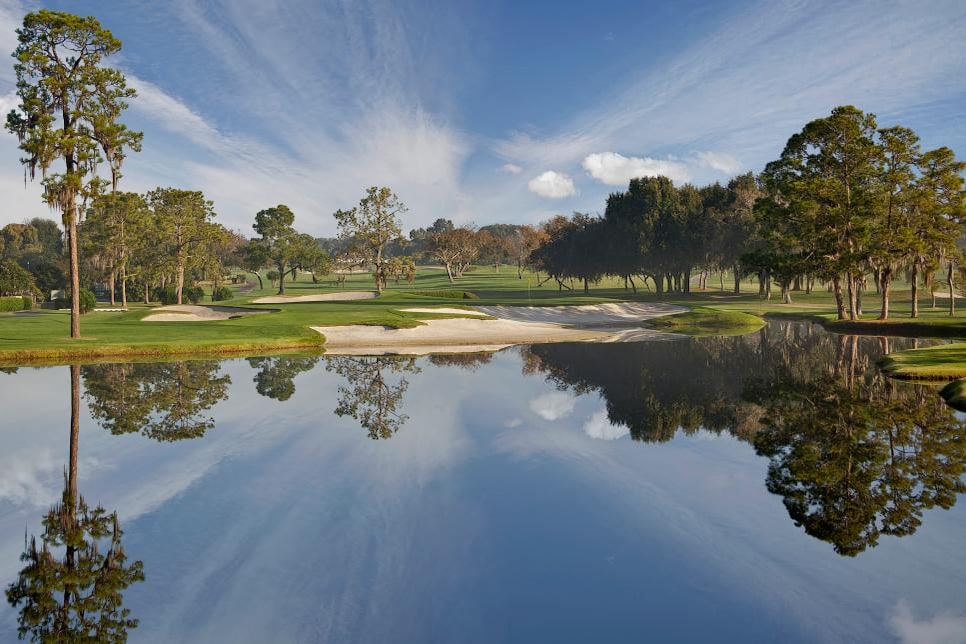 2 / 6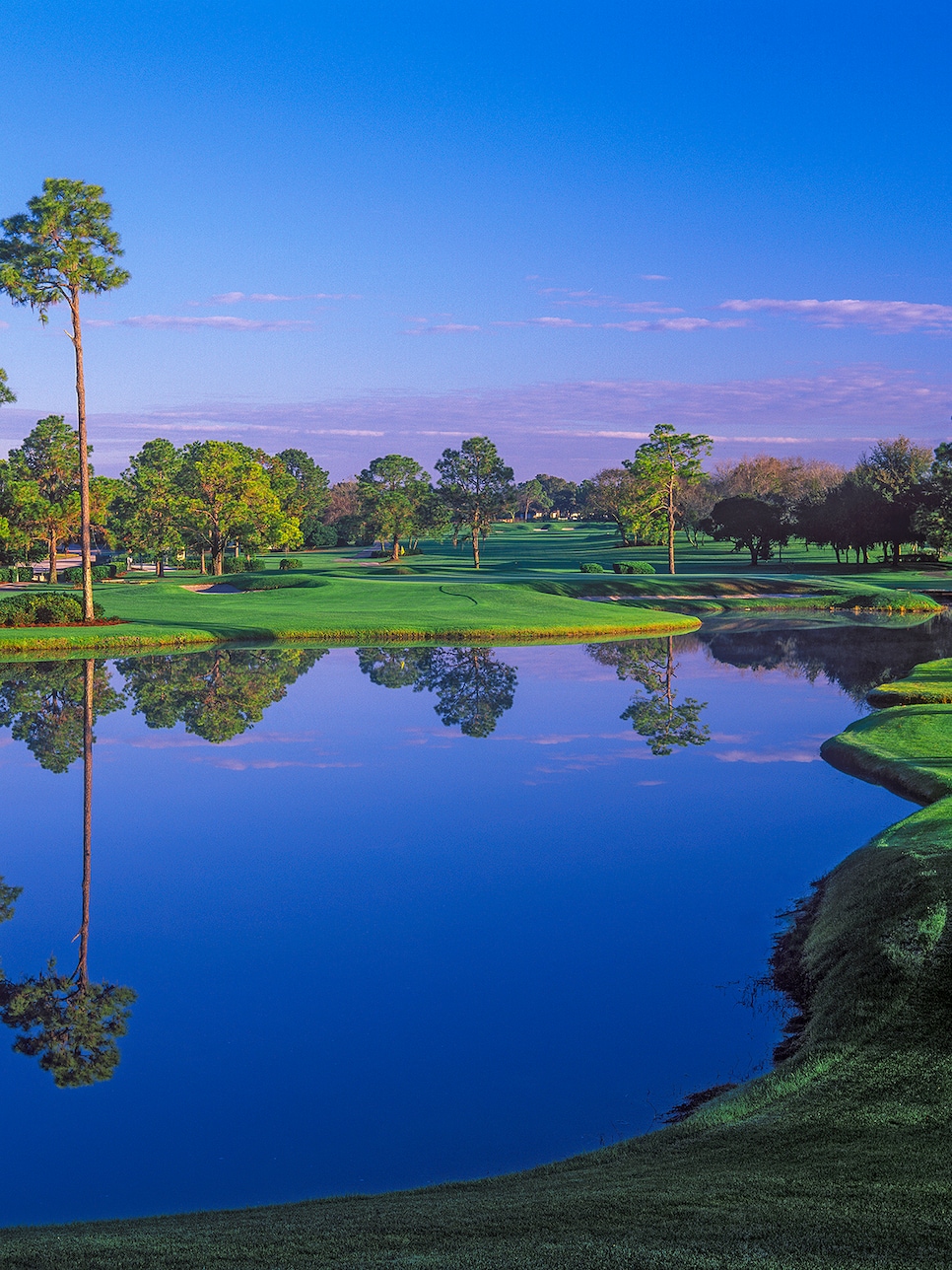 3 / 6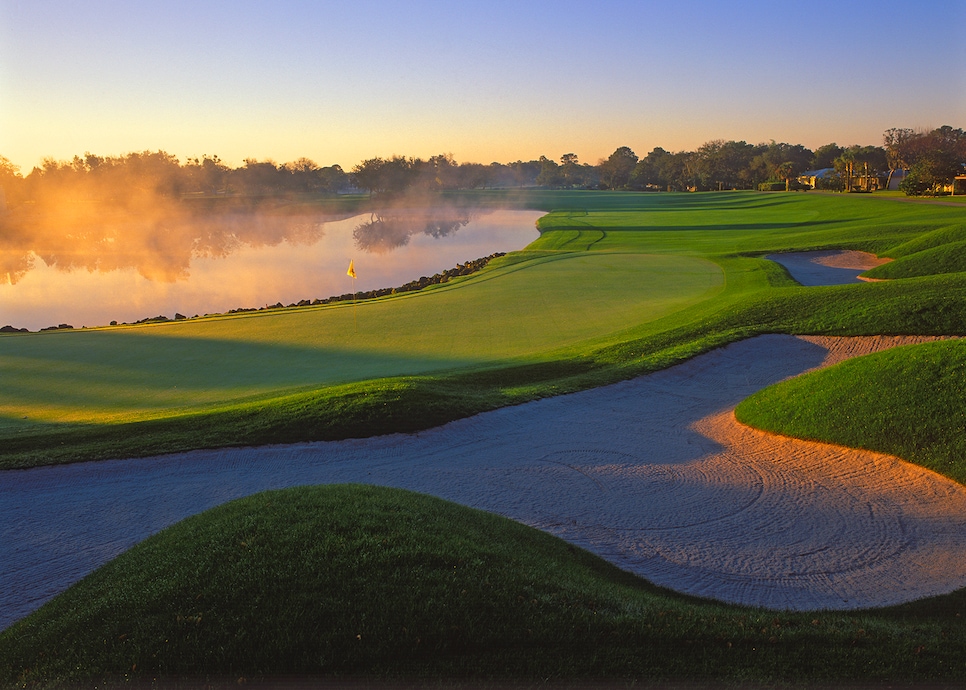 4 / 6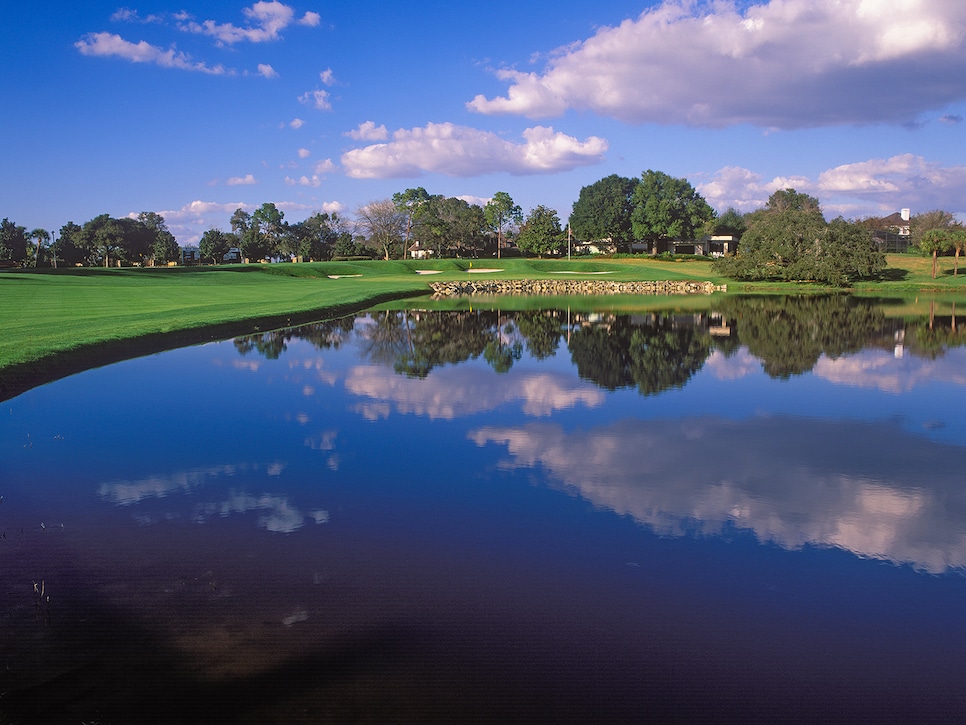 5 / 6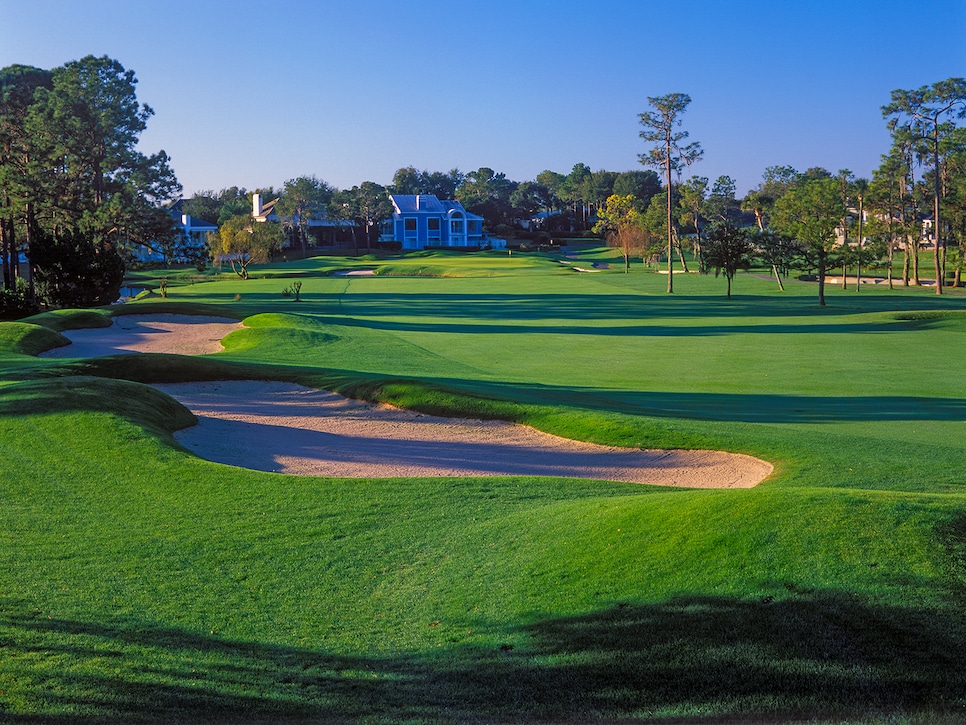 6 / 6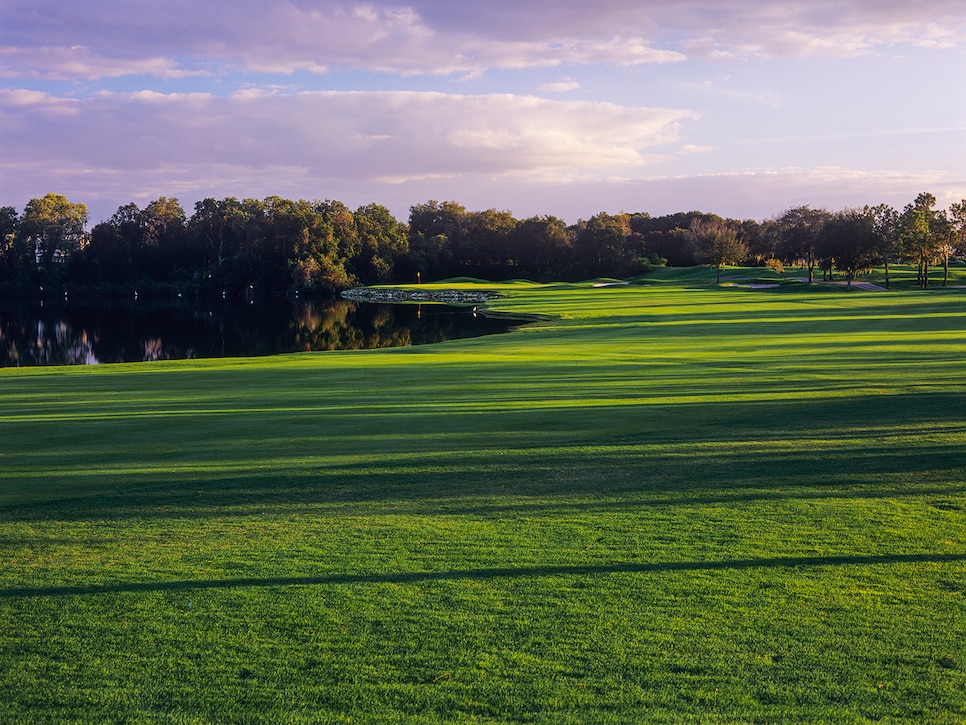 Overview
From Golf Digest Architecture Editor emeritus Ron Whitten:
I've always been fascinated by the design of Bay Hill, Arnold Palmer's home course for over 45 years (although Tiger Woods owns it, competitively-speaking, as he's won there eight times.) For one thing, it's rather hilly, a rarity in Florida (although not in the Orlando market) and dotted with sinkhole ponds incorporated in the design in dramatic ways.
I always thought the wrap-around-a-lake par-5 sixth was Dick Wilson's version of Robert Trent Jones's decade-older 13th at The Dunes Club at Myrtle Beach. Each of the two rivals had claimed the other was always stealing his ideas. But the hole I like best at Bay Hill is the par-4 eighth, a lovely dogleg-right with a diagonal green perched above a small circular pond. OK, I admit that it reminds me of the sixth at Hazeltine National, another Trent Jones product, but I don't think Wilson picked Trent's pocket on this one, as both courses were built about the same time, in the early 1960s.
I should pause here to point out that I have always given credit to Wilson (who died in 1965, four years after it opened) for the design of Bay Hill, going all the way back to the book I co-authored with Geoff Cornish, The Golf Course, first published in 1981. But the authorship of Bay Hill has been contested, and therein lies a story.
It starts with a call I received in late 1983 from Thomas F. Barnes, Jr., a Florida real estate developer, who saw my book and called to tell me that I had it wrong. Dick Wilson didn't design Bay Hill, Barnes said. He designed it, and Wilson merely reviewed his design, suggested a change and loaned him an associate, Bob Simmons, to construct the course.
Being a lawyer at the time, I did my due diligence and tracked down two eyewitnesses to the creation of the course. One was Robert C. Mathews, who lived at Bay Hill at the time but in the '60s had been part of the "Nashville group" of investors who gave Barnes the money to construct the course and surrounding home development. I still have my notes of our phone conversation.
Mathews and four other Nashville residents (who liked to winter in Florida) reached an agreement to invest in Sept. 1959. "After we put the money up," Mathews told me, "Barnes went to Japan and Europe using our money, so we kicked him out."
I asked him if he knew who designed Bay Hill.
"Barnes had an architect, I can't remember who it was, but we objected to him. So then Barnes suggested Dick Wilson and we approved."
I told him Barnes insists that he designed Bay Hill.
"You can't believe a word he says," Mathews replied.
I then tracked down Bob Simmons, a club pro who became a golf course builder who had his own golf design firm by then, based in Kokomo, Ind. As luck would have it, I still have a transcript of my phone conversation with him as well. We spoke on Jan. 5, 1984. I told him Thomas Barnes was insisting he designed Bay Hill.
"That's a damned lie, and you can quote me on that," Simmons responded. He added that he was the construction superintendent on the Bay Hill job, and had received a set of plans from Joe Lee, Dick Wilson's primary design associate.
"Those drawings could very well could have been done by Barnes," Simmons said. "Bob Hagge did most of the drawings for Dick, and the Bay Hill plans were certainly not the usual flamboyant Hagge drawings, which weren't ever much help in building a course anyway, but looked good."
Simmons added that once he staked out the holes, he never looked at the plans again. He had built enough courses for Wilson by the late 1950s, and Wilson trusted him enough, that he would rough-shape greens and bunkers, which Wilson would then approve before final shaping. He remembered Dick visiting the Bay Hill site at least four or five times during the process.
"I built it to be a Dick Wilson course, with his philosophy and look. I will always call it a Dick Wilson course," Simmons said.
So that was that. Except that I later discovered that in 1969, Simmons and Barnes had teamed up with a Florida state legislator, Arthur Rude, in a turnkey golf course construction and management company called International Golf Development Inc. Their joint venture didn't last long, which made me curious as to whether it might have influenced Simmons' recollections of Barnes. Alas, I was slow to follow up, and Simmons died in late 1986.
In our updated version of the book in 1987, we again credited Dick Wilson with Bay Hill's design. Once again, that was that. Until 1993, when Barnes found a writer willing to give some credence to his claim. On March 14, 1993, the Orlando Sentinel published a two-page article by staff writer George White entitled, "Who Built Bay Hill." It was illustrated with a big picture of Barnes holding open a scrapbook, "containing evidence that he is the one who designed Bay Hill."
The main evidence Barnes offered were two 1969 newspaper articles that stated Thomas Barnes was Bay Hill's designer. I've since seen both those articles; Barnes was the source of the information in both instances, so it wasn't exactly independent proof. One of the articles was a Jim Warters column in the Sentinel after Bay Hill was ranked among the 30 toughest courses in the U.S. He quoted Barnes: "This recognition given by Golf Digest to the design of a golf course by Bob Simmons and me is quite the compliment. It's like receiving an Academy Award or a Pulitzer Prize."
To White's credit, he did contact Wilson's two surviving associates, Robert von Hagge (the artist who drew many Wilson plans) and Joe Lee. Hagge said he recalled Joe did most of the work at Bay Hill, then added "Dick was the senior architect but he had very little to do with Bay Hill."
Lee took exception. "Dick Wilson was the architect of record," Lee was quoted as saying. "I want to take no credit away from Dick Wilson. Yes, I was there working on the project, but Dick made several visits to the site. Dick deserves to have his name on the course."
(In 2001, I helped Joe Lee write a book. I asked him about Thomas Barnes, whom he didn't remember. What he remembered about Bay Hill was that he had a hard time collecting their design fee of $25,000. "We were offered some home lots instead, which we declined," Joe said. "They ended up paying us in small amounts, a little bit at a time." In hindsight, they should have grabbed the lots.)
In his Orlando Sentinel article, White also tracked down Bill Colburn, who had been the grow-in superintendent at Bay Hill. Colburn didn't remember seeing Wilson on the property and said Simmons did most of the design work. But he felt Barnes deserved credit, too. "Tommy originated the idea and had a lot of input on-site," he told White.
As White pointed out in his article, the origin story of Bay Hill was probably a moot point, as most everyone considered it to be an Arnold Palmer design by then. That's a good point.
After playing Jack Nicklaus in an exhibition match there in 1968, Arnie leased the course in 1970 and later purchased the club. In 1976, he formed a design firm with golf architect Ed Seay and a year later announced that Bay Hill would host a PGA Tour event starting in 1979 (what is now the Arnold Palmer Invitational). Before that first event, Palmer and Seay remodeled the 18th hole, reducing the 489-yard par 5 into a 456-yard par 4 that played to a new 60-yard-long green that curved along a pond, the putting surface separated from water's edge by a vertical bulkhead of railroad ties. (The ties would last until 1989, when lake edges were stabilized with coral rocks, not just at 18 but on several other holes as well.)
Arnie and Ed would tinker with the Bay Hill course nearly every summer. In 1979, the creek that stretched across the eighth fairway was piped underground after Jack Nicklaus twice drove into it during the tournament. Two years later they replaced the oval green on the 240-yard par-3 second with a horseshoe-shaped green wrapped around a pot bunker. In 1988, they created two drainage ponds that bit into the fourth fairway, linked to a drainage canal in the right rough. A few years later, after the fourth was converted into a par 5, they filled in the ponds but the canal—really just a ditch—still exists.
Over the years, they added new back tees, reduced the par-5 opening hole into a par 4, converted the par-4 16th into a par 5, then back to a par 4, then back to a par 5 again. The course length kept increasing, from 7,114 yards, par 71 to 7,239 yards, par 72. Today its championship length is a par-72 measuring 7,466 yards.
The biggest transformation of Bay Hill occurred in 2009, when Palmer Course Design architects Erik Larsen, Thad Layton and Brandon Johnson reviewed the course with PGA Tour officials with plans to modify it in time for Arnie's 80th birthday. With Arnie scrutinizing the reconstruction the way General Patton surveyed a battlefield, every green and bunker got rebuilt. The horseshoe-shaped second was bulldozed away in favor of a long diagonal green that could hold a shot from 240 yards out. Twin bunkers that stretched for 30 yards in front of both the fourth and 14th greens were eliminated. Mounds framing bunkers, which when built in 1989 had the pointy look of the then-hot-new-rival layout Grand Cypress, were flattened into soft, flowing landforms that provided more visibility of both sand and putting surfaces. A beach bunker was added on the par-3 17th, reaching down from the front of the green to the shoreline of a pond, changing the perspective of the hole and making the green look smaller.
The biggest change involved the greens. Larsen says tour officials pointed out that they wanted to set pin positions within three paces from the edge of greens, but Bay Hill's greens tended to slope off around the perimeters, making them unpinnable. So Larsen agreed to flatten all the green edges, creating some 40 new pin positions just steps from bunkers and water hazards. Now, instead of having internal contours bleed off the greens into surrounding mounds, Bay Hill has humps and dips and rolls primarily in the center of each green, where hole locations for everyday play can be located as more generous targets, though at the same time posing tricky, curving putts. Bay Hill now has a remarkable, unique set of greens, unlike any I've ever played.
My verdict, for what it's worth, is that Bay Hill was originally an excellent piece of Dick Wilson architecture that today represents the well-conceived tournament philosophy of the late Arnold Palmer and his Palmer Course Design team.
About
Designer
Dick Wilson/Arnold Palmer
Awards
100 Greatest: Ranked for 30 years from 1969-'98. Highest ranking: No. 56, 1989-'90.
Best in State: Ranked inside the top 5, 1977-'89. Ranked inside the top 10, 1991-2003. Ranked inside the top 20, 2005. Ranked inside the top 25, 2009. Ranked inside the top 30, 2007. Ranked 31st, 2015-'16. Ranked 35th, 2021-'22.
Panelists
Ratings from our panel of 1,900 course-ranking panelists
100 GREATEST/BEST IN STATE SCORES
Reviews
1 / 9
Review
"The club oozes history hence the high numbers for character. The club house is a shrine to Arnie. His touches are everywhere. There are many tough, long par 4s. The par 3's are difficult, with three of them playing well over 200 yards. the par 5' s are good, but #16 has some serious drainage issues near the green. Green complexes were a good mix of small to large greens. Arnie always gave you some room on a long par 4 or par 3. The green complexes had a similar look and feel to them. The bunkering is strategic and intimidating. You often found yourself playing away from trouble to the center of the green. The course is very difficult. Long, long Bermuda rough, and well bunkered greens. "
Read More
2022
2 / 9
Review
"Playing Bay Hill is a great experience. Almost feels like Arnold Palmer is still around. Challenging layout with water that will come into play numerous times. Layout is a bit redundant with a few holes on front and back feeling similar. Course in very good condition and service is top notch. Another opportunity to play where the pros play every year."
Read More
2022
3 / 9
Review
"Great experience, hospitality to the max. Nothing like getting to play where the Pro's play."
Read More
2022
4 / 9
Review
"Always fun to play the courses you see on TV. Hole 3-6 offer a variety of awesome shot options, as do Nos. 16-18. It is very challenging, but in my several visits, the conditions seem to be hit-or-miss."
Read More
2021
5 / 9
Review
"What can you say about Mr. Palmer's course? A nice mix of variety: a tough opener, some beautiful par threes, great risk-reward par fives, and the amazing par four 13th. If you can get a reservation to get a tee time at Bay Hill, it is worth it."
Read More
2021
6 / 9
Review
"Enjoyable layout with solid design variety sporting varying yardages, direction and unexpected slight elevation changes throughout the course."
Read More
2021
7 / 9
Review
"Play where the pros play at Arnold Palmer's Bay Hill Lodge. Nice acomadations close to Disney and fun course to play."
Read More
2018
8 / 9
Review
"The strength of the course is its subtlety. After the round it was enjoyable to look back on the total experience. Virtually all the holes are strong and some rewards for length off the tee. And the Palmer effect adds to the ambience. Well worth trying to get a reservation and a tee time."
Read More
2018
9 / 9
Review
"Three great finishing holes for any format that provide all the challenges, risk/reward of a possible reachable in 2 par 5, a strong par 3, and a dangerous par 4 finish. All are guarded by both water and sand."
Read More
2018
Readers
Collection of reviews from our readers
There are no reader ratings yet
Reviews
There are no readers reviews yet. Be the first to write a review.