Zurich Classic
An awkward pairing near the top, a 59, an emergency room visit and a 68-year-old highlight Day 1 at the Zurich Classic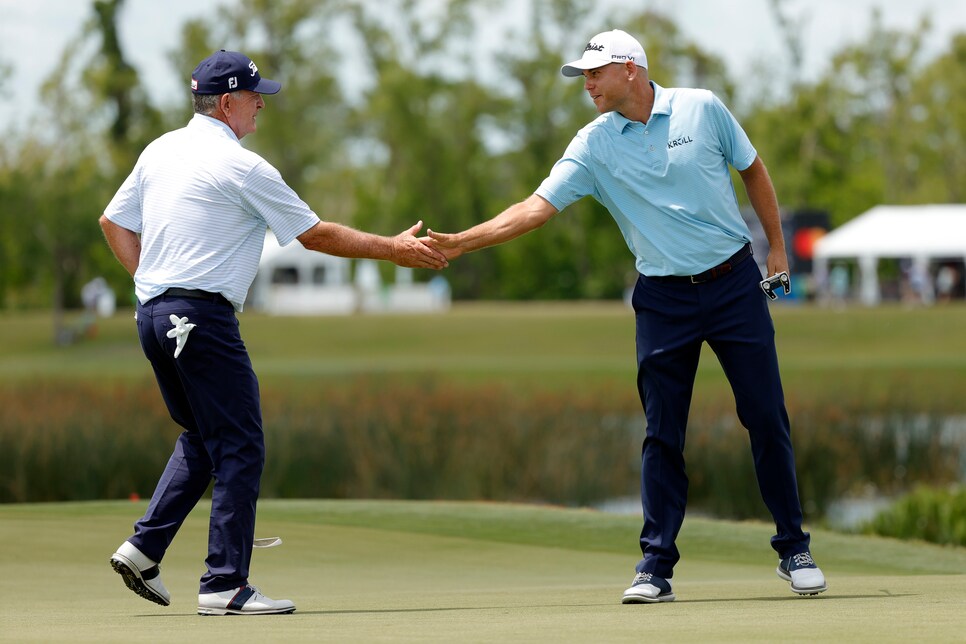 Admit it. You saw the name and thought, "Wait, there's another Jay Haas?"
No offense to the man, the one and only Jay Haas; he accomplished much in his career. But it is a career that is very much in the past tense. Haas hasn't played a full PGA Tour schedule since 2005. His last tour win was in 1993, three years before Masters champ Scottie Scheffler was born. He's 18 years older than rookies on the PGA Tour Champions. So while it was charming to see 68-year-old Jay team up with son Bill at this week's Zurich Classic at New Orleans, it had the hint of a publicity stunt in a game built on meritocracy.
That sentiment isn't any less true following Day 1 at TPC Louisiana. But make sure to add this: The old guy's still got it.
The Haas boys turned in a seven-under 65 during Thursday's four-ball format, a score that tied tournament favorites Viktor Hovland and Collin Morikawa (who are a collective 58 years younger than the Haas clan) and defending champs Cameron Smith and Marc Leishman, and proved the biggest surprise of Round 1 at TPC Louisiana.
"That's really impressive. It really is," Morikawa said of Jay's performance. "Some of these par 3s are playing over 200 yards, and to have a birdie chance inside 15, 20 feet is a good shot already. So what Jay did today, very, very impressive."
Jay and Bill had the longest odds of winning entering the week, a byproduct of Jay teeing it up on tour for the first time since 2010. But Bill, playing this year on a one-time money list exemption, hasn't done much to inspire confidence either, posting just one top-25 finish in 18 starts this season. Nevertheless, Jay and Bill combined for eight birdies against one bogey Thursday. Their score has them just on the fringes of contention—six shots off the lead from Patrick Cantlay and Xander Schauffele—but perhaps more importantly, gives them a legitimate shot to reach the weekend.
Should that come to pass, Jay would have the honor as the oldest player in PGA Tour history to make a cut, a record held by Sam Snead (67 years old) at the 1979 Westchester Classic. But from the sound of it, this week's mission has already been accomplished.
"Obviously just being out here and teeing it up and hearing our names called tomorrow, hopefully I can hit some good shots and make some birdies and everything," Jay said on Wednesday. "But ultimately this is just … to be with my son, again, on the grandest stage here, that's what I'm trying to take from it."
"It's just a good opportunity to play golf and enjoy it and have fun, but also inside the ropes be competitive and him be able to see what I'm talking about when I say either I'm struggling or here I hit a good one, what do you see here?" Bill echoed. "To have him inside the ropes on my team, it's just a great opportunity, and it's just a special week. Something I'll remember forever."
Four other items of note from Day 1 of the 2022 Zurich Classic of New Orleans.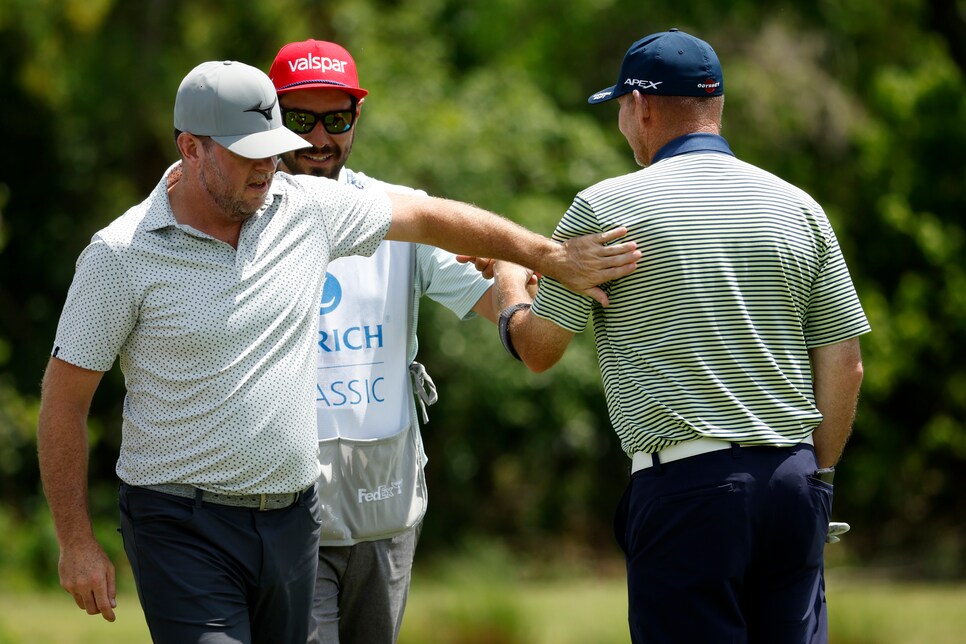 An awkward pairing near the top
Robert Garrigus picked an interesting time to stage a comeback.
The 44-year-old has spent the last five years in golf's wilderness, his last top-10 on tour coming in January 2018. In a vacuum, seeing his name along with teammate Tommy Gainey on the Zurich leader board after an 11-under 61 would be quite the shock.
But what makes their Thursday performance especially noteworthy is what happened earlier in the week. Golfweek reported that Garrigus became the first tour player to apply for a conflicting event release from PGA Tour Commissioner Jay Monahan for the Saudi-back LIV Golf series that begins in June, a report that Garrigus confirmed to the Golf Channel.
"I am grateful to have been given a sponsor exemption into this week's event and I just want to focus on playing the best I can," Garrigus told GC's Rex Hoggard.
On that end, Garrigus fulfilled his promise, contributing five birdies on the round.
"We had a great day today, made a bunch of birdies," Garrigus said after the round. "I chipped in. He was making everything on the front nine. It was a perfect ham and eggs situation."
Clearly Garrigus won't be the only player that tries to compete in the LIV series; there are plenty of individuals at the Zurich Classic rumored to be in discussions with the circuit. But until Thursday little was thought of Garrigus' LIV involvement. If anything it was an indictment on the start-up series, needing a player ranked outside the top 1,000 in the world to fill out its field after promising a number of the game's stars would defect.
Now, however, there's a possibility the first attempted defector (publicly, that is) could be leading a tour event heading into the weekend. From the tour's perspective, a situation—it can be fairly surmised—that is far from ideal.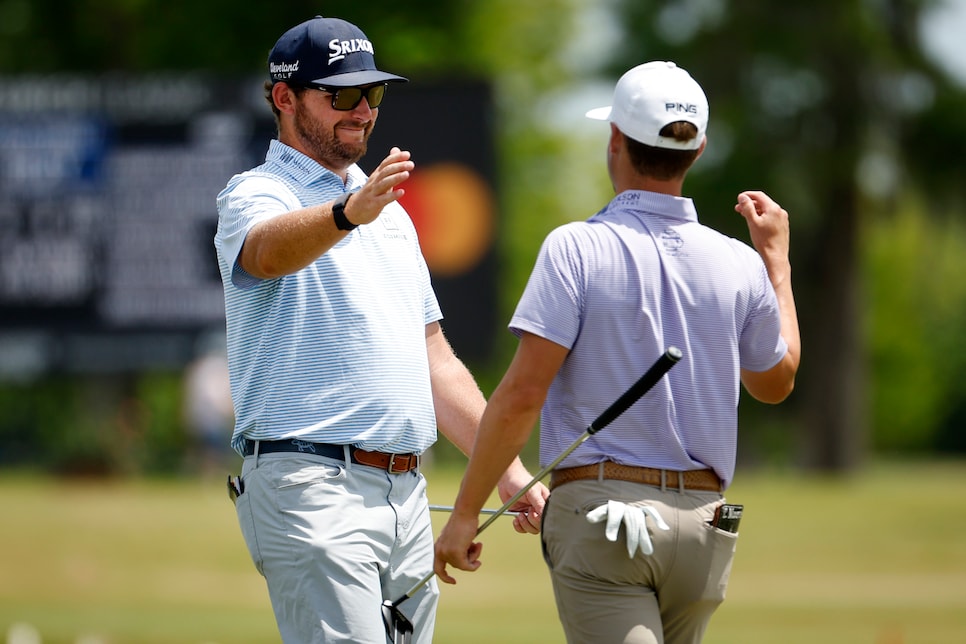 Moore bounces back from ER visit
According to Matthew NeSmith, Thursday's aim was pretty low.
"We were just trying to finish 18 holes upright," NeSmith said. "I mean, finish 18 holes upright, and all of a sudden, we started catching a touch of a rhythm, started making a few putts, started finding the round a little bit. We finished 18 holes, and that was the goal."
Rhythm was caught and putts were made, as he and Taylor Moore combined for a 12-under 60. But should you think NeSmith is merely being humble, it sounds like reaching the finish line was legitimately a goal.
That's because Moore spent Wednesday morning at the hospital.
"I had food poisoning Tuesday night up until midday yesterday," Moore explained on his emergency-room visit. "So just got an IV and some nausea medicine. Finally ate something this morning, which was nice. Like he said, just tried to finish every hole. That was kind of a win within its own right."
Moore did, ahem, more than stay upright, lighting up TPC Louisiana with six birdies and an eagle on his day. It's been a somewhat shaky rookie year (which rookie years tend to be) for Moore, making seven cuts in 14 starts and ranking 123rd in strokes gained entering New Orleans. A good week could help him secure his card for next season.
But first things first, particularly with the difficult alternate shot on tap. In terms of how the team will approach Friday, it sounds like Moore has a solid game plan.
"No more Cajun for the next couple days," he said.
MacIntyre hates shot, still makes hole-in-one
One of the public tracks I worked at growing up had a rule regarding holes-in-one: If the ace in question came off a poorly struck hit—a blade, a fatted ball, a ricochet off a hill—the lucky son-of-a-gun had to buy a round of shots along with the customary round of beers.
We say that to say this: Robert MacIntyre owes the lads some top-shelf liquor.
That's because the pride of Scotland struck, judging by his dejected and disgusted look after contact, a poor tee shot at the par-3 14th Thursday, to the point that MacIntyre glanced away from his ball in flight. Which is a shame, as he missed that ball finding the bottom of the cup:
Look at that smirk; MacIntyre knows he got away with one. Conversely, there are plenty of shots that are good until they aren't, so no need to apologize. Just as long as you make good at the bar, that is.
Cantlay, Schauffele: Still good at golf
We should probably discuss the leaders, yes? That would be Patrick Cantlay and Xander Schauffele, who shot the round of the day with a 13-under 59.
The duo, which has quickly become a Team USA staple, was bogey-free in the afternoon playing alongside Scheffler and Ryan Palmer, with Cantlay's birdie on the final hole giving them the first sub-60 round in Zurich Classic history.
While Schauffele and Cantlay were one of the marquee groups, there was a bit of a question mark on how they would play. Or more specifically how Schauffele would play: He is having an odd season, ranking 17th in strokes gained but turning in just one top-10 in 10 starts. But the X-Man more than did his part on Thursday with six birdies.
Tomorrow will be a captivating watch, as last year's alternate shot format did them in to the tune of a Friday 74, ultimately finishing T-11. If Thursday's round was any indication, there seems to be little that will get in their way.