Turn up the drama
An alternate approach for New Orleans
Sunday's exciting finish begs the question: Why not make the Zurich Classic 72 holes of foursomes?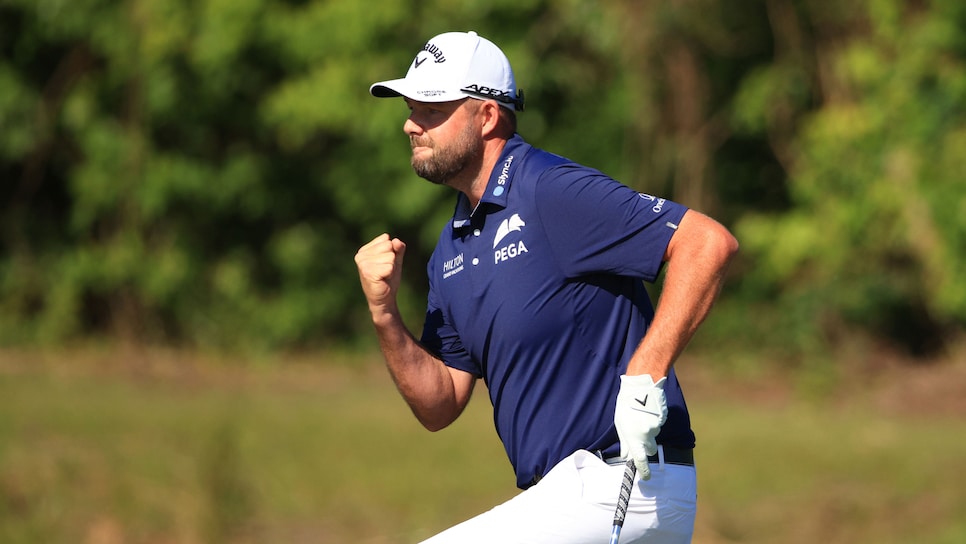 AVONDALE, La. — Dear PGA Tour, Graeme McDowell would like a word. Zurich Classic officials, listen up, too.
"I genuinely believe there should be a 72-hole foursomes tournament, alternate-shot tournament … because I kind of believe it's the purest form of the game," the Northern Irishman said earlier in the week at TPC Louisiana. "There's nothing more difficult than having to hit one and then hand it over to your partner and then having him hand it back to you."
And perhaps nothing in golf that's more entertaining, either.
McDowell gets credit for the idea. Sunday's electrifying final round in the Bayou was proof that it's a brilliant one.
That Marc Leishman and Cameron Smith, after shooting a closing 70, will go down as the winners of the 2021 Zurich Classic, rallying to catch Louis Oosthuizen and Charl Schwartzel (71) then beating them in a sudden-death playoff, was only part of the story of a wildly entertaining final round. How they got there, both teams finishing with a 20-under 268 total, was what provided a thrill-a-minute, fortunes-changing-with-every-swing finish when the pressure was at its highest and the tournament on the line.
Sixteen teams began the final round within four strokes of the lead Oosthuizen and Schwartzel carried into Sunday, including Leishman and Smith, who were just one back at the start of the day. By the time the tournament reached its final nine holes, only six teams were now within those same four shots, the day's pretenders (Tony Finau and Cameron Champ among them) having faded away, with others (Richy Werenski and and Peter Uihlein) having charged into contention.
Over the final few holes, it became clear, however, that the outcome would come down to two twosomes, the Aussies against the South Africans. And that's when the fireworks really began.
Clinging to a one-shot lead after a bogey on the 13th (Leishman's drive came to rest behind a tree and forced them to take an unplayable), Leishman then drove into a fairway bunker on the 15th. Smith missed the green on the short side with his approach to leave his partner an impossible chip over a series of humps. A second bogey in three holes left the pair reeling, especially after Schwartzel buried a 15-footer for birdie—just the fourth of the day on the difficult par 4. The two-shot swing put the South Africans back in front, which is where they looked like they would stay when Smith's tee shot on the next hole, the drivable par-4 16th, took an ill-fated hop to the left and into the water.
With the ball having landed just shy of the green before finding the penalty area, Leishman was able to get a favorable drop just off the green. Then he chipped in for birdie. When Oosthuizen and Schwartzel were unable to get up and down for birdie from behind the green, the two teams were tied again.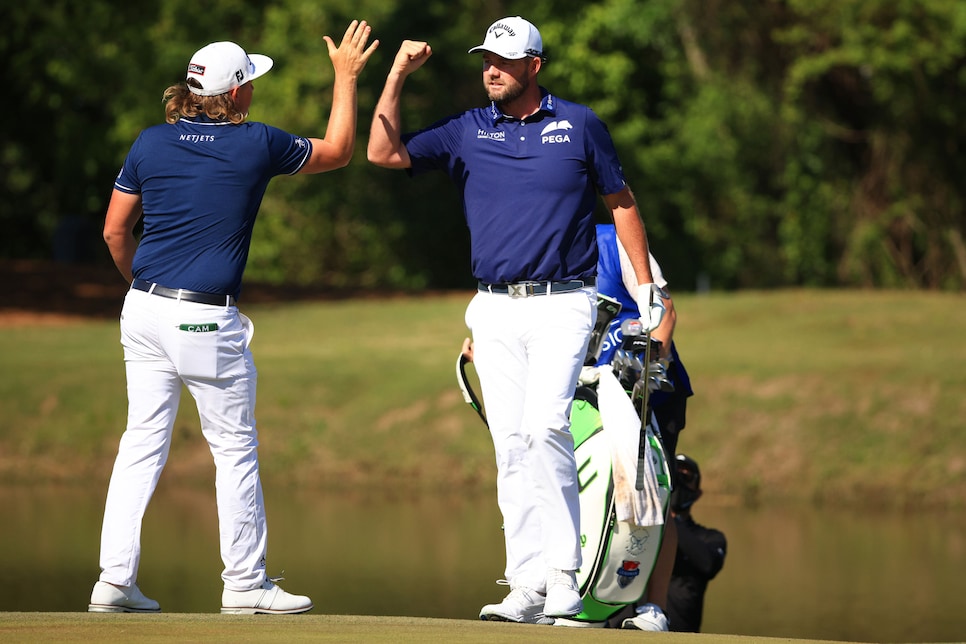 A momentum-shifting birdie on the 16th hole for Smith and Leishman helped propel them to an eventual win.
Mike Ehrmann
Two holes later, on the final hole of regulation, Leishman stood over a 17-footer with a chance to win. He missed, and the two teams headed for a playoff back at the 18th hole. Oosthuizen played first and unexpectedly flailed his drive to the right, into the water, and that was essentially that.
"I thought we had pretty good control on the front nine. We played well," Schwartzel said. "Then they had the unplayable [on the 13th hole] and I had the birdie putt [on the 15th] and it switches from two behind to one ahead, which was difficult [for them]. But in this game, we have been around long enough to know it's not over until it's over at the end. It was a roller coaster of emotions, though."
And a roller coaster of a day. A telling one, too.
Four years ago, with the Zurich Classic having become a ho-hum, 72-hole stroke-play tournament on a not particularly memorable TPC layout amid a crowded sea of 72-hole stroke-play tournaments, officials decided to try something relatively radical in hopes of attracting better fields. With no World Ranking points on the line, a slightly more relaxed vibe and a chance to tee it up alongside a pal—or ride the coattails of a hot player—the move to the team competition worked, attracting a strong field in its first attempt.
That first edition went to a playoff, too, with Smith and Jonas Blixt beating Kevin Kisner and Scott Brown in a Monday finish. But with four-balls used in the final round, sudden-death dragged on for four sloggy holes. It prompted officials a year later to switch the order of play to its current format, with four-balls used for the first and third round and foursomes the second and final round.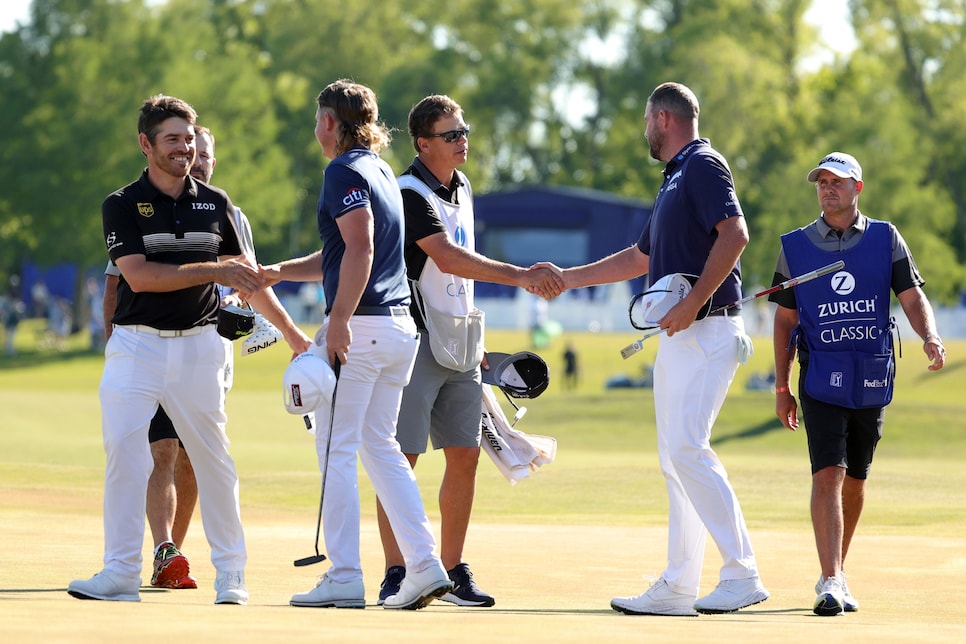 By day's ended, members of Team Aussie and Team South Africa admitted to being spent, the pressure and energy of playing foursomes a very real thing.
Stacy Revere
Now might be the right time for another change. McDowell isn't the only one who thinks it's a good idea.
"Yeah, that would be awesome," Viktor Hovland said when asked about the prospect of 72 holes of alternate shot. "We don't get to do it a whole lot, and it's very stressful at times, but I think it gives you a lot of pleasure after [Friday's round] being two-over par and then signing the scorecard for three under, that was a really good score, especially in those conditions and in that format. It's just when you do well, it gives you that much more pleasure."
Other players echoed similar thoughts, though not everyone is on board with the idea. Notably your 2021 champions.
Said Smith: "That would be too stressful." Added Leishman: "I would be too worn out by Sunday night, I think."
Of course neither would want to change it. They just won, and Smith has taken the title twice since it went to the team concept. But they also see the value that foursomes provides.
"I think that's the great thing about the format, having alternate shot on Sunday," Leishman said. "There's so much volatility. No lead is really safe, as we showed.
"You don't even have to hit a bad shot to get put into a bad position. I think that was awesome. You had to really think your way around the golf course."
There would be another ancillary benefit to the change: It would turn the tournament into a breeding ground for future Ryder Cup and Presidents Cup pairings, given that foursomes is the more difficult format to adjust when playing team matches and one that tour pros (Americans in particular) are less accustomed to playing.
Two years ago, Leishman and Smith were surprisingly not paired during the Presidents Cup in Australia, with analytics winning out over their close friendship and success in the World Cup the year before. The Internationals took a two-point lead into Sundays singles anyway before eventually losing. But after Sunday's performance, does anyone think Leishman and Smith won't play together in the future?
"It's a fun game, and to me it's something I think the Europeans are pretty good at in the Ryder Cup generally because we play a lot of it growing up," McDowell said. "I think it's a great format, and like I say, it's nerve-racking, but I think [partner Matt Wallace] is going to play plenty of Ryder Cups, and these weeks are really important for him to get ready for those days."
Surely, it could benefit the Americans.
"Yeah, I would love it," Bubba Watson said of the suggestion. "That would be awesome. Some people go home after two rounds, and it could be us. But no, that would be a true mental grind, and it would be faster for TV. We all want that.
"I'd love to do that. I'd be the first one to sign up."
There might be plenty of others lining up behind him, too.