PGA
PGA Championship 2023: Did the U.S. Ryder Cup captain unknowingly hint at a surprising possible snub?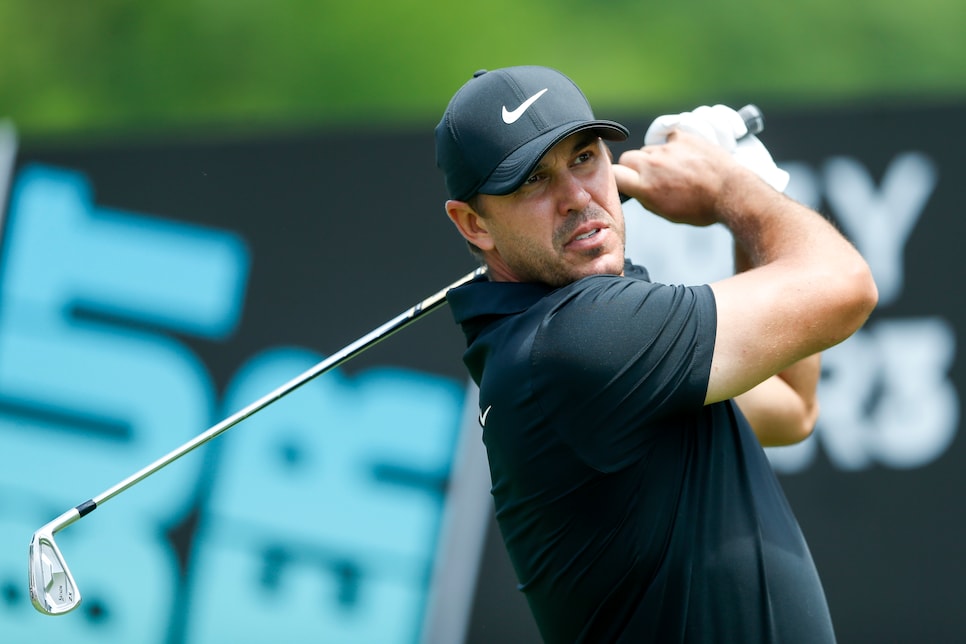 ROCHESTER, N.Y.—There's an odd dynamic currently in place for the upcoming Ryder Cup, as most LIV Golf members with European ties have been disqualified from the player pool but American LIVers have maintained their eligibility. But just because they're eligible doesn't mean they will receive a captain's pick, and the U.S. Ryder Cup captain may have accidentally let slip on Wednesday at the PGA Championship that a surprising name is currently outside his list.
Speaking to the media ahead of this week's tournament at Oak Hill, Zach Johnson expressed his desire to take the U.S. squad over to Italy ahead of the biennial match for a scouting trip. When asked if a player may fall out of contention if they're not willing to make the trip, Johnson clarified that, to this point, all he can do is communicate what he wants to do.
"Communicate, one, that it's a priority to me; two, that it's a priority to Team USA and the PGA of America; and, three, put it on your radar, put it on your calendar," Johnson said. "So I've done that. I don't know how far down the list I've gone, but I've done that to the guys. I have not heard anything that says that no one is in support of that."
A seemingly innocuous remark, albeit one that struck differently following Brooks Koepka's press conference. Koepka is coming off a T-2 at last month's Masters, and figures to be one of LIV's top candidates to make the U.S. Ryder Cup squad. But when asked his thoughts on Johnson's plan, it seemed like it was the first time Koepka was hearing of it:
Q: Another thing that Zach mentioned was that he has approached all the possible team members with the idea of going to Rome two, two and a half weeks before the actual event. Wondered if you talked to him about that, what your reaction would be, what you think it would do for the team?
BROOKS KOEPKA: Two and a half weeks. Wouldn't that be right before the U.S. Open?

Q: Before the actual -- before the Ryder Cup.
BROOKS KOEPKA: I don't think a lot of the guys have played that golf course, so that could be good going in there to go see it, see what you're into. I think it's pretty hilly from what I understand.
Look, anytime you see a golf course and you can kind of scout it early, I think you see it -- major championships, guys will come look at the place a little early if they can, scout it out, see what's going on so you don't have to do as much work and you can kind of focus on what you need to that week. I don't think it's a bad thing any time to go scout it out early.

Q: Just to clarify, has he taken your temperature on that? Has he spoken to you about...

BROOKS KOEPKA: I just saw Zach for the first time maybe 30 minutes ago. I was just talking to him for a little bit.

So, if Koepka's words are taken at face value, this is all news to him. Meaning, Johnson doesn't have him on his short list.
To be fair, context is needed. Heading into the week Koepka is No. 22 in the U.S. Ryder Cup standings. He is the highest-ranked LIV member on the list, but only the top six players automatically qualify for the 12-man roster. Nine of those spots seem taken in Scottie Scheffler, Max Homa, Xander Schauffele, Patrick Cantlay, Cam Young, Jordan Spieth, Justin Thomas, Collin Morikawa, and Tony Finau, and Sam Burns is about as close to a lock as well, leaving just two open slots. Perhaps, using the rankings, Johnson hasn't gone that far down the list in his communication.
As for what Johnson is looking for in his picks, the two-time major winner is playing it close to the vest. "I don't know if I can single one thing out when it comes to what's important with my picks. I can say this: I don't know the specifics behind it," Johnson said. "I know that there's been some that have done some math. But it's difficult to fit in the top 6, regardless where you are. And when it comes to those elements, they're all important.
"I want camaraderie and chemistry in the team room. I want ownership by the team. I think it probably holds more true over there than over here. I want horses for courses. I want guys that can navigate Marco Simone in September, and caddies because it's a hilly gem. There's numerous factors. Shoot, we can get into stats, too, probably, but I don't have all that data yet. But I'm going to rely on all those factors when it comes to -- and those gentlemen, those guys, whether it's my vice captains or those guys that make it on merit to help me formulate my team."
Koepka has played in three previous Ryder Cups, posting a 6-5-1 record in 12 matches. He also appeared for the Americans at the 2017 Presidents Cup.
The 2023 Ryder Cup begins in Sept. 29 in Rome. The Americans are defending champs, but have not won on foreign soil since 1993.
MORE FROM GOLF DIGEST @ THE PGA CHAMPIONSHIP