News
Zach Johnson parts ways with caddie after 15 years, two majors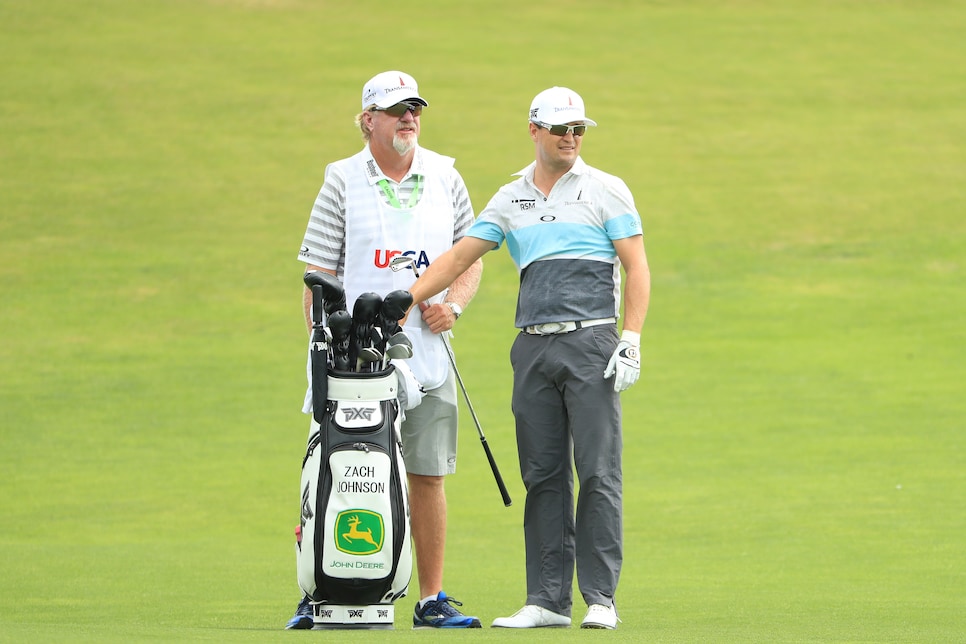 Caddie Damon Green is not be a name widely known by golf fans, but they certainly recognize Green's "bird dance," unleashed every time his player, Zach Johnson, would card a red number. But, according to the Caddie Network, Green has taken his last flight with Johnson.
Green told TCN that Johnson informed him of the change in the last few weeks.
"Zach said, 'I think we need to take a break. It's not a firing. We're too good friends for that,'" Green relayed. "I just think he didn't want to say the word 'fire.' I was shocked."
Johnson and Green had been together for 15 years. The 42-year-old Johnson won the 2007 Masters and 2015 Open Championship with Green on the bag. Johnson has also notched 10 PGA Tour victories and made nine appearances in the Ryder and Presidents Cup in that span. The two had one of the best rapports in the sport, evidenced in this story Johnson told Golf Digest earlier this year.
"Tiger's World Challenge Tournament at Sherwood, 2013. He and I are tied playing the last hole, a par 4. Walking toward our drives, I tell Damon, 'This is what it's all about. We're playing T-Dub, we're tied, and we're gonna get this done.' Tiger hits first and lands his approach into a greenside bunker. What do I do? Hit an 8-iron into the water. A shot so bad, I'm as embarrassed as I am angry. Damon says, 'I guess there's only one thing left to do.' I drop into the circle of the drop zone and, from 58 yards out, hole my next one for par. The crowd went insane, but the really awesome thing was, when I looked over at Tiger, he didn't have that customary grim and determined look on his face. His head was down, but I could see him smiling. After I beat him on the first playoff hole, he still had that smile. He knows what a crazy game golf is."
"He's probably had a Hall of Fame career and I had a front-row seat to it," Green said. "It was great to watch."
TCN reports that Johnson is expected to hire Brett Waldman, who recently worked with Charley Hoffman. Green, 58, says he wants to focus on his family for a bit but plans on looping again.