The two-time major winner talks about rebounding from getting smoked by a prank, a four-putt and the gambling game Vegas. *With Guy Yocom*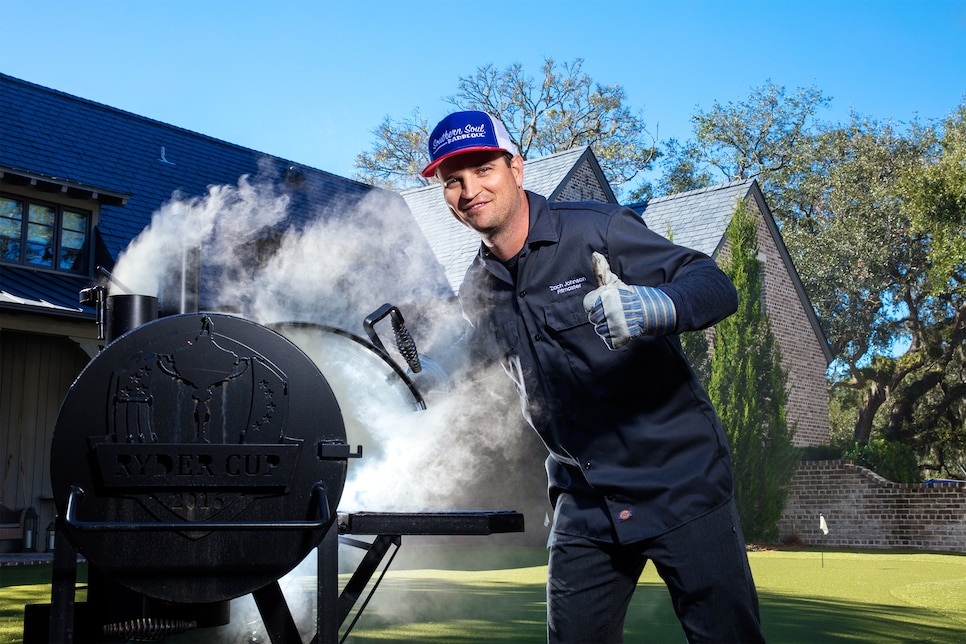 Photo By: Photo by Nathaniel Welch
I PLAY A LOT OF H-O-R-S-E in the driveway with my oldest son, Will. He just turned 11. Obviously I'm better than he is, so I let him stay close. I'll miss on purpose so I'm at H-O-R-S and he's only at H-O. I can see on his face he thinks he's got a chance. Then something happens to me. This competitive thing inside me kicks in, and I blitz him. I just can't let him win. Maybe it's an Iowa thing, but we're not "everybody gets a trophy" people. Will's a strong kid. His day will come soon enough.
WHEN I WATCH SPORTS ON TV—and I watch a lot—I'm always drawn to the 20-point underdog who keeps it close. At the NCAA basketball tournament, when a small school hangs in there but doesn't quite pull it out, that's the team my eyes go to at the end of the game. The TV cameras always focus on the winners, but I'm looking at the losing sideline and thinking, Nice job, guys. I don't like losing, but there's beauty in what comes out of it. As a golfer, everything I learned that led to my winning 12 PGA Tour events, including a couple of majors, came from losing.
I WAS 14 and playing in the club championship at Elmcrest Country Club in Cedar Rapids. The club had some good players, much better than me, but somehow I kept advancing. In the final, I lost to a guy named Jim Nowak. I was bummed, but I was thinking I'd redeem what had to be serious pro-shop credit—new balls, a hat, maybe a new pair of shoes, all badly needed. Runner-up prize was a set of four bourbon glasses. I got mad and started to complain to my dad about what a lousy prize it was. Boy, did he come down on me. Gave me a good talking-to about how it wasn't about the prizes but the opportunity to compete and put my game to the test. About how fortunate I was to have the experience. He really straightened me out. I never acted like a bad loser again.
"KUCHAR IS DOUBLED OVER, LAUGHING. IT HITS ME. ... HE'D BEEN THE ONE MESSING WITH MY LOCKER."
WELL, MAYBE ONCE. By far our most painful Ryder Cup loss was 2012 at Medinah. Remember on Saturday, when Ian Poulter birdied the last five holes, and he and Rory McIlroy beat Jason Dufner and me, 1 up? When Ian's putt for birdie on the last hole fell and he let out that scream, I hated that. I've let out a scream or two myself, but the sight of him carrying on like that galled me to no end. I stewed about it for hours. Days. Make that years.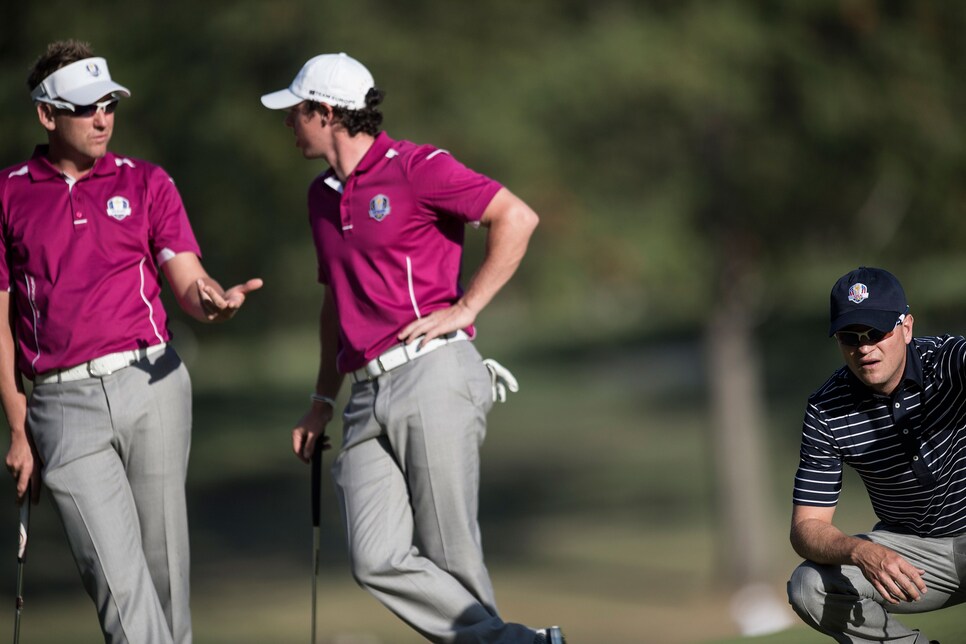 BRENDAN SMIALOWSKI/AFP/GettyImages
IN THE MONTHS leading up to that 2012 Ryder Cup, someone started messing with my locker. I'd open it, and everything would be rearranged, or a mountain of wadded-up paper would come pouring out. Another time it was filled completely with bottles of Old Chub Scotch Ale, which was random and had no connection with anything. It got a little irritating. Who would do stuff like that, over and over?
It continued at the Ryder Cup. Early in the week, I opened my locker and found it plastered with magazine photos of Michael Phelps and Ryan Lochte in their Speedos, with things written on them you can't print. The mildest said something like, Hi, Zach, what do you think of my rock-hard abs? Your friend, Michael. At the opening ceremony on Thursday night, Michael Phelps actually was there. He was with Omega, one of the sponsors, and was there to help get the crowd into it. I saw Matt Kuchar walk over to Michael and whisper something in his ear. Michael nods, then comes over to me and introduces himself. After I say, "It's great to meet you, Michael," he leans in and whispers, "Zach, what do you think of my rock-hard abs?" Kuchar is doubled over, laughing. It hits me: Kuchar's locker has always been right next to mine because we're J-K alphabetically—he'd been the one messing with my locker. I'm not sure how I'm going to do it, but one day I'l have my revenge.
IN THE SPRING OF 2002, I was still on the Hooters Tour. I took advantage of a schedule break to try to Monday-qualify for the BellSouth Classic on the PGA Tour. Not only did I win the qualifier, I made the cut. To top it off, on Sunday I'm playing with Padraig Harrington and playing great. I came to the last hole, a par 5, knowing that if I make birdie, I finish inside the top 10, I make a huge check and, even more important, I automatically qualify for the next tournament. I flush my second shot, a 2-iron over water, to the back fringe. Clutch. I'm 50 feet from the hole. Walking to the green, I'm elated. My dad and my future wife, Kim, are there, and it's this great moment.
As my eagle putt gets near the hole, it looks like it's going to go in, which might get me inside the top five. But it lips out and leaves me a four-footer for birdie. Just trying to get off the course, I power the four-footer five feet past.
A little in shock now, I hammer the par putt six feet past. How I made the putt for bogey, I'll never know. As I come off the green, everyone is treating me like I'd done this great thing. Jimmy Roberts interviews me, my dad and Kim are hugging and smiling. And I'm thinking, Hey, the T-17 was nice. It was still a good check [$57,000].
The next day, instead of driving east toward Harbour Town, a course that's perfect for me, I'm driving my old car to Broken Arrow, Okla., for the next Hooters Tour event. Reality hits me. My inexperience cost me about $50,000 and a chance to play in the next PGA Tour event. It was a miserable drive. Instead of turning on the radio, I punished myself by promising never to make a mistake like that again.
I was so mad and focused, I won at Broken Arrow. Two years later, in my rookie season on the PGA Tour, darned if I don't find myself on the final green at the BellSouth Classic needing to make a two-footer to win by one. That was the longest two feet of my life. I was trembling, nobody but me remembering what had happened there two years earlier. When that putt dropped, a lot of bad mojo went with it.
ONE OF MY FIRST EVENTS that rookie year was Doral. The second round, I duffed my second shot with a 3-wood on the 12th hole, a par 5. I was so mad, I swung again and took out a huge chunk of turf. After the round, Jeff Sluman, whom I'd played with, asked if I had a minute. "A couple of things," he said. "First, you have a nice game. You're going to be out here a long time." I thanked him for that. Then he said, "What you did on 12 today did not need to happen. It should not have happened and will not happen again—right?" It was a classy way to straighten a young guy out.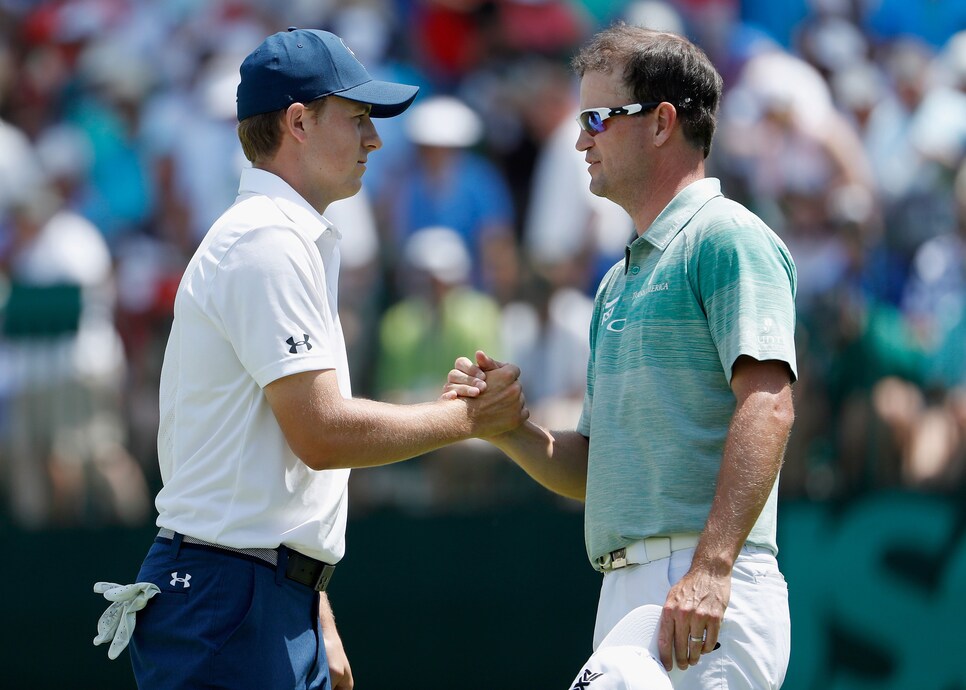 Christian Petersen/Getty Images
I HAVE MY SECRET "GRIT" TEST. A player has birdied three of the first five, the momentum is there, but then he bogeys the next two, and on the next hole faces a 10-footer for double bogey. That's when the grit test starts. That's the moment I look at the player's eyes and body language, see if there's cement and nails in there or something softer. In my 20 years as a pro, I've seen a lot of grit tests up close, and the guy who passes it like no other is Jordan Spieth. Tiger Woods passed it, so did Corey Pavin, and I like to think I have, but Jordan is actually post-grit. It's when he's down a little, his game not really clicking, that he's really dangerous. He stalks that 10-footer for double like a lion. He actually thinks the momentum is all on his side. He gives off this king-of-the-jungle vibe that says he's going to bury that putt and then birdie the next five.
THERE WERE CHARACTERS when I was growing up at Elmcrest. One guy showed up every week with a new set of clubs, the very latest. Shoes, balls and accessories, too. Somehow he got his stuff before our pro did, and all us kids couldn't wait to see what he'd bring out next. He had a deep, gravelly voice and called everybody "ma'am" and "sir." He was a total golf fanatic. He and his buddies played all day long and gambled up a storm. It turned out he was Bob Parsons, who today owns PXG. I play his clubs. Needless to say, I always have the latest, just like him.
"IN MY 20 YEARS AS A PRO, I'VE SEEN A LOT OF GRIT TESTS UP CLOSE, AND THE GUY WHO PASSES IT LIKE NO OTHER IS JORDAN SPIETH."
MY FAVORITE GOLF GAMBLING GAME IS VEGAS. It's a two-against-two game in which the hole scores of each side are combined and expressed as double digits. If we're partners and we score a 4 and a 5 on a par 4, that's 45. The lower of the two scores is expressed first. If we're playing against two guys and they make two 5s on that hole, that's 55, and they owe us 10 units. You can play for as much per unit as you want, but with Vegas there are a couple of catches that can make it expensive. For one thing, if you score a double bogey or worse, the high number now goes first. If you make a 6 and I make a 4, it's 64, and we're going to get slammed. And if both players make birdie or better, it doubles the units. I always liked Vegas because I don't tend to make high numbers, and I choose partners who don't make them. In my early years, I saw it as a nice way to compete and make a little extra cash. It didn't always go as planned.
PRACTICE ROUND, Missouri Valley Conference championship. One of the Northern Iowa guys, Matt Lowe, and I challenge our respective coaches to Vegas. We both realize it won't be easy pickings. My coach at Drake University was Jamie Bermel, a really good player. The coach at Northern Iowa happens to be Jamie's brother, John, who had played in several John Deere Classics. But Matt and I feel we're better.
We're playing for $1 a unit and come to the 17th hole, a par 3, behind enough to make it hurt. We need a birdie and par—a score of 23—in the worst way. I hit a 7-iron over the green. Matt hits it safely on the green. The first Bermel to hit, Jamie, hits it stiff. Then John gets up and makes a hole-in-one. They make a score of 12, we score 34, and because they made two birdies or better, it doubled. That hole alone cost us $44, and the total was considerably more. I thought the coaches might give us a break on the debt, but no chance. Matt and I paid it all off—in installments. I actually look back on this fondly. You can see why I don't let Will beat me at H-O-R-S-E.
WHEN I PLAYED THE HOOTERS TOUR, there was a group of us who became really tight. One of the guys, Josh Broadaway, plays cross-handed and was good enough to get to what's now the Web.com Tour. Josh can also sing and play the guitar very well and volunteered to do a song at my wedding. With the lights turned down low, Josh broke into "Every Rose Has Its Thorn," a real emotional ballad by the '80s hair band Poison. Kim and I are really into it, holding hands and looking into each other's eyes. But when Josh gets to the chorus, he phrases the title as "Every Round Takes Too Long," an obvious poke at my reputation for being slow. Everybody died laughing. Thanks for the touchy-feely moment, Josh.
AWHILE BACK, I was playing in a pro-am at Hilton Head. On the par-4 13th hole, two older guys each hit hybrids straight down the middle, but when we get to the fairway, we can't find the balls. We check with the volunteers, and they have no clue. There was no rough or bushes and no animals around who could have run off with them. At the last moment, I check the tiny hole in the middle of the fairway where the 150-yard stake is placed for everyday play. The hole is much smaller than the cup on a putting green. In the hole were the two missing balls, one stacked neatly atop the other. It's easily the weirdest thing I've ever seen on a golf course.
"MY PLAYING STYLE—SHORT BUT PRECISE—ISN'T DEAD, BUT THE DAY MIGHT COME WHEN IT'S ON LIFE SUPPORT."
MY WIN AT THE 2007 MASTERS only happened because of an incident at the Ryder Cup seven months earlier. My first match at the K Club in Ireland was the alternate shot on Friday afternoon. Chad Campbell was my partner, and we were 2 down against Padraig Harrington and Paul McGinley playing the par-5 16th hole. Chad hit a good drive that left me 250 yards to the hole and 235 to clear water.
My lie is good, but the wind is up, and even with a 3-wood, it's at the outside of my distance limit. As we're discussing what to do, up drives our captain, Tom Lehman. "What's the problem?" he says. I say, "Well, I can get there, but I have to hit it perfect." Tom asks, in an obligatory way, "What's the scoreboard say?" I say, "We're 2 down." Tom says, "Is there even a question?" I went for it, of course, hit it to 15 feet, we won that hole and wound up halving the match. That 3-wood shot proved to me that I could execute under duress. Ever since, I've craved having the ball in my hands at the end. It's that assurance that won me the Masters.
THAT 2007 MASTERS, I didn't go for a single par 5 in two. I relied on my wedges and was fortunate to play those holes in 11 under. There hasn't been a player since who's won with that strategy. I'm not bragging up my wedge game, only pointing out that fewer guys are being forced into that playing style. Even the smallest of the young guys are hitting it a mile. I outweigh Justin Thomas by at least 15 pounds, and he blows it 25 yards past me with the driver. My playing style—short but precise—isn't dead, but the day might come when it's on life support.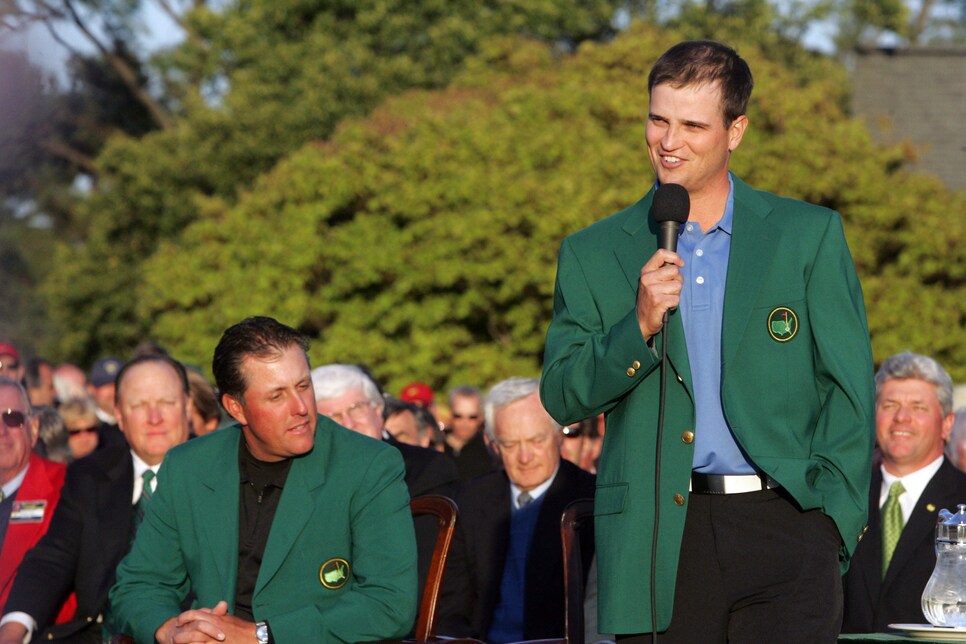 AFTER I HOLED MY FINAL PUTT to win that Masters by two, [caddie] Damon Green didn't take just the pin flag for a souvenir, he took the whole flagstick. He also kept the white caddie uniform. He drove out the gate and past the attendants with the flagstick sticking out the windows. Don't forget, he had to get it on the airplane, too. But he got them home and mounted the uniform on a mannequin his exact size, complete with his Masters hat. The flagstick is by his side. Every time I see it, I think, That's got to be worth a lot on eBay.
IOWA WEATHER—cold, windy and nasty—usually works in my favor. Saturday at the 2007 Masters was the worst, temperature about 50, but the wind made it feel like 40.
I shot 76 and didn't lose ground on the leader board. When I won at St. Andrews in 2015, there was a rain delay on Friday, and on Saturday the wind was blowing balls around on the green so badly they suspended play. When I was a kid, we sometimes played in snow. I learned to handle cold—if I keep my head and lower body covered, the parts in between feel warm. By the time the weather at St. Andrews got back to normal, I'd hung in there and managed to win the playoff.
BECAUSE TIGER WOODS' RECORD in the Ryder Cup doesn't align with his individual record, there's a suspicion he hasn't been very invested. I can't tell you how wrong that is. In every Ryder Cup I've been a part of, Tiger as a player knows he's playing 90 holes and is first in bed every night. In 2016, when he was a vice-captain, we had numerous two-hour phone conversations months in advance, talking about possible weather conditions, potential player combinations, even things like who the captains should walk with. I'm not the only guy he did this with. Zero ego. He's had an amazingly long run and has been on board at the beginning, middle and end.
TIGER'S WORLD CHALLENGE TOURNAMENT at Sherwood, 2013. He and I are tied playing the last hole, a par 4. Walking toward our drives, I tell Damon, "This is what it's all about. We're playing T-Dub, we're tied, and we're gonna get this done." Tiger hits first and lands his approach into a greenside bunker. What do I do? Hit an 8-iron into the water. A shot so bad, I'm as embarrassed as I am angry. Damon says, "I guess there's only one thing left to do." I drop into the circle of the drop zone and, from 58 yards out, hole my next one for par. The crowd went insane, but the really awesome thing was, when I looked over at Tiger, he didn't have that customary grim and determined look on his face. His head was down, but I could see him smiling. After I beat him on the first playoff hole, he still had that smile. He knows what a crazy game golf is.
MY STATISTICIAN, Peter Sanders, says that for every putt I miss from eight feet and in, I need to hole a 15-footer to compensate. If Peter told you that, how would you use that information? Me, I'm going to work extra hard at improving from 15 feet while maintaining where I am from inside eight feet. That's what Jordan Spieth does—makes an inordinate number from outside 15 feet. He's not a bad player to copy.
A SIX-FOOT PUTT FOR EVERYTHING: Tiger, Jack or me? That's easy: me. One, I like having control over the outcome. Two, whatever the outcome is, I can accept it. Three, I'm going to make that putt.