British Open
13 Things You Didn't Know About Zach Johnson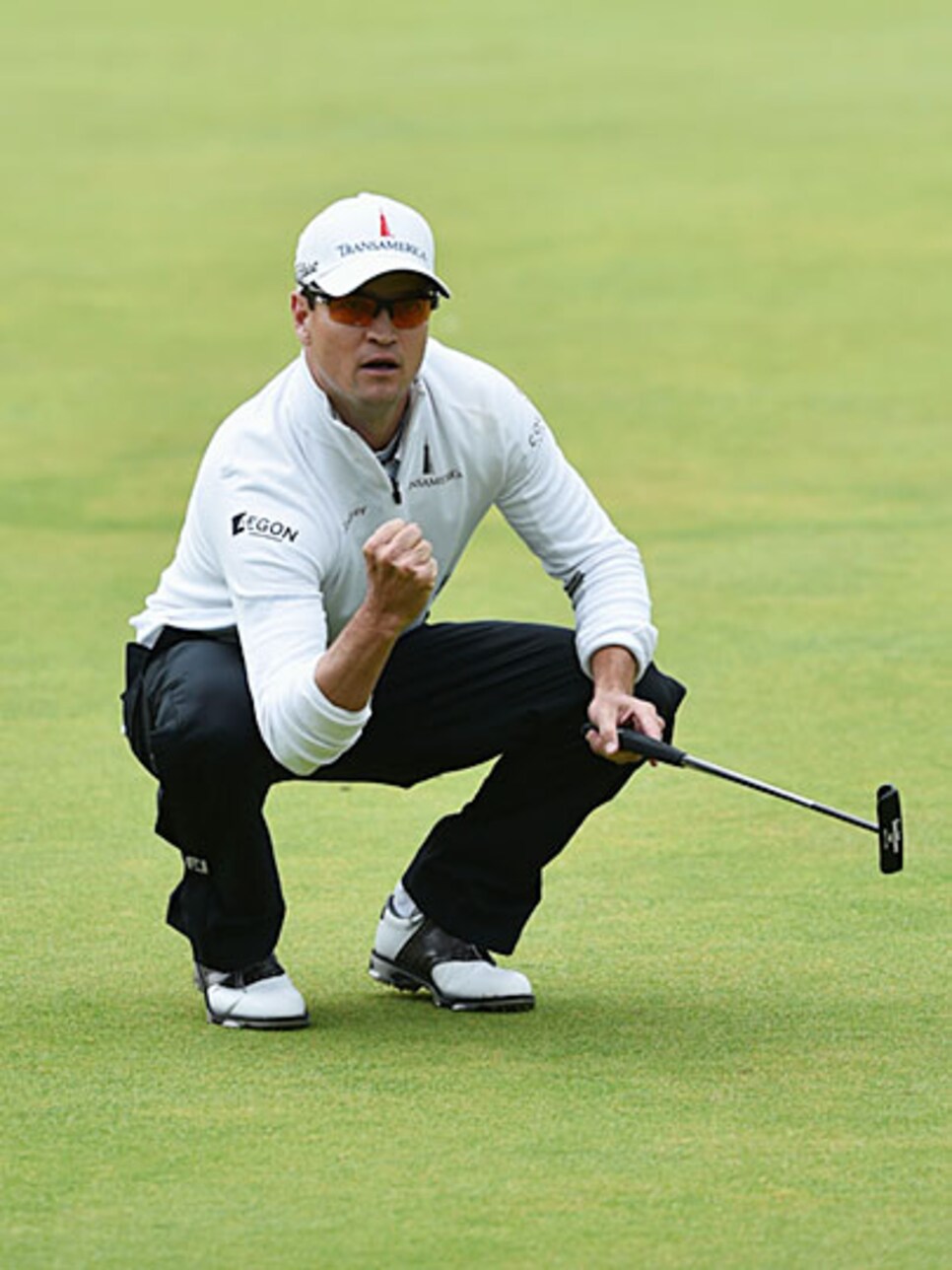 Photo By: Stuart Franklin/Getty Images
Photo By: Peter Dazeley/Getty Images
Photo By: Michael Cohen/Getty Images
Photo By: Matthew Lewis/Getty Images
Photo By: Ross Kinnaird/R&A/R&A via Getty Images
Photo By: Harry How/Getty Images
Photo By: Chris Condon/PGA TOUR/Getty Images
Photo By: Stephen Szurlej
Photo By: Richard Heathcote/R&A/R&A via Getty Images
Photo By: Ross D. Franklin/AP Photo
Photo By: David Banks/Getty Images
He has used the same putter his entire career
Most players change putters to the same frequency as Brita filters. Johnson is the exception, using the same flatstick -- a SeeMore design -- since his days on the developmental tours. Johnson did experiment - don't we all? - with a Scotty Cameron putter for one event, but returned to the SeeMore the following week.
Photo By: Stuart Franklin/Getty Images
His Open win put him in elite company
With his victory at the 2015 Open, Johnson becomes just the sixth person to hoist the claret jug at St. Andrews and win the Masters. The other five: Jack Nicklaus, Tiger Woods, Sam Snead, Seve Ballesteros and Nick Faldo. Not the worst of congregations to join.
Photo By: Peter Dazeley/Getty Images
Johnson is one of the most accurate players on tour
What Johnson lacks in distance -- with a 280-yard average, one of the shortest players (164th) on tour -- he makes up for in accuracy. Johnson's boasts a 73.4 accuracy percentage after his Open performance, third-best on tour. This figure is not an aberration. In 2014, he finished sixth in the category.
Photo By: Michael Cohen/Getty Images
Johnson wasn't the best player on his golf team
You would think a two-time major winner would have been the star of his college squad. Think again. Johnson has stated in multiple interviews that he wasn't the best player on his team at Drake, stating that he wasn't that good at that stage of his career. It illuminates the perseverance and work Johnson put in to reach this level of stardom.
His trophy case is getting full
The British Open gives Johnson 12 wins in his career. Among active players, only Tiger Woods, Phil Mickelson, Ernie Els, Jim Furyk, David Duval and David Toms have more hardware in their trophy case.
Photo By: Matthew Lewis/Getty Images
Johnson's caddie is quite the player himself
Damon Green might be gaining traction over the Twittersphere for his bird-like pantomimes after Johnson birdied 18th, but Green's story is deeper than flapping arms. For years, Green competed on the lower levels of golf, capturing 75 victories on mini-tours. Green decided to give caddying a try 15 years ago, and has been on the bag for all of Johnson's wins.
Photo By: Ross Kinnaird/R&A/R&A via Getty Images
He is a regular at American team events
Johnson has made four Ryder Cup teams in his career, along with three appearances in the Presidents Cup. With his win at St. Andrews, Johnson is in line to make his fourth Presidents Cup team this fall.
Photo By: Harry How/Getty Images
He spent years in the minors
It was quite the journey for Johnson to reach golf's biggest dias, as he toiled in the developmental and minor leagues for six seasons. Johnson's breakthrough came in 2003, when he won Player of the Year honors on the Nationwide Tour to earn his tour card.
Photo By: Chris Condon/PGA TOUR/Getty Images
He has his own foundation
Johnson and his wife started the Zach Johnson Foundation, focused on helping children and families in Cedar Rapids, Iowa. Some of the foundation's programs include Birdies That Care (which helps provide college scholarships to those in need), Kids on the Course (helping children realize opportunities in the classroom) and the Zach Johnson Foundation Classic.
He won the Masters with a one-over score. Seriously.
Due to unseasonable weather featuring frigid temperatures and strong winds, scoring at the 2007 Masters featured little red on the scorecard. Although he broke 70 just once, Johnson's 1-over-289 was two strokes better than Tiger Woods, Retief Goosen and Rory Sabbatini.
Photo By: Stephen Szurlej
He has more money than the Federal Reserve
Although this is more of a reflection on the raising purses associated with the PGA Tour, Johnson nevertheless ranks 11th on the all-time money list. His $1.8 million payday at the Old Course gives Johnson over $37 million for his career.
Photo By: Richard Heathcote/R&A/R&A via Getty Images
He has flirted with 59 twice
While 59 is a sacred number on tour, Zach Johnson has posted a score of 60 twice. Johnson is one of two players to accomplish this feat, with Phil Mickelson the other.
Photo By: Ross D. Franklin/AP Photo
Johnson once sang at Wrigley Field
That's right, Johnson can sign! Okay, not really, but Johnson was given the honor of performing "Take Me Out to the Ballgame" at Wrigley Field.
Photo By: David Banks/Getty Images