The Captain Now?
At Honda Classic, Zach Johnson mum on Ryder Cup captaincy but his peers have plenty to say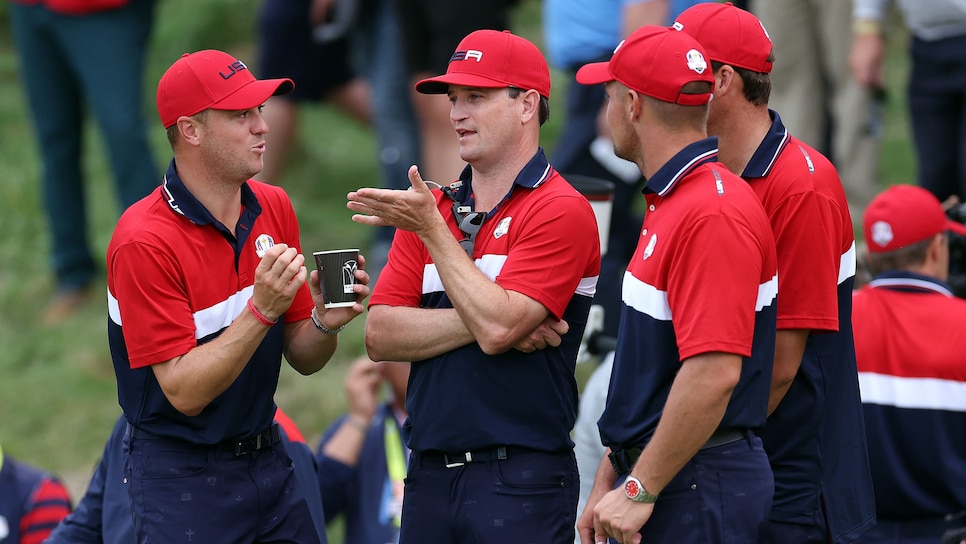 PALM BEACH GARDENS, Fla. -- Standing in front of a group of reporters outside the scoring area on Thursday at the Honda Classic, Zach Johnson was happy to field questions about his clothes. The arrival of his bag in south Florida had been held up to a transport issue—in short, a former caddie named Steve Hulka drives players' clubs and clothes from tournament to tournament in a truck, and he got held up on his way from Los Angeles to Palm Beach Gardens due to bad weather in Texas—so he wore a colorful shirt printed with images of alpine skiers and a pair of khakis with an iron burn on the left knee. What he wouldn't talk about was the Ryder Cup. The Associated Press reported earlier this week that he'll soon be named as the next captain by the PGA of America, which is a surprise to exactly no one, but the only one who stayed mum on the topic during the first round at the Honda Classic was Johnson himself.
"I am going to say that I'm going to focus on the Honda Classic at this time and that is my official statement," he said.
After a reporter who shall not be named made a lame attempt at an end-around—asking the same question with different words—he nodded thoughtfully.
"I am going to say that I'm going to focus on the Honda Classic at this time and that is my official statement," he repeated.
Luckily, others were more receptive to the question.
"I like Zach," Brooks Koepks said on Wednesday. "He's always been fun in the team rooms. He's been kind of a little bit of a rah-rah guy, which is always good. Some of the stuff he comes up with that the public won't see and what we see behind closed doors is...what I think makes the big difference, and I think every guy that's played on a team that he's been an assistant or played with him would definitely agree with that and be happy to see him do it."
Stewart Cink has an argument to be in the captain's pipeline himself, but has accepted that it will likely never happen. ("You and I are in the same part of that pipeline," he said to me last fall.) Nevertheless, he was effusive about Johnson's qualities.
"He's the perfect kind of guy," Cink said. "He's level-headed, he's well-respected, he's smart, he knows this game at our level inside and out. And he's my best friend on the PGA Tour, so I'm happy for him."
Cink is now 48, but he won the RBC Heritage last year and still dreams of making another Ryder Cup. The fact that he has a chance to play for a peer has only intensified that goal.
"He's honest, he doesn't pick favorites, and he doesn't hold grudges," Cink continued. "He's got a really healthy relationship with everybody, he's got some fire, he's played great, and he's earned it."
"Nice choice," Luke Donald concurred, speaking from the European perspective. "I know Zach very well, he's very conscientious, a good guy, and I've always enjoyed competing against him. There's no doubt he'll gain respect from all the team members."
Patrick Reed missed the 2021 Ryder Cup at Whistling Straits, in part because of a serious illness that saw him hospitalized before the Tour Championship, but he's played with Johnson as a teammate in two Ryder Cups, and played under him when Johnson was an assistant to Jim Furyk in Paris.
"Zach's going to be a great captain," he said. "He has the experience not only as a player, but as a leader as an assistant captain, helping cook up pods, things like that. It was just a matter of time that he was going to get that call."
"I think the biggest thing is, he listens," Reed continued. "You have to be a good listener to be a great coach, as a captain he's still playing, he's still playing well, and he takes everyone's input and is able to disperse it hopefully in the best way possible."
On the European side, Donald said that there are four candidates being considered—he's one of them—and a source close to the process indicated that the choice will be made before the Players Championship. Other potential candidates include Henrik Stenson and Graeme McDowell, both of whom served as a vice captain to Padraig Harrington at Whistling Straits, while Lee Westwood is said to have withdrawn his candidacy. Johnson's captaincy is expected to be announced by the PGA of America in a press conference on Monday.