News
So you're a U.S. Open alternate ... how likely is it then that you'll get to play at Erin Hills?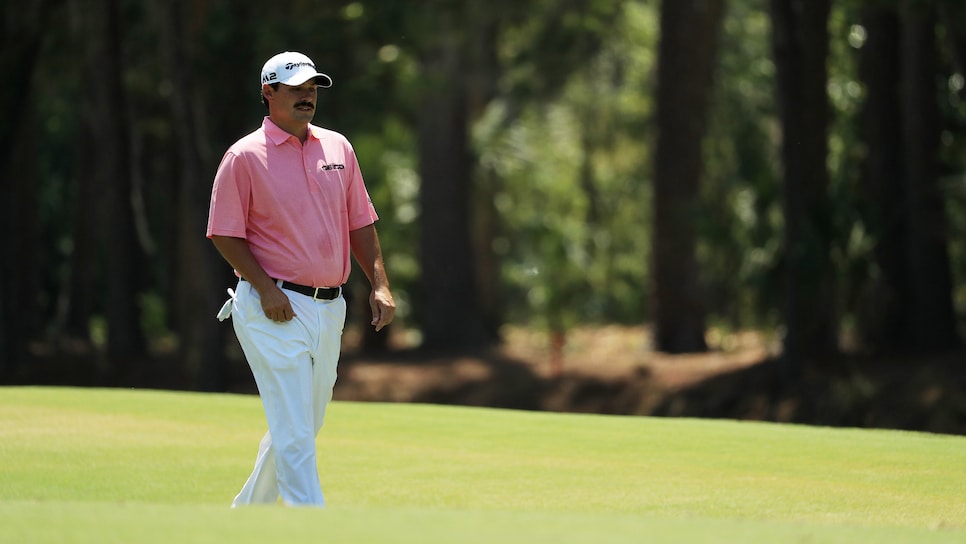 The withdrawal Thursday of Ryan Moore from next week's U.S. Open delivered a berth to his good friend from their high school days, Michael Putnam, the first alternate from Monday's sectional qualifier in Columbus, Ohio. In reality, however, Moore opened a spot at Erin Hills for another unknown player farther down the alternate chain, given the Open's qualification metrics as they currently exist.
Let us explain. And then we'll shed further light on which player has the potential to gain entry into the 117th U.S. Open at Erin Hills in Erin, Wis., should Phil Mickelson withdraw next Thursday to attend his daughter's high-school graduation ceremony in California.
As they have done the last several years, USGA officials are holding open six spots in the 156-player field for any players ranked in the top 60 in the Official World Golf Ranking as of the Sunday prior to the championship who are not otherwise eligible. That list currently includes just one player, Chris Wood of England, who is ranked 60th. If he remains 60th, he would be in the U.S. Open.
That leaves five spots that would be "reallocated" to first alternates from the 12 sectional qualifiers the USGA conducted the past two weeks in Japan, England and the United States. Since Putnam already is in—Columbus was deemed the top qualifier based on strength of field—those five berths would go to sectional sites ranked second through sixth based on the pecking order determined by Jeff Hall, the USGA's Managing Director, Rules and Open Championships.
"I have the list hanging on my wall," Hall said from his office at Erin Hills. "We've been communicating with alternates, and they know where their site is in the pecking order. I can't finesse this. It's determined somewhat subjectively, but it's based on objective data: strength of field, OWGR rankings for every site, and so forth. Basically I'm saying, 'If I had 12 more spots to give out, here is the order in which I would have sent them.'
After Columbus, Memphis is next on the USGA reallocation list. But, as Hall explains, that doesn't mean the first alternate from Memphis [Meen Whee Kim] is the next player in." That's what people might not understand," he notes. "It depends on whether another player withdraws before Sunday and if he is an exempt player or someone who played in a qualifier."
For example, say if the next player to withdraw before Sunday is one of the 14 qualifiers from Columbus, Ohio. The second alternate from that site, Johnson Wagner, is awarded the berth.
"Those sectional qualifying spots that were allocated to Japan on the 22nd of May, England on the 29th and to the 10 sites in the United States on June 5 are protected," Hall said. "They own those spots. If someone from one of those sites withdraws, the alternate has exclusive rights to that spot first."
To simplify things, let's look ahead assuming that no changes occur to the world rankings, Wood remains 60th, and there are no further withdrawals before Sunday. The field would be completed by the first alternates from the qualifying sites 2-6 on Hall's power rankings list: Memphis (Kim), England (Gregory Bourdy), Springfield, Ohio, (Tyler Light), Dallas (Ryan Palmer) and Ball Ground, Ga. (amateur Dru Love, son of Davis Love III).
The first alternate from site No. 7 on Hall's list, Summit, N.J., would become the man likely to be hovering around the first tee at 2:20 p.m. CDT Thursday waiting to see if Mickelson miraculously arrives to play with Steve Stricker and Stewart Cink. The first alternate from Canoe Brook Country Club is Roberto Diaz of Mexico. In essence, he is the true beneficiary of Moore's withdrawal.
But again, all of that can only transpire if nothing else changes. Should another fully exempt player withdraw after Monday but before Mickelson withdraws, Diaz gets that spot, and Hall goes to the next slot on the reallocation list to find Phil's fill-in. Should a qualifier withdraw, the spot goes to the next alternate from that site. If both alternates from a sectional get in and yet another qualifier from the same site falls out, then Hall would have to tap the next man on his reallocation list.
Just out of curiosity, we wondered what would happen if all 24 alternate spots were exhausted and the field remained shy of 156 players. It's an academic question because the USGA has never rifled through the reallocation list once, let alone twice, Hall said. But if it did happen, there simply wouldn't be a full field at the U.S. Open.   RELATED: The good—and the bad—of being a one-time major champion