News
You say Lydia Ko had a bad year in 2017? Funny, she sees it differently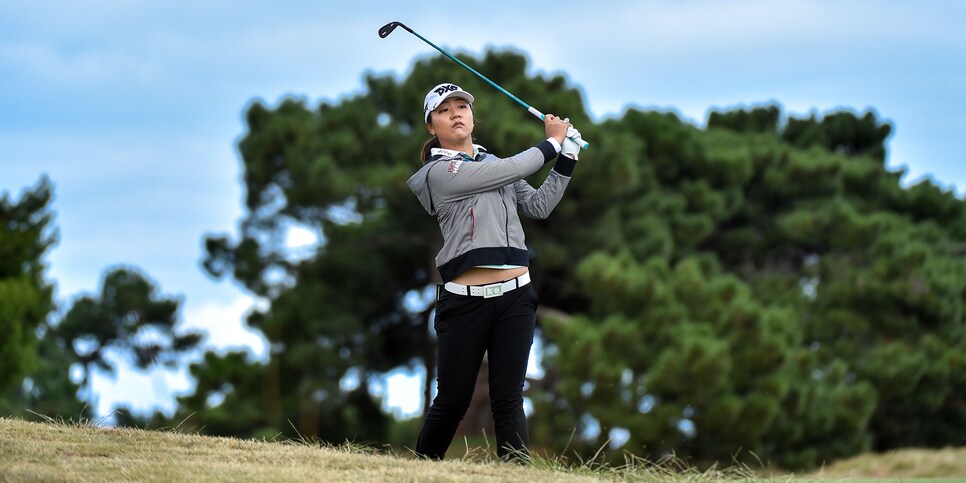 NAPLES, Fla. — Last weekend's CME Group Tour Championship was the 33rd and final LPGA event of 2017, a year in which 22 different players won tournament titles. Yet it's the name of one who didn't that stands out. Lydia Ko had claimed three, five and four victories in her three previous seasons, respectively, all earned before turning 20 and contributing to her becoming the youngest player to ever reach World No. 1. Yet somehow the New Zealander finished 2017 winless in 26 starts. Had you ventured to guess as much at the start of the year, crazy is the most polite thing you might have been called.
Appropriately enough, crazy is how Ko tends to look at those who approach her wondering if she's worried about the long-term impact of the 2017 season. "I feel like it was better than what everybody else thinks," Ko says. "[Everyone is] like, 'Lydia is in a slump.' But I feel like I played solid. I've had a bunch of top-10s to kind of prove that theory.
True enough, Ko wrapped up the year with 11 top-10 finishes, and five top-fives. While relinquishing her No. 1 ranking after 85 straight weeks in June—and falling all the way to No. 9—she still earned $1.17 million and finished the year with a 69.864 stroke average. To many on the tour, that looks like the kind of slump they could get used to.
Appreciating, though, that the zero in the win column is something new for the 14-time tour winner with two majors, and that her ranking in greens in regulation was 26th compared to seventh and second in 2014 and 2015, Ko expanded on why the year wasn't quite the disaster it might have appeared.
"It's a season that obviously I learned a lot from. And I think it wasn't the 'game' aspect that I learned, but the mental aspect of saying, 'Hey, get over the bads and kind of move on.' Confidence and patience were probably the two big keys for me this end stretch of the season."
Her swing coach, Gary Gilchrist, stands beside Ko in her assessment of 2017. Winning, or the lack there of, is something they never have talked about since Ko replaced her former coach, David Leadbetter, with Gilchrist in December 2016. There's been no need, insists the new instructor, given the motivation she displayed every time they talked or worked together.
But what explains the drop off? Besides changing coaches, Ko changed her equipment, leaving Callaway for PXG and putting 14 new clubs in the bag. She also changed her caddie—several times actually—eventually landing on Pete Godfrey from late April through the end of the season. About the only think Ko didn't change was her ball. Or at least not until the season finale at Tiburon Golf Club, when she played a new Callaway offering and finished T-16.
"I knew it was going to be a challenge because I knew she'd struggle," Gilchrist said. "She won five times and a major [in 2015] and four times [in 2016]—those are unbelievable years. And then she was going to change everything, so I knew, if [Ko and her family] was going to come to me and think everything is going to work out in two or three months, that wasn't going to happen."
When they began working together, Ko hoped to return her swing to the form she had started her pro career so successfully with in 2014 but had departed from when she and Leadbetter made swing changes in 2016. Gilchrist obliged, working with Ko to quiet her lower body during the backswing and have her clubhead fall back in line with her hands rather than allow the clubhead to drift outside. More recently, Ko has gotten away from the crisp turn going back and has a slight slide motion initiating the backswing that they're working on.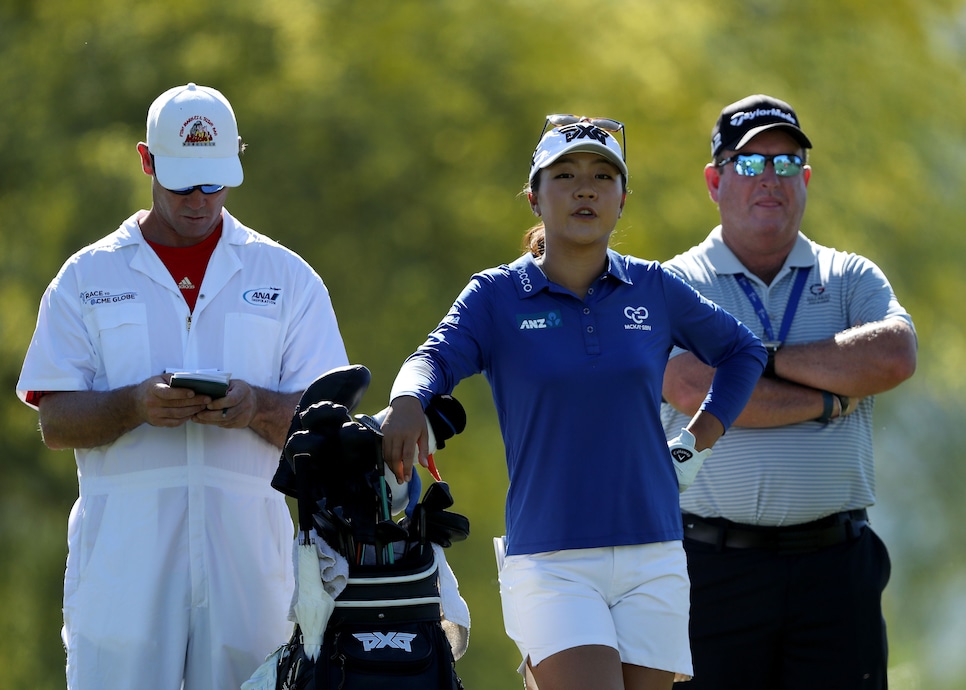 In re-learning her old swing, the most difficult challenge was the inconsistency from week to week. Where it became most alarming was her performance in major championships. A respectable T-11 at the ANA Inspiration was followed by T-59 at the KPMG Women's PGA, T-33 at the U.S. Women's Open and another T-59 at the Ricoh Women's British Open. She did finish the major season on a high note, finishing third in the rain-shortened Evian Championship.
The way Ko explains it, her on-course performance had less to do with her physical game and more with the mental aspect of trying to absorb the changes while maintaining her status among the LPGA's top players. "I think to me I wasn't playing good because I feel like I lost confidence in myself more than everything that I had changed," Ko said.
While there may have been moments this season where Ko struggled to have confidence in herself, Gilchrist has nothing but confidence in her preparation and work ethic, something that he believes will return Ko to regular contention on the LPGA Tour soon.
"We'll be out working," Gilchrist says, "out there for eight hours, and I'll be getting tired and she's just still walking around with her head up, still going at every shot with high energy."
It's funny, because you don't really watch Ko and think of her as a high-energy person. She's not one to throw down huge fist pumps when she makes a putt; she doesn't show a ton of emotion in general. But if you look beyond those outward, flashy ways that some players show energy and passion, you see Ko demonstrates it in a different way. When she's done with her round, she stays and signs every autograph—she even took the hat off her head and gave it to a young fan after her final round on Sunday at Tiburon Golf Club. She stays around to speak with the media, taking her time to be thoughtful with her answers. And then she's off to the putting green or range to work some more.
Ko puts so much energy into the game, Gilchrist said, that the most important thing she could do for herself in the off season would be to take some time off and rest. Ko says she's going to comply with his latest assignment, taking a full four weeks away from her clubs.
"I think it's good obviously physically just to not be in that repetitive motion," Ko says. "I think it's more the mental side where you just get away from it and have some fun outside of golf."
Though Ko's season had uncharacteristic highs and lows, she can hold strong found a bit of her usual form at the Indy Women in Tech Championship in September, where she shot 65-64-72 in the three-round tournament to finish in second behind Lexi Thompson. A week later came her T-3 showing at Evian.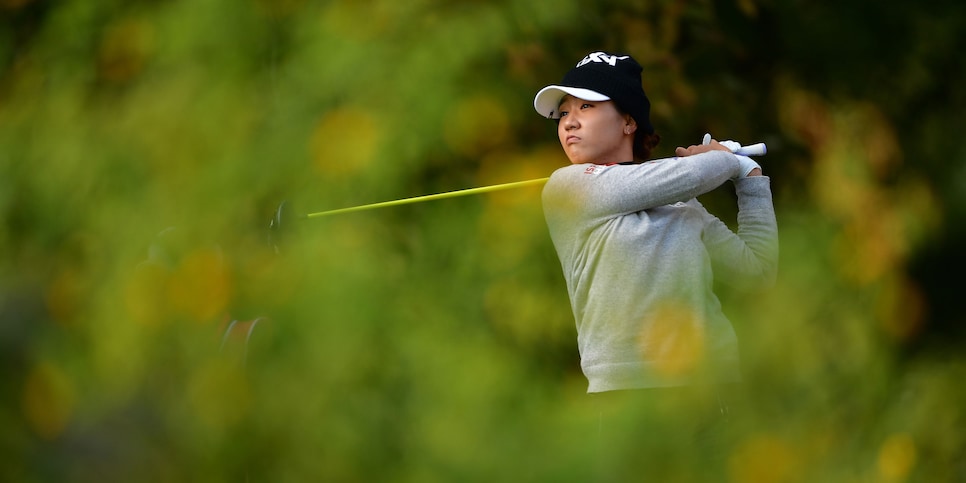 Stuart Franklin/Getty Images
"I realized, 'Hey, patience is such a big key.' Week in, week out, the talent doesn't change that much, but if you feel confident and you're out there committing to your shots, then you're able to play the best golf you can," Ko said. "So, Indy really helped with that. You know, obviously I would've loved to be the one that was the champion, but I felt like I learned a big lesson from that even outside all the results."
With patience comes acceptance as well. Ko isn't ever going to blow the ball by many of her competitors on tour. She averages 243 yards off the tee, ranking her 137th on tour. Instead she must be a strategist on the course, something the cerebral Ko has and should continue to excel at.
"It's like she's playing chess," Gilchrist says. "She'll outlast you."
As Gilchrist watched from outside the ropes during Ko's Saturday round in Naples, he insists all the pieces are there. Ko was hitting the ball well and getting comfortable. Ultimately, she needs more putts to fall.
"Golf is such a confidence game," Ko said. "If you start making birdies or putts and playing well, it builds up. That momentum kind of carries on."
With 187 yards in on the 18th hole of Ko's final round of the season on Sunday, she hit her hybrid to about 12 feet. Her last putt of the season was a downhill, breaking putt on a fast green that didn't give up many one-putts throughout the day.
Ko winning again, it's a moment waiting to happen.