The Loop
You have to hear Phil Mickelson's story involving David Toms at the 2002 Ryder Cup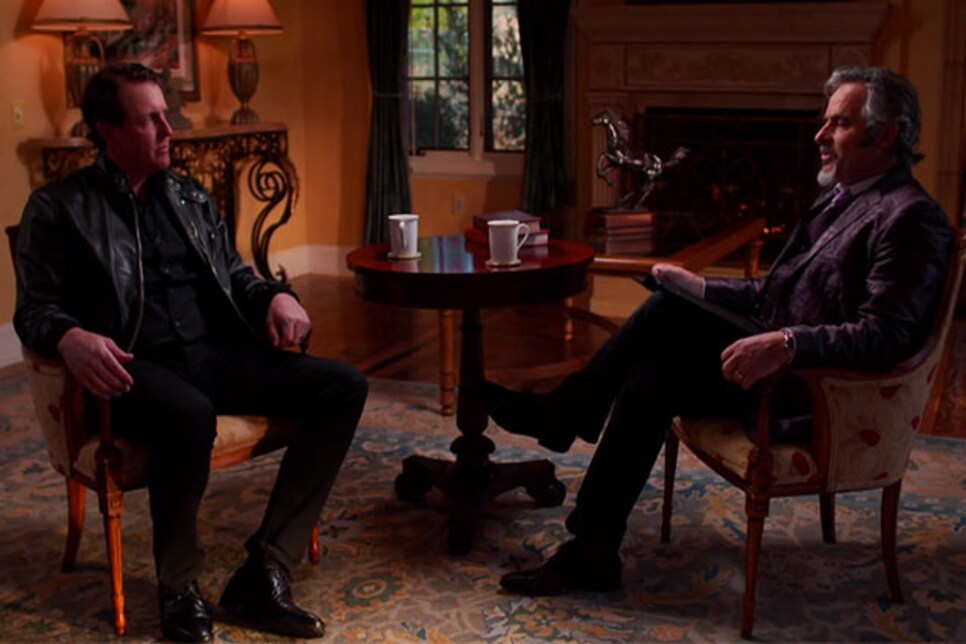 The upcoming Season 7 premier of Golf Channel's Feherty will be split into two parts. Hey, when Phil Mickelson is the guest, you need extra air time.
On Tuesday, Golf Channel shared a sneak peak of the episode (Part 1 airs March 6 at 9 p.m. with the second part the following Monday at the same time) with GolfDigest.com in which the five-time major champ tells David Feherty an incredible story from the 2002 Ryder Cup. Mickelson was playing a tight foursomes (alternate shot) match with David Toms when the two arrived at The Belfry's narrow par-4 16th hole.
"I hit the most majestic 3-wood, in the fairway," a proud Mickelson says to really get the story rolling. Mickelson also notes the fairway was only 14 yards wide, because, well, Phil Mickelson knows and remembers those types of things.
He also remembers what Toms, facing an easy 9-iron approach shot to a green that funneled almost everything to the hole, did on his ensuing shot.
"He fat blocks it into the lip of the bunker." Again, great description, Phil. And way to throw your partner under the bus!
But here's what makes the story so great. After a heroic bunker shot from Phil in which he somehow slashed a 9-iron to four feet (of course), Toms called in his partner to ask what he thought about the short par putt. Here was Mickelson's fantastic response:
"'What do I think?' I said, 'Don't f*%# this one up too!' and walked off the green. And to his credit, he knocks it right in, and after a chuckle that we had, we ended up winning the match 3 and 1." Now that's a leader of men.
Watch the entire clip here:
Considering this is just a tiny sliver of the two-part program, it looks like golf fans are in for a real treat.