The Loop
You can play a course that's had less than 1,000 rounds in 7 years
Wickenburg Ranch is an hour and fifteen-minute drive north of Phoenix if you keep your foot on the pedal. It's also the busiest place in golf this week not hosting a tour event.
The course was supposed to open last Saturday before the Super Bowl, but "Set the Course Record Day" was canceled due to rain. So now the remote desert layout will make its official debut February 7th. On Monday I got a sneak preview, and weaving my car through all the bulldozers, trucks, jackhammers, and workers planting trees was a special experience. After all, it's rare to see a new golf property under construction these days. I was especially honored that Rick Fehr, the (soon-to-be) director of instruction took three hours to play with me. He and his colleagues in "golf ops" still need to organize the food and beverage staff, print scorecards, paint numbers on the sprinkler heads, and boost the network reception so that the credit card machine will function, among other tasks.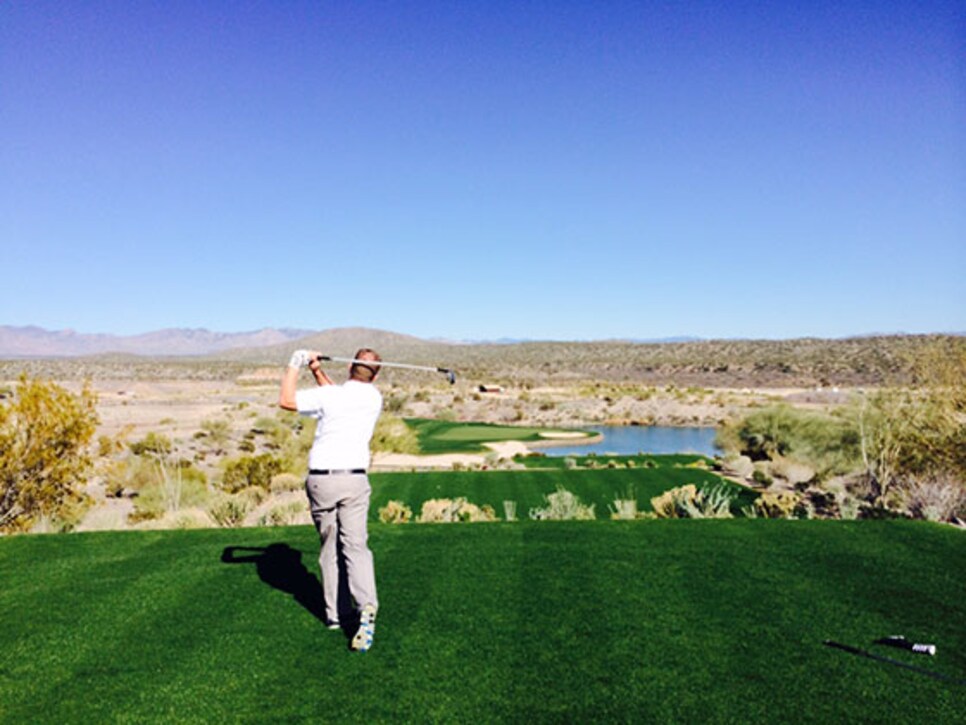 Wickenburg Ranch director of instruction Rick Fehr teeing off on the par-3 13th hole.
Mostly it's this ancillary stuff that needs attention; the golf course, designed by Bill Brownlee and Wendell Pickett, was fully built seven years ago and has been lying dormant under a maintenance staff of three. Only select friends of the developers, a few investors, staff and the local high school golf team has played.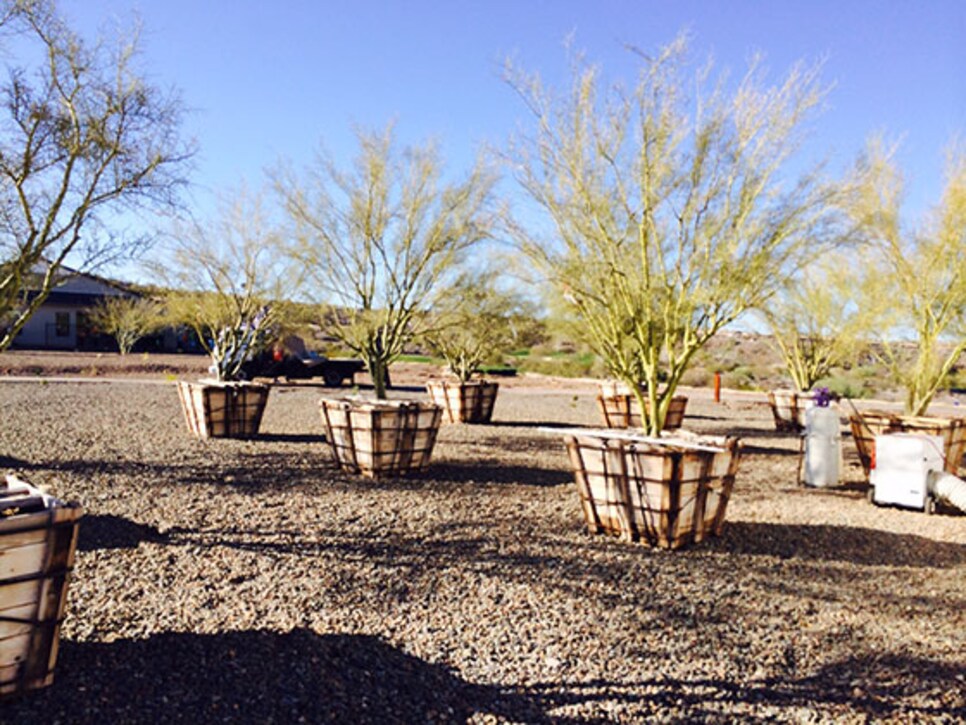 Trees at the course waiting to be planted.
"I'm excited to finally show it off," says superintendent Andy Huber, whose staff has multiplied substantially to prepare the course for regular working condition. The greens are Bentgrass, a rarity in the region, and the routing ably surfs the edge between spectacular and playable.
The course was originally chartered as private, and will become so again in a few years if enough homes are sold. But for now, anyone can play it for $95 and Arizona residents get a $10 discount. All comers also receive a free Travis Mathew shirt.
I didn't see the shirt but the course is worth the drive. The front gate looked a long ways from completion, but you'll know you're there when you arrive.