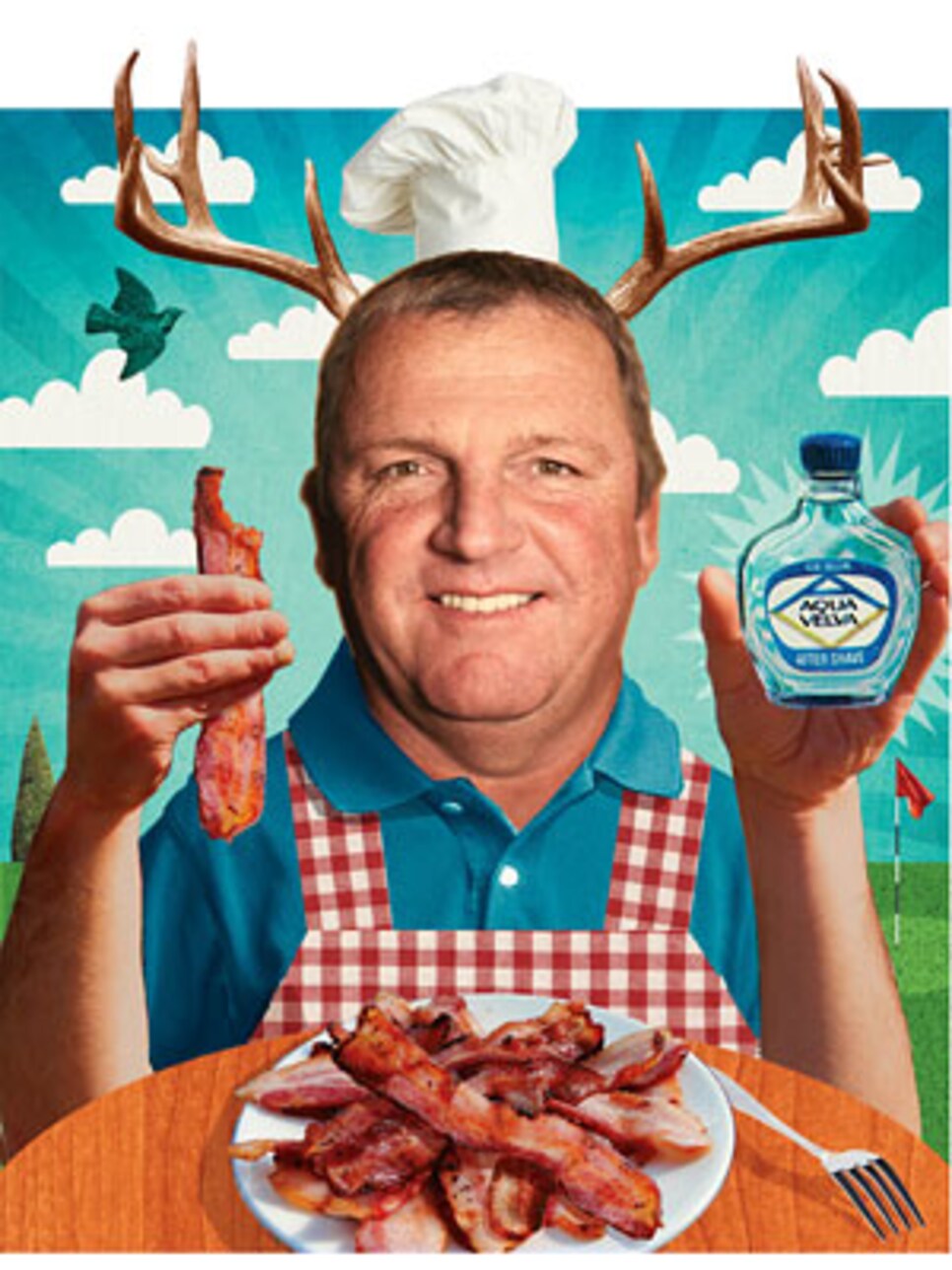 1. Which product did Mark Calcavecchia endorse before he was told it didn't conform to the tour's anti-doping program?
(A) Deer-antler velvet spray.
2. Whose leg hurt the most?
(A) Thomas Levet's, after he jumped in a pond to celebrate winning the French Open.
(B) Carol Lewis', after she jumped in a lake to celebrate daughter Stacy's win in the Nabisco.
(C) Tiger Woods', after a 42 on the front nine in the Players.
3. What happened when Arnold Palmer made his last flight as a pilot?
(A) He flew from Palm Springs to Orlando.
(B) He buzzed Jack's home.
(C) The flight attendant said, "I don't care if you are The King, the pretzels are gonna be five bucks."
4. Ian Poulter revealed he is allergic to...
5. What did Tiger Woods say when he fired caddie Steve Williams?
(A) "Nobody said you were supposed to get rich, too."
(B) "A good friend would have stopped me somewhere along the way."
(C) "Love means never having to say you're sorry."
6. Where did Rory McIlroy's tee shot land on the 10th hole in the final round of the Masters?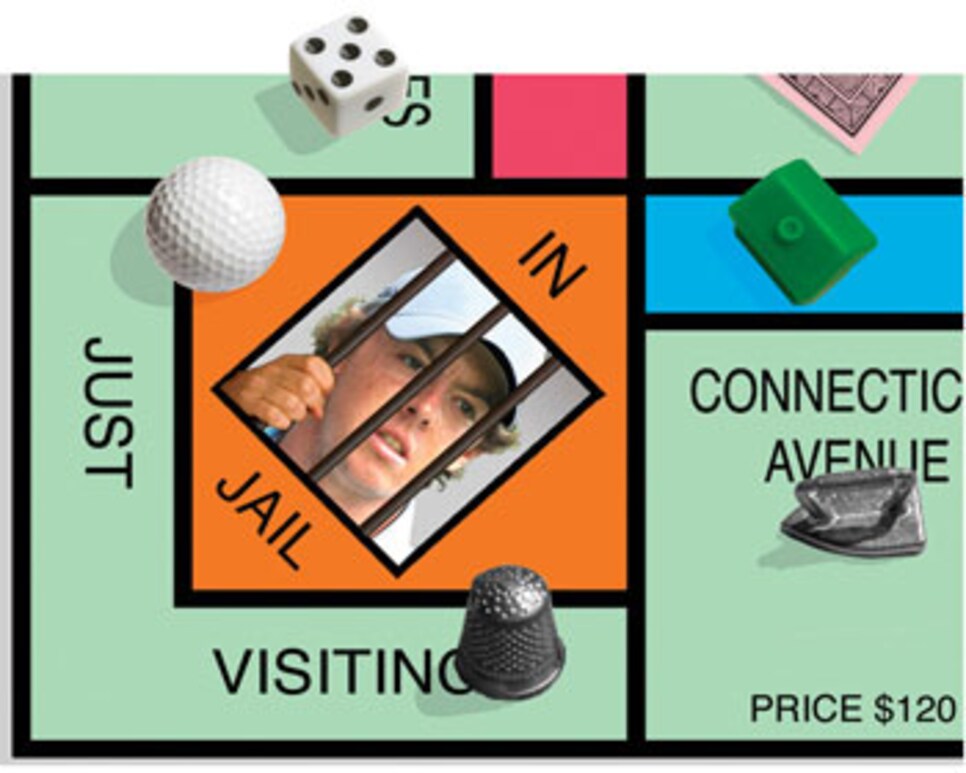 7. Dustin Johnson in the final round of majors keeps reminding us of ...
(A) the ruins of Pompeii.
(B) Germany's record in world wars.
(C) Gomer Pyle with a soul patch.
__8. After her divorce settlement from Tiger, Elin Nordegren bought
a 17,000-square-foot home for ...__
(B) the son of a billionaire.
(C) any guy who hates golf.
10. Our reaction when Greg Norman got married for the third time after losing $103 million in his first divorce:
12. What happened when 1,073 people took a golf lesson at El Camaleón Golf Club in Mexico?
(A) They set a Guinness World Record.
(B) The guy picking up range balls called in sick.
(C) 1,073 people; 1,073 slicers.
(d) Another 1,073 crossed the border.
13. Count Tiger's close friends on tour:
(d) Do you count Mark O'Meara as a friend or a parasite?
(A) a popular new restaurant in Beverly Hills.
(C) our man Garcia, who finally won on tour again.
15. In typical Hollywood fashion, the part of Seve in the movie about Seve will be played by ...
(A) Demi Moore, in a last-minute script adjustment.
(B) Brad Pitt, with an Irish accent.
16. NBC omitted which phrase from the Pledge of Allegiance at the U.S. Open?
(B) "the United States of America."
(C) "now I lay me down to sleep."
17. After making a hole-in-one during the Madrid Masters, Elliot Saltman ...
(A) won accolades from his playing partners.
(B) was accused of cheating again.
(C) won his body weight in ham.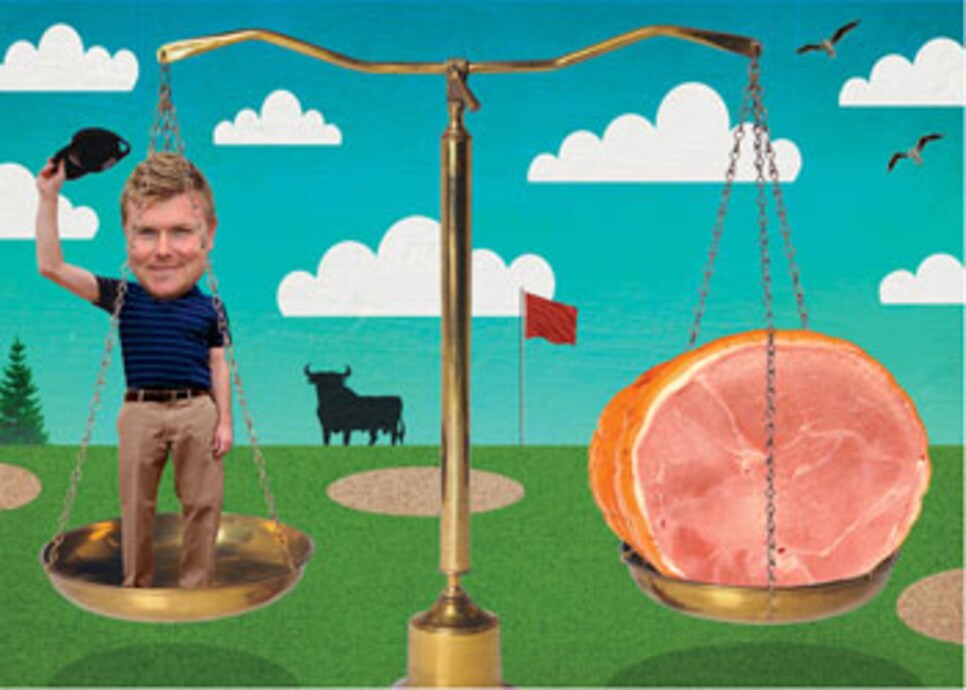 18. When Jhonattan Vegas of Venezuela won the Bob Hope Classic, Hugo Chávez said ...
(A) "Golf is a bourgeois sport."
(B) "Golf is for sissies."
(C) "He beat all the gringos!"
19. When a guy threw a hot dog at Tiger in that tournament nobody cared about, Tiger said ...
(A) "If that has mustard and sauerkraut, it's mine."
(B) "I definitely ordered a tuna wrap for the lady."
20. The reaction when Augusta National spent $1.6 million for 1.43 acres near the fifth hole:
(A) It seemed like a lot to provide Martha Burk with a place to put up a hot-dog stand.
(B) Who cares as long as they don't mess with my parking space.
21. Michelle Wie with red hair was almost as alarming as ...
(A) Phil Mickelson posing in a scarf headdress in Abu Dhabi.
(B) Lee Westwood's new teeth.
(C) Rickie Fowler's outfits imitating the flags of Third World countries in mortal combat.
22. One of golf's new rules means ...
(A) you can build a sand castle
in a bunker without penalty.
(B) you can walk barefoot in a bunker and pretend it's the Riviera.
(C) you can have a family picnic in a bunker before playing a shot.
23. How did Bubba Watson get himself in trouble at the French Open?
(A) Called the Eiffel Tower "that big tower."
(B) Referred to the Louvre as "the building starting with an L."
(C) Looked silly trying to wear a beret.
24. Rachel Uchitel recently married ...
(A) a guy 10 years younger.
(B) some guy she met in a swimming pool.
(C) a guy who has never heard of Tiger Woods.
25. Told that she might have to give back the hush money, Rachel Uchitel said ...
(A) "You've got to be kidding."
(C) "Hey, it wasn't me, I wasn't there, and I don't understand the question."
(A) A Female Urination Device for discreet use in places like golf courses.
(B) A Rachel Uchitel Device for discreet use in things like text messages.
27. Lexi Thompson can do for the LPGA what ...
(A) Annette Funicello did for "The Mickey Mouse Club."
(B) Mattie Ross did for "True Grit."
(C) Shirley Temple did for lollipops.
28. Chubby Chandler is ...
(A) the successful sports agent who represents top golfers.
(C) the contestant who went out in the first round of "Dancing With the Stars."
29. Before President Obama's address to Congress, microphones picked up Speaker of the House John Boehner saying to VP Joe Biden ...
(A) "One day I play great, the next day I play awful. But this was the round of the decade ..."
(B) "When I made the turn at three under at Congressional ..."
(C) "If you think the economy's a handful, you ought to see the back nine at Dismal River."
30. Tiger Woods' most fascinating quote to CBS after the final round of the Masters was ...
(C) "I'm going to go eat."
31. The new Arnold Palmer drink--a mix of iced tea and lemonade with alcohol called Arnold Palmer Hard--comes with a warning label that says...
(A) Do not drink if you are prone to dancing on tabletops with a lampshade on your head.
(B) Do not drink if you normally have trouble saying Oosthuizen.
(C) Do not drink if you are wearing a sombrero, riding a horse and waving a pistol.
32. In 2012, Tiger Woods will ...
(A) rebuild his swing for the sixth time.
(B) play more video games.
(C) run out of people to fire.