News
Xander Schauffele's playoff win in Shanghai caps big year by Americans in WGC events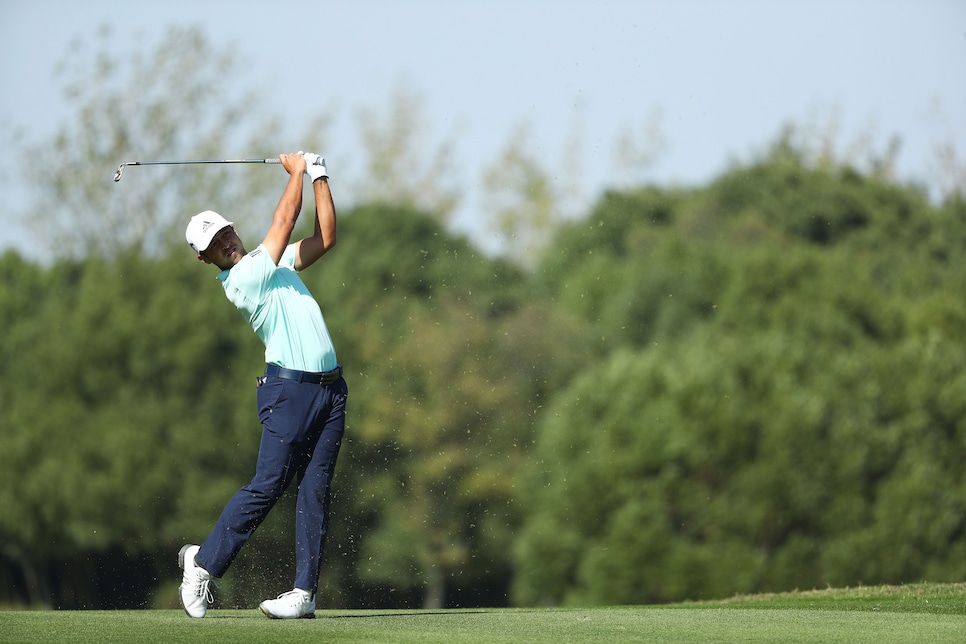 Sunday marked 31 days since the United States Ryder Cup team met its Waterloo in France, getting trounced by the Europeans yet again. Fear not America, hope is hardly lost. That's mostly because the talent keeps coming, the latest example on display half a world away in China also on Sunday with Xander Schauffele defeating Tony Finau in an all red-white-and-blue sudden-death playoff at the WGC-HSBC Champions.
The victory was the third in the last 16 months for Schauffele, who turned 25 last week, and the duel against his 29-year-old counterpart was highlighted by a pair of birdies by Schauffele on the last two holes of regulation to force overtime, followed by another on the first extra hole.
"When I was signing my card, I was like, Oh, wow. I actually went birdie-birdie to get in the playoff," said Schauffele, whose 68 was the low score of the day as just three players broke 70 in the final round at Sheshan International Golf Club. "I was just in my own world out there."
The U.S. lost the Ryder Cup, yes, but with Schauffele's victory it became the first country to sweep all four World Golf Championships in a calendar year (joining Phil Mickelson, Bubba Watson and Justin Thomas). That's hardly a consolation prize, but it is a positive sign for the future.
Six of the top 10 finishers on Sunday were Americans, including 28-year-old Patrick Reed and 26-year-old Patrick Cantlay, and the winner of the tournament wasn't even on the Americans' Ryder Cup team this year. Though Schauffele, the PGA Tour's rookie of the year in the 2016-'17 season with two victories but winless in his sophomore campaign, was part of the conversation when it came to captain's picks, hindsight being what it is he would have been a good choice for Le Golf National.
Schauffele, whose German and French immigrant father was a standout soccer player and track-and-field star, and two great-grandfathers in "football" as well at the European Premier level, has already shown a penchant for playing big-time golf in big-time tournaments. In seven major appearances, he has finished in the top-six three times. Two of those came at the U.S. Open and the other at this year's Open Championship at Carnoustie, a course that is widely considered one of the most difficult in the world.
Since the 2017 U.S. Open at Erin Hills, where he was a shot off the lead after the first round before finishing fifth in his first career major, Schauffele has nine worldwide top-five finishes.
That includes his victory Sunday in China.
Beginning the day in a tie for second three strokes behind Finau, Schauffele hung around until briefly moving in front early on the back nine. But a bogey at the 15th dropped him back again. Still, Schauffele bounced back, though, with an 18-footer for birdie on the par-3 17th then added another at the par-5 18th. In the playoff, he reached the green in two, while Finau found a fairway bunker off the tee and was forced to lay up. Finau then narrowly missed a 20-footer for birdie, and Schauffele tapped in for the victory.
"It just feels good to win again," Schauffele said. "Those two wins were pretty close in my rookie year and I didn't really know what I was doing."
And it should feel good for future U.S. team captains.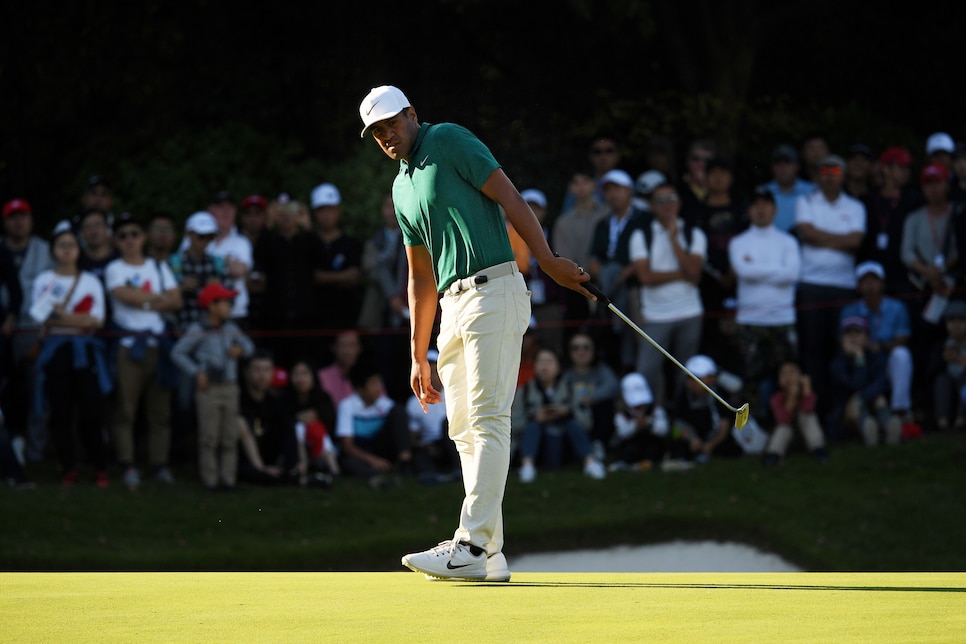 Ross Kinnaird/Getty Images
Though Finau is still searching for his first win since his maiden victory in Puerto Rico in 2016, over the last two years he has racked up 20 top-10 finishes. Along the way he too has shown an ability to perform well on the big stage, tying for 10th at this year's Masters despite dislocating his left ankle on the eve of the tournament, and finishing fifth at the U.S. Open at Shinnecock.
Finau also acquitted himself well in his Ryder Cup, where unlike fellow captain's picks Tiger Woods and Mickelson, he actually scored points for the U.S., going 2-1-0 for the week, which included a 6-and-4 thumping of Tommy Fleetwood in singles.
"Definitely feel like I let one get away," Finau said of Sunday's finish at the HSBC. "Xander played incredible golf today.
"It was cool to have a chance to win, a real chance to win, and you know, I'll definitely learn from this and keep moving forward."
So, too, will the U.S. The talent keeps coming and talent generally wins out. The Americans at times look like the 108-win Red Sox. They might not have won this past Ryder Cup but they are set up well for the future.