News
A humble Xander Schauffele said all the right things in accepting his Rookie of the Year award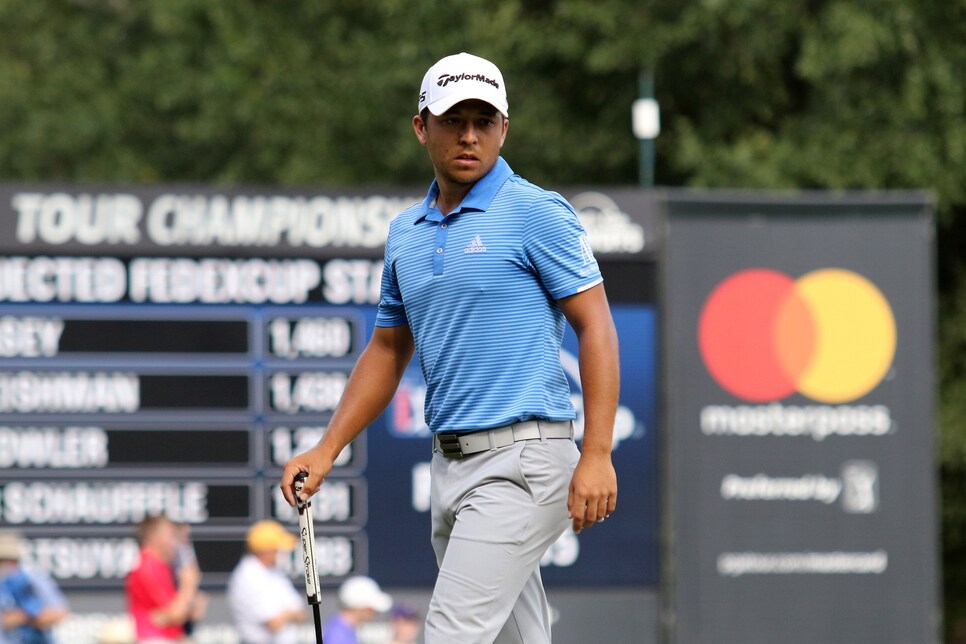 There are many ways to measure success, and Xander Schauffele has the PGA Tour Rookie of the Year Award as ample proof that his professional golf career is taking off. However, it occurred to Schauffele, whose T-5 finish in the U.S. Open launched a late-season surge to a pair of victories, including the the season-ending Tour Championship, that he can gauge his progress throughout the 2016-17 campaign in another way.
"Right now, my caddie has a nicer car than I do. That tells me a little something," Schauffele says with a laugh, referring to Austin Kaiser, his college teammate from San Diego State, who bought a nifty BMW while Schauffele still schleps around in his Toyota Camry, one he just scraped up in a recent fender bender. But he doesn't mind. "I'm an old soul. I haven't purchased anything crazy. I used to want all these things, but now that we're sitting here with some success, it doesn't seem all that important now."
The 23-year-old Schauffele learned Monday that he had beaten out Wesley Bryan, Patrick Cantlay, Mackenzie Hughes and Grayson Murray for top rookie honors. A 2016 graduate of the Web.com Tour, Schauffele is the fourth member of the high school class of 2011 to win the award, as voted on by fellow tour members. He joins Jordan Spieth (2013), Daniel Berger (2015) and Emiliano Grillo (2016).
"Everyone was telling me I should win this thing, but it's just a crazy year for rookies, and to beat them all is pretty amazing," he said. "I was told some stats before the interview. There were 20 guys that won this year 25 and under; the highest previously was like 11. I think the reason I won is because three guys before me were crazy enough to win—Cody Gribble, Wesley Bryan and Mackenzie Hughes. I was talking about Jordan Spieth setting the bar high, but those guys set the bar for my class. They made me believe that I could win out here, so kudos to them."
Schauffele captured The Greenbrier Classic in July. He then held off Thomas, the prohibitive favorite for the PGA Tour's Player of the Year Award (which will be announced Wednesday) at the Tour Championship, the first rookie to win the season finale since its inception in 1987. In 28 starts, the San Diego resident recorded four top-10 finishes, the most important being his surprise showing in the U.S. Open at Erin Hills.
A sectional qualifier out of Memphis, Schauffele opened with a 66 and found himself surrounded by media wondering who he was. Up to that point, he had missed six cuts and was languishing in 135th place in the FedEx Cup standings, well outside keeping his card tour. He was ranked 352nd in the Official World Golf Ranking.
But he performed the rest of the week like he had been around all along. "I never looked back," he said. "That was a huge opportunity that I was able to take advantage of, and I could just feel the momentum switch over to my side and I was able to ride it the rest of the year."
He finished the year third in the FedEx Cup and 32nd in the world. He earned more than $4.3 million, so whenever he is ready to upgrade his automobile, he has the resources.
Last week, while the top American players were competing the Presidents Cup, Schauffele went out to dinner with some friends and the waiter recognized him. A far cry from being an unknown U.S. Open contender.
"It's all strange to me, but it's pretty cool when people know who you are," he said.
Schauffele admits he didn't watch much of the Presidents Cup. He didn't touch a club last week, but is ready to gear up for the new season with a three-week run of tour events in Asia starting at next week's CIMB Classic. He missed the Presidents Cup with his peers, but he has his sights set on the Ryder Cup in Paris next fall.
There are goals to improve, but the old soul in him keeps it real. "You look at the stats, even on the tour app, it's pretty obvious what I'm good at and what I suck at. And I'm very aware of it," he said. "I think if I can get a little bit better in every category, I'm doing OK. But it's also about keeping a clear head. I think it's easy to get a big head in this situation. I need to find a way to manage my time and be an adult. That's one of my goals for the next year."
What he doesn't have to improve on is his ability to win, even though, he admitted, "It was something I didn't have a lot of experience with before."
Yet he did just fine. By any measure you choose.