Wyndham Championship
PGA Tour Bubble Boys: Horschel's huge charge, JT stays alive and some youngsters take a fall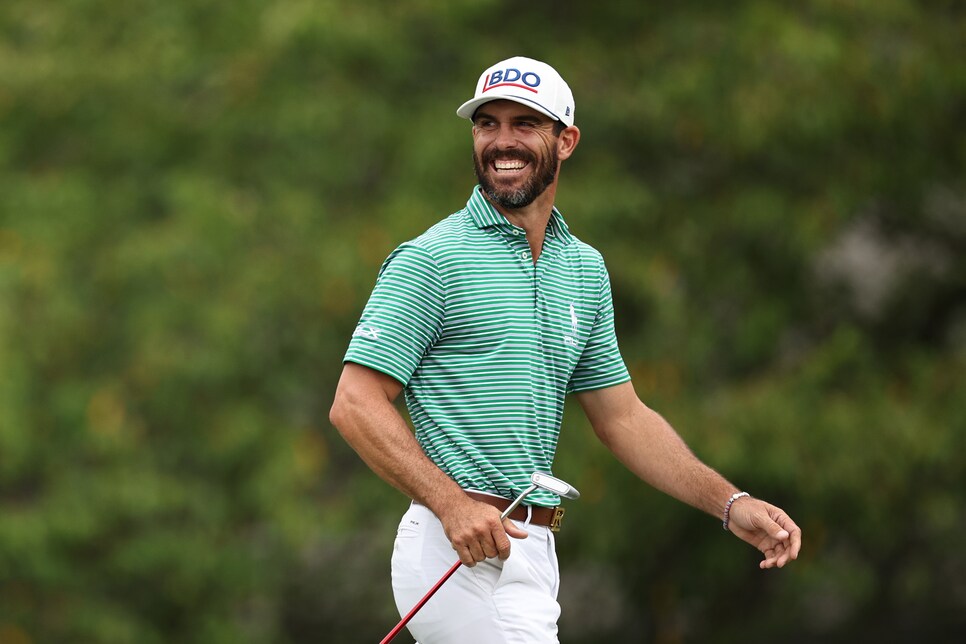 Billy Horschel shot 62 in the second round to keep his hopes to reach the playoffs.
Jared C. Tilton
The way Billy Horschel sees it, he can't lose. But deep down in his gut, he has to very badly want to be in Memphis, Tenn., next week and not splashing around with his kids in the blue, warm waters of the Bahamas.
Horschel entered the week with only an outside chance to reach the PGA Tour's FedEx Cup Playoffs—and the 2014 postseason champ still needs a solo second or better in the Wyndham Championship in Greensboro, N.C. But the 36-year-old is halfway to that goal after he shot a career-best 62 on Friday to be alone in second, one shot behind leader Russell Henley. The effort included holing out from 94 yards for eagle at Sedgefield Country Club's eighth.
"I realized a couple months ago," Horschel said, "there's a really good chance I may not make the playoffs based off the way my game is going, so I was just more or less trying to focus on getting the game back in the right shape and getting some momentum going into the fall, which would hopefully carry over into '24.
"I'm still in that same mindset. I have a trip planned with my kids and my wife to Abaco Club [in the Bahamas] next week if we don't get in. … It's a win-win. … So we'll see what happens this weekend."
Friday's second round was an edgy, grinding, emotional trip for the golfers who are still battling to not only be among the top 70 in the standings who get into next week's first week of the postseason in the FedEx St. Jude Classic, but also keep their hopes alive of earning fulltime status for next season. For the first time, only the top 50 after Memphis (heading into the BMW and Tour Championship) will keep their cards. The rest must battle in the fall.
There were some big runs, including one from a guy who needed it very badly. Justin Thomas was one shot outside the cut after he bogeyed the eighth hole on Friday, but he rallied with four birdies over his last 10 holes to shoot 64 and climbed into a projected 74th spot in the standings. That's still not good enough, but missing the cut would have given the 15-time tour winner no chance to make the playoffs and could have dashed his hopes of being a U.S. captain's pick for September's Ryder Cup.
"I was going to give it the best I had and shoot as low as I could, whether that was 65 or 75 today," Thomas said. "Fortunately for me it was a 65. I'm just going to go do the best I can and just give it everything I have this weekend because I don't have much to lose."
Heading into the week, Thomas needed at least a solo 18th finish, and he heads into the weekend T-21.
Of the players who entered the week in positions 60 through 70, six made the cut—Horschel, Sam Ryder, Matt NeSmith, Cam Davis, Vincent Norman and J.J. Spaun. Those who didn't reach the weekend were Mark Hubbard (currently projected at 60th), Sam Stevens (61st), Aaron Rai (62nd), Beau Hossler, and Ben Griffin (70th).
Griffin shot 70-73 to miss the cut, and as the last guy currently inside the bubble, he's holding out only small hope his season isn't over.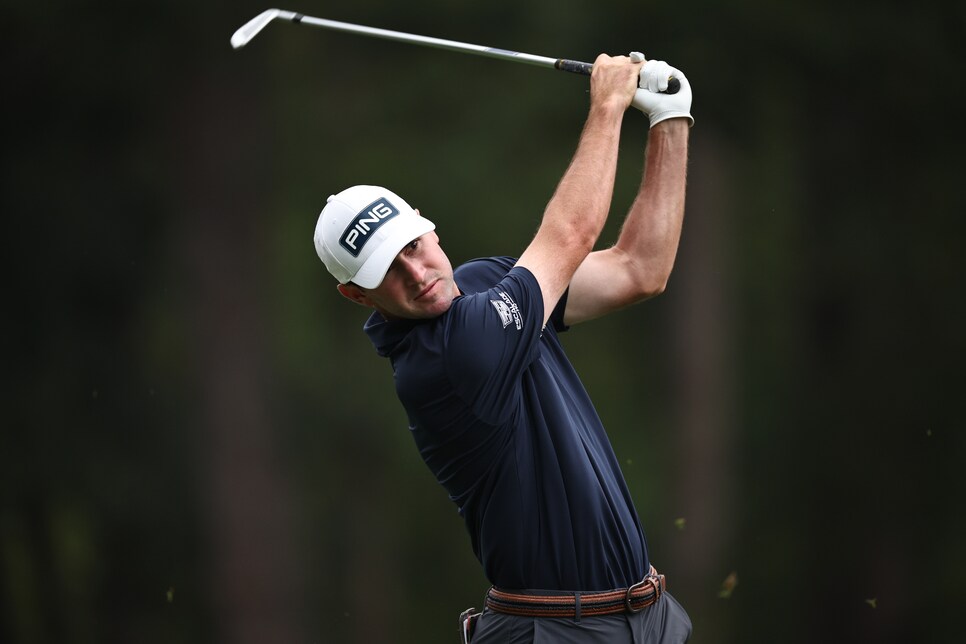 Austin Eckroat missed the Wyndham cut and doesn't have a chance at making the playoffs.
Jared C. Tilton
"I'll probably practice this weekend and try to get ready for next week," Griffin, 27, said. "If I don't get in, obviously I'll have quite the long time off. So, it's kind of an interesting scenario I'm in. It's not a scenario I want to be in, you would much rather be in control of your destiny. I'll just have to wait."
Playing alongside Griffin was Austin Eckroat, who entered the week at No. 70, missed the cut with a pair of 71s and has no chance for the playoffs with a current projection at No. 72.
The two good friends resorted to gallows humor down the stretch on Friday.
"The last three holes we tried to determine how many hole‑outs we both needed to make the cut, and none of us had a hole‑out," Griffin, 27, said. "… There's not much you can do when you're four or five out with a few holes to go except try to have fun out there."
Of those who stood 71 to 80 in the standings and still figured to have a shot at getting into the playoffs, four made the weekend—Davis Thompson (with a current projection of 71st), Thomas, Matt Wallace (76th) and Shane Lowry (78th).