Fantasy Advice
Wyndham Championship DFS picks 2022: The dangerous decision to make on Webb Simpson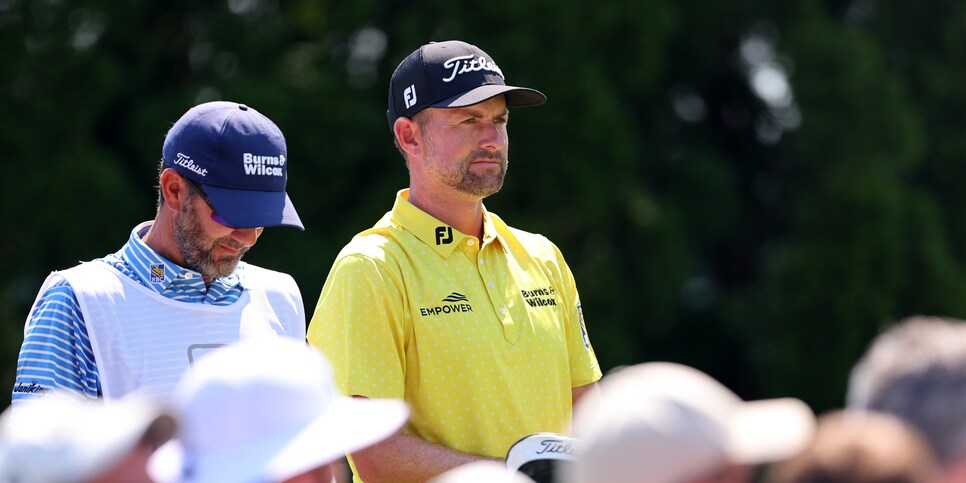 Donald Ross season continues on the PGA Tour as we head to Sedgefield Country Club after last week's Rocket Mortgage Classic at Ross-designed Detroit Golf Club. The Wyndham Championship marks the final event of the PGA Tour regular season, which will leave players jockeying for position in the FedEx Cup Playoffs.
Sedgefield Country Club has given fantasy golf players a couple strong correlations over the years. It's one of the strongest course history courses on the PGA Tour, and it often rewards driving accuracy over distance, with an emphasis on putting. The nuanced greens tend to benefit those with a few years of experience under their belt on these Bermudagrass surfaces. Expect there to be plenty of birdies with the winning score generally in the low 20s-under par.
Here are the players who have my interest—and those who certainly don't—this week at the 2022 Wyndham Championship.
Golfers I'm Definitely Playing
Mark Hubbard ($7,900 DraftKings | $9,200 FanDuel)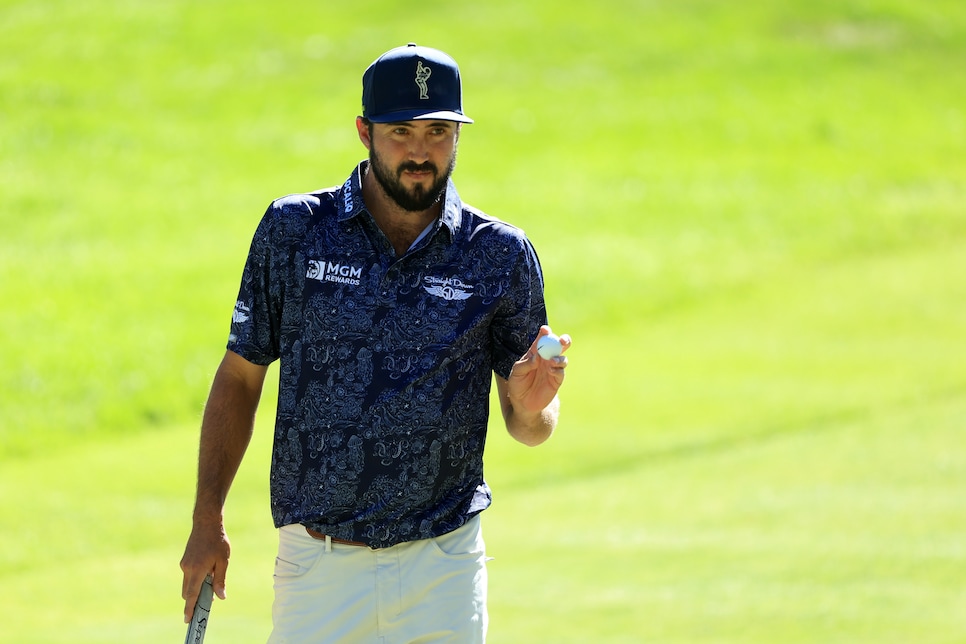 Hubbard made an ace but missed the cut last week, ending a streak of eight consecutive cuts made. I'd recommend forgiving quickly, considering that Sedgefield Country Club might be one of the better setups on tour for Hubbard. He's short off the tee but very accurate, which has been the combination to success at this event. He has two top-25 finishes at the Wyndham Championship in his past three trips, highlighted by a T-15 in 2020.
J.T. Poston ($8,200 DraftKings | $10,600 FanDuel)
Poston won this event in 2019, so course fit is certainly in his favor. Poston is playing much better now than he was in 2019—when he missed five cuts in the nine events leading into the Wyndham that year. This year, Poston has a win at the John Deere, a runner-up at the Travelers and three more top-11 finishes in his past 11 events. He's brimming with confidence and will have plenty of great vibes when he arrives in Greensboro.
Corey Conners ($9,600 DraftKings | $11,000 FanDuel)
Conners hasn't teed it up since the Open Championship, but his game should fit perfectly at Sedgefield Country Club, where Conners can lean into his elite ball-striking. Conners has gained strokes in the ball-striking categories (off-the-tee plus approach) in 11 of his past 13 starts, per the RickRunGood.com golf database. With an improved putting stroke this year, Conners could make plenty of noise this week.
Joohyung Kim ($8,600 DraftKings | $9,800 FanDuel)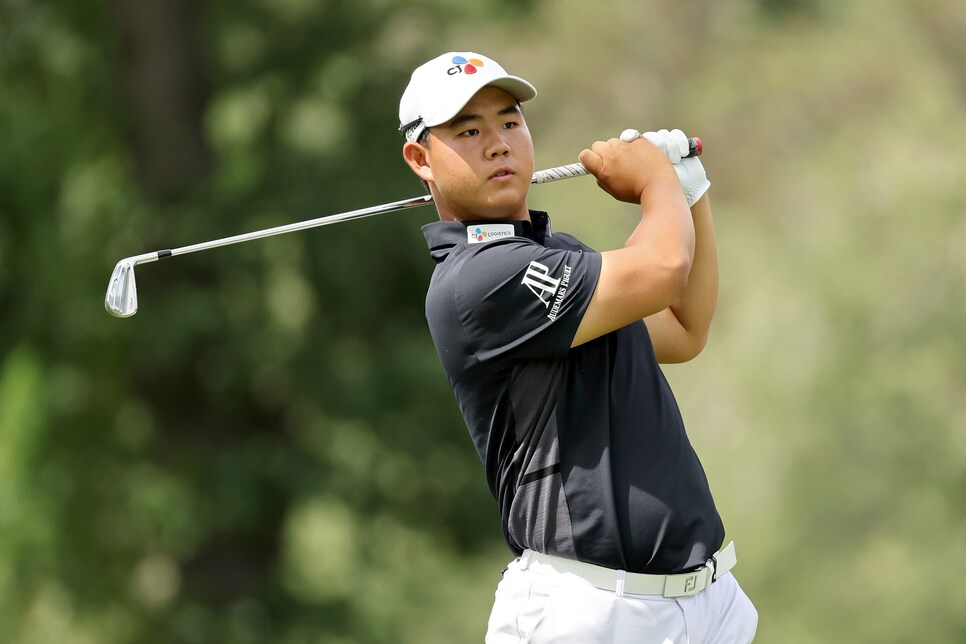 Kim refuses to take his foot off the pedal, finishing with a 66-63 on the weekend last week to fly up the leaderboard and finish seventh. He has played seven PGA Tour events this year and finished in the top 26 five times, including a third-place finish at the Scottish Open. He's firing on all cylinders and will use this as his last event to earn enough temporary member points to earn his card for next season.
Rory Sabbatini ($6,900 DraftKings | $8,300 FanDuel)
There aren't many ideal tour stops for Sabbatini, but Sedgefield Country Club is certainly one of them. In his past six trips to Greensboro, he's earned four top-10 finishes, including one last year. He'll enter this week with two straight cuts made and offers some decent upside at this price point.
Will Zalatoris ($10,900 DraftKings | $11,900 FanDuel)
Zalatoris was impressive at Detroit Golf Club last week, finishing T-20 on a course that wasn't really a great fit for him. I don't think Sedgefield is a drastically better fit for him, but it's certainly more positive. If he can keep it in the fairway, he'll be able to attack some of the longer par 4s better than his peers. Even with some disappointing finishes lately, he still has nine top-28 finishes in his past 12 starts with six top-six finishes during that span.
Chez Reavie ($7,400 DraftKings | $9,000 FanDuel)
Think about golfers with the most success at this event, and Kevin Kisner, along with Webb Simpson, will jump to the top of mind. Reavie is cut from the same cloth. He's the most accurate driver in the field over his past 24 rounds, per the RickRunGood.com golf database. He's been constantly playing out of the fairway, which led to his victory at the Barracuda and a T-8 finish at the Travelers. He's yet to crack the code at Sedgefield Country Club, but the course fit, on paper, is simply too good to overlook.
David Lipsky ($7,000 DraftKings | $8,800 FanDuel)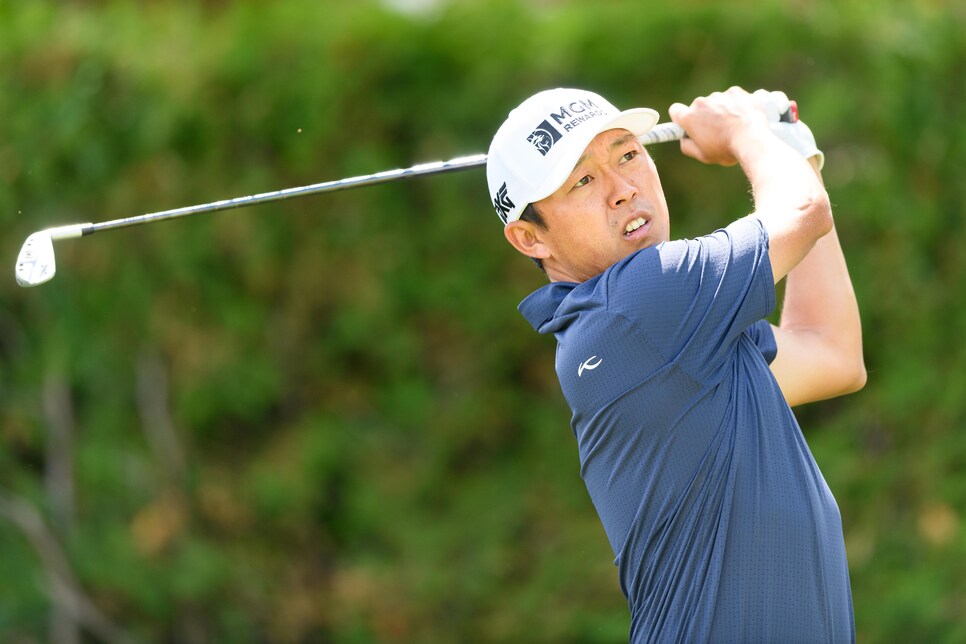 Lipsky's game is starting to turn around, earning two solid finishes in his past three starts. Lipsky is constantly playing out of the fairway, sitting inside the top 30 on tour in driving distance. He's also one of the best mid-range putters in the field, which will come in handy as the winner will need to pile up birdies from 15-to-20 feet.
Austin Smotherman ($7,000 DraftKings | $8,000 FanDuel)
Smotherman faded on the weekend at the Rocket Mortgage Classic, shooting 74-73. He was still able to make the cut, which marks four straight weekends for Smotherman. He's such a great driver of the ball, both long and accurate, which is so critical at Sedgefield Country Club. Even more impressive: He has gained strokes ball-striking in 15 straight events, a streak that dates back to late January.
Nick Hardy ($7,300 DraftKings | $8,700 FanDuel)
This feels like a buy-low spot on Hardy, who missed the cut last week in Detroit. Keep in mind that was his first missed cut since April, a streak of eight events. He's proving to be a solid player who can certainly hang at this level. His skill-set of hitting a ton of greens in regulation and putting well is a combination that can get hot in a moment's notice. He'll need to tap into that ceiling this week.
Webb Simpson ($10,700 DraftKings | $11,600 FanDuel)
Admittedly, this is a bit dangerous. Simpson has been lights out at Sedgefield Country Club, earning an astonishing 10 top-11 finishes in his past 12 trips. However, I worry that he's not that golfer anymore. He's lost strokes from tee to green in three straight events, which is something he hasn't done since mid-2016, per the RickRunGood.com golf database. Combine that tee-to-green play with his worst putting season since 2016, and I become even more concerned. Then you factor in this price tag and the potential for VERY high ownership for Simpson, and it's enough to keep me away.
Taylor Pendrith ($8,500 DraftKings | $10,400 FanDuel)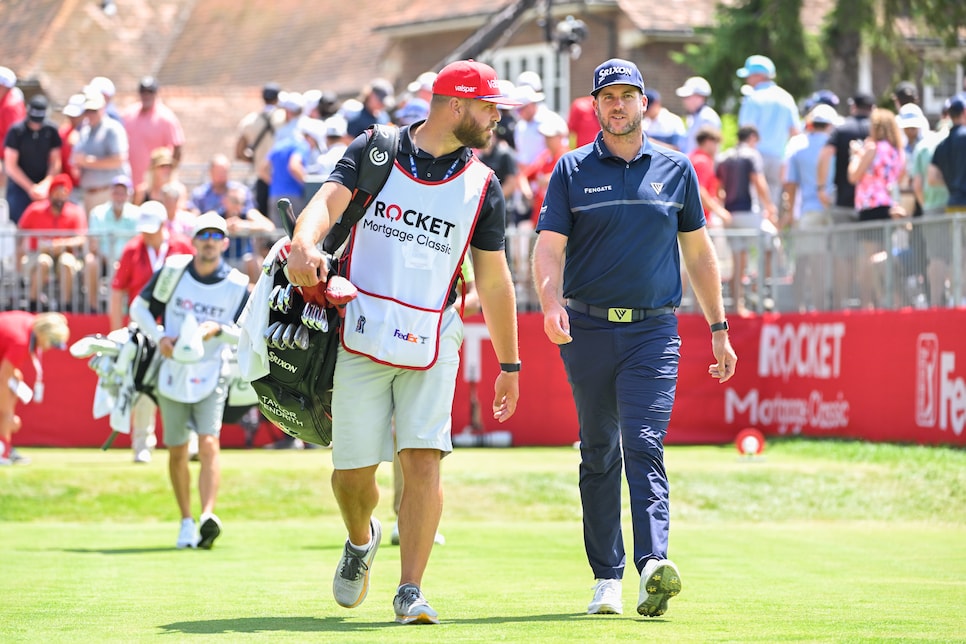 Pendrith mixed it up last week and played well, eventually finishing runner-up to Tony Finau. That now gives Pendrith four straight top-13 finishes. As exciting as that is, Sedgefield Country Club could be one of the worst courses on the schedule for him, asking for accuracy and precision off the tee—not power. Add in the emotional toll that Pendrith might have taken from being in the final group on Sunday, and I'll find a way to play him later this year.
Davis Riley ($8,000 DraftKings | $9,900 FanDuel)
I'm a huge believer in Riley long-term, but I do worry about his prospects for this week. His last three starts have resulted in two missed cuts and a T-64. When you see results like that at this point in the season for a young player, you worry that fatigue is starting to get the better of him. I also worry about the putting surfaces at Sedgefield. They are filled with nuance and experience cannot be substituted. This will be Riley's first trip to the event, and he seemingly has an uphill battle ahead of him.
Chris Gotterup ($7,600 DraftKings | $9,300 FanDuel)
Gotterup is clearly one of the rising stars on the circuit with heaps of talent. However, you could argue that Sedgefield Country Club is one of the worst spots on the schedule for him. With an emphasis on driving accuracy, Gotterup could struggle considering he finds the short grass much less frequently than his peers. Combine that with some erratic play with the putter, and no experience at this event could wreak havoc on Gotterup's week.
Callum Tarren ($7,300 DraftKings | $8,800 FanDuel)
Tarren continued his excellent run last week with a T-20 finish, highlighted by a Sunday 66 to move up 20 spots on the leaderboard. The secret is out on Tarren, who is in the midst of three straight top-25 finishes. While I'm bullish on him long-term, I worry about his knack for spraying it off the tee, and I worry that his popularity will become detrimental by the time Thursday morning rolls around.