News
How it feels to spend an agonizing afternoon living on the FedEx Cup bubble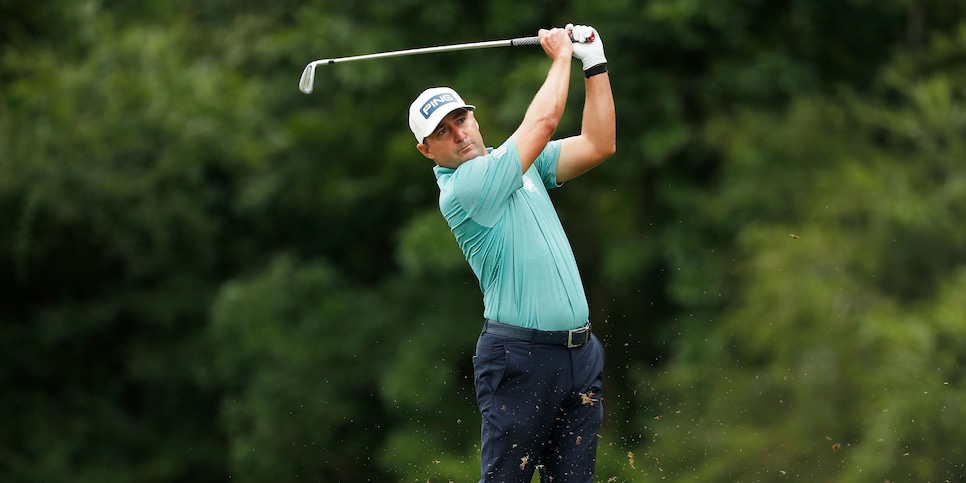 "You look at what I've achieved in the last year or two, stuff like that shouldn't really be as stressful as it was, but it was. It's a big deal."
—Shane Lowry, at the conclusion of Sunday's round
"You know, I don't like missing cuts, I don't like missing the FedEx Cup, I don't like not being a part of it … if anything, it highlights the beauty of this game. I mean, the complete beauty of this game in the fact that you get what you earn. Any given week, any given stretch, you play well, you get your reward. You don't play well, you get what you deserve."
—Zach Johnson, after playing his way into the Playoffs on Sunday
It's a little bit strange that the man who suffered one of the most anxious Sundays at the Wyndham Championships was, in fact, named Wyndham. It's even stranger that he wasn't on the course, that he had missed the cut on Friday and was forced to watch from afar as his position on the FedEx Cup leader board oscillated above and below the 125th spot, the cutoff for making it into the FedEx Cup Playoff. (That is, if he was watching at all; I've often thought CBS should have a live feed on the bubble boys who miss the cut, kind of like how you can see college basketball teams rejoice and deflate as they watch their fate on Selection Sunday.)
Who were Wyndham Clark's opponents? Abstractly, you could say he was fighting against math, or the rapidly changing live projections. His true foes, thought, were Rafa Cabrera Bello and Rob Oppenheim and Shane Lowry and Peter Malnati and Tom Lewis and Bo Hoag. Based on how those men performed, Clark, who began the day just inside the projected top 125, would either squeak into the Playoffs by fewer points than you can count on your hand, or fall agonizingly short.
The usual drama at the Wyndham Championship was slightly diminished in 2020 by COVID-19. Traditionally, you can find excruciating tension at multiple FedEx Cup positions as players fight to make the Playoffs, keep their PGA Tour cards or hang on to Korn Ferry hopes. This year, the fact that players wouldn't lose their status for next season regardless of how they finished on the points list (although they could improve it) meant that the only real stakes were playoff-related: Who would make it inside the top 125, earn a spot into next week's Northern Trust and keep the dream of an enormous $15 million payday alive?
The bad news for Clark came early, when Lowry, who started the week at 131st on the points list and Sunday at 126th based on his position entering the final round, shot a 67 to guarantee himself a spot in the top 125. That knocked Clark backward, to a projected 126th, and virtually guaranteed that Fabian Gomez, Russell Knox and Charl Schwartzel, who started the week inside the line, would be left out in the cold. (Schwartzel and Gomez missed the cut, while Knox couldn't do enough on the weekend to fight his way to the playoffs.)
Next it was Hoag, who struggled with a Sunday 72. Even with that high score, but it left him one spot ahead of Clark. Lewis then posted a 69, putting him two ahead of Clark. Lewis and Hoag would finish 123rd and 124th, respectively.
Clark's position was as precarious as it gets, but good news soon came—Peter Malnati made double bogey on 11, and another bogey on 16, to play himself out of the No. 123 spot he had earned with a Saturday 64. Then Cabrera Bello closed with a 71, close to being Mr. 125 but not close enough.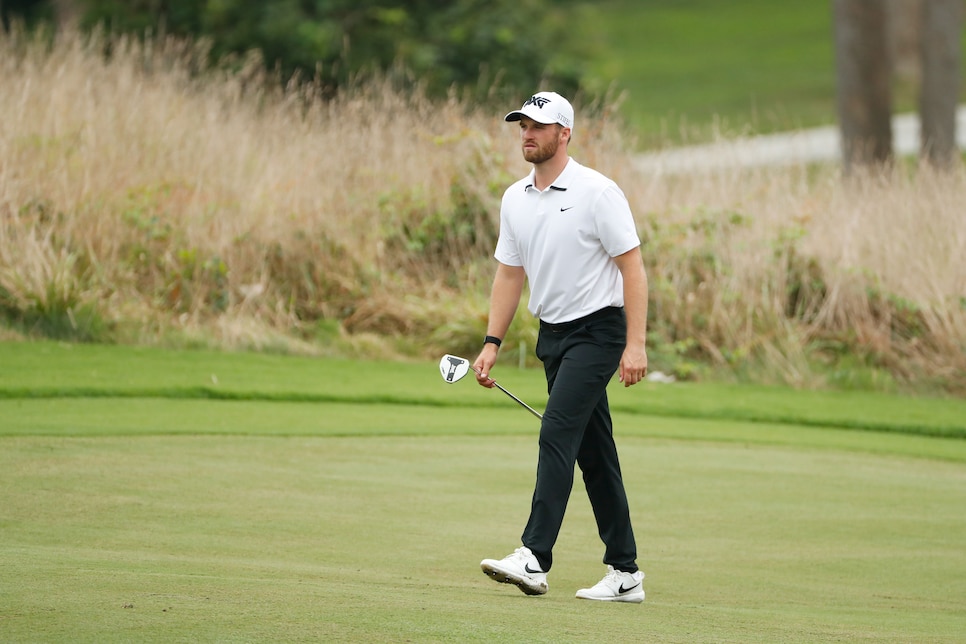 Wyndham Clark was hopeful he could still stay inside the top 125 on the FedEx Cup points list despite missing the cut on Friday.
Chris Keane
All this meant that for Clark, his playoff fate came down to Rob Oppenheim. They were in a duel, though it's likely that neither of them understood it. The battle didn't make the CBS broadcast, but it was dramatic anyway. Oppenheim, who has never competed in the FedEx Cup playoffs, began the week 145th in points, but if he maintained his second-place position that he held entering Sunday, he'd be 77th in points after an incredible surge up the leader board on Saturday with career-best eight-under 62. Oppenheim was in the final twosome with tournament leader Si Woo Kim. If he could shoot a two-under 68 and reach 18 under for the week, he'd knock Clark out and reach his first playoffs. Following a 62, the odds seemed good. Then again, Oppenheim's career best finish in 74 PGA Tour starts was a T-8.
Oppenheim's Sunday was one of more frustration. After an indifferent front nine, with two birdies against two bogeys, he'd slipped to the wrong side of the bubble. Oppenheim could still break Clark's heart, however,. It can be difficult to keep all this disparate information straight on such a busy, chaotic day, but now the situation was simple: If Oppenheim played the back nine in three under, he was in and Clark was out.
As Kim and Billy Horschel and Jim Herman fought for the tournament title, Oppenheim operated in the shadows, few of his shots seen on TV. A bogey on 14 made the situation dire, but a birdie on the par-5 15th, set up by a beautiful 185-yard approach to five feet, restored some hope. That bumped him from 135th to 130th in the projected standings, and, more importantly, gave him a prayer to overtake Clark. But on the par-3 16th, desperately needing birdie, Oppenheim left his tee shot 39 feet short. He three-putted, and Clark's place at the Northern Trust was secure.
This was far from the first time a player far away from the actual course benefited on Sunday. It happened in 2014, and it's a regular occurrence on such a volatile day. A few on-course golfers fared pretty well too, including Jim Herman, who set a record by moving up 138 spots in a single event by winning the whole thing. Lowry and Zach Johnson were the other two who fought their way in from before the Wyndham to after, while the three who moved in the other direction were Gomez, Knox and Schwartzel. Despite his roller coaster Sunday, Clark ended where he began, in the playoffs, No. 125 while Oppenheim remained outside the window (138th) despite getting a tantalizing glimpse of the promised land.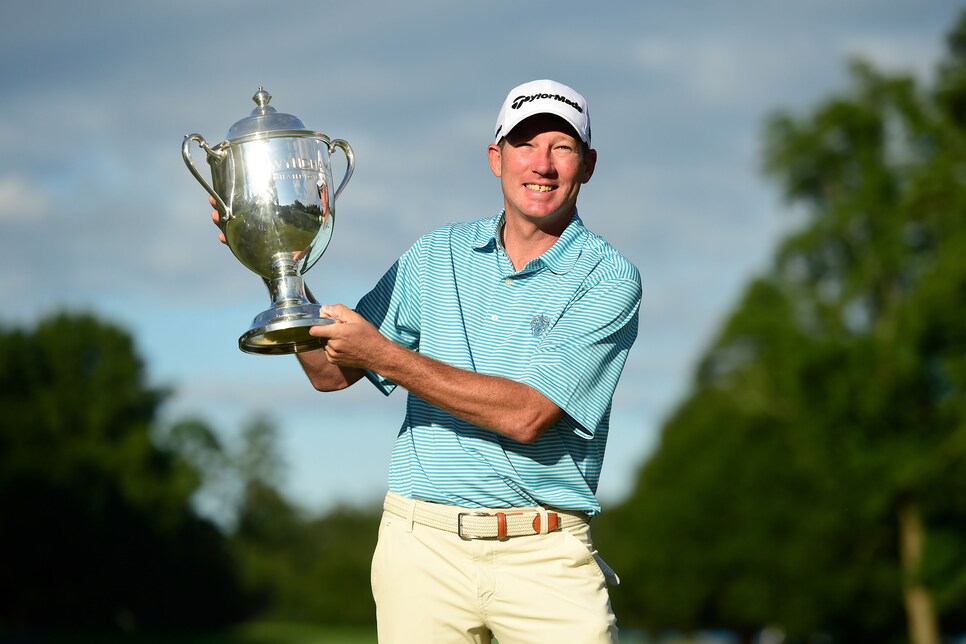 With his win, Jim Herman jumped from 192nd to 54th on the FedEx Cup points list, the largest one-event jump in the FedEx Cup history.
Jared C. Tilton
Coming one week after Collin Morikawa's victory at the PGA Championship, and serving as prelude to the Playoffs and the rare fall majors, the struggle to beat the bubble will not be among 2020's top headlines. Nevertheless, for men like Clark and Oppenheim who landed on opposite sides of that bubble, the strange, hidden journey is just as tense, just as gripping, as the triumphs and heartbreaks that history remembers.