Gambling
Wyndham Championship 2020 picks: Our experts are all over this former World No. 1 at Sedgefield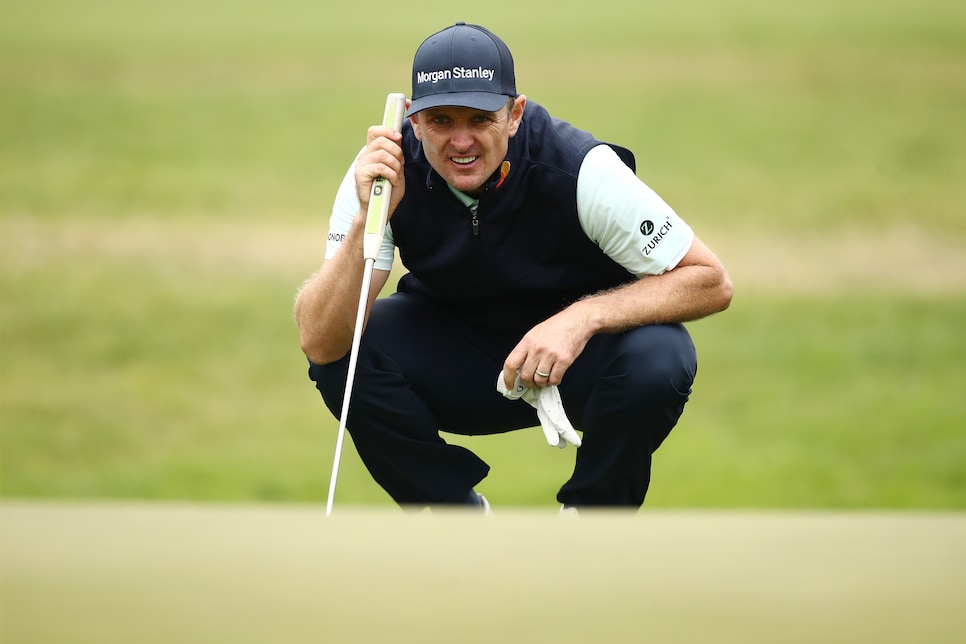 After an absolutely thrilling (and profitable) week at TPC Harding Park, we can expect a huge letdown this week at the Wyndham Championship. Right?
Get your conventional wisdom out of here. We're right back at it this week at Sedgefield Country Club, where the field is noticeably strong. During a normal year, this event would be reserved for players either trying to sneak into the FedEx Cup Playoffs or keep their job.
But this year, big names like Brooks Koepka, Patrick Reed, Justin Rose, Tommy Fleetwood and Jordan Spieth are all making the cross-country trip to Greensboro. And of course, how could we forget tournament favorite Webb Simpson, who loves this event so much he named one of his daughters after it.
Our expert panel consists of a tour caddie, offering insight from the range and putting green at this week's 2020 PGA Championship; picks from three of the most respected experts in the daily-fantasy community, including Gdula; Pat Mayo of DraftKings, and Rick Gehman, a leading data scientist and founder of RickRunGood.com; and Lee Alldrick of FanShare Sports, which tracks DFS ownership and sentiment. Shoutout to Mayo and Gdula, who didn't pick Collin Morikawa in our experts column, but if you follow them on Twitter, you know they predicted Morikawa's win on their own channels. It was a great week for the industry, and hopefully we'll get more of the same this week.
Read on to see who we like this week at the 2020 Wyndham Championship.

2020 Wyndham Championship 2020 Picks To Win (Odds from Bet365)
Anonymous Caddie Picker of the week: Brendon Todd (41-1) — You've got to drive it well around Sedgefield, and that's what Todd does. His tee-to-green game is so strong and around here it requires precision—there are so many run-off areas around the greens, so accuracy will be key. In terms of form, Todd's been in form for about 10 months now, so that's never an issue. He's just got to learn to close out his weeks a bit better, but don't forget, the guy has two wins this season!
Pat Mayo, DraftKings/Fantasy National analyst: Justin Rose (23-1) — The magic elixir at Sedgefield Country Club is approach play and putting, and Justin Rose was lights-out in both categories last week. After tough showings from the Travelers through the Memorial, Rose rebounded at Harding Park with a top 10. Always a better putter on Bermuda, the Brit now gets to tackle a course similar to Colonial and Harbour Town, where he had consecutive top-15s in the first two events back.
Brandon Gdula, FanDuel/numberFire managing editor: Justin Rose (23-1) — My model and instincts think this is just Webb Simpson's week to win. My model also likes Sungjae Im at 34-1. However, Rose really looks to fit here this week. We know long-term (and currently), he's got the ball-striking to separate from the field, and his biggest statistical weakness (around-the-green play) shouldn't matter when we need birdies. There's inconsistency in Rose's finishes, but we're looking for outrights here. Anything other than a win is irrelevant.
Rick Gehman, data scientist and RickRunGood.com founder: Brendon Todd (41-1) — By any metric, it's already been a banner season for Todd. Two wins, nine total top 10s and an improvement of 454 spots in the Official World Golf Rankings. With all of those accolades, I'm willing to say that I believe Sedgefield Country Club to be the best course fit that he's seen yet. Per the RickRunGood.com course model, it shows there is a certain statistical profile of golfers who find success at this course. They are accurate drivers, birdie-makers and great putters. Though Todd makes "enough" birdies, ranking 45th in this field, he's elite in the other two categories. Coming off a solid T-17 last week at the PGA Championship, Todd can feast on a much weaker field in Greensboro.
Stephen Hennessey, Golf Digest dep. managing editor: Harris English (26-1) — I bet you don't realize how well Harris English is playing. And I didn't either. But Rick Gehman had this great stat per his RickRunGood.com database, English is averaging 1.63 strokes/gained on the field per round since the tour's return. That's the best out of anybody on tour. The former Georgia Bulldog is on his best putting surface, Bermuda, so I'm willing to lay the low number here.
Christopher Powers, Golf Digest assistant editor: Kevin Kisner (33-1) — Very sneaky 19th place finish at the PGA last week for Kiz, a product of him finally gaining strokes on approach. After starting 2020 by gaining 5.3 at the Sony Open and finishing in fourth, he lost strokes on approach in seven of his next 10 starts. The one week he gained over four again? Rocket Mortgage, where he finished in third. Last week he gained 4.9 at Harding Park, but he gained zero off the tee, which is likely why he didn't finish even higher. The putting stroke is back as well, as he's gained 8.1 and 5.1 on the greens in his last two starts. If the irons and putter are both hot on the same week, Kisner will be in contention. He's finally starting to cook, and Sedgefield is the ideal place for him to truly go off.
Lee Alldrick, FanShare Sports: Sergio Garcia (41-1) — Garcia ranks first in the field in the all-important strokes gained/tee-to-green category over the past two months. This excellent tee-to-green game helped him finish fifth at the RBC Heritage just more than a month ago. Garcia should absolutely relish the setup at Sedgefield; he ranks second in the field in strokes gained/overall on Par 70s under 7,200 yards with Bermuda greens.
Results from this season: DraftKings' Pat Mayo picked the runner-up for the second week in a row, looking for his sixth winner of the season. Mayo's near miss with Dustin Johnson keeps him one behind Brandon Gdula of numberFire/FanDuel, who nailed his sixth winning pick in this column this season at the Memorial. We've correctly predicted four winners in the past eight events, including six outrights in the past 11 tournaments. Overall, we have nailed 13 of the first 30 winners of the season. Golf Digest's betting panel continues to be the hottest golf betting panel in the industry: Counting outright winners, top-10 bets and matchups won and lost, we are up 260.66 units (the equivalent of being up $2,606.60 if you wagered $10 on all of our bets).
Sleepers/Dark Horses That Could Win the 2020 Wyndham Championship (odds from Bet365)
Caddie: Patrick Rodgers (81-1) — I know Rodgers was a little mad with himself that he missed the PGA field. He's been playing some stellar golf. His driving is one of his strengths, and that should give him opportunities around Sedgefield this week.
Mayo: Branden Grace (111-1) — Grace is a past winner on a short course with Bermuda greens (Harbour Town), and he's started to find his irons again. He even led the Barracuda before testing positive for COVID-19. This is his first start back after skipping the PGA Championship, and at this big price, it's worth seeing if he can find the game he had before that layoff.
Gdula: Doc Redman (81-1) — Redman is an accurate driver, which is more important than sheer distance this week, and the only huge weakness in his game is around-the-green play, something we can downplay a bit in a birdie-dominant event. If he's scrambling to save par, he won't be in contention. If his irons are as good as they have been (he's seventh in approach over the past 50 rounds, via FantasyNational), then he can make a run.
Gehman: Dylan Frittelli (67-1) — If you play well from tee-to-green on the PGA Tour, you'll often find yourself in contention. Frittelli has been spectacular from tee-to-green since the restart, gaining 1.03 strokes per round on the field in that timeframe. He's ninth of all PGA Tour players who have played as many rounds (22) as Frittelli. It's translating into results as well, with back-to-back top 25s at the 3M Open and the Memorial, he capped that stretch with a T-33 last week at the PGA Championship.
Hennessey, Golf Digest: Dylan Frittelli (67-1) — Very quietly, the young South African has been playing some great golf of late. He lost 3.2 strokes/putting at the PGA Championship and still finished 33rd on the strength of his ball-striking. He's driving the ball great and hitting great irons—a hot putter and he should contend.
Powers, Golf Digest: Doc Redman (81-1) — Now that Doc's number has kind of come back to us a bit, I'm jumping back on the bandwagon. He's seventh in this field in strokes-gained: approach over his last 50 rounds, sixth in ballstriking, and, like Kisner, quietly played solid in San Fran., finishing T-29 in just his third major start.
Alldrick, FanShare Sports: Russell Henley (51-1) — The stats really make Russell Henley a perfect fit for this course. The former Georgia Bulldog comes into this event ranked first in Opportunities Gained over the past two months and second in strokes gained/tee-to-green, per FantasyNational.com. He also ranks 11th in the field in strokes gained/putting on Bermuda greens and fifth in strokes gained/overall on par-70 layouts under 7,200 yards with Bermuda greens. Now you can see why I like Henley so much this week.
Players to Fade This Week (who will disappoint)
Caddie: Brooks Koepka (13-1) — This isn't about this being a regular PGA Tour event. Koepka put so much energy into last week, and it had to have worn him out as he stumbled to finish off the week. This is now his sixth week in a row playing. With big events on the horizon, this is an easy one to
Mayo: Brooks Koepka (13-1) — Yes, he's one of two elite players in the field, but he's been playing a lot of golf lately, and this just doesn't seem like an event Brooks will be gunning in full force. I say that … now watch him go full Brooks Koepka and win by 10 strokes.
Gdula: Si Woo Kim (36-1) — Six straight made cuts, a T13 at the PGA Championship, and a win here in 2016 has ramped up Kim's odds far higher than they should be. He's a rare golfer who can catch fire and pull out a high-end finish even with poor form, but you don't need to play that at +3300. Kim's long-term baseline is that of a neutral ball-striker, and he's on a mini-heater now. He should step back soon in that department.
Gehman: Justin Rose (23-1) — Though Rose was able to stop a streak of three consecutive missed cuts last week with a T-9 at the PGA Championship, I'm more concerned with how Rose achieved that finish. He gained 7.12 strokes putting, third most in the field and his single best total in a calendar year. There is certainly some putting regression coming for Rose who has been inconsistent with his game since the restart. He has three top-15 finishes and three missed cuts since the tour has come back. That's not really the profile of a guy that I like to invest in.
Hennessey, Golf Digest: Brooks Koepka (13-1) — For all the reasons stated above, I'm also fading Koepka. There's no value, and a ton of other guys deeper on the board worth investing in.
Powers, Golf Digest: Paul Casey (21-1) — Great player, great week last week. The stats over the last 50 rounds show he might be the best player in this field (1st in tee-to-green, 1st in ball striking, 4th in off-the-tee, 2nd in approach). But the putter has failed him of late and there is just no way in hell I'm ever betting Casey at a number shorter than 20/1.
Alldrick, FanShare Sports: Paul Casey (21-1) — You must imagine Casey will have used up a lot of mental energy in finishing second last week. Also, he's on a putting surface he tends to really struggle on: He ranks just 111th in this field for strokes gained/putting on Bermuda greens. Of the top five in the market he is also the least suited to this course setup, ranking just 29th in FanShare Sports' course-suitability ranking.
Wyndham Championship 2020 picks: Matchups
Caddie: Patrick Reed (-110) over Tommy Fleetwood (Bet365) — Reed, a former winner at Wyndham, seems ready to explode as he often does late in the season. Fleetwood should play very well at this course, but I like the proven winner over him.
Mayo: Ryan Moore (-110) over Sungjae Im (DraftKings) — If you would've told me Moore and Im would be involved in a H2H matchup two months ago, I would have gladly taken Im 100 times out of 100. But not anymore. Moore is playing great, Im is … not. Hopefully the South Korean rediscovers his game soon.
Gdula: Patrick Reed (-110) over Brooks Koepka (FanDuel) - Reed's been really good in 2020 in every area of the game, and his steady play has led to a two top-15s in the past month. Koepka still isn't himself, as he lost strokes off the tee last week at the PGA. Reed's the much safer bet.
Gehman: Ryan Moore (-110) over Sungjae Im (DraftKings) — It pains me to fade Sungjae Im, one of the best young stars in the game. However, since the restart, Im has really struggled in most areas of his game. He's lost 13.77 strokes on approach over his last seven events and doesn't have a finish better than 35th in any of them. Moore offers more safety and ball-striking that is not only above average but improving. Sedgefield Country Club has been a nice fit for him as well, notching three top-25 finishes in his past four trips.
Hennessey: Ryan Moore (-125) over Jordan Spieth (William Hill) — Sorry, Jordy. We're going to keep profiting off you as you struggle. Ryan Moore gained 7.3 strokes on his approach shots in his last start at the 3M Open. It was odd he WD'd from the PGA Championship to prepare for the Wyndham … but he does have great ball-striking stats here.
Powers: Ryan Moore (-110) over Sungjae Im (DraftKings) — Since his win at Honda, which he backed up with a 3rd at Bay Hill, Im has not been good. He did manage a 10th place finish at Colonial post-quarantine, but in seven starts since has missed three cuts and had zero finishes inside the top 30. Meanwhile, RyMo is coming off a 12th place finish at 3M where he gained 7.3 strokes on approach shots, plus he's a former winner at Wyndham.
Alldrick, FanShare Sports: Webb Simpson (-140) over Brooks Koepka (Bet365) — Sedgefield is Simpson's backyard (literally). He has 5 top 5 finishes here. Koepka will not want to be here and he's only here because he needs the Fedex points. Having to force the issue never ends up well.
Matchup Results from the PGA Championship: Powers: 1 for 1 (Jon Rahm (+115) over Rory McIlroy); Hennessey: 1 for 1 (Daniel Berger (-105) over Tiger Woods); Tour Caddie: 0 for 1; Mayo: 0 for 1; Gdula: 0 for 1; Gehman: 0 for 1; Alldrick: 0 for 1
Matchup Results this season: Powers: 12-5-1 (+7.57 units); Hennessey: 12-6 (+6.87 units); Tour Caddie: 15-9-1 (+5.2 units); Alldrick: 16-10-2 (+4 units); Gehman: 4-5 (-1.38 units); Gdula: 11-14-2 (-2.44 units); Mayo: 12-16 (-3.81 units)
Top 10 (odds from DraftKings Sportsbook)
Caddie: Webb Simpson (+160) — There are no sure things in sports betting, except Webb Simpson finishing in the top 10 at Wyndham.
Mayo: Sebastian Munoz (+1100) — He either gains all the strokes putting or loses all the strokes putting. It's been a rough go for Munoz on the greens lately, but back on Bermuda, he just needs one hot week to get his putting stroke to catch up to his ball-striking and he'll contend.
Gdula: Sebastian Munoz (+1100) — Munoz has an all-around good golf game and, via datagolf, is a plus ball-striker when adjusting for the fields he's played in. He's also positive with the short game. The inconsistency with the putter causes him to miss cuts, but that's why he's such a long shot—even for a top-10—this week. He's worth a dart in this field.
Gehman: Kyle Stanley (+800) — Stanley is most known for his iron play, which ranks 24th in this field. While I'm excited about that, I'm looking at his most recent event, a T-12 finish at the Barracuda Championship. Additionally, Stanley offers some solid course history. He bookended a missed cut in 2017 with two top-15 finishes, including a T-13 last season. Stanley's ball-striking (off-the-tee plus approach) at the 3M Open, his last measured event, was his best in nearly two years. We'll see if he can carry those vibes into Greensboro.
Hennessey, Golf Digest: Bud Cauley (+750) — I like the way Cauley's game is trending. He's not the longest hitter, but he can keep it in the fairway and hit a bunch of greens. This course should fit his game, and a top-10 finish at these odds is a decent bet.
Powers, Golf Digest: Christiaan Bezuidenhout (+750) — I've been all in on this guy ever since the first round of the Players Championship, where he opened with a seven-under 65 and never got to back it up thanks to the ol' pandemic. It's a ball striker's paradise at Sedgefield and the South African strikes it with the best of 'em. He's 18th in strokes-gained: approach over his last 50 rounds, per Fantasy National, and he loves bermuda greens (see: first round at TPC Sawgrass). I'd love to see this guy win because his story is incredible, but will stick with a top 10 for now. Since March of 2019, Bezuidenhout has collected six top 10s on the European Tour and three top 25s on the PGA Tour.
Alldrick, FanShare Sports: Charl Schwartzel (+1000) — The former Masters champion is riding hot recent form and combines it with good course form. The South African has played here twice, finishing T-3 and 14th, shooting a combined 26 under par at Sedgefield. And he finished third at the 3M Open a few weeks ago.
Top 10 Results from PGA Championship: Gdula: 1 for 1 (Paul Casey, +900); Gehman: 1 for 1 (Scottie Scheffler, +600); Tour Caddie: 1 for 1 (Collin Morikawa, +350); Mayo: 0 for 1; Hennessey: 0 for 1; Powers: 0 for 1; Alldrick: 0 for 1
Top 10 results from this season: Mayo: 5 for 26 (+20.5 units); Gehman: 2 for 9 (+5 units); Gdula: 5 for 27 (+4.2 units); Hennessey: 4 for 17 (+2.75 units); Alldrick: 5 for 27 (-0.5 units); Powers: 2 for 17 (-4.3 units); Tour caddie: 2 for 35 (-17 units)
0.97 — The average number of Strokes Gained: Putting by Denny McCarthy on bermuda greens in his career. For the TOUR's leading putter, it's actually his best surface.
1.63 — The average number of Strokes Gained by Harris English since the TOUR's restart. It's the 6th best mark on TOUR and best of anyone in the Wyndham Championship field.
4,005 — The number of days since Webb Simpson last missed a cut at the Wyndham Championship. He failed to make the weekend in 2009 before rattling off a win and (7) other Top 10s in his ten starts since.
14.50 — The number of strokes lost putting by Sergio Garcia in the last six years of the PGA Championship. The 5.55 strokes he lost last week was his worst performance since the 2019 PGA Championship in which he lost 6.13. His two worst two-round putting performances in the last six years.
FanShare Sports' Lee Alldrick has two picks to consider for your DFS lineups:
Under The Radar DFS Pick: Brian Harman (FanDuel: $9,500; DraftKings: $7,100) — Harman plays these short par-70 Bermuda courses very well, ranking 19th in this field in strokes gained/overall on similar layouts. He is also a very good putter on Bermuda greens, ranking 19th in this field. Over the past two months, the diminutive lefty ranks 18th in Opportunities Gained (per FantasyNational.com), which means he should be able to convert a number of these chances to week and return a high finish.

Value DFS Pick: Russell Henley (FanDuel: $9,700; DraftKings: $7,700) — Henley comes into this event ranked first in Opportunities Gained over the past two months and second in strokes gained/tee-to-green, per FantasyNational.com. Henley's my sleeper play, so read more about why I like him above, but at this price range, there's so much to like.
Pat Mayo is an award-winning video host and producer of long and short-form content, and the host of The Pat Mayo Experience daily talk show. (Subscribe for video or audio. Mayo (@ThePME) won the 2020 Fantasy Sports Writing Association Daily Fantasy Writer of the Year and Golf Writer of the Year awards, along with the Fantasy Sports Trade Association Best Sports Betting Analyst award, and was finalist for four FSWA Awards in 2020 (Best Podcast, Best Video, Daily Fantasy Writer of the Year, Golf Writer of the Year). His 21 FSWA nominations lead all writers this decade and are third-most all-time. Mayo is on the board of governors at www.fantasynational.com.
Brandon Gdula, managing editor and analyst for NumberFire, a FanDuel daily-fantasy analysis company, recently won the 2018 fantasy sports-writers association Golf Writer of the Year *(congrats, Brandon!)*. Gdula also co-hosts the DFS Heat Check podcast.
Rick Gehman is the founder of RickRunGood.com and the RickRunGood YouTube Channel, is one of the industry's leading experts on golf DFS and gambling. Gehman is co-host of the First Cut Podcast and appears regularly on the Pat Mayo Experience golf podcasts. Follow him on Twitter: @RickRunGood.
Lee Alldrick of FanShare Sports started out writing an article highlighting the best bargain plays for fantasy golf under his twitter handle @DKGolfBargains. His success at this prompted FanShare Sports to enlist him as a guest writer, which evolved into him writing the weekly Under The Radar article. As a U.K.-based expert, Alldrick's insight into European Tour regulars and low priced, low owned plays has provided an invaluable edge for readers when it comes to DFS GPPs.