The Loop
Wounded Warrior excited -- and ready -- to take on the celebrities in Lake Tahoe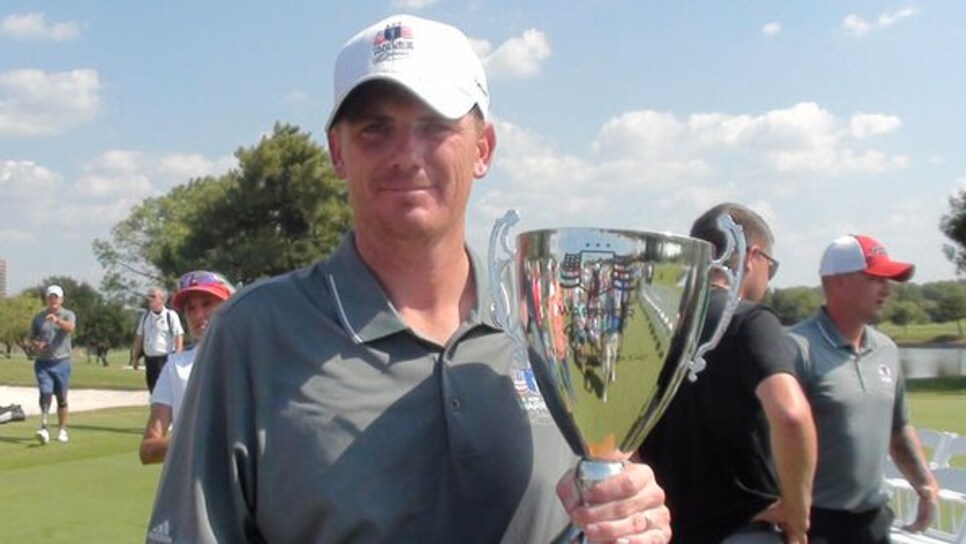 LAKE TAHOE -- Celebrity golf is all about transporting confident people out of their element. Of all the rookies at this year's American Century Championship, it's possible the person most prepared to handle the unfamiliar pressure of a gallery is not an all-star athlete or Hollywood entertainer, but a marine. Andrew Bachelder, 34, secured an invitation into the tournament by carding 71-71 to win the 2015 George W. Bush Warrior Open.
In Afghanistan in 2009, Bachelder was in a mid-air helicopter collision at 500 feet above the earth. In the crash he broke his leg, hip and ribs, suffered collapsed lungs and a concussion. After several surgeries and a new hip, he had to learn to walk again. But any feeling of achievement wasn't enough to overcome severe PTSD and addiction to painkillers. Four out of six people were killed in the crash.
"I suffered with survivor's guilt a lot, and I attempted suicide in 2012. And it wasn't until after that I really found golf, and to rise up to where I was and be a champion from the Warrior Open was one thing, but to play with celebrities at the American Century is going to be, it's going to be quite the ticket, you know."
"I basically quit school to try to win the Warrior Open so I could get into this," Bachelder said. A golfer since age 10, he now boasts a plus-1 handicap, and the former soldier is certainly a contender to win the modified stableford format and the first prize of $125,000. Odds in the Lake Tahoe sportsbooks line have him at 15 to 1. In anticipation of perhaps cashing some sort of check and losing his amateur status, Bachelder said, "I guess you could say I'm turning pro this week."
Bachelder traveled to the Edgewood Tahoe Golf Course a month ago to play practice rounds. So aside from hanging with pro athletes like Emmitt Smith, who shares the same hometown of Forth Worth, at least he's familiar with the layout.
On a physical level, Bachelder remembers the feeling before battle of "blood going fast through your body." On the first tee he expects a very different sensation, more like "twitching and tingling in the fingertips."
With camera crews shuffling behind him on the driving range, Bachelder finished, "In the end, being able to get over both kinds makes you a better person."