Amateur golf
U.S. charge comes up short as Sweden women win World Amateur Team title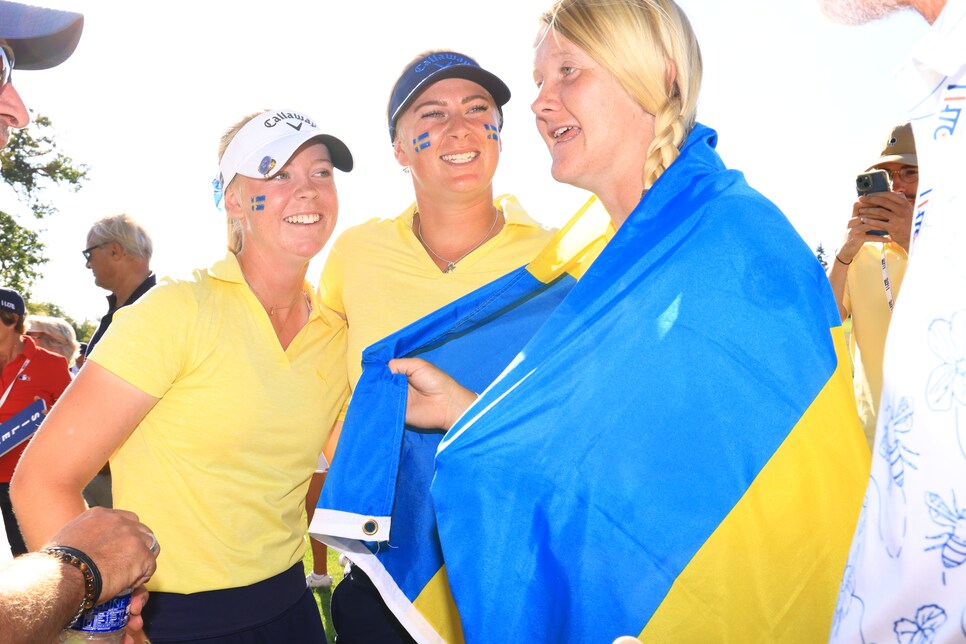 From left, Meja Ortengren, Louise Rydqvist and Ingrid Lindblad celebrate winning the Women's World Amateur Team Championship.
Steven Gibbons
The competition came down to the final hole, but the U.S. couldn't complete an impressive charge on Saturday as Sweden captured the gold medal in the 29th Women's World Amateur Team Championship outside of Paris.
The three-player American team of Rose Zhang, Rachel Heck and Rachel Kuehn trailed Germany by four at the start of the day in the 72-hole event but held a one-stroke lead with Zhang, the world's top-ranked amateur, standing on the 18th tee after she made birdie on 17 at Golf de Saint-Nom-La-Bretèche. But Zhang missed the green with her approach and could not get up and down. With both teams finishing at 13 under, that led to a tiebreaker, with Sweden identified as the winner when the non-counting scores had Sweden's Louise Rydqvist shooting 73 against Kuehn's 74.
"There is obviously that tinge of disappointment," Zhang said. "On that last putt, I actually hit a really good putt exactly where I wanted, but it just didn't go in the hole. It was disappointing to end that way, but I am really proud of how we fought back on the last day."
Zhang shot three-under 69 and Heck scored 70. Sweden was led by world No. 2 Ingrid Lindblad's 69 and Meja Ortengren's 70.
The gold was the first medal for Sweden in the event since it earned bronze in 2012. The U.S. was trying to win a second straight WWATC and it leads the event's all-time medal count with 14 golds, four silvers and three bronzes.
The winning team receives custody of the Espirito Santo Trophy until the next World Amateur Team Championship in Dubai, UAE, in October of 2023.
Although there is no official recognition, Ortengren, Zhang and Germany's Helen Briem tied for the low individual score at seven-under-par 279.