The Loop
Woods tries to restart where his major legacy began
AUGUSTA, Ga. -- From the very beginning, there was an almost mystical connection between Tiger Woods and the Masters. Tiger represented the future while Augusta National GC -- in ways both good and bad -- had strong roots to the past. They were a pairing destined to be intertwined -- and that's exactly the way it's played out. It started here for Woods; maybe now it will restart here.
In 1997, in his first Masters as a professional, the 21-year-old Woods shot 40 on his first nine holes and still won by a record 12 strokes. When he teed off that Thursday in the first round, the balcony, porches and doorways of the clubhouse were filled with black employees dressed in white or green uniforms, watching a man of color play at a club that only five years earlier admitted its first African-American member.
What Woods did that week 15 years ago was more than a social statement about race or a remarkable athletic achievement involving golf -- it was both. When Tiger slipped on the green jacket late Sunday afternoon after shattering the Masters scoring mark, it was as if Jackie Robinson had broken baseball's color barrier and Babe Ruth's home run record in the same season.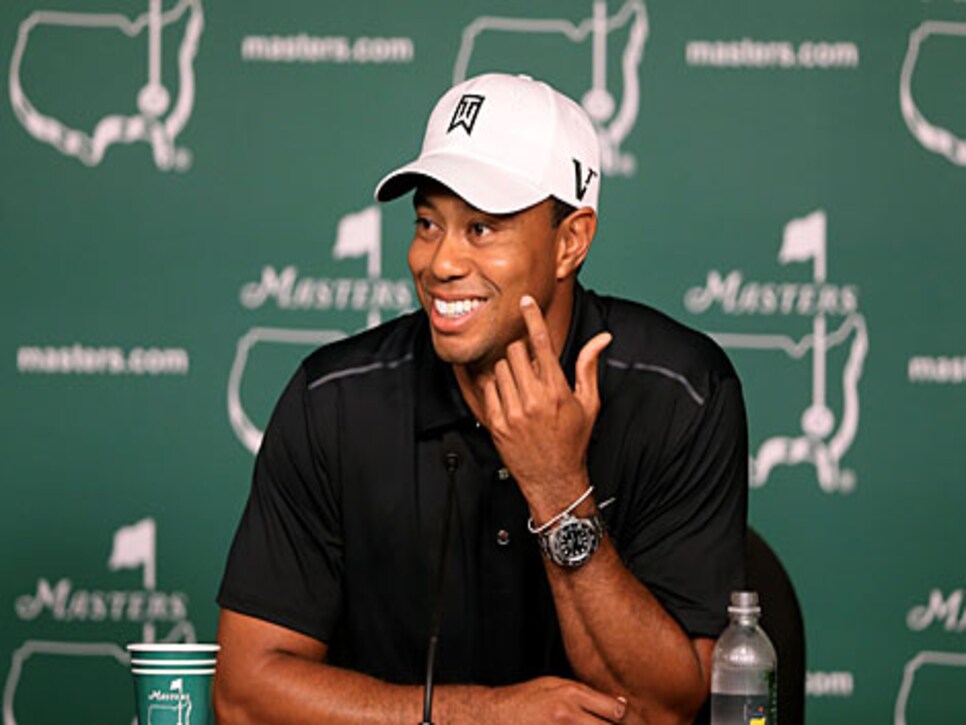 Photo by David Cannon/Getty Images
History was made again at Augusta National in 2001 when Woods became the only player to win four consecutive professional major championships, completing the Tiger Slam. It seemed that that Jack Nicklaus' prediction that Tiger would win more Masters "than Arnold and I combined" -- a total of 10 -- was a reasonable expectation.
In 2005, remarkably the last of Woods' four Masters titles, he shed tears during the green jacket ceremony because his father, Earl, was dying of cancer and unable to be there with him. It harkened back to the tearful embrace father and son shared shared in 1997, when that first Masters screamed "Mission Accomplished."
And it was at Augusta National in 2010 that Woods made his return to competition following a five-month self-imposed exile in the wake of the sex scandal that rocked his life and his reputation. That week he wasn't embraced by adulation. Instead he had to endure a public lecture from ANGC chairman Billy Payne about his behavior.
Now Woods returns to the Masters this year looking to win something more than a green jacket; he's seeking redemption, a second chance, a third act in which he would follow his rise and fall with yet another rise as he once again tries to stake his claim to the title Best Ever to Play the Game.
"This is my 18th year [in the Masters], so I've spent just about half my life playing this tournament," the 36-year-old Woods said Tuesday. Asked how it would feel to tie Jack Nicklaus for No. 2 on the all-time win list at 73 with his next PGA Tour victory, Woods said: "I'd like the green jacket more. I know the 73 would be a byproduct of it, but I'm here for the green jacket."
And given his recent form, that is now a reasonable goal for Woods. Coming off a win two weeks ago at the Arnold Palmer Invitational, Tiger has to be considered among the favorites and, in the minds of many, he is THE favorite to win here. But certainly not now and perhaps never again is Woods the prohibitive favorite going into a major the way he once was.
"I think it was just the process," Woods said about ending his 30-month winless streak on tour with the victory at Bay Hill. "I've been putting together two good rounds, eventually three, and now four, so just had to keep sticking with it and getting more experience working with [swing coach] Sean [Foley]."
There has been a fair amount of rain recently in Augusta and more is coming. The fairways are soft with little roll -- "seven fairways, seven mud balls," Woods said about his nine-hole practice round Tuesday with Fred Couples and Sean O'Hair -- so the course will play long, which could be good news for Woods.
"I certainly am excited about playing and really look forward to getting out there and playing," Woods said. "I feel like I'm driving the ball much better than I have. I've got some heat behind it, and it's very straight. My iron game is improving, so everything is headed in the right direction at the right time."
If asked at the 2008 Masters to forecast Woods' final career number, I would have said he'd wind up with 100 career wins (Sam Snead holds the record with 82) and 25 majors. But much has happened since then: Knee surgery, Achilles problems, a divorce, public humiliation, a swing change and suddenly, suspect putting.
Way back in 2000, when Woods was winning three majors -- the U.S. Open by 15 strokes and the British Open by eight -- Dan Jenkins, who has seen just about every major since 1950, said: "The only thing that can stop Woods from breaking all the records is a bad marriage or an injury." He's had both, at least one by his own doing and maybe both.
Now, all bets are off. No one knows how the Tiger Woods Story will end. But the next chapter will be written here this week, with the chance that that a new beginning -- a new run at greatness -- can be ignited at the place where it all started, the place where he won the first of his 14 majors a decade and a half ago.
This is where it started; now, will it be a restart as Woods resumes his chase of the five more majors he needs to pass the Nicklaus record of 18? Scene I of Act III begins at 10:35 Thursday when Woods tees off with Miguel Angel Jimenez and Sang-Moon Bae. It will be worth watching.