The Loop
Woods looking to build on success Down Under at Chevron
THOUSAND OAKS, Calif. - Was Australia an illusion or a turning point for Tiger Woods? Are more than two years of injuries and distractions behind him as the new Sean Foley-crafted swing kicks in or was that Sunday singles success at the Presidents Cup another one-off tease?
Nothing that happens this week at the Chevron World Challenge will provide definitive answers to those questions surrounding Woods.  That will come next year in full-field tournaments, especially the majors. But it will be fascinating to see if Woods can build on his success Down Under.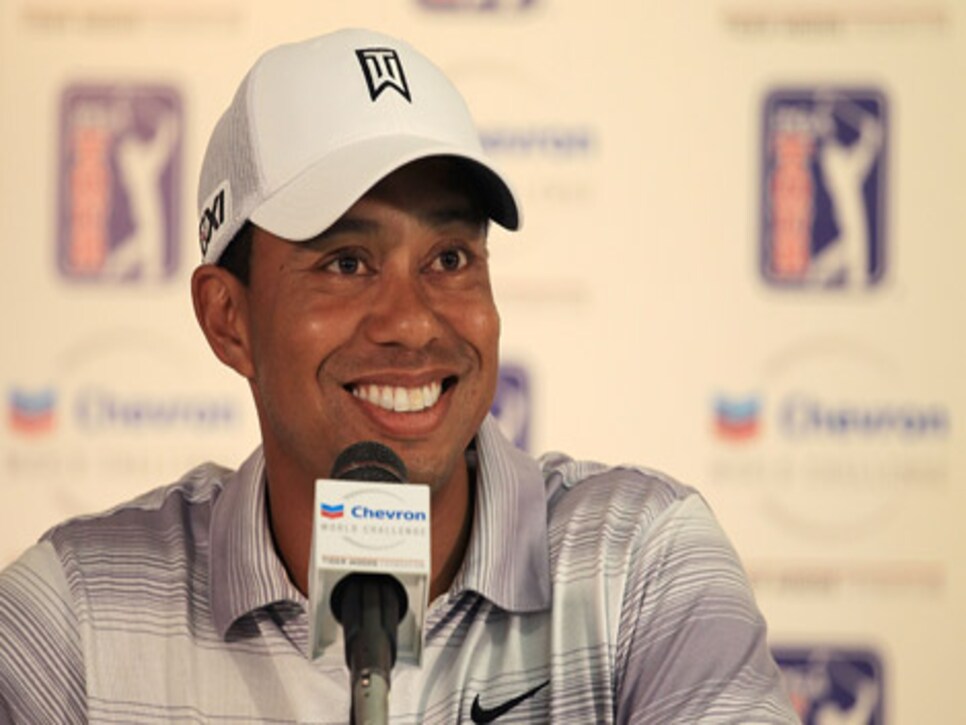 *For Woods, this week's Chevron World Challenge feels more like the first tournament of 2012 than the last event of 2011. Photo by Getty Images.
"Playing Oz for two weeks, it was fantastic," Woods said on Wednesday after the pro-am round at Sherwood CC. "I hit all shots and all shapes. I was trusting my trajectory again. You get exposed in the wind. I felt very comfortable in that wind."
If the weather forecasters are correct, Tiger's new swing and growing confidence will certainly get another good test in Thursday's first round of the Chevron. The prediction is for sustained wind of 25 to 35 miles per hour, with gusts up to 50 mph. "If it blows like that, it will be a challenge," he said.
Woods has played six of his last seven stroke-play rounds in 68 or lower, beginning with the second round of the Frys.com Open and extending through the Emirates Australian Open. Then he played much better than his 2-3 record in the Presidents Cup indicated. That's his most consistent stretch of good golf in more than two years.
"Other than one day when I hit three bad tee shots and made no putts [during a third-round 75 in the Australian Open], I hit it really good," Woods said about Australia. He says he now understands all that Foley wants him to do with his new swing, and that he is healthy again and can practice enough to make it all work.
"I feel very excited about next year," Woods said, while at the same time saying he has yet to plan his 2012 schedule and doesn't know when he will return to action. "It's going to be good to play a full schedule. I haven't done that in awhile."
In fact, because of surgery on his left knee, problems with his right Achilles and a messy and public divorce, Woods has played only 44 PGA Tour events since September 2007. This Chevron World Challenge feels a lot like it is not the last event of 2011 for Woods, but the first one of 2012. He sounds a lot right now like a guy looking forward and not back. And that can only be a good thing.