News
Women's Regionals see their share of upsets, including NCAA host school Oklahoma State failing to advance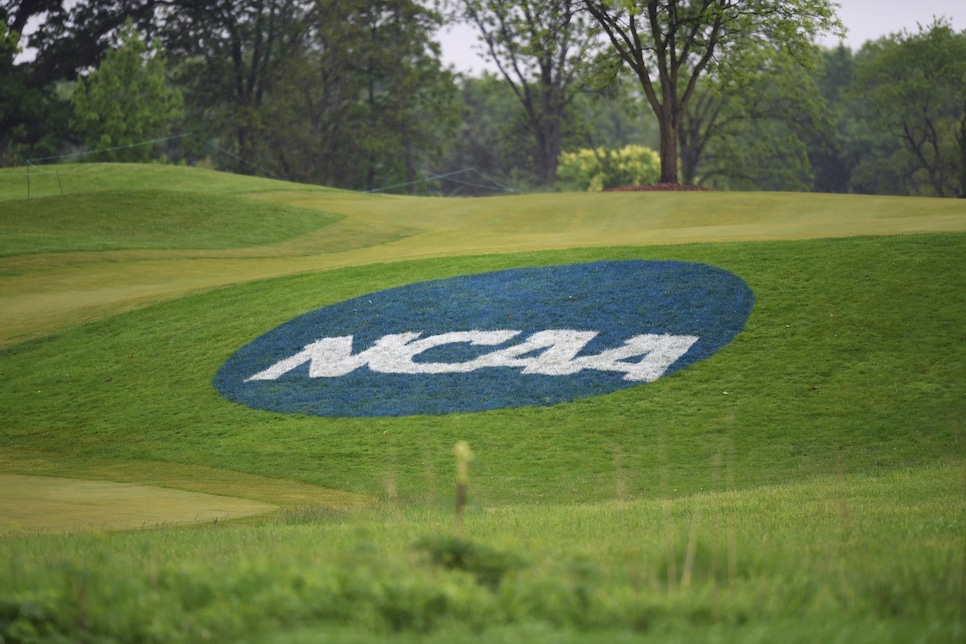 The inevitable took place once again Wednesday afternoon. The quest to advance out of NCAA Women's Regionals and into the final field of 24 for the NCAA Championship tripped up a smattering of schools whose rankings would have convinced you they'd be playing at Karsten Creek Golf Club May 18-23.
All told seven schools seeded in the top 24 failed to finish as such in the four Regionals: South Carolina, Michigan State, Oklahoma State, Illinois, North Carolina, Vanderbilt and Purdue.
The most notable: Oklahoma State. The Cowgirls were set to host the national championship, and it was assumed that their local knowledge of the treacherous Tom Fazio course would give them a leg up on trying to be among the eight schools that would advance to match play. However, OSU came up one stroke shy of the sixth and final spot out of the San Francisco Regional at TPC Harding Park, causing a frustrating end to the 2017-'18 season. (As consolation, Emma Broze did qualify to play as an individual.)
Oklahoma State entered Regionals ranked 17th in the Golfstat computer ranking. The most surprising school that will be MIA from the NCAAs, from a ranking perspective, is South Carolina, No. 8 in the country and the No. 3 seed in San Francisco, who finished a disappointing 10th place at Harding Park.
A program that knows the pain of a disappointing finish at Regionals is UCLA, which stumbled at this stage a year ago. This year's No. 1-ranked team in the country, however, used that as motivation in finishing second at Harding Park, finishing four strokes back of Pac-12 rival Stanford.
Other winners at the Regionals included Arkansas at the Austin Regional, shooing a 26-under 838 to beat host Texas by 11 strokes; Duke at the Madison Regional, winning its 10th Regional title in school history by nine strokes over Virginia; and Alabama, an eight-stroke winner over Florida State at the Tallahassee Regional.
Offsetting the seven schools that based on their seedings for Regionals were upset in their quest to make it to the NCAA Championship were seven upstarts: Colorado (No. 7 seed), Florida State (7), Louisville (8), Virginia (8), Baylor (9) Mississippi (10) and Ohio State (11).
Baylor is the most impressive among this group considering the squad was among those schools impacted by the unknown virus that sicken several players and coaches at the Austin Regional. The Bears were in fourth place entering the final round at the University of Texas Golf Club, but had to play short-handed when Maria Vesga was forced to WD after seven holes because of the illness. Freshman Diane Baillieux was also sick, having spent Tuesday night in the hospital, but managed to play on Wednesday and shot an even-par 72. Combined with a 71 from Gurleen Kaur, 71 from Amy Lee and 74 from Fiona Liddell, Baylor shot a even-par 288 to finish tied for third and earn an NCAA Championship berth.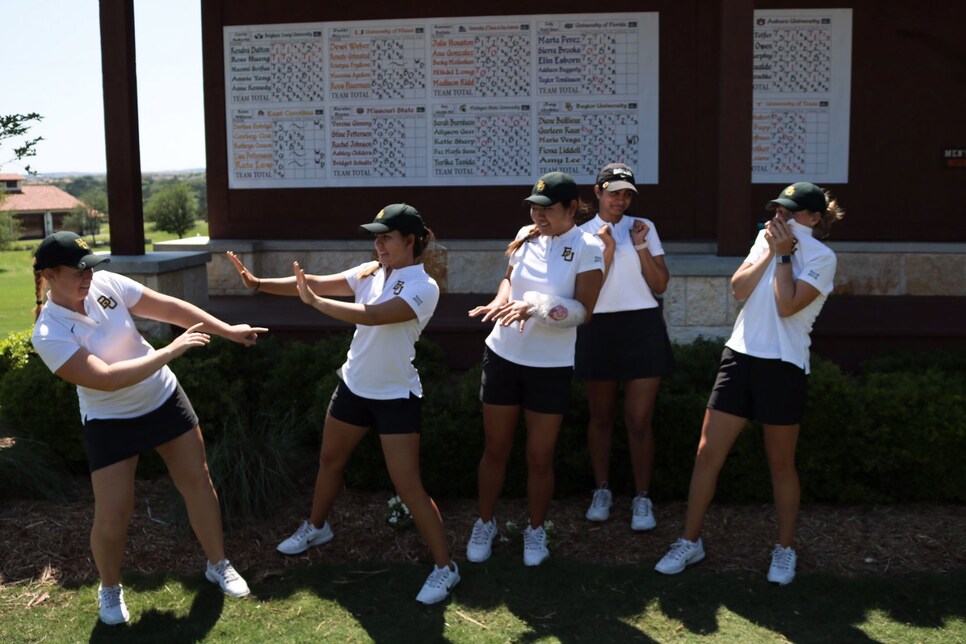 Courtesy of Baylor University athletics
SAN FRANCISCO REGIONAL
TPC Harding Park, San Francisco
Qualified
Stanford, -8/856
UCLA, -4/860
Mississippi, -1/863
Louisville, E/864
Kent State, +1/865
Colorado, +5/871
Failed to advance
Oklahoma State +6/872
San Diego State, +6/872
Medalist
Patty Tavatanakit, UCLA, -8/208
Individual qualifiers
Marthe Wold, California
Hira Naveed, Pepperdine
Emma Broze, Oklahoma State
AUSTIN REGIONAL
University of Texas Golf Club, Austin
Qualified
Arkansas, -26/838
Texas, -15/849
Auburn, +5/869
Florida, +5/869
Baylor, +5/869
Oklahoma, +6/870
Failed to advance
Texas A&M, +14/878
Michigan State, +18/882
Medalist
Maria Fassi, Arkansas, -8/208
Individual qualifiers
Maddie Szeryk, Texas A&M
Rose Huang, BYU
Leonie Harm, Houston
MADISON REGIONAL
University Ridge, Madison, Wis.
Qualified
Duke, -14/850
Virginia, -5/859
USC, -2/862
Arizona State, -1/863
Northwestern, E/864
Failed to qualify
Illinois, +2/866
Oregon State, +4/868
Medalist
Nicole Schroeder, Oregon State, -10/203
Individual qualifiers
Nicole Schroder, Oregon State
Gabby Curtis, Wisconsin
Erin Harper, Indiana
TALLAHASSEE REGIONAL
Don Veller Seminole Golf Club, Tallahassee, Fla.
Qualified
Alabama, -33/831
Florida State, -25/839
Furman, -18/846
Arizona, -11/853
Washington, -10/854
Wake Forest, -5/859
Failed to qualify
Clemson, -5/859 (lost one-hole playoff)
Georgia, +2/866
Medalist
Jennifer Kupcho, Wake Forest, -15/201
Individual qualifiers
Micheala Williams, Tennessee
Jillian Hollis, Georgia
Jess Yuen, Missouri