News
Virus at NCAA Women's Regional in Austin has players, coaches getting sick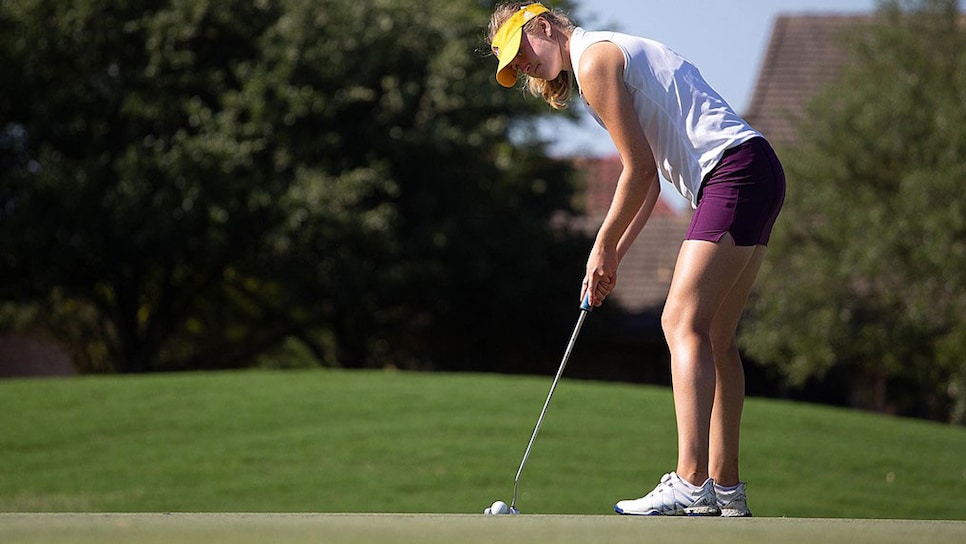 Courtesy of East Carolina athletics
Usually the queasy feeling in a players stomachs while competing at NCAA Women's Regionals are simply due to the pressure of trying to help your team finish in the top six after 54 holes and claim a spot in the NCAA finals. But for coaches and competitors at the Austin Regional this week, the stomach issues appear to be something much worse.
A virus appears to be circuiting among the teams competing at the University of Texas Golf Club. Three players for East Carolina—Dorthea Forbrigd (above), Kate Law and Lisa Pettersson—had to go to the hospital and were unable to play in the second round of the 54-hole event on Tuesday, leaving teammates Carley Cox and Kathryn Carson to play on their own. And after her round, Cox had medical staffers waiting with IVs Pirates coach Kevin Williams was the first to not feel well, as he left the course during Monday's first round.
For a team to count a score, they must have four of their five players finish any given round, so having just two players competing ultimately disqualifies the Pirates from being able to advance to the NCAA Championship. East Carolina was tied for 12th out of 13 teams after Round 1.
According to a report from Golfweek, Michigan State women's assistant coach Caroline Powes fainted in her hotel room on Monday night. Colorado State women's coach Annie Young, who has recent U.S. Women's Four-Ball champions Katrina Prendergast and Ellen Secor playing as individuals in the event, also was hospitalized.
Concern that the virus might have been caused by water from drinking coolers has caused tournament officials to remove coolers from the course and replace them with bottled water.
Exactly how many players have been impacted is unclear, but at least one player on a team in contention is known to be feeling poorly. Arkansas junior Cara Gorlei starting feeling sick on Monday night, but played on Tuesday with a coach and trainer watching her group the entire round. She shot a 75, but her teammates came through with a 17-under 271 score to take a 11-stroke lead over host Texas entering Wednesday's final round.