Women's History Month
Love of the game led this woman to the ultimate boss move as course owner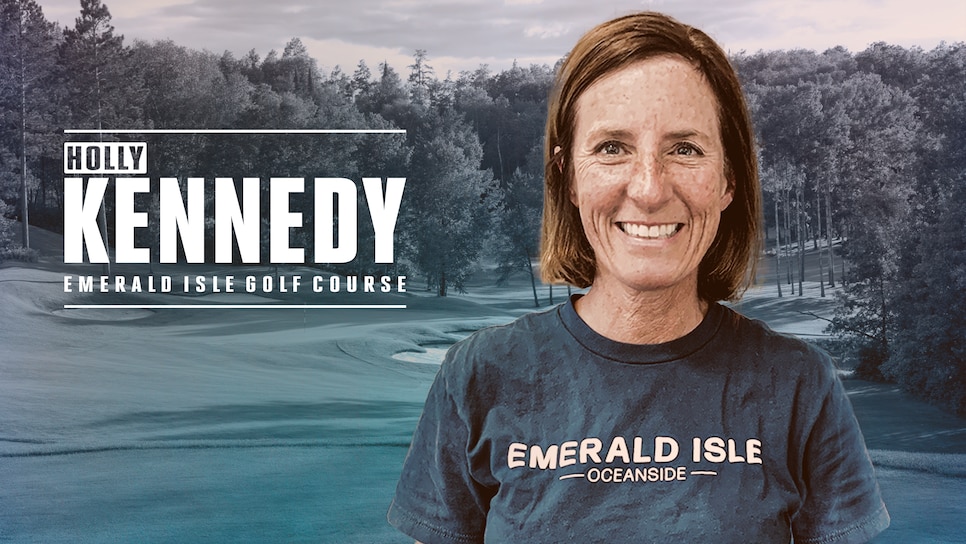 Editor's Note: In celebration of Women's History Month, we're shining a light throughout March on women who have created, own and run businesses in golf—from apparel, to golf schools, to golf courses.
Holly Kennedy • Owner • Emerald Isle Golf Course
It was a scene right out of one of those reality shows in which they remodel a house or a restaurant and make it unrecognizable from its previous form. Call this one "Pro Shop: Impossible."
Holly Kennedy and her husband, John, own the lease for the Emerald Isle Golf Course, a sporty, 57-year-old executive track in Oceanside, Calif., that was in total disrepair when they took it over in late 2014. In the eight years since, they have transformed it into a happening and lively place, combining their extensive golf experience and a love of the game with a can-do vibe that is contagious.
Hence, the clubhouse makeover. A couple of years ago, Holly went out of town with some girlfriends for her 50th birthday, leaving "The Isle" in the hands of John and the staff she calls "the kids." The young folks decided, in honor of the milestone birthday, to do a complete renovation of the 1,200-square-foot (including kitchen and bathroom) clubhouse. John handed over the Home Depot credit card, and for five days, nearly around the clock, they painted, replaced fixtures and added shelving to produce a complete facelift.
Then came the best part. Upon Holly's return, she was blindfolded, guided through the door and the big reveal was staged. To say she was thrilled and overwhelmed would be a massive understatement.
"I just started bawling my head off," Holly recalls, laughing. "I couldn't believe it. The kids were so excited. It was amazing. And that right there—that tells the whole story about what this place is, who our staff is and how much love they have for it."
It is a love passed down by the "parents" of this particular household, and it is as if Holly Kennedy has been preparing all of her life for this moment in time. She played a couple of seasons of golf at UCLA before deciding she'd rather help manage the team with then-head coach Jackie Steinmann, who built the Bruins program into a national powerhouse.
Motivated to be in the golf business, Kennedy then became a Class A PGA professional and worked for years, alongside her husband, also a Class A pro, at the Singing Hills Resort in San Diego. There, they learned the business under the tutelage of Tom Addis III, who served as president of the PGA of America and is the current executive director/CEO of the Southern California PGA.
Three decades ago, Kennedy was one of the few women in her position, but she always saw it as an advantage and a source of confidence and strength.
"The one thing I feel really lucky about is being surrounded by men who did support me in the golf industry, which was just critical," Kennedy says. "I've always felt super empowered being in the minority, as opposed to being upset or feeling marginalized.
"To stand here behind the counter and have someone say, 'Can I talk to the owner?' and I say, 'Yeah, that's me" … the look is always, 'Oh really?' It's fun. I love that."
The Kennedys already owned Kennedy Golf, a tournament staging company run by Holly, when she was riding to a meeting with friend and fellow PGA pro Nikki Gatch. Gatch told her that she and her husband, Don, were considering taking over the lease at Emerald Isle, and Kennedy was overcome with FOMO before anyone put that label on it.
So the Kennedys and Gatches agreed to secure together a 15-year-lease for the course. A couple of years later, the Gatches—busy with their kids and other opportunities—decided to sell back their stake, and the Kennedys have been the sole proprietors since. Nikki Gatch is doing impressive work of her own, having risen through the golf ranks in the region. In 2021, she was elected president of the Southern California Golf Association—the first woman to hold the post in the organization's 122-year history.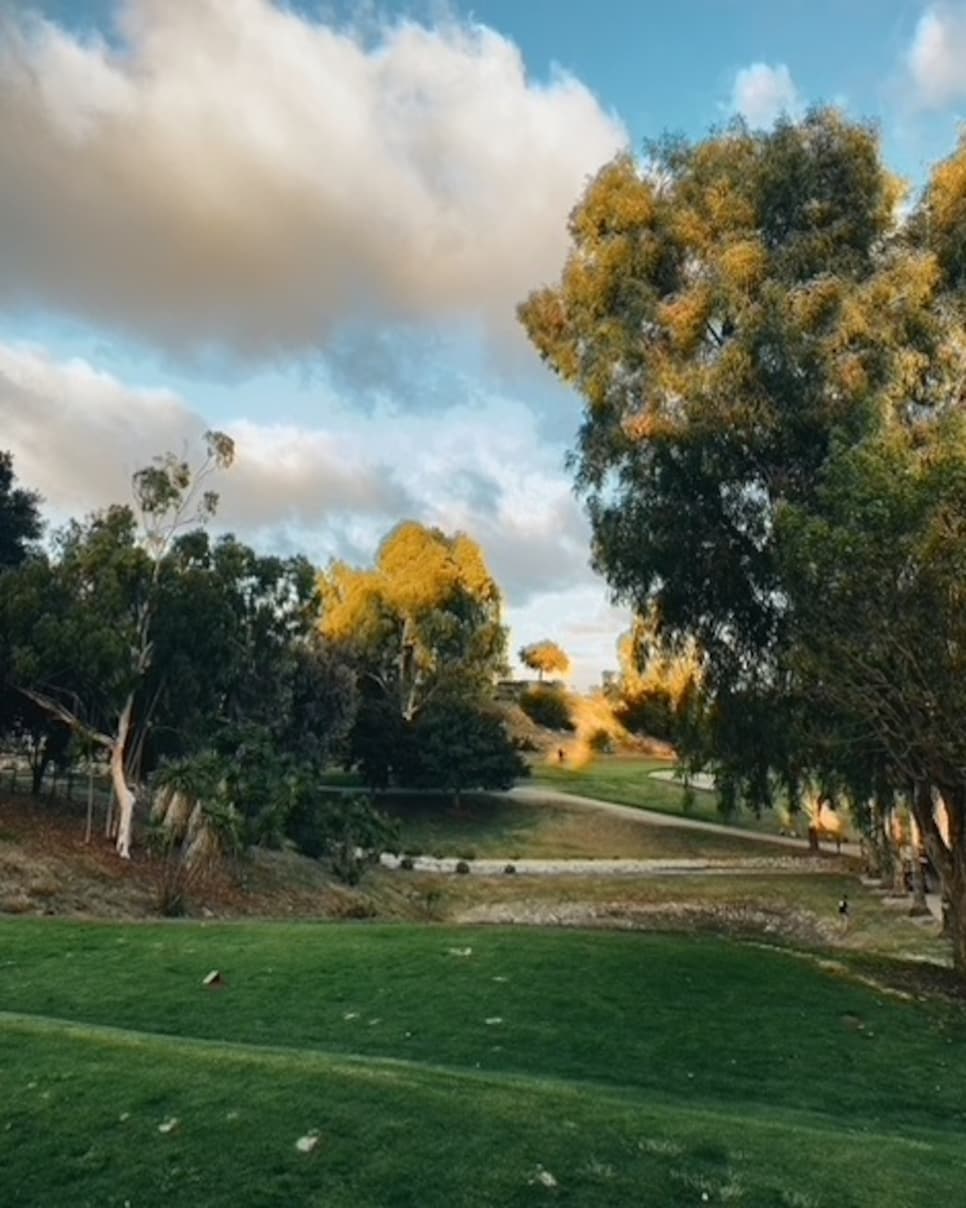 Business has been booming at the Emerald Isle Golf Course since 2020.
Holly Kennedy, meantime, is the president of the San Diego County Junior Golf Association while serving as Emerald Isle's head professional—though that's simply a title. She does virtually everything, from checking in guests to cooking to restocking the pro shop with products made mostly by local vendors. "Puttering with a purpose," she says.
Kennedy also has made it her work to hire and mentor other women at the Isle. The director of instruction is Natalie Vivaldi, a former college and Epson Tour player, while Long Beach State alum Kassidy Glick (nee Teare), who played one season on the LPGA Tour, is the course's social media director. (Among the highlights on the Isle's Instagram is a page just for the dozens of dogs that are enthusiastically welcomed at the Isle.)
Glick, 27, was supposed to be a short-timer while she made cash for wedding. She's still around more than three years later.
"People have no idea how much [the Kennedys] do for this community, to keep it fair and reasonable for everybody," Glick says. "I've watched Holly be a bad-ass owner and be a crazy workaholic. Now, I'm getting to watch her enjoy this place."
The younger women are responsible for some of Holly's favorite upgrades to facility: a "beach club," complete with sand and picnic tables, that serves as a staging area for events; and Vivaldi's "Rookies and Rose'" classes for beginners, in which wine glasses and golf clubs are handled with equal vigor. (Recently, there was quite the sloshed Glow Ball tournament—"I think they drank, before during and after," Kennedy says. "It was hilarious.") The partying never seems to end. Last Christmas, Emerald Isle staged a massive party that included $20,000 worth of snow for sledding. Holly tore a ligament in her ankle the morning of the event, but went out and bought a cast-type boot and worked like nothing ever happened.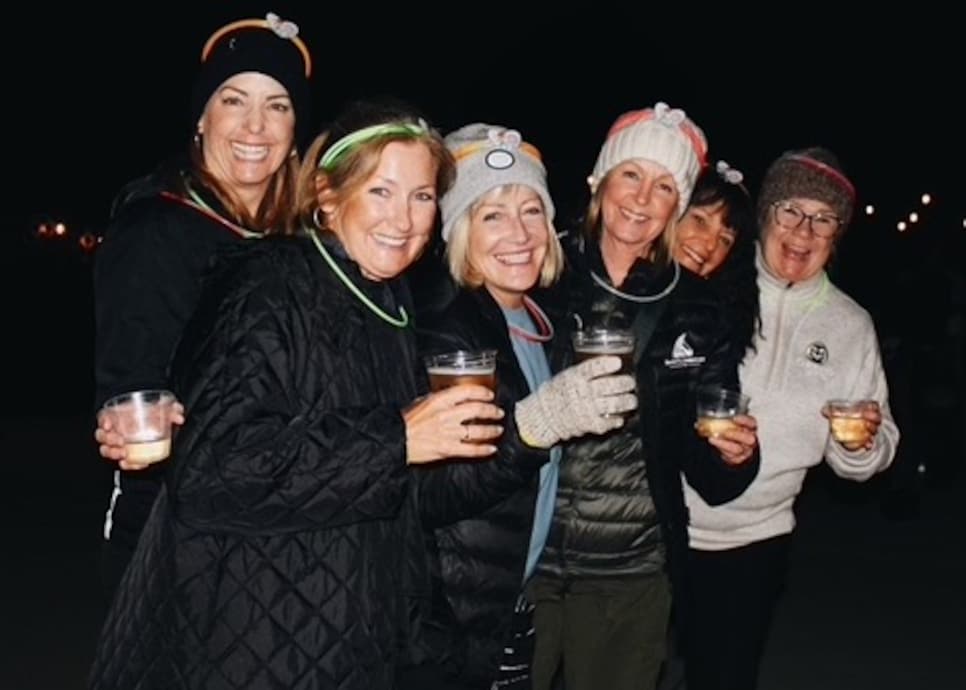 Women in the "Rookies and Rose'" program at Emerald Isle celebrate at a Glow Ball event.
The beauty of all of this is that Kennedy couldn't pull this off at your standard golf course. "We're the anti-country club," she said. "Not in a bad way. It's just that other country clubs and courses don't have the freedom to do what we do here."
By any business measure, what the Kennedys have accomplished at Emerald Isle is nothing short of miraculous. The place was a mess in the early 2010s, with an absentee owner who was, figuratively and literally, bleeding it dry. Golf, as a whole, was in tough spot, and a shoddy little executive track had little appeal and few loyalists. "Hanging on by a thread," Holly Kennedy describes it now.
The Kennedys poured much of their savings into the operation to improve all facets, buoyed with the cousre's historical knowledge provided by orignal employees Curtis Baker and Luke Holt. As the conditions improved, so did the traffic of golfers. Customers were met with welcoming smiles behind the counter, reasonable prices (green fees are $20 to walk on weekdays, $22 on weekends), and youth and beginner programs they'd never seen before.
Yet, Kennedy acknowledges that in the golf business, "you can't be weak," and the course was still operating on a razor-thin margin—until the golf boom caused by the COVID-19 pandemic. With the Isle shut down for a time by health officials in spring 2020, the Kennedys were down to the last dollars in their business bank account. Then, seemingly overnight, they were swamped when golf re-opened. They've kept their green fees low while investing back into the product and better pay for their wokers.
"And from then on, it's like we never looked back," Kennedy said.
Rounds, she said, have tripled in the last two years, rising to a total of 49,000 in '21. Business on the range has doubled, while food and beverage and merchandise sales have tripled. Longtime customers now have a way to describe the turnaround: "The little course that could."
"I feel like we've been this little village, this cultural way of life," Kennedy says. "That's the best part of it. Literally, our hearts and souls are in this place."