Shriners Children's Open
Did a poor rake job cost Matthew Wolff a shot at winning?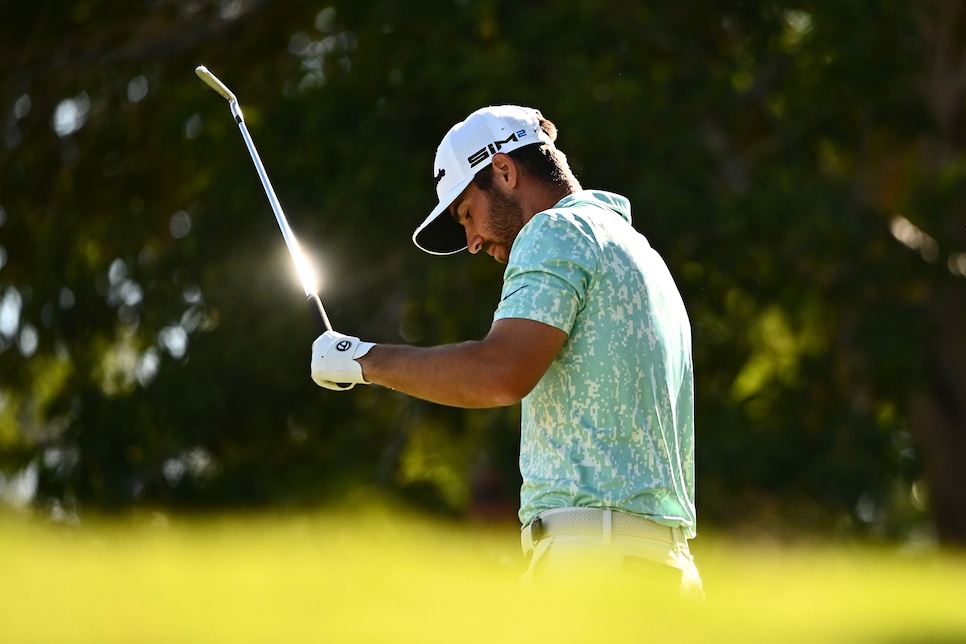 Matthew Wolff finished second Sunday at the Shriners Children's Open, the second straight year Wolff walked away with silver-medal honors at TPC Summerlin outside Las Vegas but also his first top-10 finish since last year's event in the desert. Given what Wolff has experienced on the course and off in that time frame, his performance should be considered nothing short of a victory.
Conversely, Wolff did have a chance on Sunday to win the event, and though Sungjae Im's final advantage conveys the issue was not in doubt, a bad break—or should we say, a bad rake—cost Wolff an opportunity to make it a ballgame.
Needing an eagle 3 at Summerlin's par-5 13th to have a realistic shot at chasing down Im, Wolff's tee shot failed to clear a bunker. It was a fate in itself that likely took eagle out of play … but it got far worse when Wolff got to the sand, as his ball was stuck in an indentation near the lip of the bunker thanks to a poor rake job.
"This is horrible," said Jim "Bones" Mackay, NBC Sports analyst (and new Justin Thomas caddie), explaining the ball should have rolled back into the middle of the bunker to give Wolff a clean shot. "So just a nightmare scenario for Matthew, who can't get this ball back to the fairway."
Bones wasn't kidding; the lie was so bad Wolff failed to advance the ball 20 feet. His third, in the rough and on a downhill lie, wasn't much better, catching the side of a hill and going just 100 yards. The final damage was a bogey 6, a score which allowed Im a casual stroll to the finish line.
Afterwards, Wolff was still aghast at what happened.
"I just … I really … I've never seen a break like that. I hit a good drive and I thought I could carry that bunker like I've been all week, but unfortunately, it just went in the lip," Wolff explained. "But, I mean, with a 3-wood you think it would just roll down to the middle of the bunker and then you would hit something into the fairway and then have a good look at birdie. For my ball to, someone left the rake at the top of the bunker and it left an indentation and my ball stuck in that indentation."
Granted, Wolff would have needed to go low over his final five holes to have a chance, and Wolff could have taken driver instead of 3-wood off the tee to make sure that bunker wasn't in play (although he was last in the field in SG/off-the-tee on the day, so perhaps pulling the big stick would have led to more trouble).
Still, Wolff winning on Sunday would have completed his comeback from the abyss. That return will have to wait another week. One where he catches a few more brakes his way.