The Loop
With something to prove, Fowler makes a statement
SANDWICH, England -- Ever since they first came together at Royal County Down for the 2007 Walker Cup, they've made quite the pair. But somewhere along the way things have gotten a little confused. It's the one born in Ireland who has the high ball game "made" for America and the "hit and stick" of the PGA Tour; the other hails from California but is increasingly more at home, bouncing along on a seaside links. In other words, based on the respective trajectories of their shots, they should be switching tours, with Rory McIlroy playing stateside and Rickie Fowler in Europe.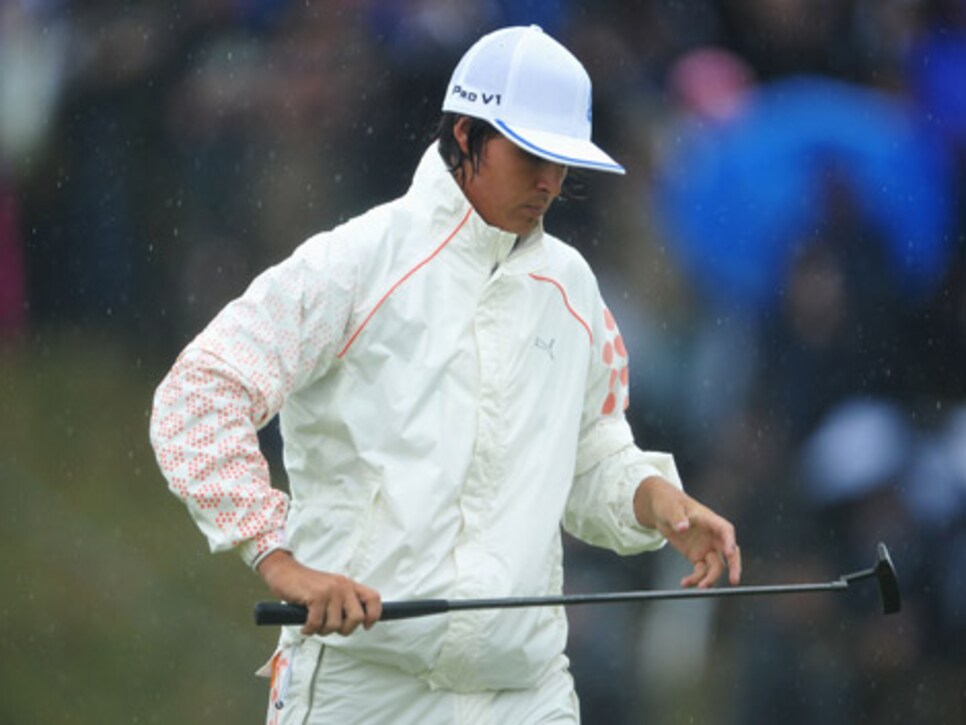 Certainly, their performances in the gloom, murk, rain, wind and eventual sunshine that turned much of the third round of this 140th Open Championship into a typically-British test of endurance and enthusiasm as much as expertise did nothing to dispel that seemingly outlandish notion. Round in six shots fewer than his friend and rival -- 68 to 74 -- Fowler looked much the better and more comfortable of the two with the roar of the waves and squawking seagulls doubling as background noise. Especially into the gusting wind that never really let up all day, the wee Californian's low, penetrating ball flight showed up perhaps the only weakness in the McIlroy bag. With the breeze in their faces, Fowler consistently left his trans-Atlantic pal some way in his wake.
"I love links golf," confirmed the American in the immediate aftermath of a beautifully crafted two-under par round -- tied lowest of the capricious day -- that left him within two shots of the 54-hole lead. "I love the variety and the options this course gives you. There's so many ways you can play one shot. I like that; I like to hit different shots; it's just the way I grew up playing game."
Indeed, such talk could easily have been taking place 12 months earlier. Only a disastrous opening 79 over the Old Course at St. Andrews prevented Fowler from contending last year. Over the following 54-holes, in fact, no one played better golf, his 11-under par aggregate two shots better than even the runaway champion, Louis Oosthuizen.
Fowler's propensity for links golf first became apparent at that '07 Walker Cup, where he won three of his matches for a side containing Dustin Johnson, Kyle Stanley and Webb Simpson, all fellow competitors here at Royal St. George's this week. Still, it is for his sterling finish to last year's Ryder Cup at Celtic Manor that he is best remembered on this side of the Atlantic. Four down with four to play against Edoardo Molinari, Fowler won all four holes to rescue a vital but eventually unavailing half a point for the defeated US team.
"That's a match I'm going to draw on for the rest of my life," he admitted. "I hit some great shots in tough conditions - just like today - and made a couple of great puts on 17 and 18. How calm I felt there will definitely help me going into tomorrow."
With the weather forecast for the final day calling for similar if nor quite so severe conditions, Fowler's willingness to embrace his surroundings - however forbidding - may just be enough to carry him to a maiden professional victory.
"Rough weather makes me concentrate and pick out what shot I'm trying to hit," he revealed.  "It makes me focus a bit harder. I seem to do better when I really have to focus on exactly what I am trying to do. And when I do that I don't have time to get nervous, which is great."
So he has the game. And he seems to have the temperament. But is this his time? Stay tuned.