Double Fault
The Wimbledon Russia/Belarus situation just keeps getting dumber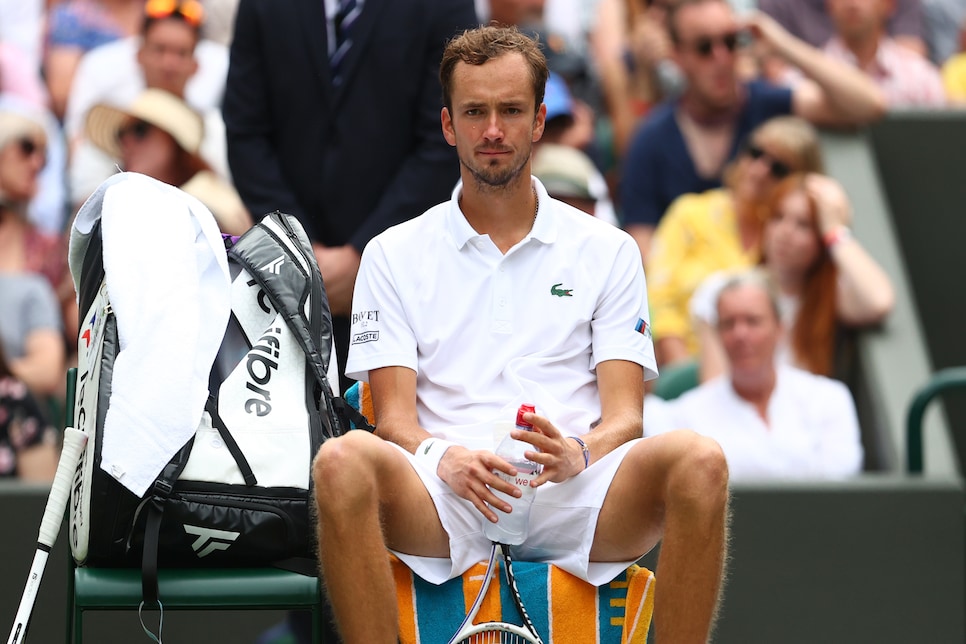 You may have missed this story the first time around, particularly if you're a golf fan and the LIV fiasco is your maximum when it comes sports-related geopolitics, but the All England Lawn and Tennis Club made the decision to ban Russian and Belarusian players from its tournament due to Russia's ongoing invasion of Ukraine.
I know what you're thinking: This is fine, because all Russian and Belarusian tennis players are four-star generals in the Russian military.
But hold on a moment...what if I told you they weren't? What if I told you they were just ordinary citizens who aren't involved in the military in any way, have a plethora of opinions on the Ukraine situation, and are basically just athletes who have been playing a global sport since they're young? What if I told you they had absolutely no say in what their government does, and as absurd as it is to ban Russian players like Daniil Medvedev and Andrey Rublev, it's somehow even more absurd ban the Belarusians like Aryna Sabalenka, since Belarus is a Russian puppet state and has no say in what's happening, making this a case of double oppression?
That's the baseline here, no pun intended. This is a ridiculous political decision by Wimbledon that can have no possible positive effect, and if you were wondering whether they intended to punish players from other countries who are doing things we don't like, the answer is of course "no." To the credit of the ATP and WTA, they each responded by stripping Wimbledon of its ranking points, and the ATP statement read, quite simply, "Discrimination by individual tournaments is simply not viable." This being Wimbledon, though, it didn't result in any hit to the field.
The reason this story is relevant today is because Wimbledon has officially begun, and also because All England chairman Ian Hewitt spoke to ESPN on Sunday and outlined why exactly this is happening. First, you have to wade through Hewitt being "very disappointed" by the ATP and WTA for stripping the tournament's ranking points (let's all roll our eyes), but when you get to the meat of his remarks, it's actually kind of interesting. Here are the main points:
1. The rationale remains the same, of course—in Hewitt's words, Wimbledon "should not be used in any way, by the propaganda machine which we know the Russian government employs in relation to its own people." This is nonsense, because even if someone like Medvedev were to win, how on earth would it make any difference to anything? Would the invasion suddenly look justified because some guy from Russia won a grand slam event? But anyway, this is the party line and has been since the start.
2. The government basically made them do it. This is the point at which you may start feeling sympathy for people like Hewitt. From ESPN:
But Hewitt, talking to ESPN on Sunday, said the call to ban players from Russia and Belarus was a decision that was "beyond the interests of tennis alone" and was "influenced by the directive guidance which the government gave us in relation to the matter"....he added that the championships were left with "no other viable" alternative than banning players from Russia and Belarus from competing this year.
In short, the British government told them what to do, and as part and parcel of the upper class English establishment, they didn't feel they had any other choice. They probably did, but the interconnections between the two organizations meant that essentially it was one body making a choice.
3. It appears that one option left open to Wimbledon was requiring loyalty oaths from the Russian and Belarusian players. Again, ESPN:
"One was a route to consider having personal declarations from players and, frankly, we did not think that was the right approach for a tournament of our kind. We were not willing to put in jeopardy any safety of players, and we think that that route would have involved implications for players' safety or safety of their families."
Okay...on this and this alone, let's give some credit to Wimbledon. If you forced the banned players to earn their way back in by publicly denouncing their own country, probably none of them would do it, which would draw even more negative attention to them from the international community and make their lives hell. If they did do it, they could be in serious danger in their own countries. I can't imagine what a disaster this would have been, and [deep sigh] kudos to Wimbledon for at least making one good decision.
Hewitt also had a modicum of grace to say that "we hugely regret the impact on the individual players affected." It doesn't make anything any better, but it's nice to see someone in power not lumping the players in with the Russian government and implicitly piling responsibility on their shoulders for the invasion. The charitable read on this situation, especially if you read between the lines from Hewitt's interview, is that it was impossible to say no to the British government, and deep down he doesn't like it any more than we do. Again, that's being very charitable, and still doesn't change the hard reality.
The truth of the matter is that the British government made the decision to extend their support of Ukraine to every single battleground imaginable. Short of sending troops in to fight the Russians, they're committed to total war, and part of that total war is cultural. This is a punishment mechanism, a message that says "sure, invade Ukraine, but we're going to make you pay for it in literally every corner of the world." It's just a shame that nobody in power had the sense to realize that a tennis tournament is a ridiculous place to fight this cultural war, does nothing for the cause except perhaps to fortify it, and is unfair to a group of people who have absolutely nothing to do with the ugly situation in Ukraine.