Rocket Mortgage Classic
It will happily be a 'Willie' weekend at Detroit Golf Club after Mack makes the cut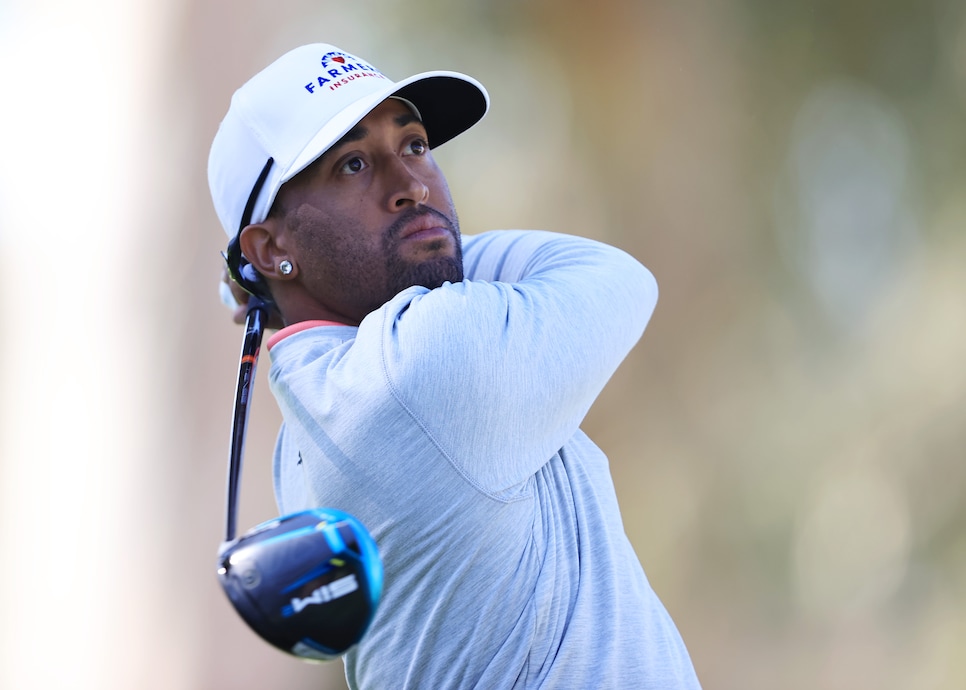 Willie Mack III plays his shot from the ninth tee during the first round of the 2021 Genesis Invitational.
Sean M. Haffey
DETROIT—After Phil and Rickie and Bryson and Bubba, perhaps the most popular player in this week's Rocket Mortgage Classic who also is recognized by just his first name is Willie. He is the hometown favorite whose followers wear T-shirts with his face printed on it. And he is advancing to the weekend in a PGA Tour event for the first time in his pro career.
Willie Mack III, playing in just his third tour event, converted a four-foot par putt on the home hole at Detroit Golf Club on Friday morning to make the cut on the number at three-under 141. For a time, the former Bethune-Cookman standout was on the leader board at six under after completing an opening four-under 68 early on Friday, and then making birdies on two of his first five holes in the second round.
He had to hang on from there, however, in the swirling winds, but he did just enough in justifying his sponsor exemption, carding a 73.
"Yeah, I played here a million times, and I've never seen the wind so consistent for two days all day long," said Mack, 32, a native of nearby Flint and a graduate of Grand Blanc High School, where he helped the golf team to its first state championship in 2004. "The back nine was kind of rough but held it together a little bit and came in with an OK score."
Mack, who has played on the Korn Ferry Tour and PGA Tour Latinoamerica, previously competed in this year's in the Farmers Insurance Open on a sponsor exemption (Farmers is one of his sponsors) and in the Genesis Invitational, where he was the recipient of the Charlie Sifford Memorial Exemption, receiving the news from tournament host Tiger Woods.
Those opportunities were nice, but this time he was able to take the next step, getting a chance to make a check, quite a big deal for a guy who at times in the not-too-distant past, occasionally had to sleep in his car while competing in Florida. "Just having that experience and confidence going into next week, to be able to play on the weekend in my hometown would be amazing," he said.
And he did it on three hours of sleep, because he was unable to rest properly after a promising first day. He got in 15 holes before play was suspended Thursday by darkness, standing three under par at the time. Then Mack birdied his first hole of the morning and added two pars. Then he battled all the way in on his inward nine of the second round, giving up strokes both off the tee and on the greens – but not giving in.
"I'm tired," he said with a smile and a sigh, "but I think adrenaline kept me going and hopefully it can hold up for the next two days."
A winner of the 2011 Michigan Amateur—the first Black player to capture that tournament—Mack has been a force on the Advocates Pro Golf Association (APGA) Tour and Florida Professional Golf Tour, earning Player of the Year honors on both in 2019. The APGA, founded in 2010, provides tournament playing opportunities for African Americans and other minority golfers to help prepare them for careers in professional golf or in the golf industry.
Though he missed the cut at the Genesis Invitational, the experience was among the greatest of his young career. He had an opportunity to have lunch with Woods, and the two talked about their shared experience of being introduced to the game by their fathers.
Both of Mack's parents have been in attendance this week in addition to other family members and dozens of friends. Which has only made this opportunity more memorable.
"Yeah, first PGA Tour event they've been to," Mack said of his parents. "I played in two this year, but [because of] COVID, they couldn't come. Them just being here was special."
They all come back on Saturday, Willie on the fairways, Willie's face on their shirts, shouts of Willie in the air. Just Willie. Just the first name. That suffices.