News
Will Zalatoris scores much-anticipated first win on Korn Ferry Tour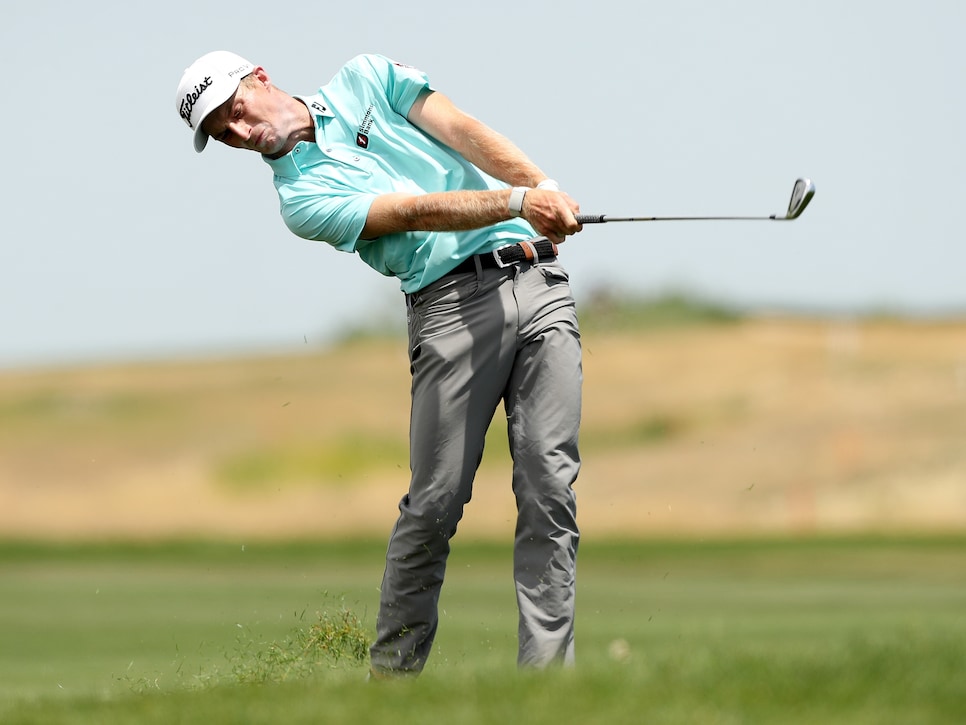 Will Zalatoris hits a shot on the 13th hole during the final round of the TPC Colorado Championship.
Matthew Stockman
Will Zalatoris was precocious throughout his early golf career. He qualified for the U.S. Junior Amateur at age 12 and four years later won that championship. He then earned the Arnold Palmer Scholarship as a freshman at Wake Forest, notched four wins in his college career and set the Demon Deacons' season scoring record.
It seemed like only a matter of time before Zalatoris would make his mark in the pros, and after trending upward in the Korn Ferry Tour's return to golf from the coronavirus break, the 23-year-old secured his first title on Saturday in the TPC Colorado Championship at Heron Lakes in Berthoud, Colo.
Zalatoris closed with a three-under-par 69 to finish at 15 under and edge by one shot Chase Johnson, who charged with a course-record 63—fashioned with 10 birdies. While the $108,000 first prize pushed Zalatoris to the top of the KFT money standings, it was nearly as big a day for Johnson, who had only conditional status entering the week and now, with a $54,000 check, has secured his card for the rest of the season.
The win is an exclamation mark following a fine run of play in which Zalatoris finished T-6, T-3 and solo fourth in the three events since the Korn Ferry returned to action following a three-month break due to the COVID-19 pandemic. Zalatoris had two other top 10s in the first five tournaments before play stopped.
"Finally," a smiling Zalatoris said afterward. "It's been probably four years since I won a golf tournament. It still hasn't sunk in. It's kind of crazy. I told Ryan [his caddie] that we're going to the [U.S.] Open. We're one step closer to getting a [PGA] tour card. Two more to go."
Zalatoris, who started last season with no status but earned his Korn Ferry card with six top-25 finishes, has set his sights on a "battlefield" promotion to the PGA Tour that three wins would afford him. There will be no promotions via the KFT standings at the end of the year because of the truncated schedule caused by the coronavirus.
"I feel like it's a new level of comfort," Zalatoris said after his second round in Colorado. "Last year, it felt like every single week I needed a top 25 to play the next week. This year, being a year and a half long, it's basically go win three times. … I'm trying to get to the PGA Tour as fast as I can. The goal is trying to win three times, and in a weird way that kind of frees me up."
Though he's been successful at every level, Zalatoris also has watched six members of the 2017 U.S. Walker Cup team on which he played reach the PGA Tour. Even his current roommate in Plano, Texas, Davis Riley, notched his first win earlier this year in the KFT's Panama event.
Zalatoris now has a pro trophy of his own.
"Finally get one on my side of the hallway," he said.