Can't Stop, Won't Stop
Will Zalatoris can't even beat Scottie Scheffler in a charity event right now: 'It's borderline Tiger-esque'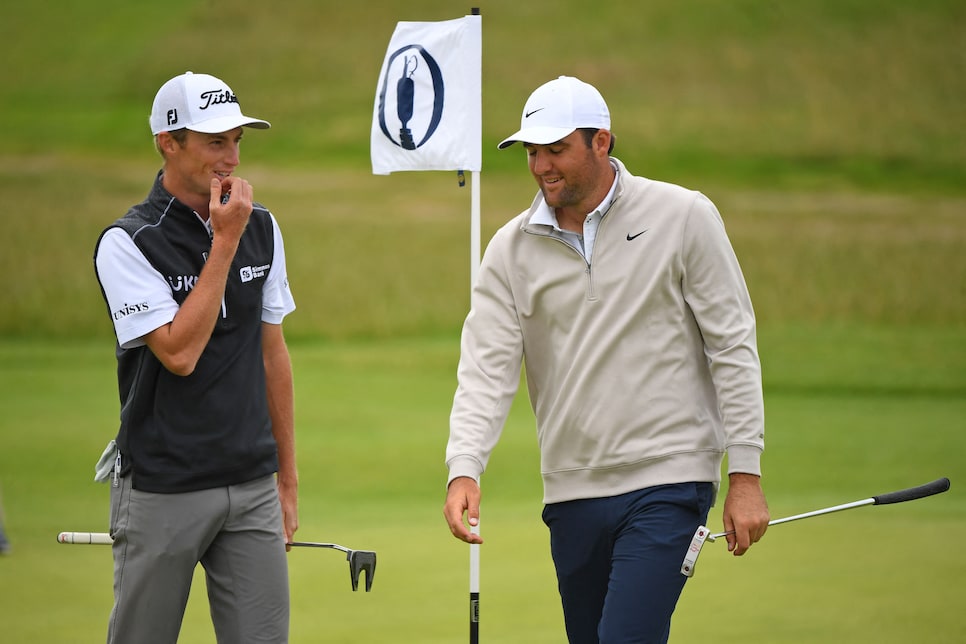 By capping off an epic stretch of golf with his first major title at the Masters, Scottie Scheffler officially put everybody in the golf world on notice. That includes fellow rising star and childhood friend Will Zalatoris, who, unlike Scheffler, is still searching for an elusive first PGA Tour victory.
Part of Zalatoris is very proud of his buddy, but another part of him has to be wondering "I used to beat this guy all the time." The former Wake Forest Demon Deacon said as much on Wednesday at the AT&T Byron Nelson, where both he and Scheffler are in the field.
"It kind of goes back to even on our Walker Cup team, eight out of the 10 guys are on the PGA Tour right now," Zalatoris said, referring to the 2017 squad that won at Los Angeles Country Club. "And at one point I think three guys had won either on tour or on the Korn Ferry Tour, and I didn't have status anywhere. So, if anything, it was motivating because I knew I could do what they were doing, I just had to kind of keep plugging along.
"So seeing what [Scheffler] is doing obviously is borderline Tiger-esque, obviously with the incredible golf that he's played. But at the same time, the part that I love so much about Scottie is he's just such a good dude. And it tastes like vinegar coming out of my mouth, considering the amount of golf we play together, because I love him to death, it's really cool to see."
These two have been going at it on the golf course for years, as evidenced by this hilarious picture of them together as kids. There's no question Zalatoris has gotten the better of the current World No. 1 countless times, but as of right now, on the big boy tour, Scheffler is boat-racing him.
Unfortunately for Zalatoris, the Scheffler domination is not limited to PGA Tour events, either.
"Even the other day I thought I played pretty good at a little event we played here at home, shot 66. And he [Scheffler] comes in with 63 and it's like, good grief, man, like have an off day."
The event was for a charity called Project Shelter, and it was held at Preston Trail Golf Club in Dallas, where both Zalatoris and Scheffler currently reside. Any "rust" narrative surrounding Scheffler ahead of this week's AT&T Byron Nelson and next week's PGA Championship was quelled by Zalatoris' admission that he can't even beat the guy in a charity event right now.
"Obviously it's more in good fun," Zalatoris said. "But you come in feeling like you played pretty good, shoot 66 and you're like, come on, man, this is Monday, take it easy on us for once."