BMW Championship
How Will Zalatoris' new caddie helped him reach the top of the FedEx Cup standings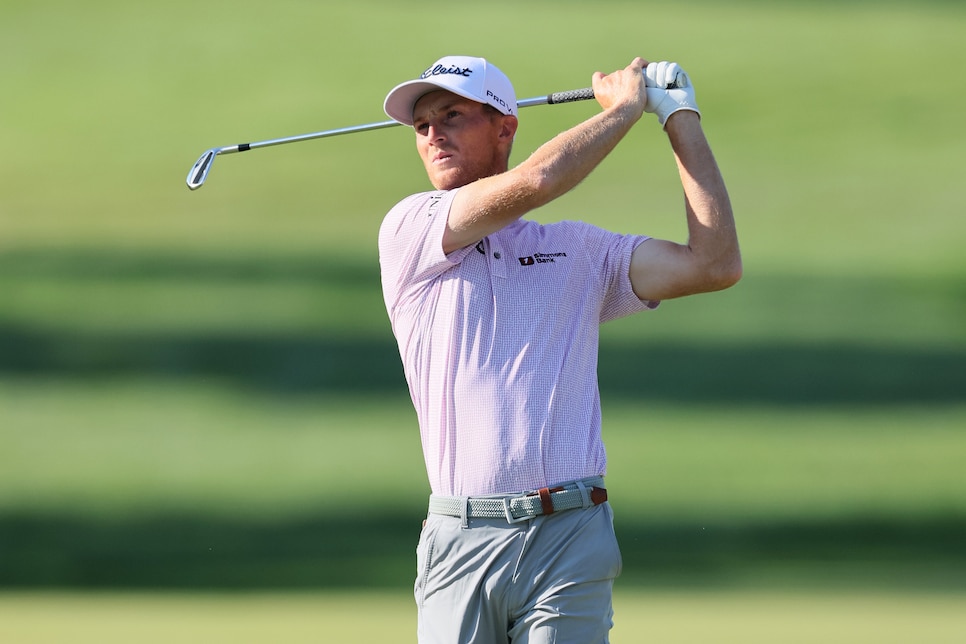 WILMINGTON, Del. — The BMW Championship has not started yet, but Will Zalatoris is already in the lead. Not on the course, but—and perhaps more importantly—in the FedEx Cup standings.
By virtue of his first PGA Tour win at the FedEx St. Jude Championship, Zalatoris jumped up from 12th to first, 124 points ahead of defending Masters champ and four-time winner Scottie Scheffler.
The win was a long time coming for Zalatoris, who has nine top-10s this season and several close calls in majors dating back to the 2020 U.S. Open. One of the best ball-strikers on tour, Zalatoris has all the physical tools to win on tour, even with his "balky" putter, which, in reality, isn't that much worse than tour average.
"Yeah, it's amazing how well we gelled. I've joked with him that he can only go downhill from here," Zalatoris said Wednesday at Wilmington Country Club. "The part that he did such a great job of, especially on Sunday, is just keeping me in the moment, just telling me to focus on my breathing, and then at times when things got a little tense he'd pull out some of his classic dad jokes to kind of make me laugh."
There were plenty of tense moments on Sunday for Zalatoris, who needed a clutch par save on the 72nd green to force a playoff with Sepp Straka and then nearly dunked his approach shot on the third playoff hole in the water. Instead, his ball stayed up on the rocks but nestled below the cut of rough that led down to the water. It was a precarious position for anyone, let alone someone trying to capture their first PGA Tour win.
"It's tough because you're 20 feet from the hole and all I've got to do is move it a foot forward, and I basically will win the golf tournament unless I do something silly," Zalatoris said. "Josh Gregory [his coach] had a hilarious line; he said, all you had to do was move the ball a foot, and hopefully it's forward, and if it's backwards you lose the golf tournament.
"Yeah, I knew for sure that I wasn't going to play it, but I just wanted to make sure considering I was that close to the hole that I was not giving up an easy opportunity."
Instead Zalatoris and Stock made the prudent call to go to the drop zone, from which Zalatoris got up and down to win. The win was a milestone, for sure, but also earned him 2,000 FedEx Cup points. Now first in the standings heading into the BMW, not much has changed for the budding star.
"Yes and no. There's so much golf ahead of us," Zalatoris said. "That's the thing is that of course I would love to obviously hold my position going into next week and hold a two-shot lead, but we've got the best players in the world here. Just because I won last week doesn't mean it makes this any easier, so I've got to go back out there and do it again."
It might be slightly statistically easier in that there are only 68 players in the field this week compared to 120 in Memphis. The counterpoint is this field is full of the guys playing the best golf right now. On a course he's never seen before this week, Zalatoris will have to rely heavily on his new partner. If last week was any indication, that doesn't sound like it'll be an issue.
"He did just an amazing job, especially considering that Monday was our first day together. Hats off to him going down the stretch," Zalatoris said. "Being able to be in the moment and just tell me, hey, this is the club, commit to this shot, considering we've only been together for that short amount of time was incredible."