Equipment
Will Tiger Woods continue with his new mallet putter? History says the answer is likely yes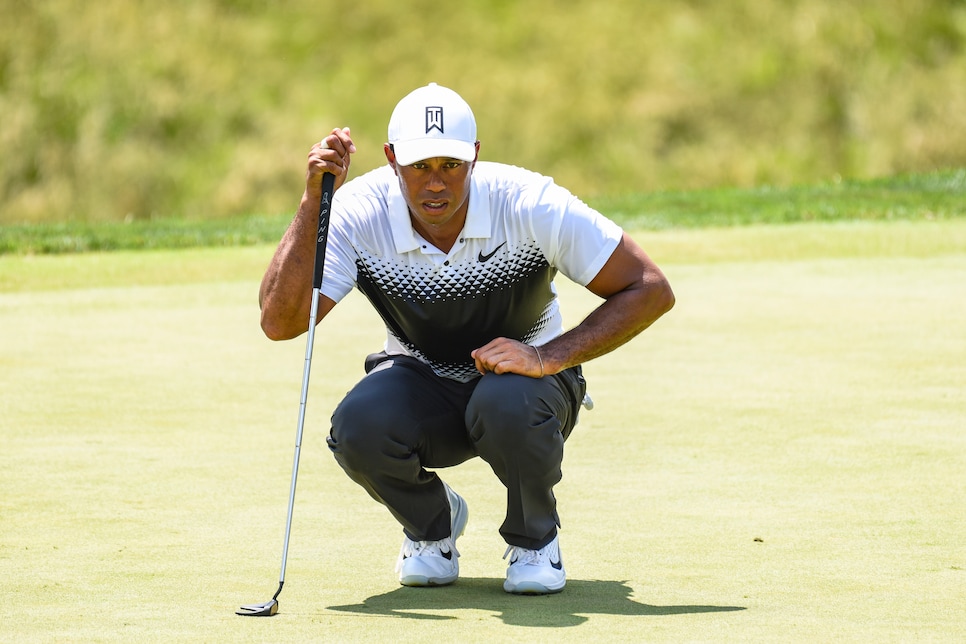 Tiger Woods caused a bit of a stir early in the week when he changed from his trusty Scotty Cameron by Titleist blade putter to a TaylorMade Ardmore 3 mallet at the Quicken Loans National. Of course, Tiger merely, well, breathing, often sends social media into a frenzy, but the putter change provided a legit point of interest—mainly, why the change and more importantly, how long will it last.
Woods' history would suggest that he doesn't often change just for change's sake. Although some 20 percent of the PGA Tour might change putters on any given week, Woods has not been particularly fickle with his flat stick, save for a little back and forth between his Cameron and a Nike Method 003 mid-mallet in 2011 before settling on a Nike Method 001 blade that was similar to his Cameron.
Given that Woods holed close to 125 feet of putts on Sunday and his comments afterward, expect the Ardmore 3 to stay in the bag for a while.
"I did some good work last week," Woods told CBS' Dottie Pepper after his round Sunday. "I'm starting the ball on my lines again and I've got the speed. I hit a lot of good putts that didn't go in, which is fine. As long as I'm hitting good putts and seeing my lines … that's something that I've been missing for a while now, for the better part of two months. This is the week I finally turned it around."
Woods finished T-4 at TPC Potomac at Avenel Farm, with a solid 1.195 strokes gained/putting mark, including 2.954 on Sunday. That could mean his Cameron—which has a lengthy history—could be in for a lengthy benching.
The change to the Ardmore 3—a mallet with toe hang, something many tour players are starting to favor—came under similar circumstances to Woods' change to the Cameron in 1999.
Woods came into that year's GTE Byron Nelson Golf Classic T-102 in putting on the PGA Tour and had won just three tournaments since a victory in the same event in 1997. At the '99 Nelson, Woods put a Scotty Cameron by Titleist Newport 2 in his bag.
Woods was immediately successful with the putter as his putting average rank jumped to T-24 by the end of 1999. More important, he won seven of his next 11 starts with the club. In all, 13 of Woods' 14 majors have come with the Cameron, and in his first eight full seasons he used the club (not counting 1999 and 2008 when he was ranked fourth before leaving the tour due to a knee injury), Woods ranked in the top 10 in putting average five times. Starting in 2004, which is the first year the tour has strokes gained/putting calculated, he ranked first, fifth, 21st, second and second, again skipping 2008 and 2010 when he did not play enough to be ranked.
Although TaylorMade declined to provide specs on the club, it's likely that it is not far off the 35.25 inches Woods had his Cameron at. It also has the familiar Ping rubber grip that Woods has favored since his youth. The production model Ardmore 3 Black has 12 degrees of toe hang with a "fanged" mallet head shape. The insert is 6061 aluminum with grooves angled at 45 degrees to promote better forward roll. Regardless of specs, however, if Woods keeps performing on the greens that he did in Maryland, he'll be giving everyone something else to talk about in the coming weeks.