PGA Tour
Windy weather plays havoc with start of the week at the Farmers Insurance Open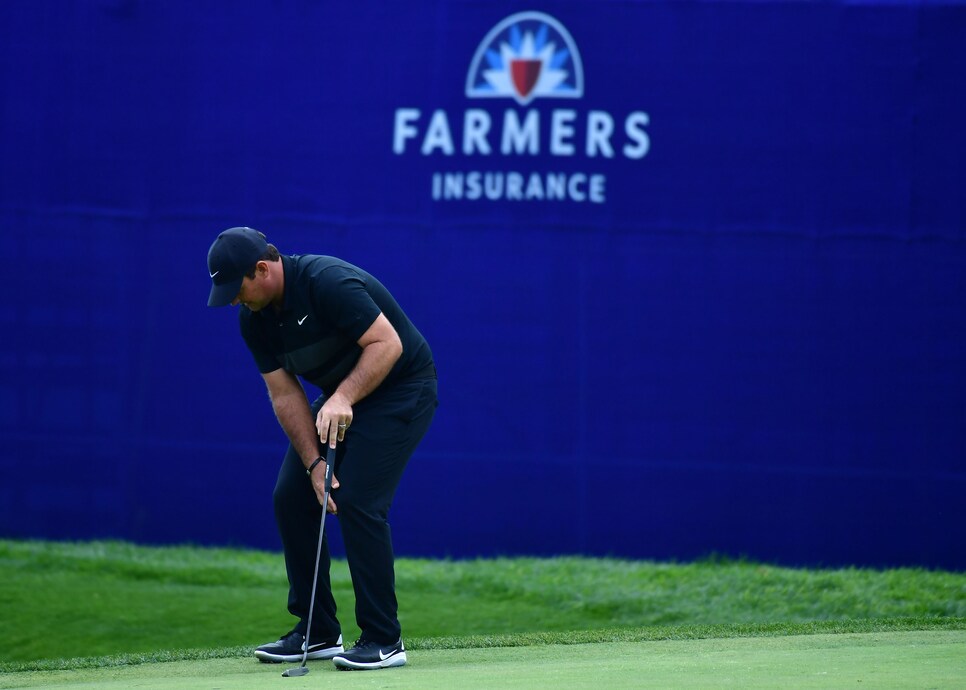 Patrick Reed putts on the 18th green during the final round of the 2020 Farmers Insurance Open.
Donald Miralle
SAN DIEGO — It's a rite of mid-winter to marvel at the blimp shots over the sunny California coastline during the PGA Tour's events in San Diego and Pebble Beach. Don't expect to see those early, however, during this week's Farmers Insurance Open—if the blimps make it up at all.
On Monday, San Diego experienced weather not fit for birds to fly, and it grounded the golfers, too.
The PGA Tour planned to welcome players and officials at a COVID-19 testing site in outdoor tents at Torrey Pines, and the Century Club of San Diego scheduled a pro-am that it hoped would make up for the significant financial losses it's suffering due to playing the PGA Tour event without fans this year. But with winds gusting at more than 35 mph on the coast and a wind warning in effect—a true rarity in Southern California—there was a fear for everyone's safety in the elements. For good reason—a massive eucalyptus tree toppled across the width of Torrey Pines Road next to the golf course, and the massive COVID-19 outdoor-tenting vaccination site at Petco Park, home to the Padres, was shut down.
The pro-am was canceled and, according to a PGA Tour official, it was decided the testing would be postponed until Tuesday morning. That left the players who had arrived stuck in their rooms, as if they were waiting out a hurricane.
"I went outside for a bit and realized it was a little wild out," tour player Will Zalatoris said from his hotel room. "I've got some workout equipment with me and I'm just hanging out. I guess it's a nice day off."
It would have been ugly for anybody to try to play, though this kind of weather is certainly not unprecedented at Torrey Pines. In 2016, fierce winds blew down a number of old eucalyptus on the course during the weekend of the Farmers. The fourth round was halted at mid-day by 25- to 35-mph gusts, but by then Brandt Snedeker had carded an incredible three under par on the South Course while 23 players shot 80 or worse.
The remainder of the field returned on Monday, and though the weather was much calmer, Jimmy Walker couldn't hold his one-shot lead with eight holes to play. In fact, it was gone after one hole. He shot five-over 77 in the final round, and Snedeker learned of his one-shot victory over K.J. Choi as he rolled putts on the practice green for a possible playoff.
After months of no rain, San Diego's weather has been volatile over the past two weeks. On Jan. 15, the temperatures were summer-like, with a high at Torrey Pines of 85 degrees. On Monday, the high was 53.
For this week, it's going to be wet early, with rain forecast to arrive late on Thursday, with the heaviest showers on Friday, with a high of only 58. The weekend rounds are supposed to be partly sunny, with highs in the upper 50s and lower 60s.